A few months back, we were super excited to introduce a brand-new product here at DevaCurl, SuperMousse! Today, we want to share a bit more about SuperMousse—what the key ingredients are, how to use it, and more!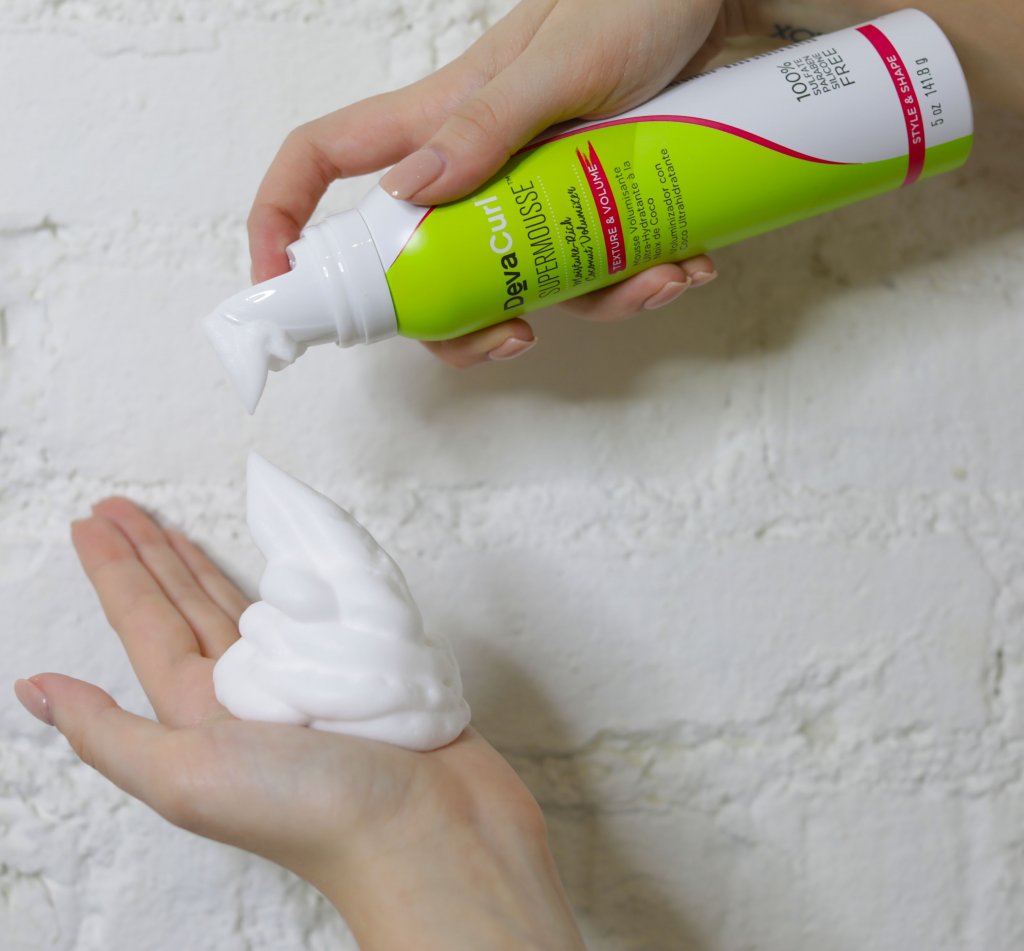 What is SuperMousse and Is It Right for Me?
SuperMousse is a moisture-rich mousse that provides mega volume. Think day 2 or 3 volume on wash day! What makes SuperMousse different than most mousses on the market is that it doesn't leave your hair feeling stiff, crunchy, or dry. It also gives you great definition as well!
We recommend using SuperMousse if you have curly or super curly hair. The reason we normally don't recommend wavies use it is because it packs in a lot of moisture which may be too heavy for most people with wavy hair.
What's in SuperMousse?
The star ingredients in SuperMousse are coconut water, tucuma butter, and sunflower extract. Like our SuperCream and Super Stretch, SuperMousse features coconut to help provide moisture. Tucuma butter helps soften the hair with a buttery texture. And sunflower extract is known to help increase shine.
SuperMousse also contains what we call the VolumiCurl Complex. The VolumiCurl Complex is a blend of naturally-derived polymers that add volume without the weight or crunch.
Maltodextrin is a natural starch derived from corn that gives the hair a thicker, volumized look
Sodium Polyictonate is bio-based from fermented corn and contributes to volume, texture, and also helps curl retention
VP/DMAPA acrylates copolymer helps with the thickening and conditioning properties of the product
How Do I Use SuperMousse?
Shake the product well and dispense it into your palm to distribute through soaking wet hair.
Scrunch upwards for maximum volume.
Air-dry or diffuse.
Spray a bit of High Shine onto your hands to fluff at the roots for added volume and shine once your curls are completely dry!
What's the Difference Between SuperMousse and Frizz-Free Volumizing Foam?
SuperMousse was formulated to be a moisture-rich mousse. Frizz-Free Volumizing Foam is a lightweight formula which makes it ideal for wavies or people with finer hair textures. Because SuperMousse is so moisturizing, people with wavy or finer hair may feel like it weighs down their hair which is when Frizz-Free Volumizing Foam comes in!
Similar to SuperMousse, Frizz-Free Volumizing Foam does contain sunflower fatty acids to help boost shine and control frizz.
What Makes SuperMousse Different?
There are a ton of mousses on the market, we get it. The reason that SuperMousse is so different is because traditional mousses usually contain alcohols that can dry the hair out and make it feel crunchy. The only alcohol that SuperMousse is formulated with is cetyl alcohol. Cetyl alcohol is actually a fatty alcohol that provides conditioning properties to the hair compared to other drying alcohols that can strip the hair of its moisture. Trust us, the richness of SuperMousse is unlike anything you've tried before!
Have any questions about SuperMousse? Leave them below!