New product alert! If you're all sass and tired of brass, we've got just what you need.
Earlier this year, we unveiled No-Poo Blue, which was created and designed to tone brassiness while you cleanse! To help meet the growing needs of color-treated curls, No-Poo Blue is a new zero-lather conditioning cleanser that features all of the benefits of our original best-selling cleanser, plus blue pigments which neutralize brassy (orange) tones that occur when hair is lightened and are deposited to help fill in the gaps in the cuticle for more even toning. It leaves curls nourished, shiny, bouncy and vibrant.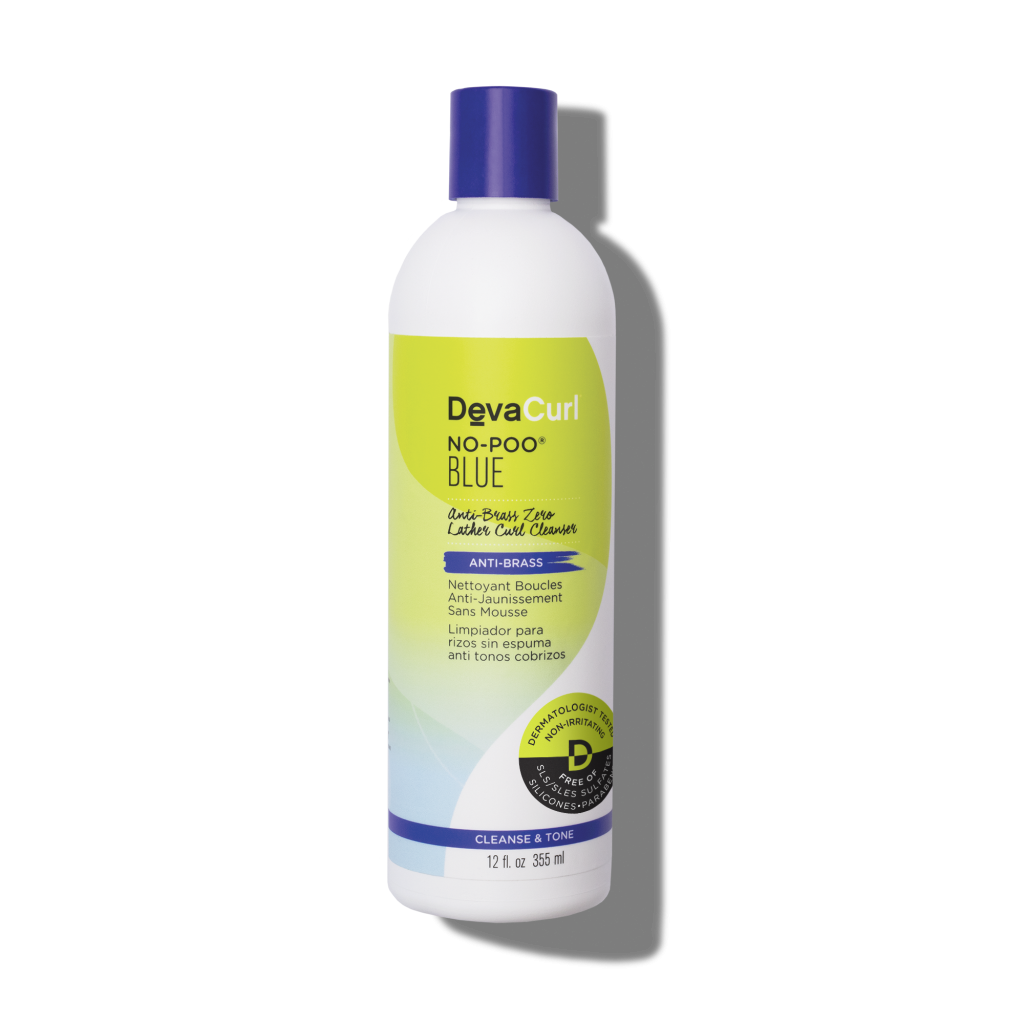 Who is it for?
If you have lightened or highlighted curls and want to kick brassy tones to the curb, this blue-hued cleanser is for you. No-Poo Blue will help reduce unwanted orange tones and brighten up hair color overall on brunettes who have lighter Pintura (balayage), ombré, or conventional highlights, have lightened their hair completely or have a combination of lighter hair with highlights. This product works great for every curl type, regardless of the pattern!
What's In it?
No-Poo Blue has a refreshing aquatic scent with a hint of blue lotus flower. The blue lotus flower aids in the longevity of toning. No-Poo Blue also has Smart Porosity Toning Technology that helps equalize porosity for more uniform toning.
How Do You Use It?
Wet curls thoroughly. Evenly distribute a generous amount of cleanser from roots through ends and massage scalp with your fingertips. For maximum toning, leave in 2-3 minutes.
Make sure to rinse out thoroughly by massaging your scalp again as the water runs over your curls.
Follow with your favorite One Condition.
How Often Should You Use It?
Use every 2-3 washes, alternating with your regular cleanser to tone brassiness. For best results, prep hair with Buildup Buster to help remove any surface buildup. Make sure to follow with your favorite One Condition to lock in moisture and keep curls feeling soft and hydrated.
Have you tried our new No-Poo Blue yet? If so, let us know what you think below!