Whether you're dealing with dehydrated strands, a dry scalp, buildup, or damage, we got you covered with our updated line of hair treatments specifically for textured hair! Read on to get the lowdown on everything you need to know about DevaCurl's line of hair treatments.
CurlBond Mask
The CurlBond Re-Coiling Intense Treatment Mask is our newest addition to our line of hair masks, and it really packs a punch! If your strands are damaged from heat, chemicals, color, friction, or brushing, the CurlBond Mask is going to be your new BFF. It's made with our patented CurlBond Complex to re-coil damage curls by re-linking broken disulfide bonds within the hair strand. This treatment mask also helps to protect against future damage, seal split ends, and improve overall strength.
Heaven In Hair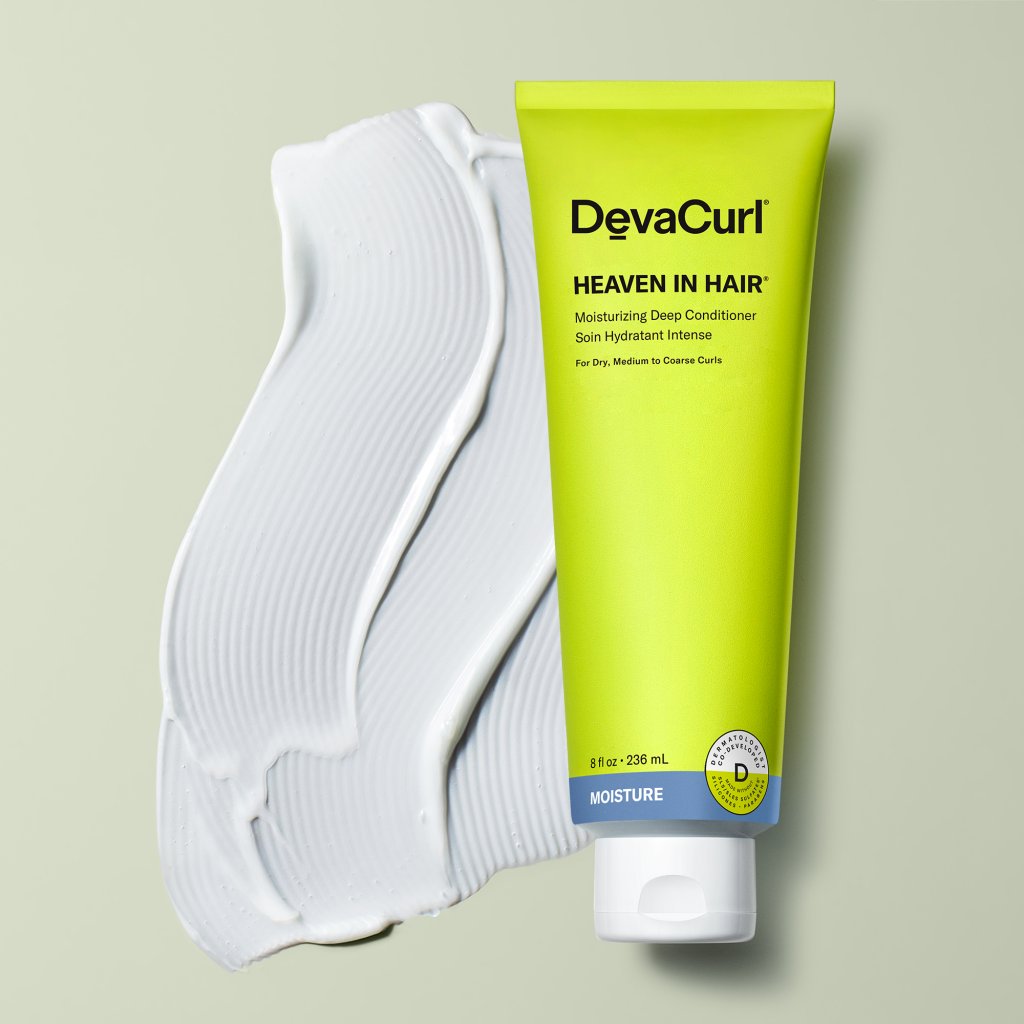 Ah Heaven In Hair, a DevaCurl classic. Heaven In Hair has been a staple in the routine of both curly people and hairstylists alike for years and for good reason! It's a moisturizing deep conditioner made for medium to coarse waves, curls, and coils. It adds hydration back into the hair strands while boosting definition, shine, and bounce. Heaven In Hair also provides slip to the hair to aid in detangling while in the shower.
Melt Into Moisture
If you're suffering from majorly dehydrated curls, then meet Melt Into Moisture. This intense conditioning mask is made to moisturize even the driest of strands to reveal hydrated curls while also reducing frizz, boosting shine, and helping to detangle. Compared to Heaven In Hair, Melt Into Moisture provides intense hydration for extremely dry and brittle curls. Heaven In Hair can be used when curls are in need of a moisture boost that goes beyond regular conditioner while Melt Into Moisture is meant to be used as needed for ultra-rich moisture.
Scalp Puri(pH)y
For the first time ever, DevaCurl has come out with products focused on the scalp and they're our new favorite hair treatments! Healthy hair starts at the scalp which is why it's so important to care for it just like you would your curls. Scalp Puri(pH)y is a liquid exfoliator made with glycolic acid to exfoliate and detoxify the scalp by removing buildup, dirt, and impurities. What makes Scalp Puri(pH)y so special is that unlike other scalp exfoliators that contain physical exfoliants like sugar or salt, this is liquid so it's not hard to rinse out and won't get stuck in your hair!
Scalp D(pH)ense
Scalp D(pH)ense is made for people who deal with dry scalps. It's a non-oily serum that nourishes and moisturizes the scalp without leaving your hair feeling greasy. It's also super lightweight so it doesn't weigh the hair strands down! Both Scalp Puri(pH)y and Scalp D(pH)ense can be used while wearing extensions or protective styles.
What DevaCurl hair treatment is your favorite? Which one are you excited to try? Let us know below!