The Curl Maker is one of those DevaCurl products that you know exists because your DevaCurl Stylist uses it on your curls at the salon, but you don't really know much about it.

I personally think that The Curl Maker is the biggest hidden secret amongst the DevaCurl product line. Us curly people just may need a little help when it comes to uncovering its greatness!
What is The Curl Maker?
The Curl Maker is a curl-boosting spray gel for those times when you need a lift to help amp up your curls' definition and fullness!

Formulated with wheat protein and sunflower seed oil, The Curl Maker has strong hold and helps enhance shine and bounce.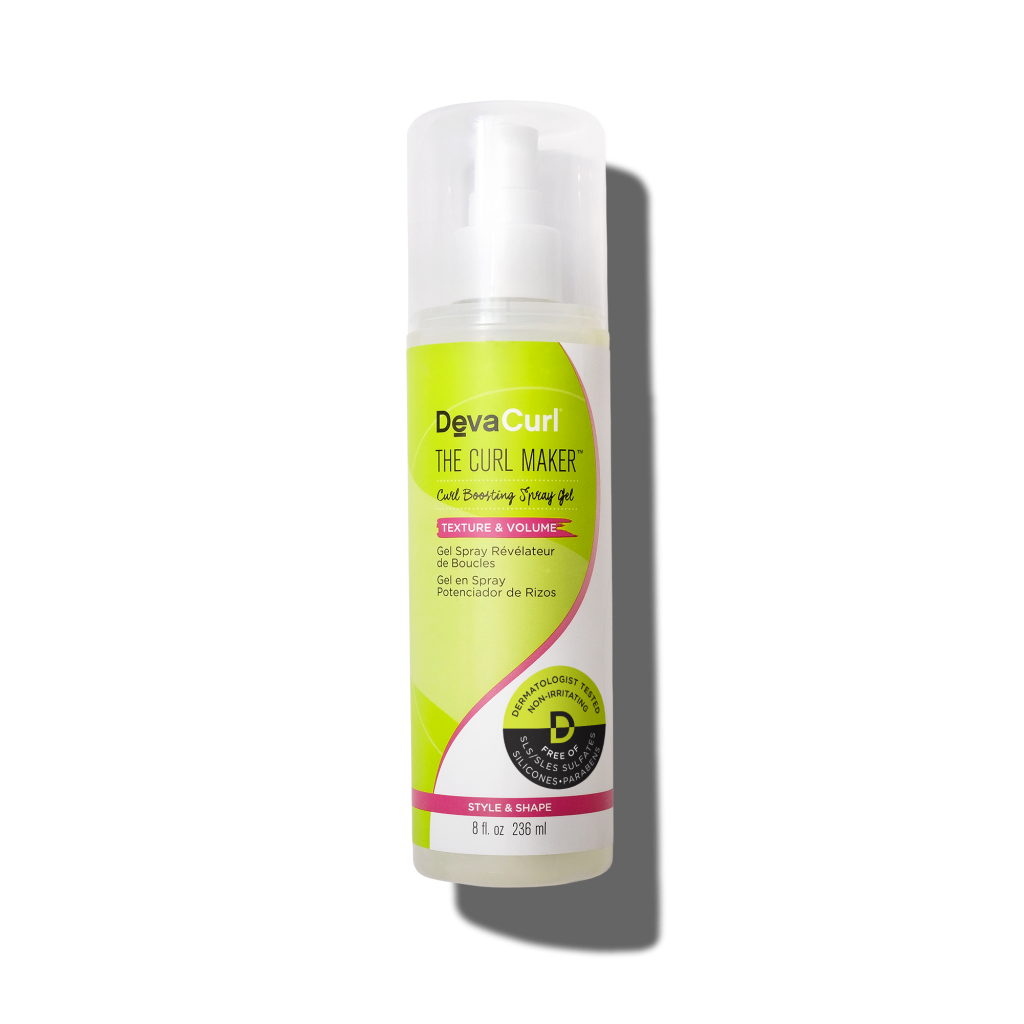 Is It for Me?
Yes! No matter if you're wavy, curly, or super curly you will benefit from The Curl Maker because of its ability to provide amazing definition.

If you're wavy, The Curl Maker won't actually give you curls but it can help boost definition and enhance your waves.
How to Use It
Compared to Light Defining Gel, Ultra Defining Gel, and Arc Angel Gel, The Curl Maker actually has the strongest hold. For wavy hair we recommend using Wave Maker with The Curl Maker, for curly hair we recommend using Styling Cream with The Curl Maker, and for super curly hair we recommend using SuperCream with The Curl Maker. If you're on the finer side of any of these curl types, we recommend using Frizz-Free Volumizing Foam with The Curl Maker because of its lightweight formula.

Here's how to apply it:
1. Spray The Curl Maker onto soaking wet hair and flip your head over to ensure you get the waves/curls at the bottom of your head.
2. Use your hands to scrunch your hair to encourage definition and wave/curl formation.
3. Use the DevaTowel or DevaTwist to help you scrunch and get rid of excess water.
4. Air-dry or diffuse with the DevaFuser for extra lift and volume at the roots!

Here's a tip from our Devachan stylist Taylor: "I like to spray The Curl Maker on a paper towel, scrunch into my hair, and then diffuse dry for lightweight curl enhancement."

Whether you're using a cream based styler or Frizz-Free Volumizing Foam, we recommend applying The Curl Maker last in your styling routine to help seal in moisture, fight frizz, and provide definition and hold.

Is The Curl Maker already part of your curl routine? Let us know how you like it in the comments below!