Ask a curlfriend what their favorite part about their curl journey is and I'm almost certain they'll tell you it's styling their curls and being able to constantly switch up their look. And because curls are so versatile, you need products that can work for many different styles too!
One of our favorite go-to styling creams, DevaCurl's Super Stretch Coconut Curl Elongator, is great to use for wash n' gos, twist outs, bantu knots and flexi-rods sets. For the average curlfriend who's always ready for a change or just wants to perfect their favorite curly look, Super Stretch adds endless options to styling your curls.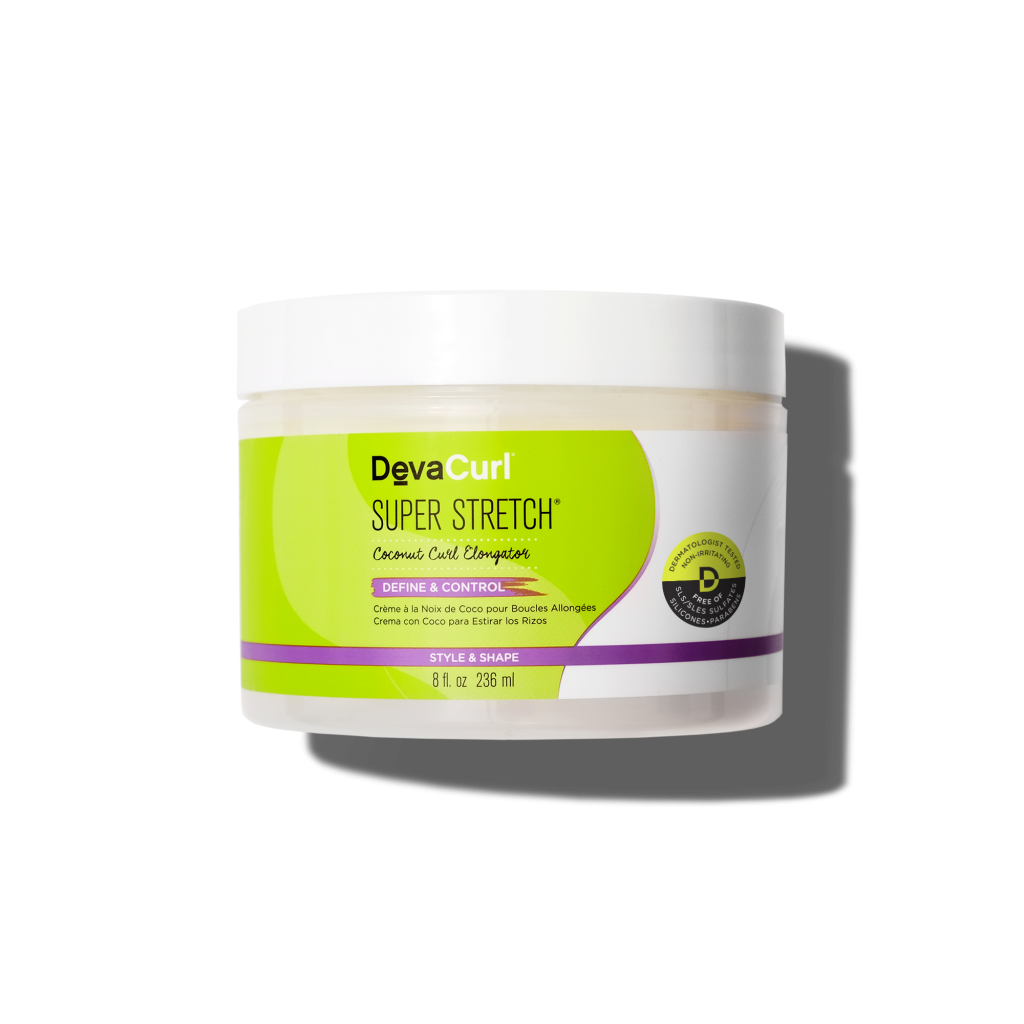 What is Super Stretch?
Super Stretch is a coconut oil fractionated formula that has a lush, velvety texture that combines the moisture of a cream with the hold of a gel to weightlessly elongate curls without compromising definition. Not to mention, it has an amazing coconut scent that will make your curls feel like their vacationing on a tropical island. Devachan Stylist, Beatrice says using the right amount of Super Stretch definitely goes a long way. "It can also be used with other stylers to amp up moisture and hold. Always apply Super Stretch first and remember, a little goes a long way," she explains. Super Stretch is best for curly and super curly/coily textures who are hoping to stretch and elongate their curls for beautifully desired curly looks.
How to use Super Stretch
If you're looking to enhance the definition of your curls or create the perfect curly look for twists, braids or even updos, try Super Stretch for yourself! Here's a few usage tips that will help you work the product into your curls and create a look that will make any curlfriend jealous.
Step 1: Apply to clean, wet curls in sections. Remember, the wetter the better. Applying styling products while in the shower or while your hair is damp creates the best results.
Step 2: Gently press Super Stretch into curls in a downward motion. Pro tip: Don't scrunch to make sure you keep that elongation!
Step 3: Dry per your usual methods. Using the DevaFuser? No problem. Just remember to dry in a downward motion and avoid scrunching to level up that volume. If not, try using DevaCurl's DevaTwist! It'll give you the same benefits as our original microfiber towel but will cover all your curls and give you great drying results.
Step 4: Style! You can unravel twists, Bantu knots, and braids as needed after applying the product or rock your protective style!
Have you tried Super Stretch yet? Let us know below!