Deep conditioning is a universal step in every curly person's routine whether it's weekly or bi-weekly. It's also a great addition to your self-care routine!

One of our favorite deep conditioning masks is DevaCurl Melt Into Moisture, not only because it provides your curls with the moisture they crave, but also because the matcha green tea and almond oil aroma will have you completely enticed.
What is DevaCurl Melt Into Moisture?
Melt Into Moisture is our matcha butter conditioning mask that provides intense moisture when your curls are extra thirsty.
This intense treatment formulated with matcha butter, sweet almond oil, and beet root extract will have your curls looking shiny and feel silky-soft. As moisturizing and rich as it sounds, it actually won't weigh your curls down!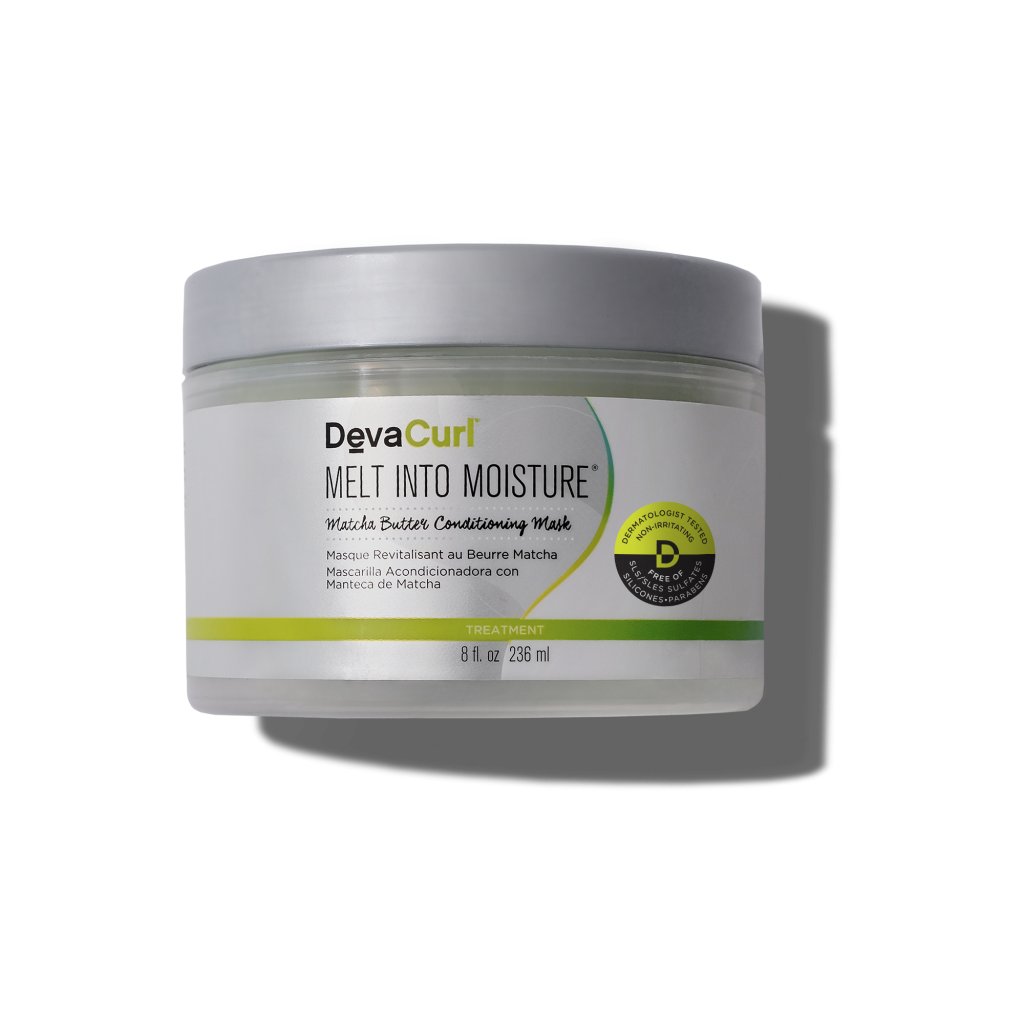 When and How To Use Melt Into Moisture
We think a moisture-rich mask is a great weekly treat for your curls whether you're wavy, curly or super curly!
How to use:
1. Section hair and apply Melt Into Moisture evenly throughout wet, clean hair. It can also be used as a pre-poo moisture mask–just wet your curls with a spray bottle and apply evenly. Leave on for 3 minutes.
2. For more intense hydration, cover with your DevaTwist for 15-20 minutes.
3. If you're using it as a pre-poo, cleanse and condition as usual. If you applied it onto clean hair, then detangle as you rinse. Finish your look with your favorite DevaCurl stylers.
Melt Into Moisture vs. Heaven In Hair vs. Deep Sea Repair
Melt Into Moisture provides intense hydration and softness and is for extremely dry, brittle curls while Heaven In Hair provides more moisture than One Condition and should be used when your curls need a bit more moisture. Heaven In Hair is also protein free!
Melt Into Moisture is formulated specifically to help replenish moisture, which is why the formula is more hydrating than Deep Sea Repair. Deep Sea Repair is also formulated to be a protein-based treatment to help strengthen curls that may have gone through heat or chemical damage.

Are you ready to deep condition with the luxurious formula of Melt Into Moisture your next wash day? Let us know in the comments below!