With so many different curl creams on the market, choosing the right one for your curls can be a daunting task. Here at DevaCurl, we offer four different cream stylers: Wave Maker, Styling Cream, SuperCream, and Super Stretch. Each one varies in terms of moisture levels, benefits, and ingredients! If you want to know which one is right for you, take our Curl Quiz for custom results.
Today we're taking a deep dive into Styling Cream – you'll learn how and when to use it, its key ingredients and their benefits, and if it's the right cream styler for you.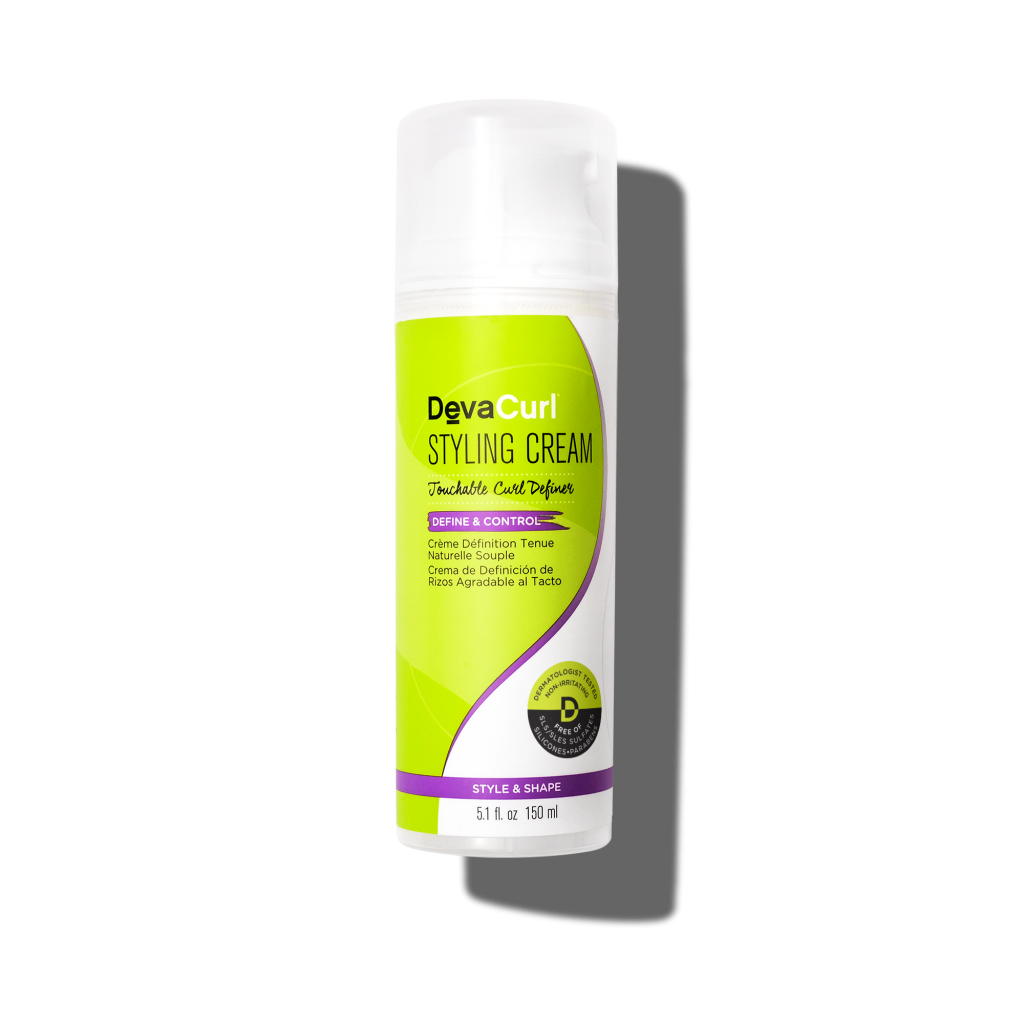 What is Styling Cream?
Styling Cream is a moisturizing styler that provides definition and shine while keeping frizz under control. It provides the lightweight hold and control we crave without the crunch, leaving curls touchable (for your hands only!). This curl cream has a lemon and lime zest scent that leaves curls smelling fresh and clean. We think it smells like Skittles!
What's in it?
Styling Cream is formulated with jojoba oil, wheat proteins, and tapioca starch to condition the hair, enhance shine and bounce, and help fight frizz.
Is it for me?
We usually recommend Styling Cream for people with 3A – 3C curls, but it really depends on what you're looking for in a curl cream. Styling Cream is a lightweight cream styler with medium moisture and hold.
If you are seeking a "barely there" feel for definition and volume, opt for Wave Maker. For ultra moisture and hold, we'd recommend SuperCream. If you're looking to elongate curls while providing hydration and maximum hold, Super Stretch is for you.
How Do I Use It?
We recommend applying Styling Cream to soaking wet hair. Remember, wetter is better.
Apply some product in your hands and rub them together. Evenly distribute the cream through your curls by finger-combing through the ends, adding a little more to dense areas for ultimate conditioning.
Scrunch upwards and squeeze curls for definition – you should hear a squishy sound (if you don't, add more water)! If you're looking for elongation, glide downwards using the prayer hands method.
Using your DevaTowel, scrunch upwards to enhance the curl shape and squeeze out any excess water.
Air-dry or diffuse with the DevaDryer + DevaFuser, then shake at the root and scrunch throughout for volume and bounce once your hair is fully dry. Voila!
Have you tried DevaCurl's Styling Cream? Let us know below!