Love lives in your waves, curls, and coils! This Valentine's Day, curly updos are the perfect hairstyle for a hot date, a chill night with friends, or even a date with your Netflix account. Whichever path your heart decides to follow, these are our favorite, easy curly hair updos that go from casual to fancy in a flash. Perk: They're also perfect for Day 2 or Day 3 hair! Allow our Senior Coordinator of Talent and Influencer Strategy, Britt Minetti, to show you how it's done.
Before you dive in, don't forget Deva is sharing the curl love with a sale! $5 off $50, $15 off $75, and $25 off $100+. Head on over HERE.
CLASSY & SASSY: UPDO WITH BANGS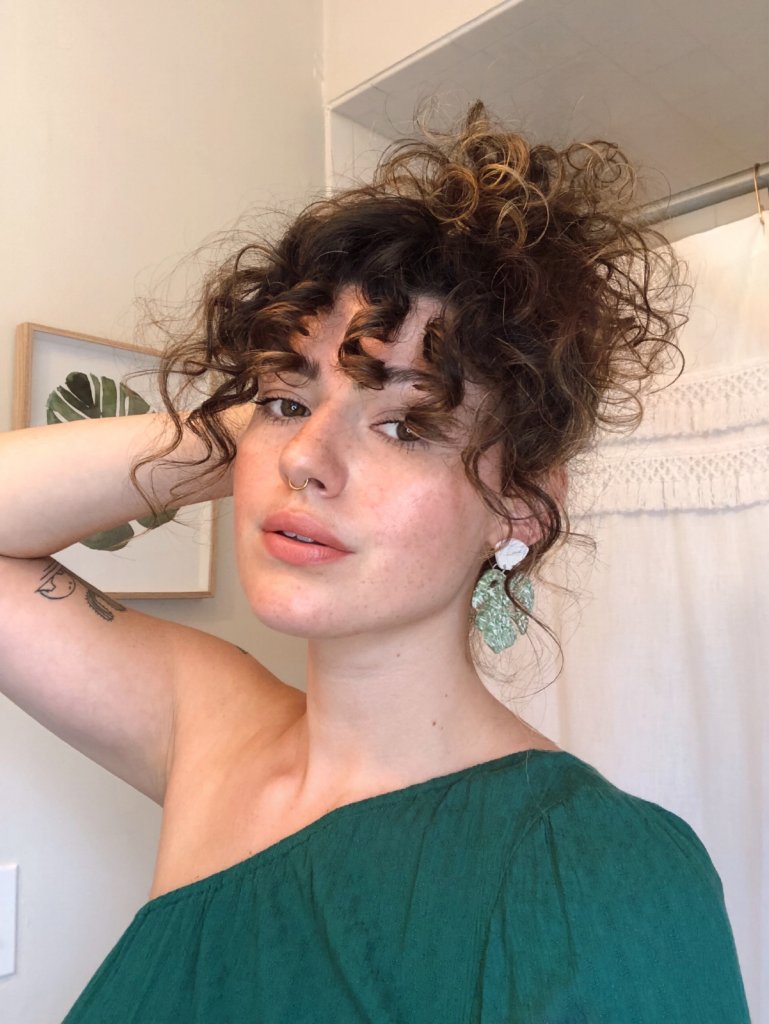 We love a classic curly updo and how easy it is to dress it up! Pair it with an elegant dress or top, some cute earrings, and congrats — you've officially crushed this look 😍.
How-To Straight From Britt:
1) I flip my head over and scoop up my curls, so they're in the middle of my head (almost like a pineapple or unicorn, lol).
2) Next, I flip my head back over, pull my bangs forward and adjust them on the sides, so they're placed where I want them.
3) I like to use a soft satin or silk scrunchie and tie it around my hair, twisting 2-3 times to secure the high pony.
4) For a little more volume and body in the pony, spray some Flexible Hold Hairspray, let it dry for a few seconds, then scrunch and shake it out a bit — this will give your updo a bit more zhuzh.
Another great product to try that delivers hold, definition, and shine is Ultra Defining Gel.
CUTE, COOL, CHILL: SPACE BUNS UPDO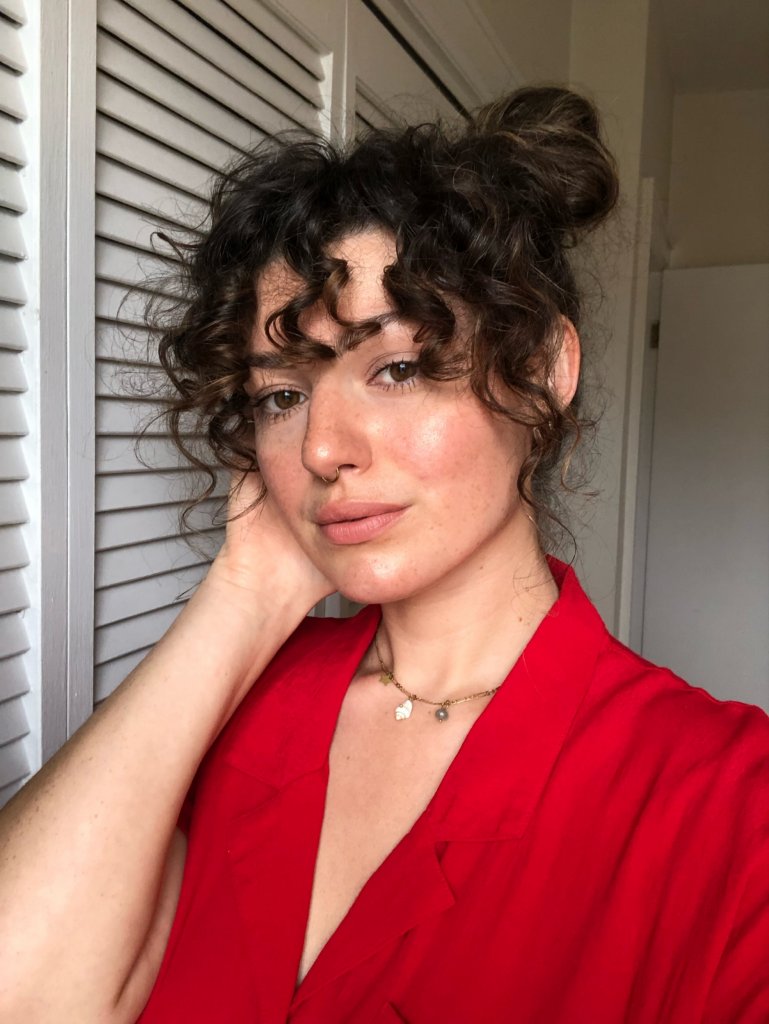 Ok, now here's a look that says — my curls are still poppin', but I'm feeling a little more chill. It's perfect for a casual date night or to hang out with some of your favorite loved ones.
How-To Straight From Britt:
1) I part my hair directly down the middle, keeping my bangs forward.
2) Next, I take two small silk scrunchies and create high pigtails on both sides. I like to ensure they're tight so my buns don't shift throughout the day/night.
3) I use a little bit of Flexible Hold Hairspray and spray it on each pigtail for some texture and volume — make sure you tousle them up a bit.
4) Then, I twist one pigtail up and twirl it around, so it creates a bun, and fasten it in place with a few bobby pins. Repeat on the other side.
5) I like to move them around and adjust them a bit to ensure the buns look as similar as possible (they're sisters, not twins, hehe). Now you're ready to rock!
6) Tip: To refresh my bangs, I like to spray a bit of water and DevaFresh on the front and then finger coil any bang that became misshapen or lost its curl.
Another dreamy product to try for airy volume, frizz control, and definition is Frizz-Fighting Volumizing Foam.
NEED MORE INSPO FOR THESE LOOKS? Easy, press play.
A LIL SOMETHING EXTRA: HAIR CLIPS
Fun Tip: The right hair clip can elevate any look! Heart clips are perfect for Valentine's Day, pearl clips carry a certain level of romance to them, and quite honestly — anything glitzy works.
We're happy to share the curl love on Valentine's Day (and all days). Embrace yourself, your loved ones, and oh yeah, chocolate — can't forget about the chocolate. Cheers!