Although we all love our curls, one thing that most of us don't love is wash day—more specifically, dry time. Whether you air-dry, towel-dry, or diffuse, we can probably all agree that drying our curls usually isn't our favorite step in our curl routine.
If you're someone who wants to cut down on their drying time while also minimizing frizz and boosting volume, you need the DevaCurl DevaFuser in your arsenal.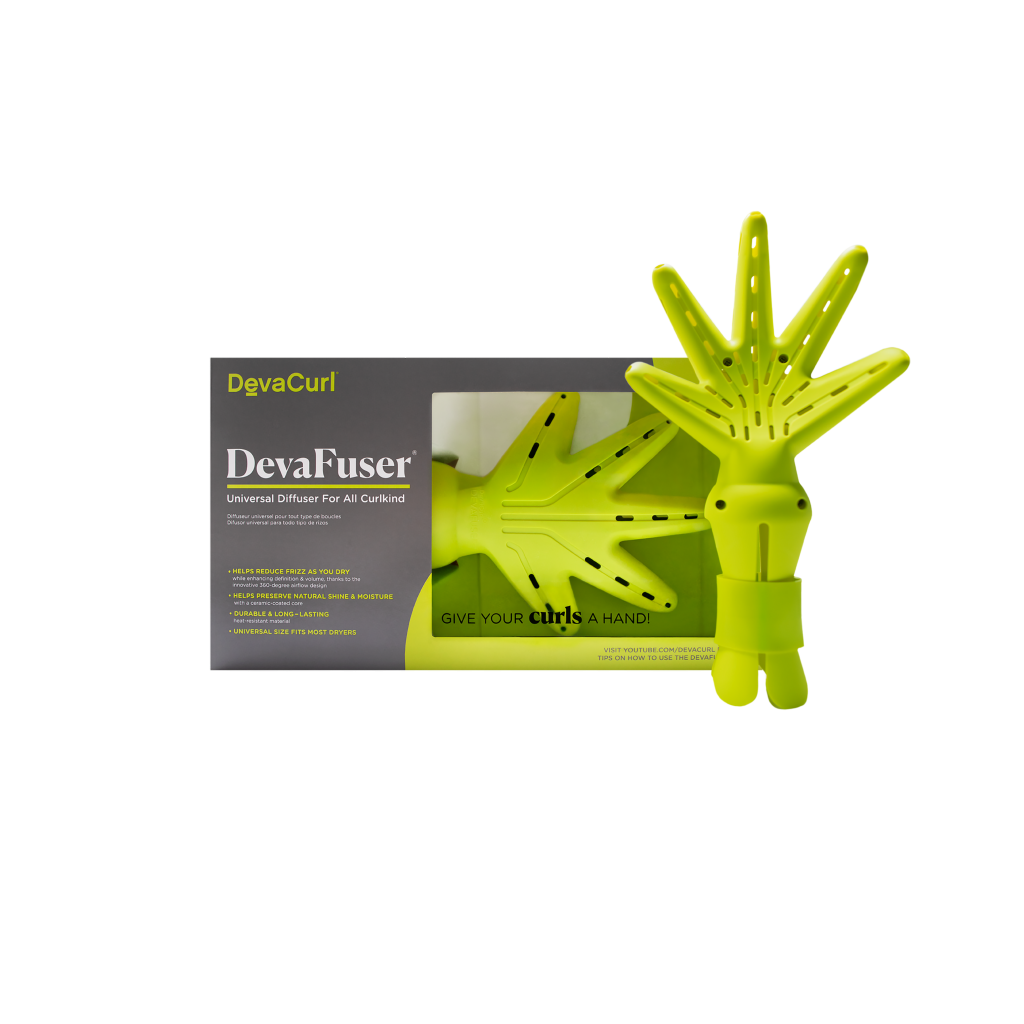 Why Do I Need a DevaCurl DevaFuser?
Unlike traditional bowl diffusers, the DevaFuser is literally shaped like a hand to help reach your roots while drying. It also boasts a 360-degree air flow which means it actually helps to dry your curls faster!
The shape of the DevaFuser paired with the ceramic inner core helps your curls to dry with reduced frizz, enhanced shine, touchable volume, and gorgeous definition! And c'mon, who doesn't want that?!
We also offer our DevaFuser in a set with our DevaDryer. Our DevaDryer features ionic technology to help create softer, shinier, frizz-controlled curls. It also comes with different heat and speed settings so you're always in control. Trust us, once you add the DevaDryer and DevaFuser in your routine, you'll never go back.
How Do I Use It?
If you ask a curly person how they diffuse their hair, well, you'll most likely get a variety of answers. Some people like to air-dry first, some only diffuse their roots, some scrunch their hair with their diffuser—the list can go on.
How we recommend using the DevaCurl DevaFuser is by turning your dryer on a low speed and heat and hold the DevaFuser near the scalp to help dry the roots first. Then, cradle the ends of your curls in the DevaFuser and push towards the scalp in a scrunching motion and hold for a few seconds. Repeat until your curls are fully dry!
Like we said, there's no right or wrong way to dry and diffuse curly hair so make sure to find the technique that works for you! Check out the video below to see another method of using the DevaDryer and DevaFuser.
Have any questions about the DevaCurl DevaFuser? Leave them below!