Here at Deva, we're known for being one of the first brands to encourage you to rethink how you cleanse your curls and kick traditional shampoos to the curb. While everyone's hair is different, we found that the biggest need for curls (moisture) was lacking in traditional shampoos. And that's where No-Poo came in.
If you're unsure where to start on your No-Poo journey, we've got you covered with our How to Quit Shampoo Kit. Read on to learn about what's so special about No-Poo, why you need to get your hands on the How to Quit Shampoo Kit, and more!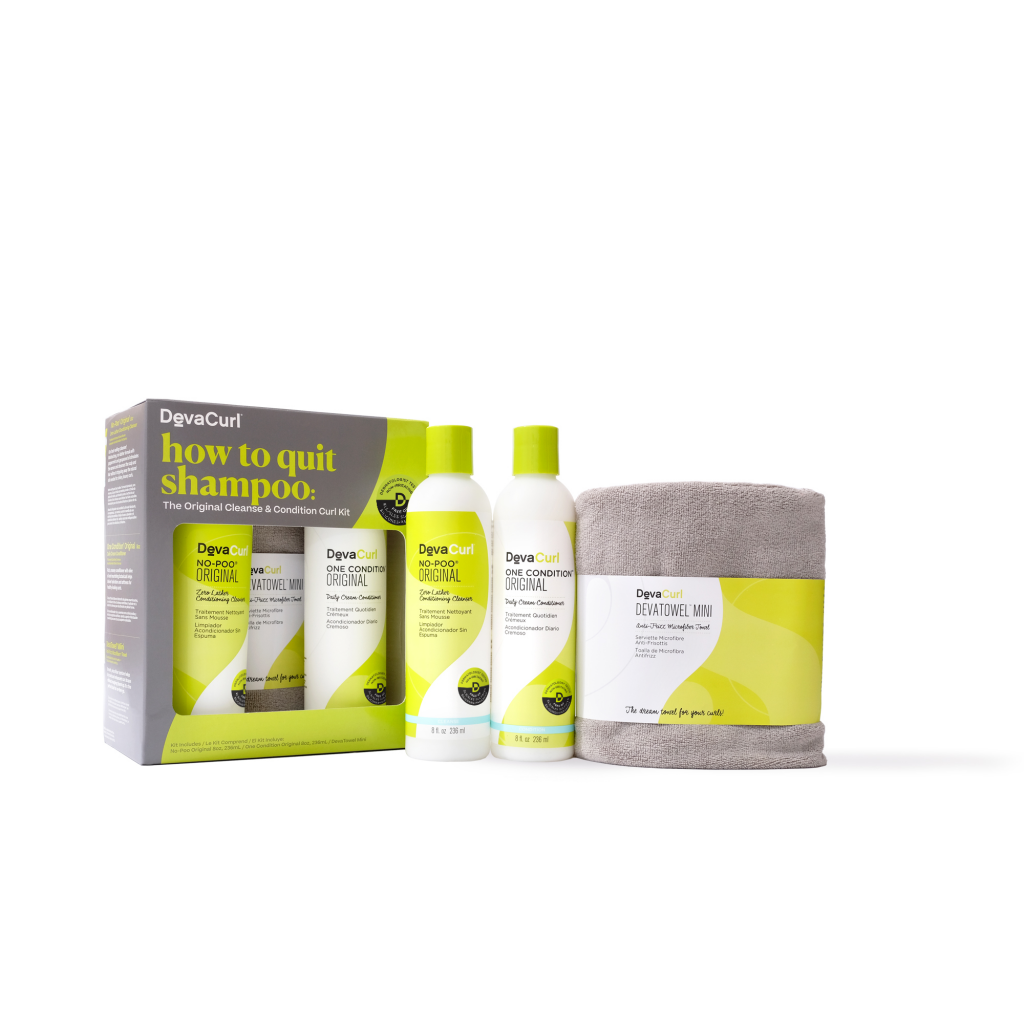 What is included in the How to Quit Shampoo Kit?
The How to Quit Shampoo Kit features three of our all-time best-selling products—No-Poo Original, One Condition Original, and a mini DevaTowel.
As we mentioned before, No-Poo is our version of a shampoo. We call it a conditioning cleanser because as it cleanses, it also provides hydration to your curls. Unlike traditional shampoos that are formulated with harsh sulfates, No-Poo won't strip your curls of the natural oils they need to stay moisturized and bouncy.
One Condition Original is special because it gives your curls the moisture they crave without weighing them down. It also has great slip to help with detangling in the shower.
Lastly, the DevaTowel is a crucial tool to have in your curly arsenal because unlike traditional towels, the DevaTowel is made with super soft microfiber. Terrycloth towels can rough up your curls and cause frizz while microfiber is a much softer material that will absorb excess water without creating frizz.
Is the How to Quit Shampoo Kit right for me?
If you have curly hair (think 3A-3C), then this kit is for you! If you have looser waves or tighter curls, we also have some great starter kits for you as well. Check out our full range of kits here.
How do I use the How to Quit Shampoo Kit?
Just starting out with your Deva products? We got you.
Step 1: On soaking wet hair, scrub in a generous amount of No-Poo. Keep in mind that it won't lather, but as long as you're scrubbing, it's doing its job.
Step 2: Rinse thoroughly and let the water move No-Poo through the mid-lengths to ends of your curls. To make sure all of the product is out of your scalp and hair, scrub your scalp gently with your fingertips under the running water.
Step 3: After cleansing, apply One Condition Original to soaking wet hair. This is also the perfect time to finger detangle to remove any pesky knots.
Step 4: Apply your favorite DevaCurl styling products onto soaking wet hair and use your DevaTowel to scrunch out any excess water.
Step 5: Air-dry or diffuse to reveal hydrated, bouncy curls!
Have any questions about the How to Quit Shampoo Kit? Leave them below!