One of the most asked questions we get on our social media pages is, 'how do I refresh my curls in between wash days?" And it's a valid question. There are a ton of products, techniques, tips, and tricks to help you out with reviving your curls and today we're going to chat about one of them—DevaCurl Mist-er Right.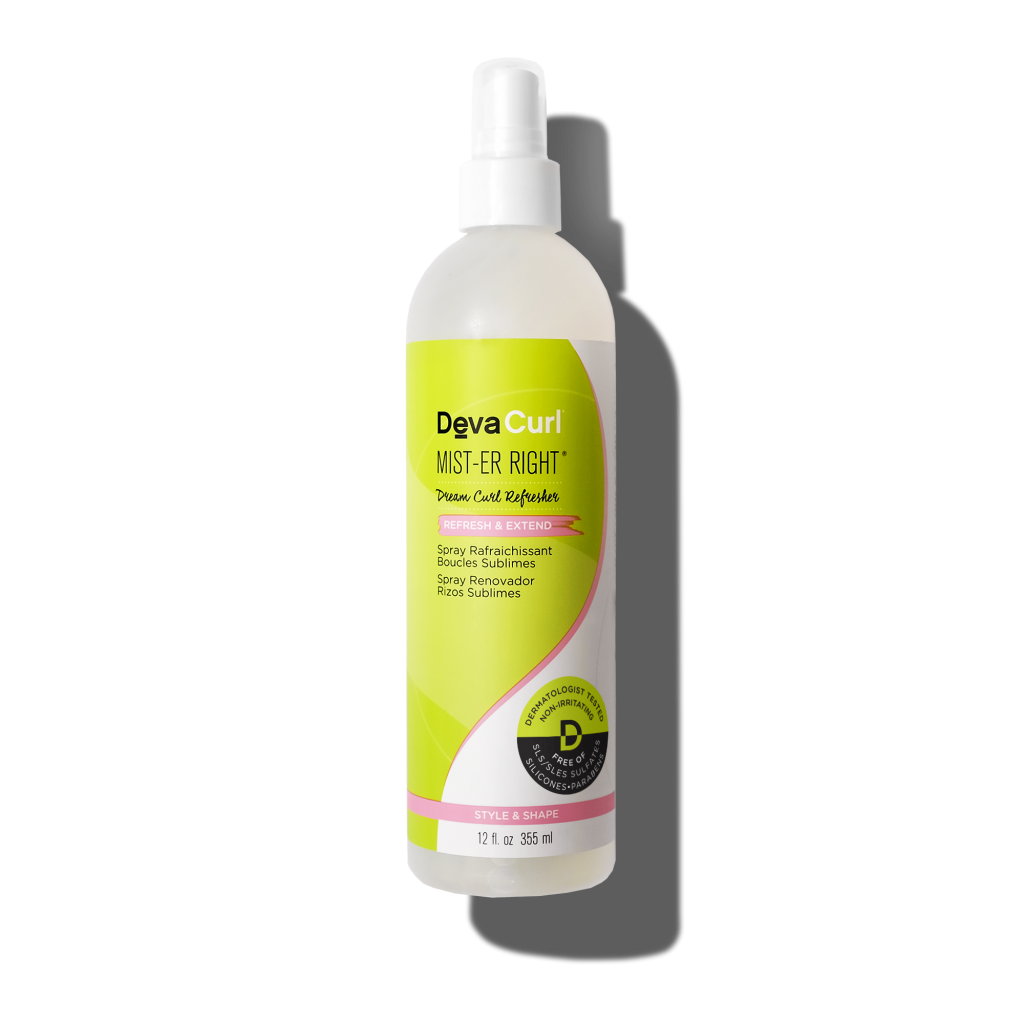 What Is Mist-er Right?
DevaCurl Mist-er Right is a curl refreshing spray that is formulated to hydrate your curls and bring them back to life. It's an awesome product for curl refreshing because it's super lightweight which means it won't weigh your curls down.
When refreshing curly hair, you always want to use something that is lightweight and avoid piling on moisture-heavy, rich products. Applying styling products on top of the styling products that are already in your hair from wash day can weigh down your curls and reduce volume and bounciness. Mist-er Right actually reactivates those previously applied styling products to help revive your curls.
Mist-er Right also boasts a heavenly lavender scent that will have your curls smelling delicious all day long!
How Do I Use Mist-er Right?
Using Mist-er Right is easy: simply spritz all over dry curls and scrunch in to boost body and redefine your curls!
You can use Mist-er Right anytime you feel like your curls are looking more drab than fab.
Is It for Me?
We recommend Mist-er Right for anyone with curly hair. If you have wavy hair and want to give Mist-er Right a try, just use it sparingly so it doesn't weigh down your waves. For super curly hair, we recommend using DevaFresh.
What's the Difference Between Mist-er Right and DevaFresh?
While Mist-er Right and DevaFresh are both curl refreshing sprays, they're quite different. Mist-er Right is specifically made for your curls while DevaFresh is formulated for both the scalp and curls. DevaFresh provides more moisture which is why we recommend it for someone with tighter curls that tend to need extra hydration in between wash days. DevaFresh also fights odor for 24 hours which makes it great for refreshing after working out or to use on protective styles.
While they both help redefine and revitalize your curls, Mist-er Right provides lightweight moisture while DevaFresh provides more hydration and odor control.
Have you tried Mist-er Right yet? If so, let us know what you think in the comments below!