What better what to compliment a bomb curly look than to pair it with laid baby-hairs and edges? Sculpting your baby hairs is the big finale to creating your overall curly look that can honestly push it to the next level. The next time you're shopping on DevaCurl.com or visiting your local Sephora or Ulta location, make sure you add DevaCurl Beautiful Mess Curl Sculpting Pomade to your shopping cart! If you're a curly person that lives for laid edges, this is definitely a product you'll need in your arsenal of curl products!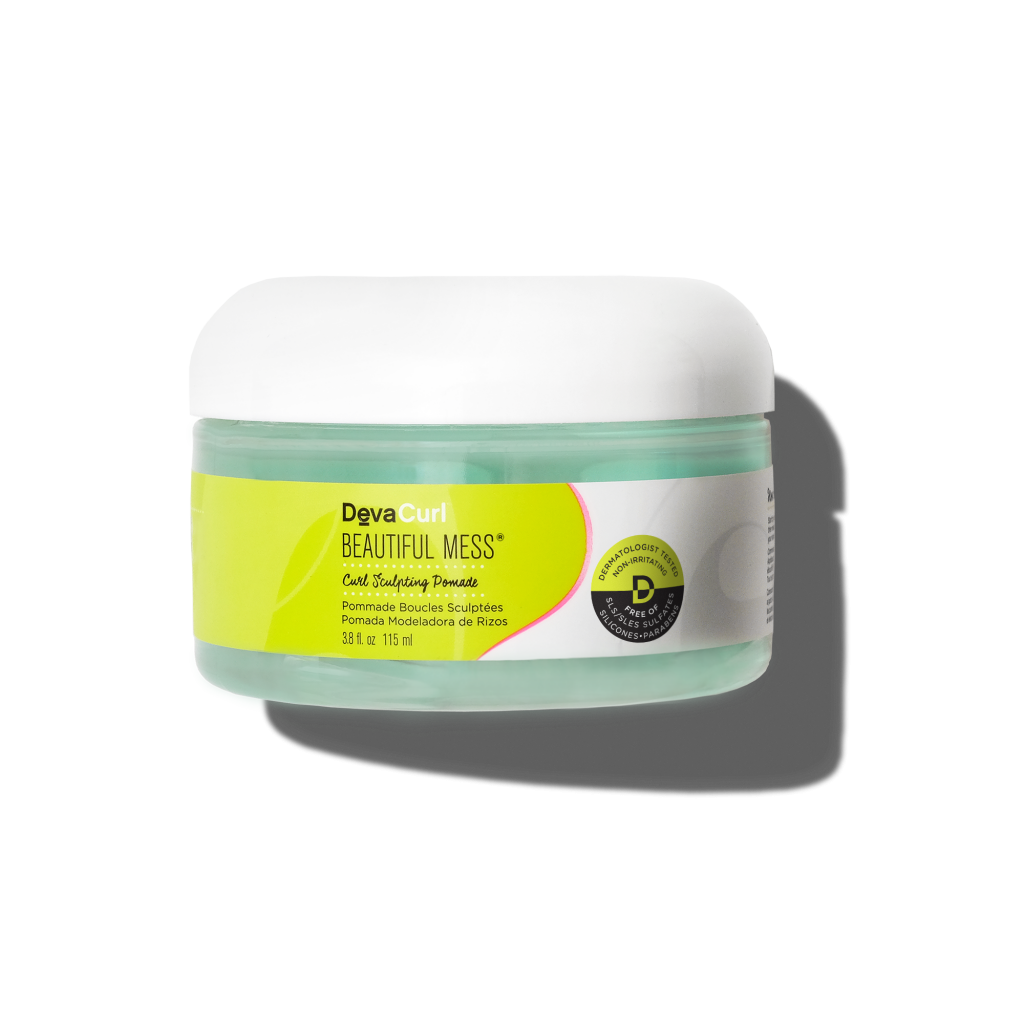 What is Beautiful Mess?
DevaCurl Beautiful Mess is a unique gel-pomade that melts into your hands so that you can create texture and lay those edges. It's definitely a multi-tasking product.
Created with Jojoba Oil and Cupuaçu Butter, Beautiful Mess can be used to lay your curls at the perimeter of your hairline or create tousled texture for curls with an undone finish plus volume, softness, and shine.
How Do I Use It?
When styling curls, we usually recommend a hands-off approach but with Beautiful Mess, the more touch and feel—the better! Tousle, fluff, mess up your curls until you get that desired effect. Senior Stylist at Devachan and member of DevaCurl's Expert Curl Council, Mia Emilio, recommends using a small amount on dry curls "Apply a small amount of Beautiful Mess in your hands and work lightly through curls after diffusing to add texture."
Here's the step-by-step on how to use Beautiful Mess on dry hair:
Rub a pea-sized amount between your hands or fingertips.
Apply at the roots for added volume.
Make your way from the mid-lengths to end for a more tousled look.
Fluff and shake at the root until your desired look is achieved!
If you want to use Beautiful Mess to tame your edges, simply use your favorite edge tamer tool and apply a tiny bit of Beautiful Mess using more when needed. Remember, you can always add more product but it's harder to go back once you apply too much!
Can I Cocktail with Beautiful Mess?
You sure can! In fact, many of our stylists in our Devachan salon love mixing Beautiful Mess, Arc AnGEL, and B'Leave-In for mega volume, texture, and hold.  
Have you gotten your hands on Beautiful Mess yet? Let us know what you think down below!