To this day, one of my favorite posts on the DevaCurl Instagram is: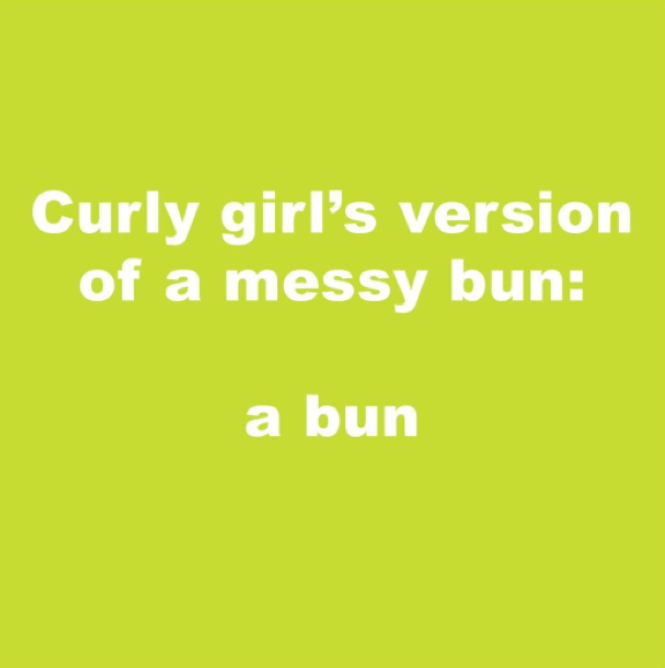 TELL ME IT IS NOT ACCURATE I DARE YOU.
Exactly.
And after twenty or so years of rocking my messy bun with pride (and tbh with an overall lack of styling skill) I wanted to see … could there be more?!
So I turned to Pinterest. I attempted several styles. I failed at several styles.
The struggle was real.
Then Shari Harbinger, Co-Founder of the DevaCurl Academy, and basically a living DevaCurl legend came to the rescue.
Here, we share two super easy, adaptable bun styles you can do in less than ten minutes. They're completely hair tie free, because we all known that ripping ties out of your hair can cause serious breakage. Instead we opted for bobby pins.
You're going to need a lot of them. But, hey, what else is new?
Look 1: Twisted Bun

To start, gather the top layer of your hair on one side and begin rolling it in towards the center of your head, securing with bobby pins as you go. Repeat on the other side.

Once your two "rolls" are secure, split the remaining hanging hair into two vertical sections.
Begin to twist and roll that hair until it's tight, continue to twist it down against the scalp creating a bun. Secure the bun with pins as you go.

Split the remaining hair that's hanging into two sections, horizontally. Bring the left side up, over and around the bun, securing it with bobby pins. Do the same with the right section. You can leave the ends out for a romantic look as shown, or pin them down for a look that's more polished.

Look 2: Rose buns
To start, section your hair at the ear line.

Divide the top layer into three sections, one for each bun. You should have two side sections, and one center section.

Began twisting the section until the hair is tight, then starting at the scalp roll the hair around itself in a counterclockwise pattern. Pin the twist against the scalp as you go. Repeat with each of the three sections.
Which of these looks would you try out? Do you have any go-to bun styles? Share with us in the comments below!