Last week DevaCurl celebrated the launch of our brand new specialty treatments: Melt into Moisture and Deep Sea Repair, by bringing a group of our absolute favorite curly girls together in NYC. Together they got in the kitchen with DevaCurl, explored our NYC home, tried our new masks, and learned a lot about each other. Each connected by their curls and mutual admiration, it was a moment to celebrate the curly hair journey and what it means to unmask your curls, and unmask yourself. Below is a recap of the event from one curly girl, Talia (@talia_music). She shares her #curlsunmasked experience.
Dear you,
My name is Talia. You may have met me through Deva. Before you begin reading, I want to offer the below screenshot to prove beyond a shred of a doubt that I *requested* to write what you're about to read.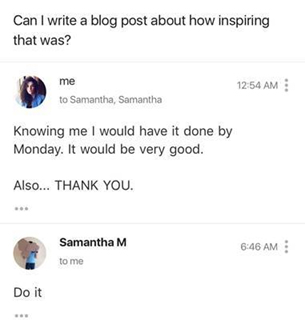 Boom. I stand by my confidence in my writing skill and speed. I knew this article would be good. Psh. It is! I have zero regrets! Now let me set the scene for you.
Today is July 12th. DevaCurl has flown many of us in from around the country. I arrive to a literal lobby full of curly haired goddesses. I wish I could tell you that my brilliant feminist brain celebrates this fact first. It doesn't. Instead, my insecurities pop up, and I panic. I text my partner. "This feels like a middle school trip," I muse, "Guess who never had a buddy in middle school?"
This one. Frizzy haired, way too loud, over the top moi. I quickly learned to iron my hair and iron out my eccentricity so I could stand out as little as possible. Happily, I was a failure at fitting in. These days I let my mane do what it wants. I wear clothes that do justice to the colorful, vivacious little child I have inside. I write music to connect with people from a place of honesty and creation.
I worked hard so that I could proudly claim this individuality. Looking out at this room, I realize everyone in it did the same. New Talia belongs in this lobby, with her fellow curly haired goddesses.
Things get better from here. Over the next few days, my life briefly feels like a badass empowered curly haired sitcom that I would watch religiously.
I ride the Cyclone at Coney Island, front row, with India (@indiabatson). Though I am a seasoned New Yorker, I've never rode front row. As we near the descent, I begin giddily shrieking,"THIS WAS A TERRIBLE BUT ALSO AMAZING IDEA!" and hysterically laugh the ride through.
I discuss important, difficult issues with Nikia (@nikiaphoenix), Ayesha (@spisha), and Penny (@itscurlypenny). I am conscious, once again, that discussion and connection will always breed better humans.
I scream sing to Rihanna with Laticia (@laticiaxoxo). No explanation needed.
I watch Brit (@bwatuwant), Daisha (@iamthedaisha), Bianca (@mzbiancarenee), and René (@ownbyfemme) Tear. Up. the dance floor. Each with her own style. Each with her own grace. It's 11 pm in the heart of Manhattan, but at that moment the world seems to revolve around this confident, joyous, little circle.
Later that night, I'm walking to my hotel room and I hear a cat call whistle. I spin around, 100% ready to unleash the wrath of god and all of my newfound female power on this creep.  Instead I see Kai (@ck_frias), doubled over in giggles, and slightly terrified to see my murderous face. Well… now she knows!
I learn to adore these women. Women from all over the country, their stories, experiences and, of course, spectacular hair. I wish I had this squad of queens with me everywhere.
I want to frame this photo.
Look: I never thought I'd be a "curly hair influencer." I still find myself explaining it to many of my friends who run the gamut from skeptical to downright shady. I'm a singer and a songwriter. But I'm also a woman who exists in a world where I've been trained to both hate myself and see other women as competition. My hair and appearance are a literal outer manifestation of my DNA. Choosing to celebrate my hair in its natural form is a triumphant statement and a celebration: Of my culture, my heritage, and myself.
Doing this alongside these women is magic. Collectively we are artists, activists, mothers, writers, content creators, and so much more. On the last night, the brand throws a party where more curlies from NYC join us. We're greeted by an enormous before and after wall.
There I am. 2004. Straight haired, fake smile plastered on. Basic outfit that betrays everything about my inner drama queen.
Standing and staring at this shell of a Talia, I find myself emotional. I look around at this room of women, some of whom I've known for years, some of whom I've known for a few days. Every middle school anxiety instinct has been replaced with sheer admiration.
I am thankful and full of love.
Thankful to DevaCurl for believing in and celebrating people from all walks of life.
Thankful to the women of this trip for welcoming me to your world.
And thankful for the broad, worldwide community DevaCurl has assembled. I love you. I encourage you to take the energy I have from this week and put it into your daily life, curls and otherwise.
All of us have a journey that first tortured us but now belongs to us. All of us are learning to love and accept ourselves. Our before and after pictures are of the same person, and there's lots to learn from both of those incarnations. But I'm happy to take my place today as a curly haired goddess alongside each and every one of you.
With love,
t