Something that you may come across when researching curly hair is the big chop. The big chop came from the natural hair movement and is done by many people in the curl community. Getting a big chop is such a personal experience and process for someone wanting to begin their natural hair journey and choosing the person to do their big chop, if it's not themselves, is just as much a personal experience.
Getting into the Big Chop
A big chop is the act of cutting away any damaged parts of your hair, this leaves the curls typically styled in a short cut or pixie cut. Doing this takes your hair from transitioning to 100% natural and it allows the curly person to start fresh with their natural hair journey.
Our Facilities Manager, Raechelle Evans, big chopped twice. The first time in 2012 and the second time in 2018 after she started working at Deva. Once she joined the team, she felt a strong desire to go natural again and really embrace her curls, so she stopped relaxing and worked with one of our talented Devachan Stylist and Educators, Cal, to do her big chop. It was also the first time she let a white person touch her hair.
Raechelle reminisces on what she was feeling that day, "I felt so vulnerable. In Black culture, we are raised to have our hair done by our own because only we know what to do with it. Nonetheless, I was building a friendship with Cal, so I trusted him to cut off all those 'this no longer serves me' hair strands. As soon as he was done, I looked in the mirror and beamed! I was F-R-E-E and ready to embrace my curls this go around, no matter how much shrinkage they would cause."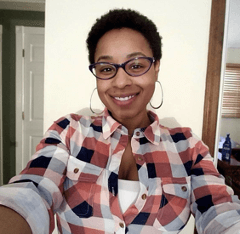 What you need to know if you are looking to get a big chop
If you're considering take the plunge and doing a big chop, there are a few things you should know. Make sure you pick a stylist you trust. Make sure you talk to your stylist about your thoughts on potentially doing a big chop and what it may mean to you. If you don't have a stylist yet make sure you use our stylist finder tool to find a Deva-trained stylist near you that you can consult with and then set up an appointment. This may go without being said, but of course bring inspo pics!

A big chop is also a great way for you to try out a new style and play around with new ways of styling your curls as they grow out. Your curls will grow in faster and healthier since there won't be any damaged ends attached to the healthy parts. It's also okay to feel a little apprehensive about getting a big chop right away, the alternative can be cutting your hair over a period of time until you've fully transitioned or feel completely comfortable with setting up that appointment for a big chop.

Have you big chopped yet? Let us know in the comments below!