It's currently awards season (see below for Thandie Newton's beautiful curls styled with Deva at the Golden Globes) and it's no different over at DevaCurl!
Today, we are going to roll out the red carpet for our own awards—The Ultimate DevaCurl Awards if you will. Let's go!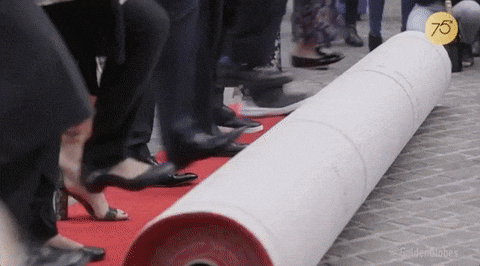 Super Stretch: "Best Product for Shrinkage" –Refinery29
Super Stretch won a Beauty Innovator Award for being one of the best products for shrinkage and we can't say we disagree ? If you suffer from shrinkage and dry curls, then you DEFINITLEY have to try Super Stretch. Here's what the gals over at Refinery29 had to say! "The answer to all your curl prayers–moisturizes like a cream, holds like a gel, smells like a piña colada, and defines wash-and-gos and twist-outs alike."
Wash Day Wonder: "Best Detangler"-SELF
SELF named our Wash Day Wonder as the best detangler of 2018 in their Healthy Beauty Awards and noted that without it, they couldn't imagine finger detangling! Wash Day Wonder is formulated with pracaxi oil to give curls MAJOR slip before cleansing and we just gotta say, we don't know how we lived without it ?‍♀️
No-Poo Original: "Best Curly Cleanser"-InStyle 
According to InStyle, No-Poo Original is one of the best cleansers for curly hair—it even won an award in their 2018 Best Beauty Buys! InStyle notes that it's best to skip traditional shampoos for curly hair and opt for a gentle cream cleanser like No-Poo instead!
Leave-In Decadence: "Best Curly Conditioner"-Nylon
If you're looking for mega hydration that is sure to last you until next wash day, Nylon says that Leave-In Decadence should be your new best friend (or new favorite leave-in conditioner, whatever you prefer!) It even won Best Curly Conditioner in their Beauty Hit List Awards last year.
Styling Cream: "Best Curl Cream"-Byrdie
Styling Cream took home the best curl cream of 2018 according to Byrdie readers! Styling Cream provides ultra-moisture and leaves curls bouncy, shiny, and defined! One Byrdie reader said, the product "gives so much hydration and shape without weighing my hair down."
Did any of your favorite DevaCurl products take home any awards? What were your winners for 2018? Let us know in the comments below!