4-8-0 Hair Salon
San Antonio, TX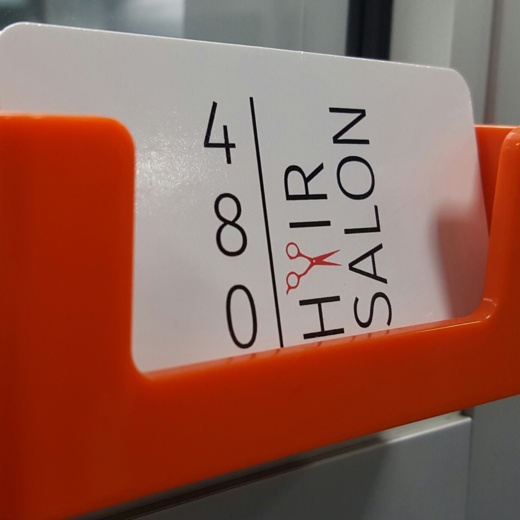 A certified stylist is here
15909 San Pedro Blvd., Suite 1
San Antonio, TX 78232
4-8-0 Hair Salon
San Antonio, TX
We are a salon that lives by the motto,''Hair is the ultimate accessory and it always has to look and feel great.'' We strive daily to ensure that our clients leave knowing that the investment they have made in their hard can be maintained at home with the right product prescription.
---
Our Certifications
---
Devacurl Services
DevaCut
This revolutionary cutting technique was designed for all natural textures, from wavy to super curly. Hair is sculpted curl-by-curl, while dry, in its natural state. This service includes a transformation service.
Pintura Highlighting
This award-winning technique was designed to add gorgeous, light-reflecting highlights to all natural textures. Pintura Highlighting offers the perfect harmony and balance to waves and curls giving brilliance and dimension to beautifully compliment your DevaCut.
DevaCurl Transformation
From wavy to super curly, the beauty of this service is the customized design for every client. This luxurious process begins with a healthy botanical cleanse and condition, followed by a styling and coaching session for at-home curl care.
---
---
Reviews
Amanda Is Amazing!!
Service Received:
DevaCut
Price:
$76-$125
This was my first time getting a Deva cut but Amanda made me feel right at home and really helped to bring back life to my curls. She educated me on ways to take care of my curls and gave me a hair cut that for once I can say I'm truly happy with. I would highly recommend Amanda to any curly haired girl and look forward to getting my hair cut by her again.
Love devacurl and 480 Salon in SA,TX
Service Received:
DevaCurl Transformation
Price:
$126-$175
I found 480 salon on the devacurl website about 5 months ago. I went for my first deva cut with Amanda. She made me feel completely comfortable, educated me on my curls, the devacurl products and how to use them properly to achieve the best curls. My hair has never been so amazing. I LOVE my curls now. I can not wait to book my next appointment with her.
Fantastic Deva Cut and Transformation
Service Received:
DevaCurl Transformation, DevaCut
This was my first Deva cut, which I only recently heard of because of the website. It was truly amazing! I didn't know what to expect, but Amanda is so talented and I can't believe how she transformed my curls into beautiful, frizz free curls. I have used deva products for years, but have not had the same results. The cut was tailored to what I wanted, as well as the products. I highly recommend Amanda and will never go to anyone else again for a curl hair cut!
Emily was great
Service Received:
DevaCut
I had used deva products for a month and was seeing great results so when I got my first Devacut I love it. She was very sweet and explained everything to me and helped me with techniques to maximize my curl. I will Go back for sure.
AMAZING
Service Received:
DevaCut
Price:
$126-$175
So this was my first ever DevaCut and also my first ever Deva anything. I was super nervous but Amanda made sure to really understand what I wanted and made sure to explain every step and every product thoroughly. She just made me feel super comfortable even though I was so out of my element. Will definitely go to her again.
Best hair consultation I've ever had!
Service Received:
DevaCurl Transformation
Amanda really asked me a lot of questions. This was my first DevaCut and she made sure to try to understand what I wanted from hair and how I like to style it. She explained everything step by step and gave me tips along the way to use at home. She also did some color to cover my grey hair for me. Excellent experience!
Not going back
Service Received:
DevaCut
I had a deva cut by Emily, I have had a deva cut before and this one was different, she warned that straightening my hair it would not be perfectly even, which is fine. I did not expect to have one curl way longer than the rest. I waited a couple weeks before writing a review, thinking I was being picky and it would grow on me... it hasn't, I dislike it more and more. I do not like the straightacross style, I do not like how some strands are noticibly longer, and I paid over $100 for a hair style I don't want to wear. The before and after pics are cool but you have to remember the before photos are natural and with no gel/cream so of course it is going to look better after. I will get another deva cut, just not here.
Emily has SO much knowledge!
Service Received:
DevaCurl Transformation
I have been getting DevaCuts for the last three years or so, using the products for quite awhile, but I have always been somewhat unhappy with the stylists I've been able to find, and incredibly disappointed that no one in our area ever got more certifications, even though some of them promised me they were going to. The second I saw the Level 2 cert, I jumped at the chance to schedule my appointment. I had the honor of getting my hair done WITH EMILY, and I do mean with. I'm familiar with the products, but she really listened to what complaints I had about my hair, the problems I was having, and suggested several solutions. She showed new ways to layer products to make them most effective, how to utilize new products like the build up buster into my routine, and helped me tweak my routine to address my breakage concerns. I honestly thought I new everything, but she gave me SO much information! We even got into the science of healthy hair and talked about diet, environment, etc. Personality and knowledge beside, my cut was amazing. She explained everything she did, why she did it, and was very explanatory when I explained what I wanted to be able to do with my hair and why it wouldn't work for me just YET, but gave me tips on what to do to prepare my hair for the cut I want. I saw my family today, on day 2 having been slept on, and when the saw the back of my hair, my sister's LITERAL reaction was, "OMG DID YOU SEE THE BACK OF YOUR HAIR! The curl definition is insane!" Also, she o my charged me $75! Other stylists in this area charge $10-$20 more than that, and I wasn't nearly this happy. Take the risk! Go! Emily was amazing. Just an FYI, her salon is inside "Sola Salons" and she is in suite 5. This confused me a little bit.
Deva Transformation with Amanda
I've been transitioning from relaxed hair since August 2016. My hair was very damaged from decades of relaxing and coloring. I knew I wanted a Deva Cut to get rid of those last relaxed ends, and to provide an attractive shape, however, I did not want to travel to Austin, Dallas, or Houston. I was pleasantly surprised to find Amanda on the Deva Stylist locator. I stalked her Facebook page for months, and was impressed with her skill level and the diversity of her clients. During my transformation service, she listened to what I wanted, made recommendations that were in line with my requests, and she educated me on my hair needs throughout the entire session. I looked like a completely different person when I left the salon! Amanda is that rare stylist that not only has the talent, but also has a wonderful personality to match. Take note San Antonio, we have a true Deva stylist in the city.
Love my hair again!
I'm one of those people who got blessed with curly hair later in life, so for most of my life my hair was straight and it is only the last 10 yrs that it has been curly, so how to handle still seems new to me! This is my first time getting a Deva Cut and my hair was a shapeless mess going in. The last wet cut I had left me uneven, with no style and I knew something had to change, so I decided to try a Deva Cut. OMG, I can't believe how much I love my hair again. I don't even remember the last time i walked out of a salon so happy (3 days later and doing next to nothing to it, it still looks fantastic). Amanda was terrific, she listened to the issues I was having with my hair and what I wanted to achieve and cut it beautifully! She is very knowledgeable about the Deva line which I just started using a few months ago and I learned a lot about which products I should be using and how I should be using them and the best way to diffuse it (and yes I was using a couple either not quite right or the wrong version for my hair). And the bonus was the salon itself, it is a private studio within a space of lots of private salon studios (Sola Salon), so you are one on one with her - it was a terrific experience all around. I highly recommend and will definitely be going back. Thanks Amanda!
I LOVE my hair!
I had a Deva cut at the LA salon 2 years ago and have been looking for a Deva trained stylist in San Antonio since, so I was thrilled to find 4-8-0 salon. Amanda did an incredible job on my cut and color. Using the products she recommended I get perfect curls and I've been able to hold the curl while my hair grows out. I get compliments on her work all of the time.
One of the best deva cuts!!
I've had over five deva cuts throughout the U.S. and Amanda has given me the best one yet. She is extremely accommodating and cut my hair exactly to my liking. She also did an AMAZING job styling my hair afterwards! I have never had so many compliments on my hair.
Fantastic
Both women were absolute fabulous. Due to a mix up of appointment times, I had the pleasure of both women working on my hair. I have not gotten a hair cut in about two years and these women were obviously well versed in curly hair and did a fantastic job. My Devacut left my hair looking and feeling gorgeous. I will definitely go back.
Deva Cut
Emily did a great job with my hair. She was very thorough with each step and answered all my questions! She didn't cut too much off when she found out I was trying to grow my hair out. 10/10! I'm going back to do th buildup buster/deep conidition and later on for a trim!
SHOW MORE REVIEWS
---
---