Curls On Top
Laguna Beach, CA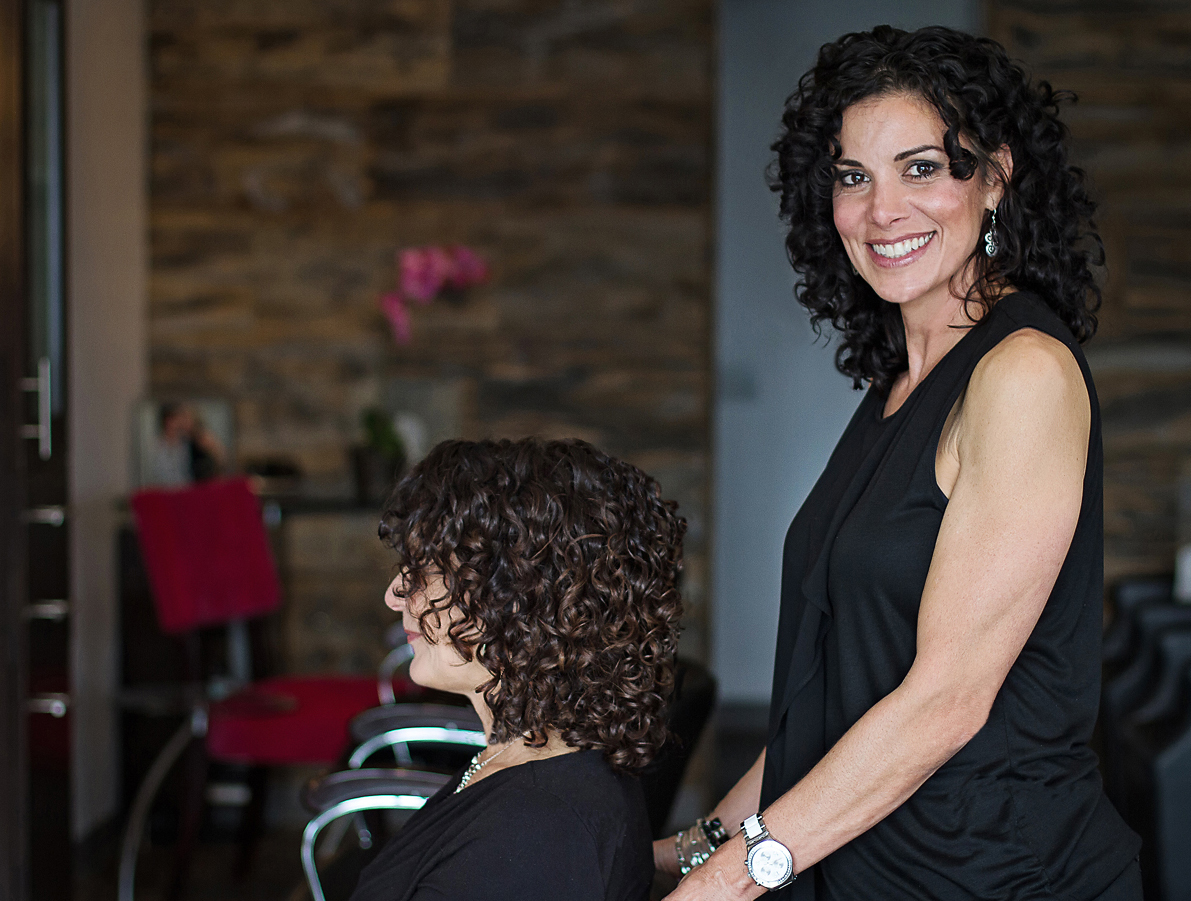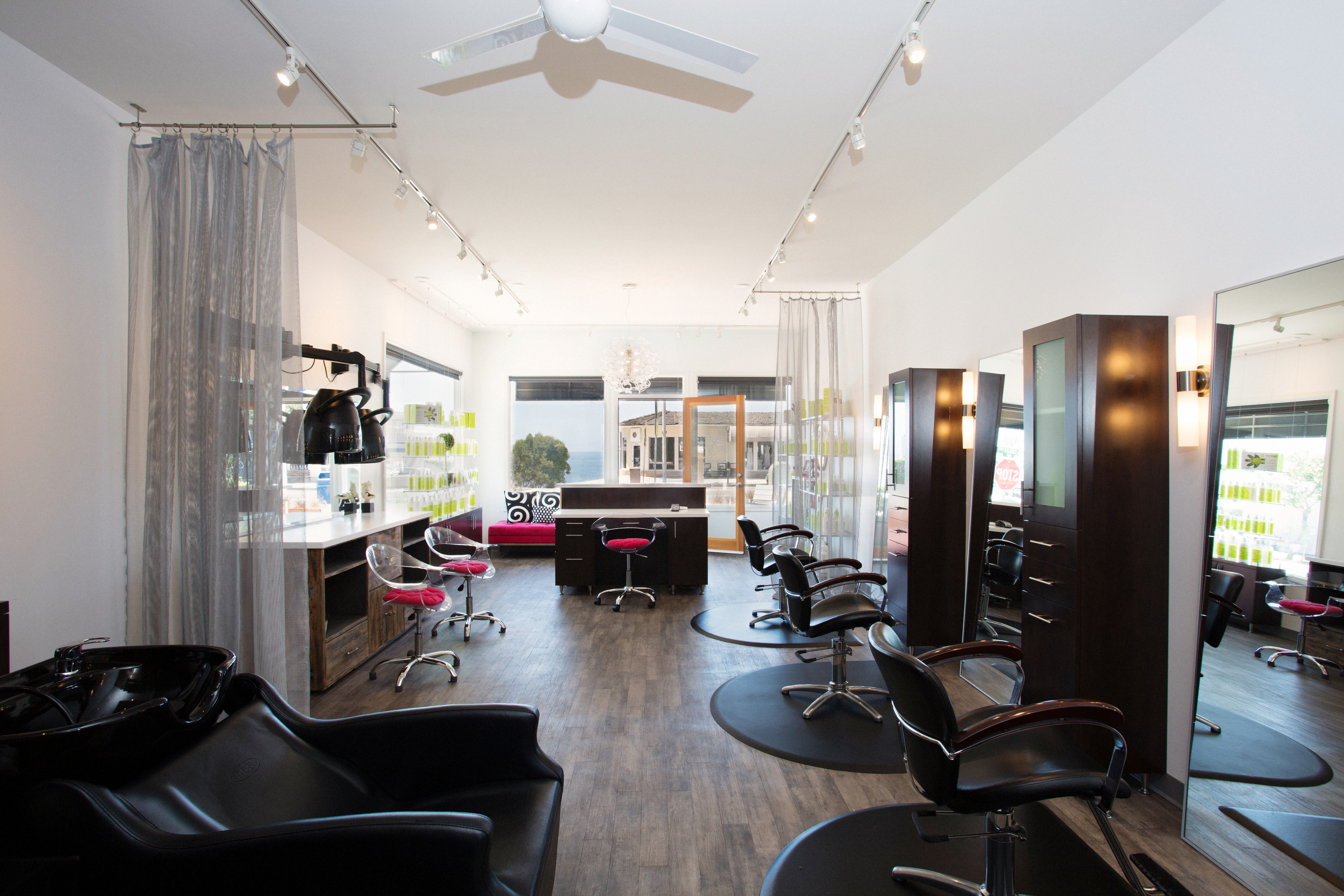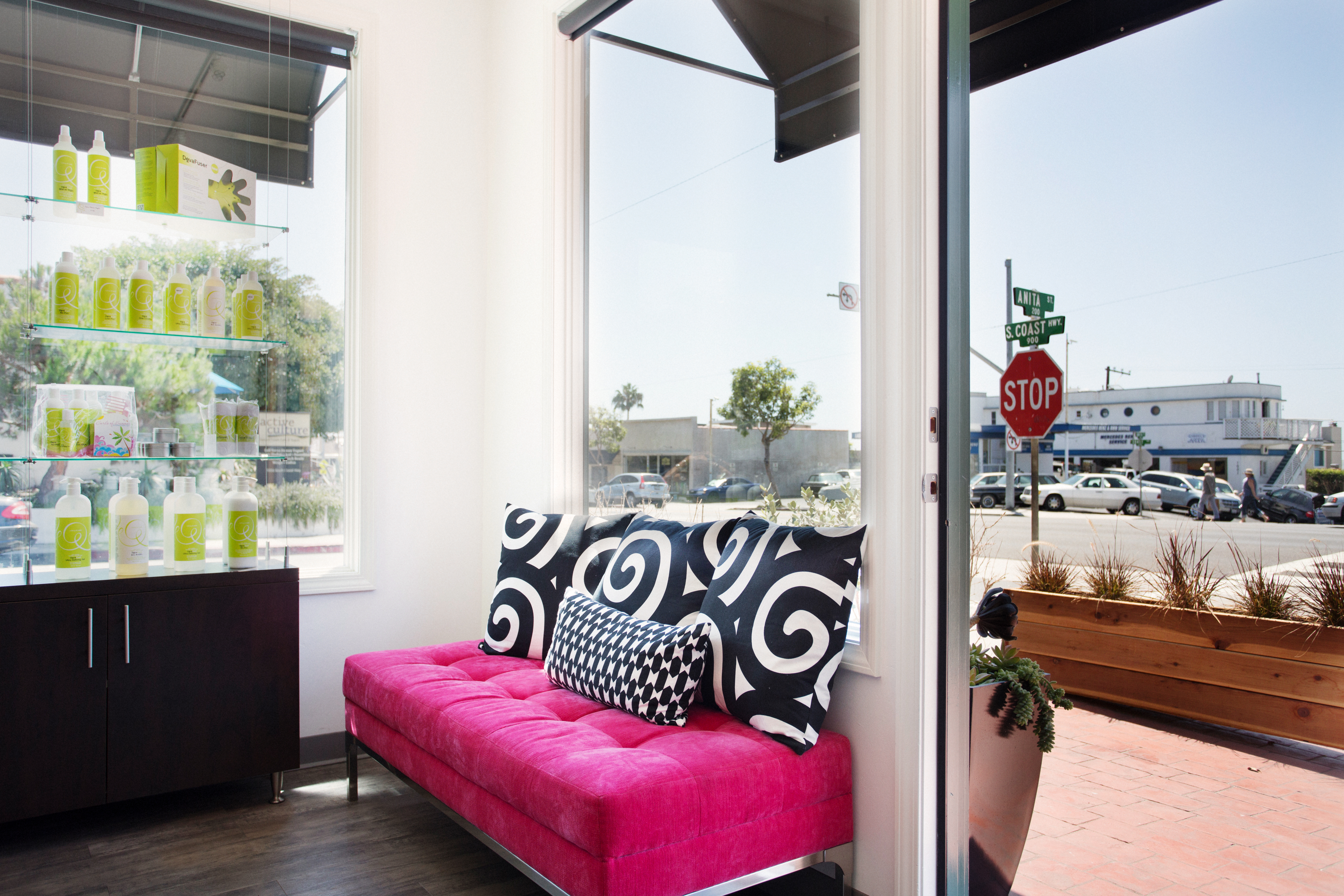 A certified stylist is here
998 S. Coast Hwy.
Laguna Beach, CA 92651
Curls On Top
Laguna Beach, CA
Ocean views, curls and plenty of sunshine. Experience the premier "curls only" salon in Laguna Beach, CA.
---
Our Certifications
---
Devacurl Services
DevaCut
This revolutionary cutting technique was designed for all natural textures, from wavy to super curly. Hair is sculpted curl-by-curl, while dry, in its natural state. This service includes a transformation service.
Pintura Highlighting
This award-winning technique was designed to add gorgeous, light-reflecting highlights to all natural textures. Pintura Highlighting offers the perfect harmony and balance to waves and curls giving brilliance and dimension to beautifully compliment your DevaCut.
DevaCurl Transformation
From wavy to super curly, the beauty of this service is the customized design for every client. This luxurious process begins with a healthy botanical cleanse and condition, followed by a styling and coaching session for at-home curl care.
Super Curly DevaCut
This customized cutting technique springs from the DevaCurl foundational principles catering to highly textured, super curly clients. Hair is sculpted curl-by-curl, in its natural state, according to curl pattern, desired style, personality and lifestyle. This service includes a super curly transformation.
Super Curly No-Poo Transformation
Customized for super curly textures, this luxurious service begins with a healthy botanical cleanse and condition for ultra moisture, followed by a styling and coaching session for at-home curl care.
---
---
Reviews
Rushed and not professional
Service Received:
DevaCut
I arrived on time and waited a few minutes for Vickie to finish her current client. I had a Devacut previously so I knew what to expect. When I got in the chair I showed her some pics of what I wanted and told her I wanted to keep my length. She started by taking a half inch off my length (which I did not appreciate) and then proceeded with my layers which are just OK (some layers don't flow well). Once she was done I was passed off to someone else to wash my hair and apply product and then I sat under the dryer for almost an hour. She was doing her next appointment and I continued to wait even after my hair was dry. While under the dryer I checked my phone and saw that my payment had already been processed and the receipt e-mail to me which I thought was classless. When they finally acknowledged my hair was dry someone walked in and wanted a trim so I was told to wait for Vickie to do their trim. I was stunned at the lack of disregard for my time. Once Vickie finished the other persons trim she then took me over to the chair for a very brief final look with someone else waiting. As she was taking me to the front I had to stop her and ask for a mirror so I could see the back, she was already onto her next customer basically rushing me out the door. My layers have grown out a little and are still not flowing right and my hair is much shorter than I asked for. The other ladies in the shop were talking loudly about their rude neighbors and negative talk about their friends kids, it was less than professional. My last Devacut was a very personalized experience with a lot of tips and focus on how to make my curls look their best. For what you pay for a Devacut you expect more. Unfortunately at Curls on Top it felt like a factory, I was just one more person in the assembly line.
Great Experience!
I came upon this salon while visiting Laguna Beach. I couldn't believe there was a salon specific for curls, out of curiosity I went in to inquire about an appointment. Of course availability was impossible on short notice but the friendly receptionist said she would try to accommodate me if they received a cancellation which to my delight she called and I was able to see Vickie the owner. What a game changer, I have never loved my hair as much as I do now. I have been getting compliments from everyone that sees me back home. Very friendly staff, incredible views of the ocean (even saw dolphins while sitting under the dryer) and overall top notch service.I am now trying to plan my next vacation around getting my hair cut. Thank you girls!!
Amazing experience
I've been in the dark my whole life and can finally embrace my curls with zero frizz! My hair was cut to provide the best shape (no triangle). I asked to keep my length and that's exactly what I got which never happens ever!!! I loved the vibe in the salon and everyone was so helpful and kind I definitely will be back!!!
Finding out my curls
All my life I wore my hair straight, with recently having a child I wanted to get my curls under control so she could grow up and love her curls. Let me tell you.. when I say I didn't realize how much curl I had and how beautiful it could look.. I really didn't. Wow. My life has been changed. Vickie applied her expertise cutting skills on my head and now I have a whole sense of peace that I never had before. To really learn how to style and take care of my hair after 30+ years just blows me away. I can't wait to come back!
Awesome Haircut
I saw Lauren for the first time last week and my curly hair has never been better. It has so much more bounce and hydration. Now that I know what to do with my curls I am so excited to share my knowledge with everyone. I definitely recommend coming on down to Curls on Top and you get to have lunch in the beautiful Laguna Beach after! It's a win win!!
LOVE LOVE LOVE
It was my first time visiting Curls on Top in Laguna Beach and I enjoyed every minute of my appointment. I love the fact that it is all women and it really does feel like a curly oasis like they say. I definitely recommend Vickie.
poor customer service
I wanted to love this place after hearing great things. I even tried it twice and will not go back and pay a premium for a low end experience. The lady who works the front desk is less than friendly. I was going to buy products but she had my total ready, didn't ask how my service was and just said to insert my card and rushed me out. Laura is very nice and seems like a good stylist. The overall experience in the salon is very unprofessional. The staff pays more attention to gossiping with each other than they do the clients. My cut wasn't different than previous non-deva salons.
Very unimpressed and very poor customer service
I have to agree with the other reviews about poor customer service. This is a very unprofessional and poorly run business. Their hours of operation are proof: Tue-Wed, Fri-Sat 8:30 am - 4:30 pm. Who runs a customer service based business with those hours? Everything about being at this salon is stressful and rushed. Also, be very aware that no matter how many reviews you read about Vicki, she is lacking A LOT of knowledge about hair. She's uneducated about porosity, curl patterns, multiple textures, the different directions that hair grows out of our heads, and she doesn't even style the hair she's cutting. A very nice but entry level intern throws product and clips in and puts you under a dryer. If you ask questions about porosity or question ingredients, she'll bark at you to stay off of the website and that she's never heard of porosity before. Maybe it's just me but I don't want the person cutting my hair to be that uneducated about these variances that most of us struggle with. And, what kind of stylist doesn't style your hair? I think this salon is for the locals only who can afford to live in Laguna Beach and don't have to work. Curls on Top is extremely expensive for what your getting and on their schedule, not yours. My hair cut was horrible. She left so many split and damaged ends on after she finished cutting it and never even checked it after her assistant took me out from the dryer. I was so dumbfounded and shocked that I couldn't even say anything. Just paid and left wondering how in the world she and this salon get raving reviews. Would you rave about a hair cut if you had visible split ends afterwards? Maybe this is the salon you visit if you have perfect hair that magically styles itself. Don't be fooled by the marketing hype. It's a money making sham for sure.
Worst customer service ever, but good haircut
A little over a year ago I went for the first time to see Vicky. I was very excited based on the things I've heard. As are most of us with curly hair, I was in dire need of a good curly hair haircut. When I got there they looked at me, no greeting, and barked for me to take a walk. After looking shocked - she elaborated and told me to go get coffee. They had taken a walk in and my appointment ended up being delayed over an hour. My husband had my small children, but he had to go to work and it put me in a terrible position with regards to childcare. I ended up meeting him at his work because he had to take hem in and leave them with a colleague. I tried to shake it off and enjoy my new haircut as much as I could. I did love the haircut and I loved the products. I was going to try the place again. However, when I called to make an appointment I was put on hold. The person answering never came back on the phone. After over 10 minutes I finally hung up. I called back a little while later. No answer. I left a message and asked for them to call me back because I wanted to schedule an appointment to get my haircut. They never called me back. I waited and called again. No answer. I again left a message. It wasn't until I believe my third phone call that somebody finally called me back. By that time I was over it and decided I'm moving on. Save yourself the trouble. Move on. I am trying another stylist. Give someone else your business.
Unaccommodating for Women Who Have to Work!
I have never been to this salon; although, I tried. I teach and say my last good-byes to my kids at 3:25. I can get to Laguna by 4:00, which is still pretty early for women who have to work to support their families. Curls on Top closes at 3:30 and their last appointment is at 2:45. So, it seems that only stay-at-home women, or women who have part time morning jobs, or those with super flexible schedules who can come and go as they please are afforded the opportunity to get a good haircut for their curls. It looks like I will have to drive all the way to Oceanside. Thanks for being super-elitist in your business practices.
Where's your Customer Service
After going to the salon every 6 weeks for 8 months I was pretty fed up after my most recent, and last, visit. I had scheduled a trim but didn't receive one or even get asked about it. I was also there for root touch up and highlights but had been feeling a little washed out due to sun so was hoping to add some lowlights. No one asked what I wanted. The color was mixed before I even had the chance to say what my thoughts were. I also don't like small section highlights but that's what I got because they assumed and they didn't ask what I wanted. When it came to style time I said I'd like to airdry and the girl said ok. She blotted by soaking hair with a towel 2 times and said you're done. Didn't take the towel off my neck or anything. I tip well and saves them about 40-50 minutes of dry time. She could have asked if I liked the style or hey she could have styled it! No one said your hair looks good or those highlights are great or anything. Not even a do you like it or what do you want next time. Nothing. I left very upset. No one called or said anything. While they are good at what they do for curly hair they did nothing in the way of customer service and for me if I'm spending nearly $200 every 6 weeks in just color which includes a $50 tip you should try to have a little customer service and be a little friendlier. I'll be finding a new salon. If you like your stylist to be interactive with you this place is not for you. Every time I've gone I've wondered if I looked bad when you should leave the salon feeling great.
Vicki is miracle worker!
It's not just that Vicki is a miracle worker with curly hair, but it's so much fun to be at her beautiful salon and watch the transformations in action!
If you have never embraced your curls its because you have not gone to Vicky
I found Vicky at least 5 years ago. She does great color and for the first time in my life I have been going curly for the last 5 years. Her staff are always personable and now offer eyebrow shaping and tinting.
The Stylist I'd Been Looking for All My Life!
I was floored when someone told me there was a salon that catered to curly hair. I went to Vickie when I was hoping to grow my curly hair out from a bob. She taught me how to manage my curls and make them look amazing! Truly the stylist I had always dreamed I would find. After 40 years, I finally found her! My hair has grown to halfway down my back now and looks great. Easy to maintain. Without her, I would still have a bob. I tell every curly-haired girl about her. Keep spreading the word :)
After over two yrs of searching I finally found an expert on styling my curling/wavy hair!!!!
I live in Redondo Beach and it's often a two hr. drive to Vicki's salon but SO WORTH IT!!!!....I haven't felt this good about my hair appearance in years......Vicki is truly an artist in her field.....very rare to find someone this talented who also cares about you as a special individual!!!
Vickie helped me love my curls!!
I've been going to Vickie for years and cannot believe I wasted so many hours straightening my hair before her!! She cut my hair perfectly, and most importantly TAUGHT me how to make my curls look the same at home!! I've sent so many friends to her. I get asked all the time who does my hair :) I moved last year to San Francisco and still make the trip to OC to get my hair cut!
Vickie is amazing!
Vickie is amazing! She has changes my life :)
Finally.....
Vicki is so amazing. I feel so fortunate to have her cutting my hair, and I have never been so satisfied with the look of my curls. I used to always wear my hair back because it would look like it was cut to resemble a pyramid. – ugh. Never even knew there was someone out there that specialized in curly hair. My girlfriend of 30 years has even told me that she has never seen my hair look so good. Thank you, Vicki!
Tourist turned Fan
I was in town visiting a friend who told me about Curls on Top in her neighborhood. Vickie worked me in and worked her magic. She cut four inches off and I LOVE it. The experience triggered a make over, I started wearing make up again and cleaned out my frumpy clothes. I'd been to the Devachan Salon in NYC years ago, and forgot how good it feels to get a curly-girl haircut. Vickie is great!
It's Never Too Late to Become a Curly Girl!
Unlike most of the reviewers, I am brand new to Deva products, Curls on Top Hair Studio and the incomparable Vicki. I just had my first hair cut with Vicki and the price included a tutorial session with her assistant to learn how to use the specific products they chose for the best results for my particular hair. Since I am well over 60, I had thought perhaps it was too late to easily achieve a flattering curly look after years of blow drying my hair straight and enduring cuts from well-meaning stylists who really didn't understand naturally curly hair. Happily, I was WRONG! My hair has gone from being very thick and coarse to somewhat thinner and more fine as I grow older, but with Vicki's wonderful ability to read the curls and cut them properly, my hair looks fuller, shiny, healthy and bouncy. Except for trimming my bangs a couple of times (that is free, by the way), Vicki won't cut my hair again for 5 months. So even though the cut is costly, it turns out to be a better value than paying less per cut but needing cuts more often. The style I am aiming for, a very loose-curled, feminine, age-appropriate chin length look will be achievable by then, as my hair grows out. I feel as if I've embarked on a wonderful adventure, and I feel totally supported and encouraged by Vicki and her staff to guide me along the way. The atmosphere in the studio is welcoming and warm, and the decor is "relaxed chic" \- just the kind of place you love to step into, knowing good things are going to happen! I just wish I had found Vicki years ago, and I know several "potential curly girls" that I plan to steer in her direction.
Feeling blessed
I've been wearing my hair curly since finding Deva and Curls on Top and I feel so fortunate that her shop is in my neighborhood. But I would drive if I had to, to have my hair cut at Curls on Top. So much better than trying to fight my curls; healthier and more fun.
Thank you Vicki!
Thank you Vicki for changing my life! I am so grateful to you for helping me embrace my curls - no more Brazilian Blowouts, flat irons or tons of hairspray for me! You are so talented - I love the way you cut and color my hair!
Overpriced. Lack of customer service
I went about 3-4 times. My hair didn't look any better than when I went to other stylists. I sat in a chair while Vicki and her unlicensed assistant talked back and forth. I was an "object" in the chair being charged an outrageous amount of money so Vicki can work bankers' hours and be located across from the beach. No thanks.
Embrace your curl!
I tell so many people about Curls on Top in Laguna Beach and this amazing salon. Vicki has been doing my hair through many phases over 20 years...and my wavy swavy hair is best in the hands of this expert. Love the Deva products, the education on hair care, and Lauren and Arrianna.
Amazing Curls
I have been a client for about 7 years and moved quite a distance away about 3 years ago. She is definitely worth the drive! Her haircuts are flawless and easy maintenance...I regularly receive compliments on my beautiful curls. Thank you Vickie!
VICKIE IS THE BEST
Vickie is by far the best stylist I have ever had. I've always wanted to have short hair, but was told I couldn't because my hair was curly. Vickie was able to accomplish what no other stylist could. She has made me love my curly hair!! Additionally, she and her staff can always answer any question I have. I love getting my hair cut and hanging out with such wonderful women. Lauren always gives me a fabulous color, too. This place is not to be missed!
Vickie is a Curl Angel
Curls on Top has freed the curly girl in me. Vickie has magic hands. She helped me transition from a permanent straightening back to my natural curls and taught me how to care for and deal with my naturally curly hair. The staff is always pleasant and accommodating and the studio is clean and welcoming. I strongly recommend Vickie and Curls on Top.
wash and wear-finally!
Finally, I can put the dryer and all those other products away. This is the what I was born, this is how it is going to stay. I travel 80 miles to have only Vicki cut my hair. So worth it!!
Where would I be without Vickie?!
When I first came to Vickie, I had already decided to stop blow drying my hair. While I was content with the results, I never knew how thrilled I could be with my own, natural hair! Vickie has a talent I had been looking for for over 40 years! She's the first hair cutter I've ever been to - and I've even been to many with curly hair of their own - that understands curly hair and how to cut it to look amazing....naturally. Most stylists cut for the blow dry results. Not Vickie! And her salon is fun! The ladies there are all so supportive for those who are anxious or skeptical about making the plunge. For those who don't know what to do with their unruly, wild curls, Vickie will know exactly what to do with them!
Love her !
I had given up on ever finding a stylist that understands curly hair. They always wash first then cut then blow out straight! I always try to tell them I never blow out my hair. I was introduced to Vicki 5 years ago and have been going to her ever sense. Her new salon is so cut. I wouldn't go anywhere else.
It's A Curly Girl Haven!
One of the hardest parts about moving from NYC to CA was losing Devachan... but then I found Vickie and my curls have _never_ been happier! She is talented and friendly... so knowledgeable about curls and curl care (especially moving from humid climate to dry one!) She embraces the curly girl philosophy, and it's amazing... every time I leave her salon I've got a bounce in my step to match the ones in my curls!
Life-saver!
Finally, a stylist who understands and lives the life of a curly girl! Vicki saved me from a life of frustration with unsuitable haircuts and stylists who simply don't get it. The training with Deva Curl products, and the products themselves, are icing on the cake at Curls on Top!
Vicki sure knows her curls. my hair would not cooperate until after I started seeing Vicki
Vicki sure knows how to cut my curls. My hair would not coperate until i started going to Vicki
Surprising!
I came in for one cut and the amount of compliments and and positive feedback i received after just one short visit is fantastic. My curls have bounced back to life and I will never use a straightener again.
Fabulous!
Vickie is FANTASTIC! My life has changed dramatically since I have started going to Curls On Top, my curls have changed and I have started to feel a lot better about myself. If you are a curly girl in the OC-LA area I strongly recommend making your way to Laguna Beach to check her out. You will not be disappointed.
learned to care for my curls here!
Vickie was great. She definitely had a lot of knowledge and was willing to share it and teach me how to get the same effects at home, which made the cut last a long time!
Excellent Service Combined w/ Great Personalities
I was new to Orange County, CA, and I had just did the big chop. Finding Curls on Top was like swimming in warm light. Vickie Vela took her time with my tight curls to learn how my hair worked, and a few years later after going to Curls On Top, I don't even recognize my hair - I never thought my hair could be so healthy. I never thought I could love my natural curls on coils so much. Lauren Cortez does a great job with my color and is open to different ways of styling my hair, as I experiment with applying different DevaCurl products at home. When I go to Curls on Top, I feel like the stylists love playing with my hair. They truly embrace it, and it makes me feel beautiful. The service is amazing - making appointments and follow-ups are organized so well. I go right in at my appointment time. Five stars - with exponents!
A stylist with a lot of experience and great studio
I've been going to Vickie for about 2 years now, and at least once a month I get a compliment on how nice my hair looks. I had no idea I could get my curls to look the way they do now. She has so much experience and knows the best way to cut and style my hair. Her studio is in a great location and is very comfortable. Finally, she's got an awesome personality! I recommend Vickie to any curly girl.
changed my life
My hair is no longer a liability. How many bad hair cuts have we had in our lives? Vicki understands curls and makes them an asset. I finally love my hair.
Great!!!
Vickie is the very best curly hair stylist ever. I would NOT have my hair cut by anyone else. The salon is attractive and the other gals there are friendly, helpful and fun. I love going to Curls on Top.
Curly girls of OC rejoice
Just got my haircut here today and had a wonderful experience. The salon is located in a little structure in Laguna, the ambience and decorations are so cute and there is a very girly beachy feel when you walk in. Was greeted nicely and offered water then Vicki sat me down and started talking to me about my hair history she asked a lot of questions and really asked me what I wanted. I had dry ends that went down straight so I told her I wanted that straight look out but still wanted my length and she did exactly that! Then a lovely lady washed my hair which feels amazing because of the mint in the Deva products, then put in some clips and dried my hair. Usually after that Vicki goes over and sees if she needs to fix anything, but my hair didn't need any fixing! The price is really good considering it is impossible to find someone that does the DevaCut and its all on her website. Everyone there is so warm and friendly and I can't wait to come back!
EXCELLENT
Vicki and her staff at Curls on Top are the BEST! They have shown me how to truly embrace my curls and do great with my color. I have visited other Deva stylists and was not nearly as happy. I always look forward to my visits and make sure that I have a date night planned for that day :)
Amazing Life Transformation!!
On my initial haircut/transformation/makeover, I was blown away. I finally stopped battling my curls and have never looked back. I can't believe how easier it is to maintain my hair. The Deva products are life changing! The bonus is that I got my teenage daughter to embrace her curls and saved her a lifetime of frustration...
Fabulous hair cuts & styling!
Fabulous hair cuts and styling! They celebrate curly hair ... And teach you how to manage your hair between visits!
Magic With Curls
Vickie works wonders with curls. It's amazing how much better my curls look with her magic touch.
Vickie is amazing! She has a gift & passion to cutting curly hair!
I searched long & hard to find someone that was an expert at cutting curly hair. The name of the business caught my attention & I booked my appointment knowing the drive is far 1hr 1/2. Vickie was AMAZING! All these years of hating my curls & using flat iron I wish I would have met her as a little girl. I left the salon and I began to cry in the car because I was just so happy with the cut & highlights. My husband was in utter shock & myself of how pretty my curls looked. She taught me how to do my hair & such a blessing that I can pass that on to my daughter so she can embrace her curls. I've never left disappointed. If you are reading this review I ask you to book your appointment you will leave a very happy customer with a completely new set of curls. You won't recognize your hair in a great way! She is one of a kind & has a gift to cutting & styling curly hair.
Accept your curls and give up the frizz!
Got tired of fighting humidity and frizzy hair so I went into Curls on Top in Laguna Beach- great salon- had a diva appointment and learned how to accept and care for my curly hair! It looks great now that I know how to use the products and use the right techniques!
Curls on Top a godsend!
What a godsend to find Viki and Curls on Top! My curls have never looked better, and I have learned how to care for them myself with excellent results. Viki and her staff are responsive to my preferences, full of great suggestions, and positive about the gift of curls. I get great color, good cuts, and styles that look great!
Awesome haircut and salon
Curls On Top is the salon I have been looking for for years. My Devacut and styling lesson from Vickie was what I needed to learn how to make my curly hair its best. Because I don't use heat anymore with This technique, I can stretch out my hair cuts to every 5 months. Vickie really listens to your concerns and teaches you new techniques each time you're there. I can't recommend this salon any higher!
Vickie is amazing!
I live in San Diego, and so it's about a fifty-minute drive for me to get to Curls on Top in Laguna Beach, but it's really so worth it! I've been going to Vickie off and on for cuts for over two years. Since it is a bit of a drive for me, I've strayed a few times and have gone to curly hair stylists in San Diego, but have never gotten as fantastic of a haircut as I get from Vickie. (She's also been incredibly nice about the fact that I strayed a few times since she knows it's hard for me to get up to her salon.) I have wavy hair, and she knows just what to do to it to make it look amazing! In fact, in March, I had her cut off about 13 inches from my waist-length hair to turn it into a lob. I would normally be really nervous about such a major change, but knew I was in great hands with Vickie. She helped me grow it as long as it was (she would only do minor trims while I was growing it out to help me achieve the length), and then helped me take it shorter. She's kind, patient, and a professional. She makes sure that you know exactly how to use products for your hair type, and her cuts have been the best cuts I've ever gotten. Her assistant Laura is also such a sweetheart. I also want to add how honest she is, in both giving her opinion and in her professionalism. I've been doing my own color with henna for over a year, but it wasn't coloring my greys as much as it used to. At my last cut, I asked her about having her do my color, but she told me that it looked great, and that I should keep doing my color on my own, rather than driving up to have her do it so I could save time and money. She also won't have you come in more than you need for cuts; when I was growing out my hair, she had me come in just twice a year. Now that it's shorter, she told me to come back in four months. Parking can be a bit tricky to find in the new salon location, but I can usually get a spot within five minutes. Vickie is fantastic, and I can't say enough wonderful things about her! If you have curly or wavy hair, she'll work wonders on it!
Life Changing
I'm 64 years old and have warred with my curls for all 64 of them. Six months ago I had Vicki cut my hair for the first time. She also showed me how to use the products. Unbelievable!! I have beautiful curls and everyone else is commenting!!! Who knew?!
My hair has never been more healthy. I get the most fantastic complements and I have to thank Vicki for every one of them!
Thanks to Vicki at Curls on Top, I now have the most beautiful, healthy and fun Curls!!! The Amazing cut and products make all the difference.
Wonderful. Great service,
I always get great service, fabulous results and highly recommend this salon
Curls on Top is Best in Class!!
We have been going to Curls on Top for many years. Vickie Vela has great skill and an amazing sense of style! Her expertise in curly hair never ceases to amaze us. She truly is Best in Class!!
Vickie is fantastic! I'm so happy that I found her and the salon!
Vickie helped me restore my very fragile and damaged curly hair. She showed me what to use and how to use it. Also her ability to cut my extremely curly hair is amazing! I now love my hair! I just needed to learn what to do and what not to do and find the right stylist - and that person is Vickie! I am forever grateful :-)
Viki is amazing! She not only cuts my hair to perfection, but teaches me how to style and care for my curls. Love her!
The first time getting a hair cut with Viki is an education. She cares deeply about her clients and wants to make sure they can replicate her perfect styling.
Finally, great curls!
I love Vickie Vela and her salon, Curls on Top. Going to her has CHANGED MY LIFE!! Before I went to her, I couldn't even dream of having a "Good hair day" every day! Other stylists always said they could cut curly hair but when I left my hair was inevitably too short and I always was left with frizzy hair that I couldn't manage. Go curls!
It was like coming home...
I love this studio!! All my life I have had the problem of trying to find someone who did in fact know how to cut curly hair (as we all know, many say they do but actually really don't). When I walked into Curls on Top I knew I was home. Everyone there -- clients, stylists, colorists etc -- has hair like mine! In this land of tall straight blondes, Curls on Top is truly an oasis for us curly gals. The vibe is welcoming and fun. I couldn't be happier. Thank you Vicki!!
Changed my life!
Vickie's approach to cutting my botticelli curl-type hair has changed my life. I have always loved my wavy hair that has now gotten curly as it greyed. I have never found a stylist who knew how to cut curly hair to bring out the curls rather than suppress them and make them more amenable to being blown out. Thank you Vickie and DevaCurl!
The Expert on Curly Hair - Perfect cut and perfect care
Vicky has been do my entire curly family's hair for 8 years. She is amazing. No one is better with curly hair. She is the EXPERT. You will not be disappointed.
Awesome service!
I've been going to Curls on Top for about 4 years now. Vickie listens closely to what her clients want and gives them a fantastic cut. Before finding Curls on Top, I'd bounced around from stylist to stylist because I'd never found one who 'got' my curls. Vickie's understanding of curly hair and her ability to give a great cut has made me a fan and a devotee. The entire Curls on Top staff gets my highest recommendation!
Curls on Top Rocks!
I have tried so many hair salons that said they specialize in curly hair.....Wrong !! Vickie Vela at Curls on Top is AWESOME! Once she cuts your hair, you will never trust your curls to anyone else.
Outstanding
Vicki is amazing! I refuse to get my curls cut elsewhere. Highly recommend!
I'm way overdue to get back to Vicki!
Having lived with curly hair my entire long life, and basically being a frizzhead forever until I found Vicki, I now get raves from men and women alike who LOVE my hair almost as much as I now do. Vicki is awesome. I travel 800+ miles to get to her, but won't go anywhere else. She's worth it! LOVE HER & Laura!
Amazing cut!
Vickie Vela is a curly hair genius! Best cut I've ever received and a great educational experience! I now know how to treat and style my curly hair!
Talented Stylists, Loving Staff
I love this salon. Great location across from the beach, has a parking lot, great interior design. But most of all, you are treated like a queen and get the best cut for your money. Don't wait to make your appointment as slots fill up very quickly.
!!!
Best cut of my LIFE!!!
The very best salon. Ever
If you have naturally curly, or wavy hair, this is THE place to go. I have fairly wavy medium length fine hair, but my daughters have very curly to extremely curly dark blond hair. All of us leave this shop looking our very best. We look forward to our visits because it is a lovely place, with very friendly and talented people - and since it is in Laguna Beach, we can make a day of it!
Best cut on the West Coast
Vicki is a true curly girl trained by Lorraine personally.
A great cut and a lesson on keeping them curly.
Vickie is amazing. I wanted to find a stylist that specialized in curly hair. My hair is not super kinky but more of a soft curl that needs to be coaxed. Vickie uses the Deva Curl products and shows you step by step how to use them. So, I can have beautiful curls at home not just after leaving the salon. I live about 35 minutes from the salon but it's worth the drive.
Curls on Top is an Oasis of calm for our crazy curls.
Curls on Top is an Oasis of calm for our crazy curls. Vickie is a genius with the scissors and knows the perfect mix of products for the best results. I could go there every week for hair pampering and to relax in her lovely spot on the beach.. Thank you Vickie!
Vickie is an artist!
Vickie knows what to do with my hair so it looks its best. I had short hair for decades because No stylist knew how to cut or style my curly hair. Life is too short to have ugly hair!
If you have curly hair this place is a must!
I have never loved my curls as much as I do after finding Curls On Top. I spent many years hating or hiding my curls not any more. Vickie works wonders!
Simply The Best
I have been a client of Vickie for several years. I moved to another state, and have yet to find another stylist who is as knowledgable and skilled as Vickie is in cutting curly tresses. She embodies and endorses the DevaCurl philosophy like none other. She is still my stylist because I travel from Colorado back to California at least once a year so she can cut my hair. I adore her.
Best Curly Hair Specialist
Hands down the best curly hair specialist I have ever been to. Vickie's knowledge of all types of curly hair is unbelievable. The salon is breathtaking with a spectacular view. The intimate setting makes you feel like you are a priority. Vickie takes her time cutting and educating you on your specific curly hair type. Vickie informed me on the products and know-how to be able to have my curls look amazing! I will never let anyone but Vickie touch my hair. Thank you Vickie for changing my life and the way I viewed my curls. Curly Girl For Life!!!
look great and relax at the sand..
I love Curls on Top! I am 1 of a few others who drive a considerable way to see Vicki and her staff...It's well worth it...and...she's across from the beach! What a bonus to a relaxing time of pampering!
SHOW MORE REVIEWS
---
---