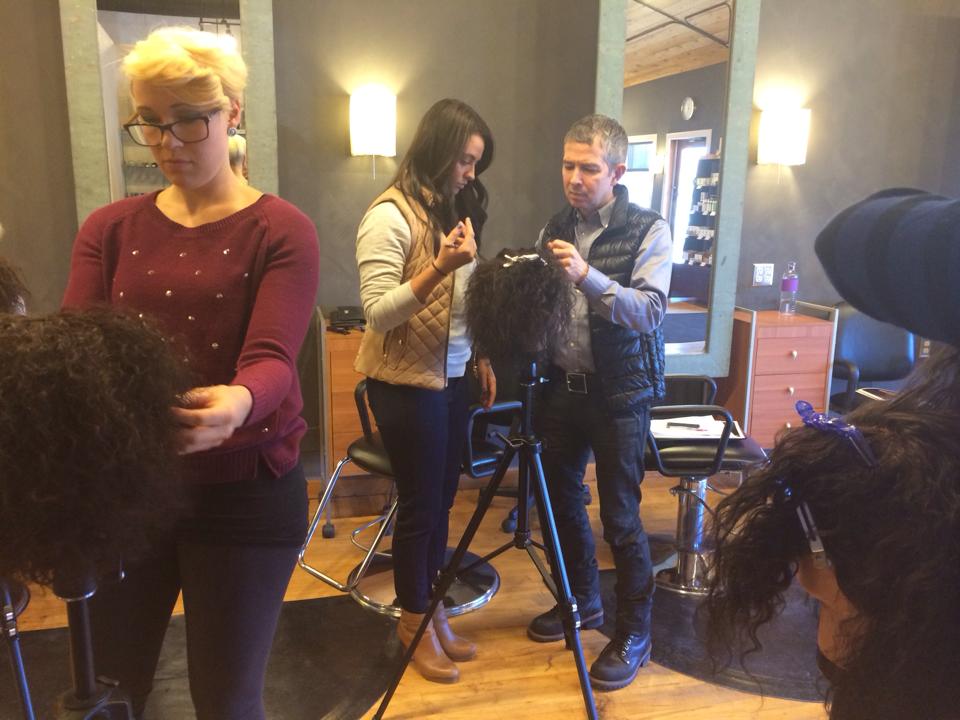 11134 N Cedarburg Road
Mequon, WI 53092
Upscale salon on Milwaukee's North shore with fabulous view of the Milwaukee River. Consistently voted one of Milwaukee's top salons as well as Top Salon in the USA by Salon Today and American Salon.
---
Devacurl Services
DevaCut
This revolutionary cutting technique was designed for all natural textures, from wavy to super curly. Hair is sculpted curl-by-curl, while dry, in its natural state. This service includes a transformation service.
Pintura Highlighting
This award-winning technique was designed to add gorgeous, light-reflecting highlights to all natural textures. Pintura Highlighting offers the perfect harmony and balance to waves and curls giving brilliance and dimension to beautifully compliment your DevaCut.
DevaCurl Transformation
From wavy to super curly, the beauty of this service is the customized design for every client. This luxurious process begins with a healthy botanical cleanse and condition, followed by a styling and coaching session for at-home curl care.
Bounce Back Treatment
This service begins with Buildup Buster® Micellar Water Cleansing Serum for a rejuvenating deep cleanse, followed by a luxurious hot or cool mask treatment application for moisture or strength. This service concludes with a customized styling session.
Heaven In Hair Divine Deep Condition
This unique hydrating deep conditioner is infused with rich, moisturizing butters like cupuacu, murumuru and coco butter. It's the essential therapeutic remedy for dry hair.
DevaCurl Updo and Styling
Your stylist begins with a transformation service, followed by a customized hairstyle for any occasion, from weddings to big events, or just for fun!
Super Curly No-Poo Transformation
Customized for super curly textures, this luxurious service begins with a healthy botanical cleanse and condition for ultra moisture, followed by a styling and coaching session for at-home curl care.
Super Curly DevaCut
This customized cutting technique springs from the DevaCurl foundational principles catering to highly textured, super curly clients. Hair is sculpted curl-by-curl, in its natural state, according to curl pattern, desired style, personality and lifestyle. This service includes a super curly transformation.
---
---
Reviews
Deva cut gone wrong
When I made my appointment, I asked for someone who has an extensive amount of experience since I have had a few poor/horrible Deva cuts here in Milwaukee. They set me up with a woman they said was one of their strongest in in the Deva cut. When I arrived, the stylist said she needed to wash it first. She then proceeded to start drying my hair with a defuser but only about 30% when she started to cut. I was shocked but figured she was the professional and knew what she was doing, possibly there was a new method. Since I typically get a cut every 6 months, maybe something changed. After she finished, the stylist re-washed my hair. Again, partially dried, she recut, with my hair 2/3 dry. Needless to say, the cut was not good. In no way was this a deva cut. My curls were uneven, the style awkward and it will take me a year or more to grow out what she has done.
---