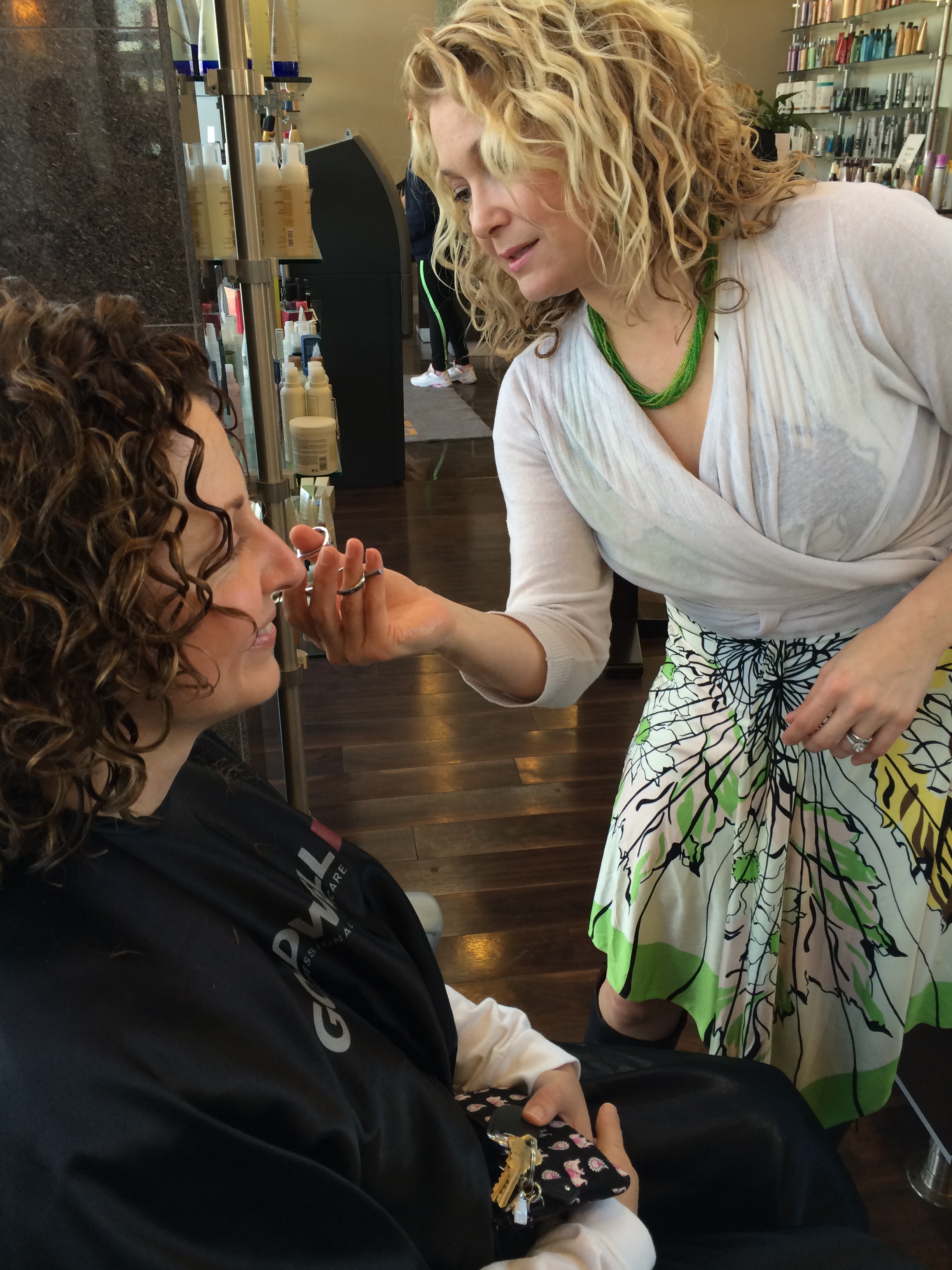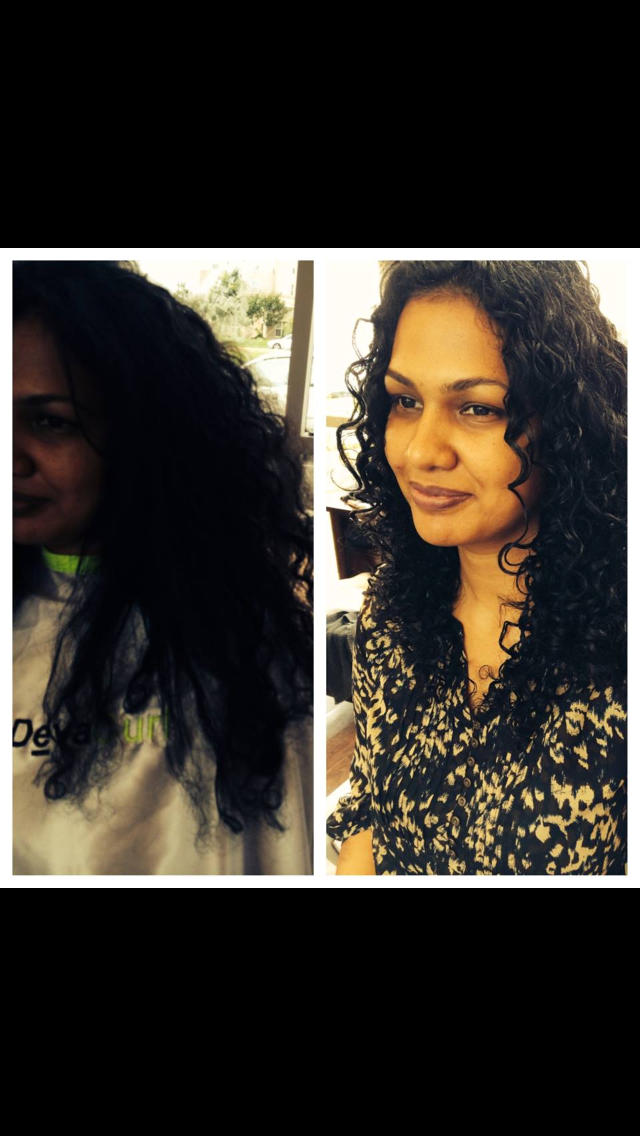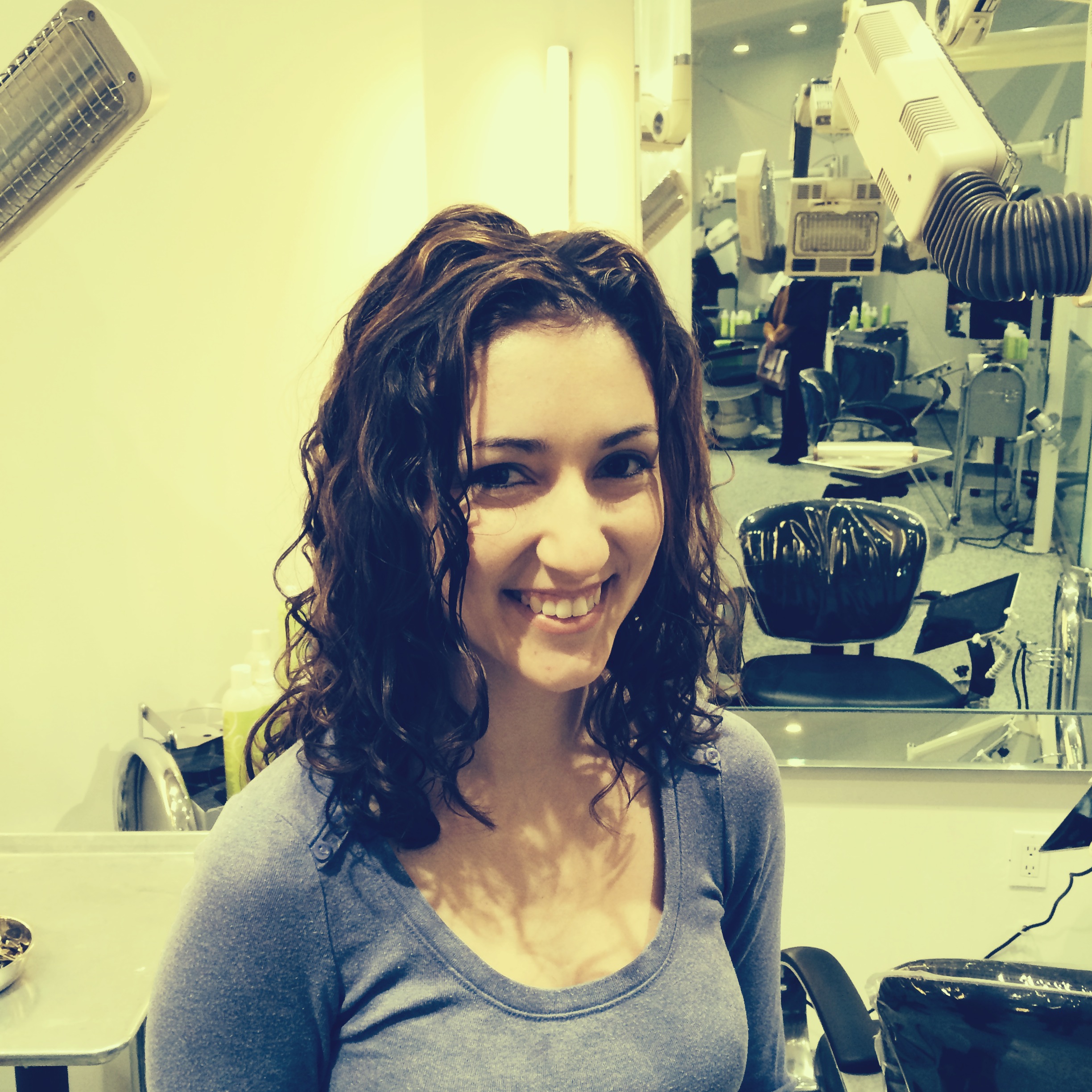 A certified stylist is here
6733 Commerce Street
Springfield, VA 22150
Frizzles currently has two Deva qualified stylist. Dawn Farrell A seasoned professional for curly hair. She has practicing the diva curl method for over 15 years. She studied in New York at that deva Academy, and is currently certified deva curl specialist. Practicing in all aspects of the devaCurl techniques, such signature Cutting, Pintura (highlighting), and three-step hydration process. She is gearing up to become a level "4" DevaCurl specialist in the fall. Shawnna McLean is now an Advanced inspired DevaCurl stylist. She has also practiced in the DevaCurl method in all aspects of the advanced training course such as cutting technique, Pintura (highlight), and three-step hydration process Shawnna is eager to move forward to become a certified stylist in 2018. [https://www.facebook.com/video.php?v=10203191803376961&l=2109662224072830556](https://www.facebook.com/video.php?v=10203191803376961&l=2109662224072830556)
---
Our Certifications
---
Devacurl Services
DevaCut
This revolutionary cutting technique was designed for all natural textures, from wavy to super curly. Hair is sculpted curl-by-curl, while dry, in its natural state. This service includes a transformation service.
Pintura Highlighting
This award-winning technique was designed to add gorgeous, light-reflecting highlights to all natural textures. Pintura Highlighting offers the perfect harmony and balance to waves and curls giving brilliance and dimension to beautifully compliment your DevaCut.
DevaCurl Transformation
From wavy to super curly, the beauty of this service is the customized design for every client. This luxurious process begins with a healthy botanical cleanse and condition, followed by a styling and coaching session for at-home curl care.
Super Curly DevaCut
This customized cutting technique springs from the DevaCurl foundational principles catering to highly textured, super curly clients. Hair is sculpted curl-by-curl, in its natural state, according to curl pattern, desired style, personality and lifestyle. This service includes a super curly transformation.
Super Curly No-Poo Transformation
Customized for super curly textures, this luxurious service begins with a healthy botanical cleanse and condition for ultra moisture, followed by a styling and coaching session for at-home curl care.
---
Stylists at this salon
Dawn Farrell
Deva Certified Stylist
DevaCut
Pintura Highlighting
DevaCurl Transformation
Super Curly DevaCut
Super Curly No-Poo Transformation
Learn more
---
Reviews
Amazing haircut
Service Received:
DevaCut
I took a chance and went to Shawnna after finding her on this website. She did a consult with me before the appointment and really listened to what I liked and didn't about the shape of my prior cut. I was so happy with how my hair looks - sassy and really healthy curls. Shawnna also gave me a mirror so I could watch how she set it. Made it super easy to style at home.
Great short curly haircut!
Service Received:
DevaCut
I went originally for a trim but decided last minute that I wanted to go for a short, fuller look with bangs. I showed Shawnna, she explained how different textures don't always end up like the pictures, and boom did a fabulous job. I love my short curly hair thanks to her!
Healthy Curls
Service Received:
DevaCut
Price:
$76-$125
I had severely damaged curls that needed some love. Shawnna was on time and went through the devacut process in detail. She cut and shaped my hair dry, and even took the time to explain the best way to use all the products that matched my hair texture. I would recommend anyone who is cautious about getting their curls cut to book an appointment with her!
Not impressed
Service Received:
Bounce Back Treatment
I was not impressed with Dawn. She was not very friendly and I felt she rushed while doing my hair. My hair is more curly when I wash and style it at home. Therefore I felt that it was a total waste of my money. Disappointed.
AMAZING!!
I've tried to find so many people who know how to work with my curly hair, but it was never any luck...until I found Dawn!! She's amazing! My cut and color always comes out just how I want! She really does know how to work with our luscious curls! If you want your curls to pop, Dawn is your girl!
the real deal!
from shock to love to curl independence .
Unimpressed
I made an appointment with Dawn, and her first words to me were, "Wow, you have so much grey." (I'm 25 and have no grey......but even if I did, why would you say that?) I arrived 10 minutes early, she was 30 min late past the appointment time, she had nothing positive to say, cut my hair in maybe 15 minutes and left me sitting in the chair to start coloring another client's hair. It cost me $130 for a terrible cut and sitting under a dryer for 45 min. until my head burned while she colored someone else's hair. I had the stylist for maybe 20 min.
Great cut!
I've seen Dawn a few times but it had been a while since I'd seen her. I'm happy to say that she did a fabulous job as usual and I'm really happy with my cut.
Amazing Deva Cut Stylist
I went to Dawn after starting my curly hair journey a couple of weeks ago. I've had a deva cut before, but this was a completely different experience. Dawn took her time on each curl and did an amazing job cutting the majority of my hair off for a rounder, fuller short cut. I had reference pictures to show her for my cut and color and she also asked me questions throughout. Then we moved to highlighting my hair that she did amazing job at as well! She washed my hair herself and styled it when it was drying. Dawn took her time through every step and I love my hair! Definitely would recommend and I plan to go back!
Dawn is a lifesaver!
I decided to start my healthy hair journey and get a Devacut with Dawn. She did an amazing job and walked me through the whole process. Opened my eyes to a new way to care for my curls. I've received so many compliments since my cut and my curls are defined and healthy looking. I can't wait to go back and put some more layers in! I highly recommend Dawn to anyone who wants to start their healthy hair journey! Check out my IG @pinnstripe for photos!
Great stylist!
New to the area. I'm so glad I found a certified stylist. I do have a bit of a haul from D.C., but Dawns worth it!! She sat patiently with me while I discussed my hair issues, And recommended a fresh shape for me. Love her and the salon. Everyone there is super friendly too. (-: Cheers!
Fabulous!!
I've been going to Dawn for the past 2 years for deva cuts and she has never let me down! She helped me love my curls so much. Everywhere I go people compliment my hair. Se also does these beautiful sombre' high lights, and it's funny that she uses tissue not foil sheets, and paints it. I would not hesitate to recommend her to anyone that has curly hair and would like somebody to help them to love their curls.
Keep looking and trying to find another Deva stylist
The ambiance of the salon was great. Front desk lady greeted me well and told me Dawn would be with me shortly. No problem with that. Until I saw this stylist chatting and laughing with a co-worker....and she turned out to be Dawn! Yes. While I waited fir 20 min... I thought of giving up the appointment but went ahead as I needed a Deva cut. Left incredibly underwhelmed over her skills and knowledge -- and already counting the weeks until I can try yet another Deva stylist in NOVA....
Average
This was my third and last time with Dawn. She was 45 min late seeing me for my appointment because she was coloring someone else's hair. She was sorry but this wasn't the first time she was off schedule. She cut my hair then I got it washed and that was it....and I'm not happy with my newest cut. The overall customer service lacks and it's not a fun experience.
Customer Service
I moved to the area and was trying to find a stylist close. I received a phone call to see if I could move my hair appt time earlier. I couldn't as I had clients to work with. When I arrived Dawn seemed annoyned I was even there. During the styling portions she did things I did not want done and I was vocal about it. The feedback I got from her facial reactions was don't waste my time. The cut itself was good. The customer service crappy
I would never go back there.
Upon arrival, I was told to sit and wait for Dawn. She was servicing another client's hair. Her daughter, who works for her, saw me and asked me questions. I asked Dawn her opinion on highlights for my hair. She told me she has the perfect color for me. I asked to be lighter. I was handed over to her daughter for the color process. She left to serve another client. She was very distracted. I was left alone for some time. I noticed after they rinsed my hair, it was very dark! A natural dirty blonde to a brunette. I pointed this out to Dawn she became very defensive. She left me to the care of her daughter who was only interested in her phone. I was upset about the color. She redid my color! She apologized but the damage was done! I left there with a much darker color. She was belligerent in defense of her mistakes. I would never recommend her to anyone! I love the product but not her.
Aloof Stylist
I've been getting deva cuts for about 2 years now. The salon I had been going to is about 25 miles away from home, so I was looking for something closer. I'd seen awesome reviews about Dawn, but I didn't have an awesome experience. First, no one acknowledged me upon arrival. At my appointment time, Dawn, who was coloring another client's hair, found me to introduce herself and say she would be with me shortly. About 10 minutes later, I was in her chair. After I told Dawn I needed a trim, she didn't ask me anything else. I thought she would ask which products I use, what I normally do to style, etc. Nada. She cut my hair, all while seeming very distracted. Left in the middle to check on the TWO other clients she had. When she finished, she passed me off for shampoo. Don't think they used the deva products on me, which was very surprising. After my shampoo, they sat me under a big deva hair dryer by myself. Checked on me once, and when I was mostly dry, turned me loose. It all felt very impersonal. Wasn't even asked if I wanted to book another appointment. She was cheaper and closer than my former salon, but the experience left me very unsatisfied. I've since returned to my former salon.
She's an expert!
This was my first time getting a super Deva cut and I was super nervous! She talked me through the entire process and she was super gentle with my thick, super curls
Dawn is master as cutting/styling curly hair!
Dawn is a real pro, she doesn't just follow a method that she uses over and over again on every customer, she listens and creates a styles that works specifically for your hair. I was getting the Ouidad cut/styling for the last several years and was so frustrated with all the dos and don't, like no layering. I love layers and Dawn didn't hesitate to carve them into my style. She is a master at curly hair cutting/styling, and yes, she is a curly haired gal herself!
Curl Pro - Expert
I've been going to Dawn for 15 years! A curly girl herself - she is an expert at cutting curly hair! That's Dawn and I in the first pic.
Curl Pro
Dawn is a great hairstylist and introduced me to this great line. The salon is slightly difficult to get into ; if you miss the hidden driveway you have to go snake through side streets to get to it again. The salon is also in a somewhat seedy part of town but once inside, you don't even notice. Frizzles is a diamond in the rough. The city is trying to clean up the area more and one big step is remodeling the new Springfield Town Center which was formerly Springfield Mall.
SHOW MORE REVIEWS
---
---