Tula Organic Salon and Spa
Pittsburgh, PA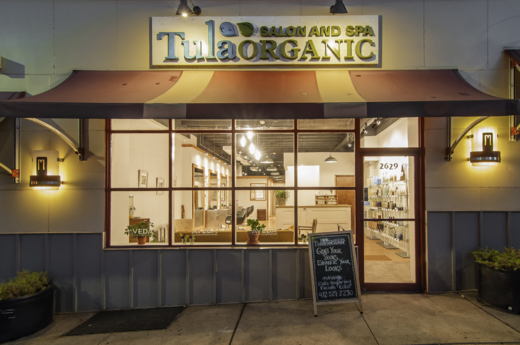 2629 Murray Ave
Pittsburgh, PA 15217
Tula Organic Salon and Spa
Pittsburgh, PA
At Tula Organic we value the well-being of both our clients and our planet. Our mission is to provide a relaxing environment for beauty services that are luxurious yet sustainable. We believe that true beauty is best attained through green business practices, pure organic ingredients, and a loving relationship with our local community.
---
Our Certifications
---
Devacurl Services
DevaCut
This revolutionary cutting technique was designed for all natural textures, from wavy to super curly. Hair is sculpted curl-by-curl, while dry, in its natural state. This service includes a transformation service.
DevaCurl Transformation
From wavy to super curly, the beauty of this service is the customized design for every client. This luxurious process begins with a healthy botanical cleanse and condition, followed by a styling and coaching session for at-home curl care.
---
---
Reviews
Perfect!
Since having my son, I don't have the time to straighten my hair often, or the energy to fuss with curls. It feels like my hair has been pinned up in a bun for over a year. Dayle walked me through the DevaCurl process, including making a decision on what type of cut to do right now, and helped me really understand the potential of the products. I'm finally happy to be wearing my hair down again, my curls are better than ever, and I couldn't be more thrilled with the outcome. Thanks, Dayle, for everything!
Great first Devacut experience!
Service Received:
DevaCut
I just got my first Devacut at Tula Organic from Betsy and I am very pleased with the experience. She showed me the best products and techniques for my hair, and the appointment didn't feel rushed at all like it sometimes does at other salons. Betsy took the time to explain everything to me and really worked to cut my hair in a way that works for me. Everyone at the salon was very friendly. I already made my next appointment!
I finally love my curls!
Service Received:
DevaCurl Transformation
Price:
$76-$125
I just got my first devacut with Erika and I'm never going back to the old way again! I've had a number of haircuts throughout Pittsburgh since I moved out here, but none of them I left feeling really good about my haircut or my relationship with the stylist. Erika listened to me, and gave me a great cut! I have hair down to my mid back and it's dense, so I'm really picky. After the initial cut I wasn't sure about it (I usually like more movement around my face), but after we washed and diffused it we decided to cut more into the front. Erika knew exactly what I meant and with each cut and see more movement and more curl opening up. Hands down the best haircut that I've had that really accentuated my curls instead of hiding them.
So Lucky to Find Tula Organic!!
Badly needing a cut, I asked a curly-haired woman (whose hair looked great) where she got her haircut. At her recommendation, I spoke with stylist Erika at Tula Organic to learn more about the DevaCurl process. Yesterday, Master Stylist Erika transformed my overgrown, uneven, very curly/frizzy hair. It was fascinating to watch the dry/cut technique and exciting to see the end result after wash and dry: clearly defined curls everywhere. And I learned a lot from both Erika and salon Manager, Carolyn, about organic products that are much better for my hair than the ones I'd been using, and exactly how to use them. Thank you! You can be sure I'll be back!
Great cut
First time there, everyone very friendly, my Stylist Becky took her time and did a fabulous job, very pleased even after I style it, only drawback is the cost, but I will definitely return
Amazing job!
Erika did such a wonderful job, my curls have never looked so bouncy and shiny! I would highly recommend every curly girl in Pittsburgh to come give Tula a try!
5 Stars All Around for Tula, Pittsburgh's hidden Gem Salon
I have curly thick hair and almost all my cuts include the same instruction: removing dead ends and adding layers. I was recommended by a friend to try getting a Devacut as an alternative to my mediocre hair cuts. I researched Yelp reviews and quickly stumbled upon Tula, which is a true hidden gem in Squirrel hill. The reviews were overwhelming positive, and thus I booked my appointment. The ambiance is relaxed and cool. My hair stylist, Becky, was wonderful at explaining the whole DevaCut process as well as providing me with options for my hair. I have been so delightfully impressed with the salon and my hair cut! I had such a warm experience at Tula that I am looking forward to my next hair appointment!
I just got A Deva Cut yesterday: 3-31-18
I love my new hair style, curls, curls, & curly hair Down on the side's of my face.
Amazing!
This was my first visit to Tula and my first DevaCurl cut and I will never go back. Becky was amazing and did a beautiful job. I don't think my hair has ever looked so good. Thank you Becky and Tula for an amazing experience. I am excited to come back in the future!
SHOW MORE REVIEWS
---