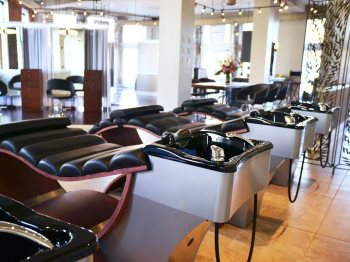 137 Main Street
Ossining, NY 10562
VaZa Salon is located in a stunning historic bank building with floor to ceiling windows. We specialize in curly hair. We also specialize in color, balayage & pintura highlighting. VaZa Salon celebrates curly girls! Call for a complimentary consultation. We carry the full line of DevaCurl and offer rewards point for shopping with us.
---
Our Certifications
---
Devacurl Services
DevaCut
This revolutionary cutting technique was designed for all natural textures, from wavy to super curly. Hair is sculpted curl-by-curl, while dry, in its natural state. This service includes a transformation service.
DevaCurl Transformation
From wavy to super curly, the beauty of this service is the customized design for every client. This luxurious process begins with a healthy botanical cleanse and condition, followed by a styling and coaching session for at-home curl care.
---
---
Reviews
Amazing Cut and Color!!
Service Received:
DevaCut
Val does an amazing job on my curly cut as well as my highlights!! Their Instagram shows their work, that's how I found them. Val listens to what you say and is a true expert at her craft. She will give you suggestions and tell you if she doesn't think you look good in the style you requested. I always listen to what she says and suggests. She is literally a curly hair genius. Cut and color, I get compliments all the time!
Helped me love my hair
I have been going to see Amanda for about 2 years now. She saved my curly hair from other stylist and myself. My previous stylist had used a razor to cut my curly hair and I was always unhappy. A friend recommended Amanda and I have been very happy ever since. Love my curly hair now, love the salon and the whole experience they provide.
Awesome!!!
Val at Vaza has her finger on the pulse of contemporary styling & cutting. The hair savant took a look I wanted and easily adapted it to my curly locks. Highly pleased with the results!
I travel over an hour for this haircut!
I've been getting my hair cut by Val since before VaZa opened. Val's expertise and eye for cutting curly hair has kept me at the salon, traveling over an hour from both Hudson NY and Northern NJ to see Val. I even got my boyfriend hooked on the salon! VaZa Salon is beautiful, open, and comfortable. The staff is very friendly, and being there is like a day at the spa. Val's not afraid to try different cuts, as she took my a-symmetrical bob idea and made it work, wonderfully, with curls. They have all the Deva products, of course, so I can stock up and try out new things when I go. I have brought two curly friends here so far, and they loved it too. I couldn't recommend this salon more!
Best salon in Westchester!
I recently moved from Southampton to Westchester County and found Vaza Salon in Ossining NY. Not only is the salon beautiful and relaxing but the service is wonderful. I absolutely love the way Amanda colors, cuts, and styles my straight hair. The Deva product they use is amazing and I highly recommend Vaza Salon.
Vaza is simply the best!
Not to sound too dramatic, but Val has single handedly saved my hair!! When I first saw her almost 3 years ago, my color was a mess and my previous hairdresser had no idea how to cut curly hair. Val introduced me to Deva products immediately and it was transforming. I receive compliments about my hair frequently and I'm always telling women (whether thy want to hear me or not) to "embrace their curls!"
Best curly cut in the area!
Val has been expertly cutting my curly hair for years, and now she and her sister have an amazing, full service salon. The relaxing atmosphere, the attention to detail, and the service are perfect. I have recommended Val to both of my curly haired daughters and my curly haired son. The best!
Outstanding Salon in every aspect!
Val cuts, colors and highlights my soft curly hair. She is the 1st who has been professionally trained to handle my curly hair. Val has set me up with a simple 4 step Deva product routine that has made my hair never look better. Even me who is hair challenged can do it. This salon VaZa is professional, customer service is a top priority and I cant say enough about how wonderful going there is. A relaxing cup of tea, french beds to lay on for washing your hair, they will even run out and get you lunch if you need it. Make an appointment now you are missing out on a wonderful highly trained staff and experience.
SHOW MORE REVIEWS
---