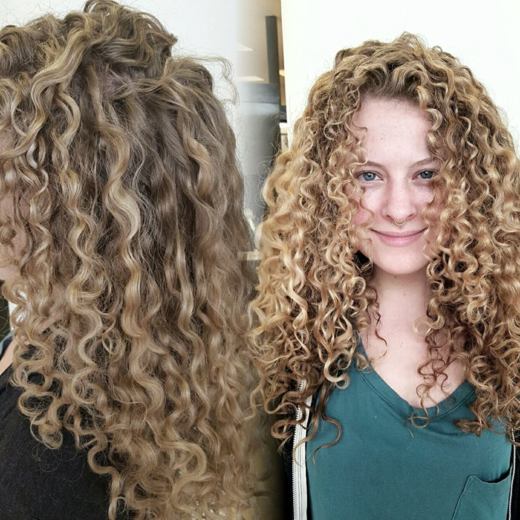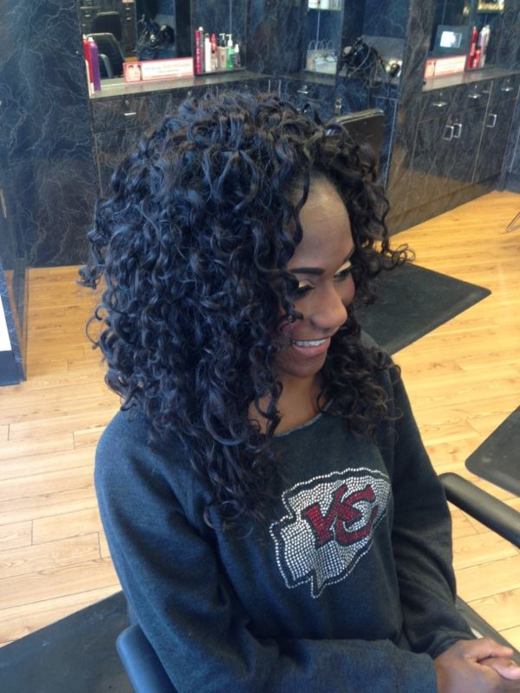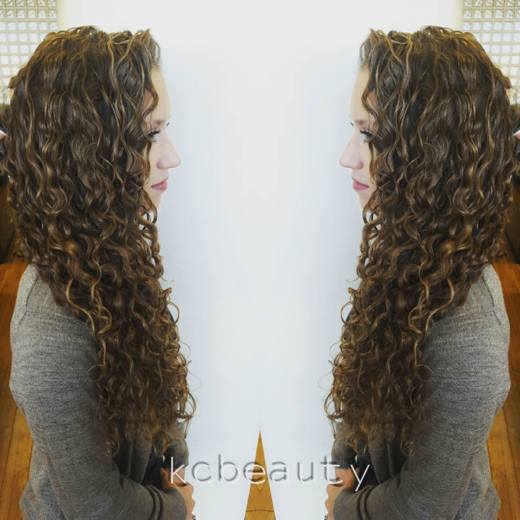 8250 North Booth Avenue
Kansas City, MO 64158
Kylie at KC Beauty absolutely loves curly hair! She strives to make every curly girl who sits in her chair feel as comfortable as possible and teaches them to love and embrace their curls, rather than fear or hate them.
---
Our Certifications
---
Devacurl Services
DevaCut
This revolutionary cutting technique was designed for all natural textures, from wavy to super curly. Hair is sculpted curl-by-curl, while dry, in its natural state. This service includes a transformation service.
DevaCurl Transformation
From wavy to super curly, the beauty of this service is the customized design for every client. This luxurious process begins with a healthy botanical cleanse and condition, followed by a styling and coaching session for at-home curl care.
---
---
Reviews
Love changing!
Service Received:
DevaCut
My hair is soooooooo more manageable than with any other cut. Needed Kylie in my life years ago. Thankful I discovered her 💇🏼‍♀️
Life Changing!!
Service Received:
DevaCurl Transformation, DevaCut
I never knew how amazing my hair could be until I went to Kylie!! She cut my curls with such care and did it PERFECTLY!!! Her knowledge and instructions about curl care have been a game changer for me! Everywhere I go I get compliments on how amazing my curls are! Goodbye forever straightener!
Amazing!!
Service Received:
DevaCut
Kylie is the absolute best. My daughter and I both have crazy, curly hair that we would straighten and get texturized all the time. Kylie has made the transition from straight to curly an easy one. We still have a ways to go but, she has made believers out of us. She is patient, really listens and her salon space is always clean and organized!! She is amazing at what she does💕💕
Top Notch
Service Received:
Pintura Highlighting, DevaCut
Price:
$50
I've been seeing Kylie for almost 5 years now. She listens, gives great hairstyling advice, incredible haircuts and when I'm feeling adventurous I let her take over my hair style completely and never disappointed. On top of everything else, Kylie is extremely sweet, genuine and funny making the experience more than others I've had in the past. Feels like you're with a friend while getting a fabulous haircut.
amazing!
i've seen kylie for over 3 years now. she is an amazing stylist who cares about her clients and listens to their needs. my deva girls curls and cut always look fabulous!
Love her work!
Kylie is simply fabulous. She is an exceptional stylist and has a great eye. I am so fortunate to have found her. I highly recommend her!
Awesome!
Love Kylie so much! She took her time and really cared about my thoughts and difficulties with my hair.
Amazing!
Kylie did a fantastic job of making my curls look fabulous! She educated me and showed me how to use the products to make them look their best. I recommend her to everyone I know with curly hair!
Amazing and Knowledgeable!
Kylie is amazing! She is very knowledgeable about the Deva Cut and the Deva Curl products. After listening to my hair goals she identified my curl type and explained which type of Deva Cut and Deva Curl products would be best for me. She also explained how to use them specificly for my curl type. I highly recommend anyone wanting the ultimate curly girl experience to go see Kylie! You'll be very happy you did!
Curls Alive
Kylie, is absolutely fabulous and knows how to handle my curls. Since being introduced to the Deva Curl products, my curls have come back to life. Kylie is the only stylist in Kansas City, that is able to touch my curls. She has free reins on coloring and cutting my hair. Absolutely, trust and love Kylie to pieces with my curls. Would highly recommend her to anyone that wants to keep their natural curls beautiful!
Wonderful stylist who knows curly hair!
I managed to find Kylie a few years ago and am so glad I did! I have wavy, coarse hair and had become accustomed to stylists who had no idea really how to handle my hair. For the first time in my life I have great looking curls and I love the way they look! Her skills with color and cutting are phenomenal, and I am a loyal client for as long as she'll have me!
Best Haircut
I have bright red extremely curly hair. My entire life I let it grow wild, too scared to get it cut. Once a year I would go somewhere for a trim. I heard about the deva method and found Kylie. She always delivers exactly what I want. I love getting my haircut now and only see Kylie.
Amazing!!
Love love love coming to you to get my hair done! Loyal customer for life!! Never thought I would even get my curls under control till I met you!! Keep up the amazing work you do!
SHOW MORE REVIEWS
---