Govero Salon
Des Peres, MO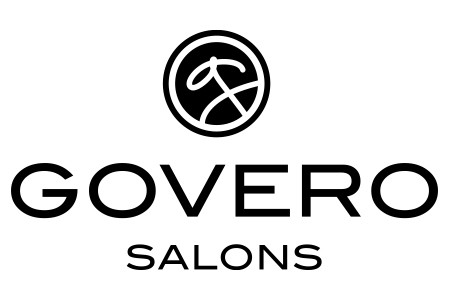 A certified stylist is here
11668 Manchester Road
Des Peres, MO 63131
A certified stylist is here
Govero Salon
Des Peres, MO
Govero Salon is a cutting edge salon located on Manchester in Des Peres, where we blend the art of chemistry with facial structure and lifestyle analytics, blurring and blending high fashion editorial work with a traditional backbone.
---
Our Certifications
---
Devacurl Services
DevaCut
This revolutionary cutting technique was designed for all natural textures, from wavy to super curly. Hair is sculpted curl-by-curl, while dry, in its natural state. This service includes a transformation service.
Pintura Highlighting
This award-winning technique was designed to add gorgeous, light-reflecting highlights to all natural textures. Pintura Highlighting offers the perfect harmony and balance to waves and curls giving brilliance and dimension to beautifully compliment your DevaCut.
DevaCurl Transformation
From wavy to super curly, the beauty of this service is the customized design for every client. This luxurious process begins with a healthy botanical cleanse and condition, followed by a styling and coaching session for at-home curl care.
---
---
Reviews
DevaCut
I have been in search of a new DevaCut stylist for years since my last one moved from the area. Victoria was very knowledgeable and professional. She made me feel very comfortable, she explained the process well. No surprises. End result magnificient. I get many compliments on my cut, and several have asked me for Victoria's info. I have 3c curl type.
Amazing transformation!!!
Victoria is amazing!! She taught me how to properly care for my hair so that I can have beautiful curls everytime. She's super friendly and shows how much she cares about me and my happiness. Having great hair gives me confidence and she does that for me every visit. Check her out on Instagram and Facebook and book your next appointment now!! You're gonna love your new found curls!! :)
Keep Looking
I came to Victoria due to her many positive reviews here. She obviously is knowledgable about how to use DevaCurl products. However, I received the worst haircut I have had in ages. She left the sides long and cut the back very short. I had to have 2 additional haircuts after hers to try to "fix" the uneven and awkward style Victoria created. Victoria's cut was over 7 months ago and I have yet to get my hair back to it's original length, which has been extremely frustrating because I was trying to grow my hair longer when I initially went to her. She was extremely nice, but I feel she really did not listen to what my goal was at all.
Amazing with super tight frizzy curls!
I have been coming to Victoria for over a year...she is does an amazing job cutting, coloring, and styling super curly hair! Victoria is authentically warm and takes her time to listen. She leaves you walking out feeling beautiful! Between myself and daughter, we have referred at least five friends to her that are thrilled with her work, and have become steady clients!!
Life changer
Victoria is passionate about hair. You can tell she truly enjoys what she does and she is so meticulous about each and every curl. So sweet and amazingly talented. She has revolutionized the way I style curly hair! Go see her!
Victoria Horonzy works miracles!
Victoria is so knowledgable about the entire DevaCurl process! Seriously the first stylist I've ever had that didn't make me dread my haircuts. As any girl with curly hair knows, you can't trust just anyone with your mane!
Feeling like me again!
Victoria has cut my hair a handful of times and she has also given me some amazing highlights. She understands how I want my curls to look and goes above and beyond to make sure I look like the best curly girl possible! For years I have left the salon after a cut feeling upset and like I didn't really look like myself. Victoria makes sure I leave happy and looking great. My appointments can be long, but we have great conversation and my curls are truly worth it. Thanks Victoria for giving my crazy curls so much love!
Found the one!
I love my stylist, Victoria! I have gone to stylists that said they were Deva stylists, but they were cutting my hair wet and results were inconsistent. Then, I found Victoria Horonzy @ Governo. My hair consistently looks great each time. It is a great feeling when you find 'The One.' The stylist with the passion, the skill, and the attention to detail to consistently cut and style great hair.
SHOW MORE REVIEWS
---
---