Twisted Hare
Minneapolis, MN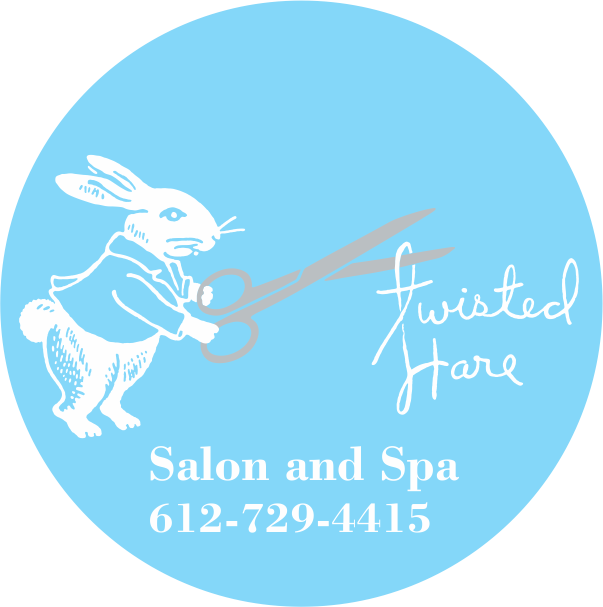 4805 Nicollet Ave. South
Minneapolis, MN 55419
Twisted Hare
Minneapolis, MN
In 2006, Twisted Hare, formerly known as the East 42nd Street salon, was the first salon to focus on curly hair and the Deva Cutting technique in the Twin Cities. Since then, we have continually focused on curly hair in terms of cutting and styling using DevaCurl products and the dry-cutting technique. All of our stylists are trained in the Deva method of cutting. Feel free to give us a call! We'd love to meet you.
---
Our Certifications
---
Devacurl Services
DevaCut
This revolutionary cutting technique was designed for all natural textures, from wavy to super curly. Hair is sculpted curl-by-curl, while dry, in its natural state. This service includes a transformation service.
Pintura Highlighting
This award-winning technique was designed to add gorgeous, light-reflecting highlights to all natural textures. Pintura Highlighting offers the perfect harmony and balance to waves and curls giving brilliance and dimension to beautifully compliment your DevaCut.
DevaCurl Transformation
From wavy to super curly, the beauty of this service is the customized design for every client. This luxurious process begins with a healthy botanical cleanse and condition, followed by a styling and coaching session for at-home curl care.
---
---
Reviews
Make sure you get a Deva
Went in and had a terrible experience with a stylist who had not been deva trained. She was rude, didn't ask me questions, cut terrible shape and layers, and filled my hair with a non-deva product that left it sticky and untouchable. I have been with a deva-trained stylist before, and thought all of their stylist were. Very dissapointed. I don't know if I will go back.
Excellent curly cut experience
I found this salon online and after reading reviews decided to give them a try. My first cut was getting 8 (curly) inches or so cut off after living abroad for a couple of years. I was nervous about how that might turn out, but MJ really listened to what I was asking for and was cautious about not overcutting. Then, I was ready for a style cut a couple of months later- more layers and more fun/bounce. I was able to be a hair model for a curly education class they had and received a cut from salon owner Teresa. I love the new style- and I learned something new about a product application method (run product through hair by smoothing the hair product down the cuticle). One thing I love about this salon (besides the emphasis on curly hair cuts/styling) is their desire to keep learning and growing. They brought in a curl expert to learn and study, and that isn't the first time! They are open to learning more and trying different curly approaches and then sharing that knowledge with clients. Refreshing and all this with a fun Alice in Wonderland themed atmosphere. I'll definitely be back.
Very professional!
Great group of stylists that take curls as seriously as you want them to or a light-hearted as you like!
SHOW MORE REVIEWS
---