Curl Power
Minneapolis, MN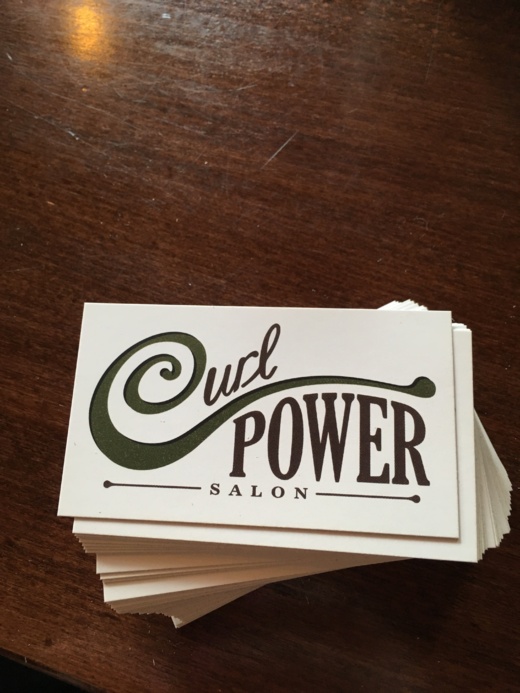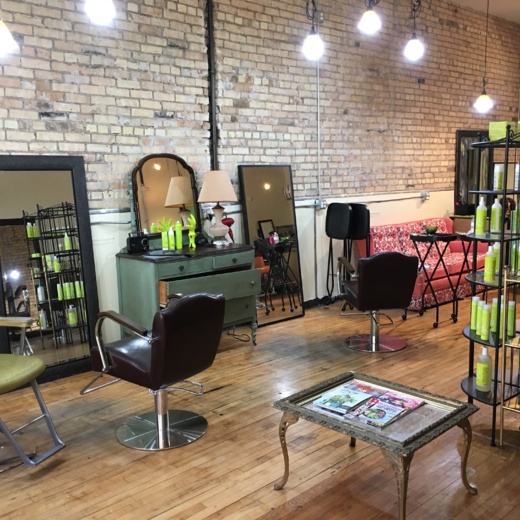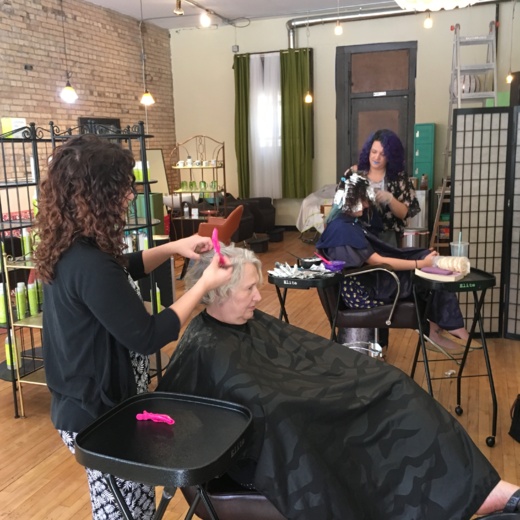 A certified stylist is here
4 E Franklin
Minneapolis, MN 55403
A certified stylist is here
Curl Power
Minneapolis, MN
Curl Power is for all curls, types, and textures. We are proud to have two Deva Curl educators on staff, and challenge ourselves to keep up with continuing Deva education so that we can offer the very best quality of curl care. We also offer a super cozy vintage theme in which to pamper your lucious locks. We celebrate our own diversity and the many communities in our surrounding neighborhood. All are welcome!
---
Our Certifications
---
Devacurl Services
DevaCut
This revolutionary cutting technique was designed for all natural textures, from wavy to super curly. Hair is sculpted curl-by-curl, while dry, in its natural state. This service includes a transformation service.
Pintura Highlighting
This award-winning technique was designed to add gorgeous, light-reflecting highlights to all natural textures. Pintura Highlighting offers the perfect harmony and balance to waves and curls giving brilliance and dimension to beautifully compliment your DevaCut.
DevaCurl Transformation
From wavy to super curly, the beauty of this service is the customized design for every client. This luxurious process begins with a healthy botanical cleanse and condition, followed by a styling and coaching session for at-home curl care.
Super Curly DevaCut
This customized cutting technique springs from the DevaCurl foundational principles catering to highly textured, super curly clients. Hair is sculpted curl-by-curl, in its natural state, according to curl pattern, desired style, personality and lifestyle. This service includes a super curly transformation.
Super Curly No-Poo Transformation
Customized for super curly textures, this luxurious service begins with a healthy botanical cleanse and condition for ultra moisture, followed by a styling and coaching session for at-home curl care.
---
---
Reviews
So glad I splurged!
Service Received:
DevaCut
After educating myself online about curl types, curl care, products, washing & styling I decided the last step was to get a Devacut & I'm truly happy with it. Carolyn is amazing! I learned even more from her, it was so much fun & I knew my hair was in good hands. I was worried that since I got a perm a year ago that a Devacut would be pointless but Carolyn was able to bring out my naturally wavy/curly hair beyond what I thought was possible! I also had her give me full fringe bangs, it's so cute!! In the weeks since my cut I am still loving the results of the cut itself plus the new techniques she taught me, what a difference it all makes. My perm has grown out over the last 6-8 months & I can't believe the natural curl I see near my roots. I'm still growing my hair out but I will definitely be back to see Carolyn again. Thanks so much!!
Best salon experience ever!!!
Not just a great haircut but a total curly hair tutorial!Thanks,Rosie!
Off the charts!
I saw Carolyn for the first time to get my uncooperative medium length hair cut to a short hair cut. I was nervous to get short hair. Carolyn truly listened and cared. I was so amazed at the results! My new hair was so darling! She is truly an expert!
I didn't believe it was possible.
I brought my teenager her as last hope. When her hair was longer, it was beautiful and somehow over the last few years of REALLY bad hair cut and colors- her hair had become shorter and more like a electrifying mop. And the gal she had been going to supposedly specialized in curly hair. I didn't believe a Diva curl special haircut was going to be all THAT different. OMG! When we walked out of the salon, as well as the last 3 weeks, all I can think is it is absolutely the best I have ever seen her hair! And she's not one of those teens that spend much time on her hair in the morning at all so it's not a matter of "using hair product" either. She looks adorable. And oddly it looks longer than what it did when she went in- only without all the frizz. It was absolutely worth the cost of the hair cut. Thank you Caroline!
Carolyn is Amazing
I traveled to Minnesota from my home in Chicago to see Carolyn. After a so-so Deva cut by another stylist in Chicago I needed to find a stylist to really understood my hair. Carolyn listened to me, cared about what I wanted, taught me things I never understood about my hair, and worked magic on my super curly curls! She is a artist with curls and an amazing human being. This was hands down the best haircut I have ever had in my entire life. I would travel across the country to see her. Curl Power is an amazing salon and Carolyn worked wonder with my curls. I can't begin to thank her enough. AMAZING!
Rosie is ROCKSTAR!
There are not enough nice things I can say to express my appreciation for such an amazing salon. Rosie has totally changed my life! My cuts and Pintura Highlights always turn out great. My curls have never been so defined, soft or beautiful. The Deva products smell so good. The whole Salon Vibe is so welcoming and inclusive, I have found my curly hair home!
AMAZING!
Erika at Curl Power was magic! I have loooong thick hair and I really wanted it reshaped so its manageable without losing the length and she did just that! She updated the style, maintained the length, and styled it so that I walked out with the shiniest nicest hair I've had in years! (And I'm usually never really happy with the way it looks after a cut!) She carefully explained the products and techniques she used so I can recreate it at home! for girls with tight thick curls, definitely recommended!
Rosie is the best!
I've followed Rosie from salon to salon. She has done amazing things for my curls for several years now. I went from having ok curls to having amazing curls. Between the hair cuts and her ability to teach me how to care for my curls I really don't think I can go to anyone else now.
Carolyn is EXCELLENT!
Carolyn is amazingly talented and intuitive. She worked with me and listened so well to create a style and color that feels perfect for me. I have wavy hair and she taught me techniques that I could do at home to help bring out my waves and curls. Highly recommended.
The Best
Both Rosie and Carolyn have cared wonderfully for my curls. I call Carolyn my curl whisperer. She works magic as I go through weird hair changes. Most recently, I'm dealing with some hair loss that made me think I had to keep it longer than I liked for hiding power. Carolyn figured out how to get me the cut I wanted despite that challenge. She made my day! Again. Maybe my year.
SHOW MORE REVIEWS
---
---