Mane Addiction Salon
Indianapolis, IN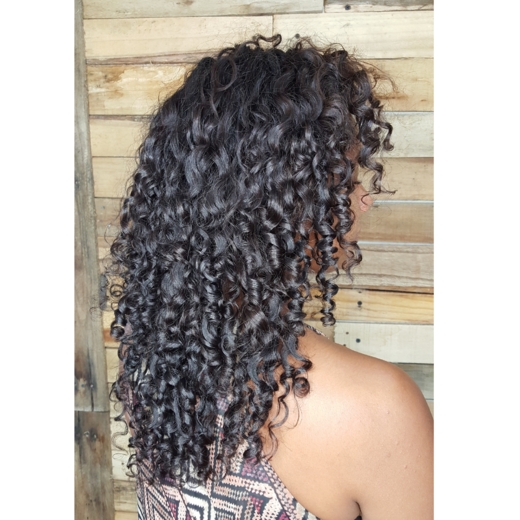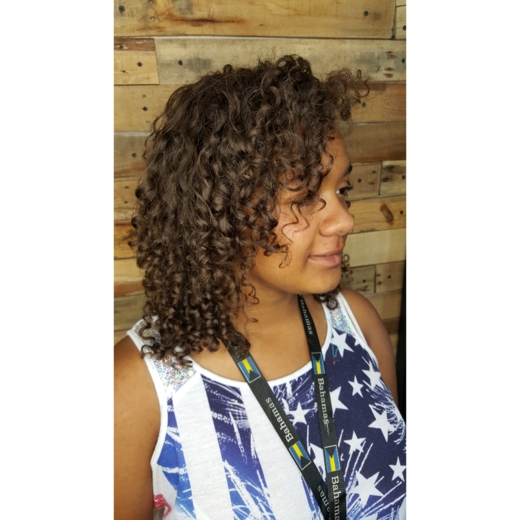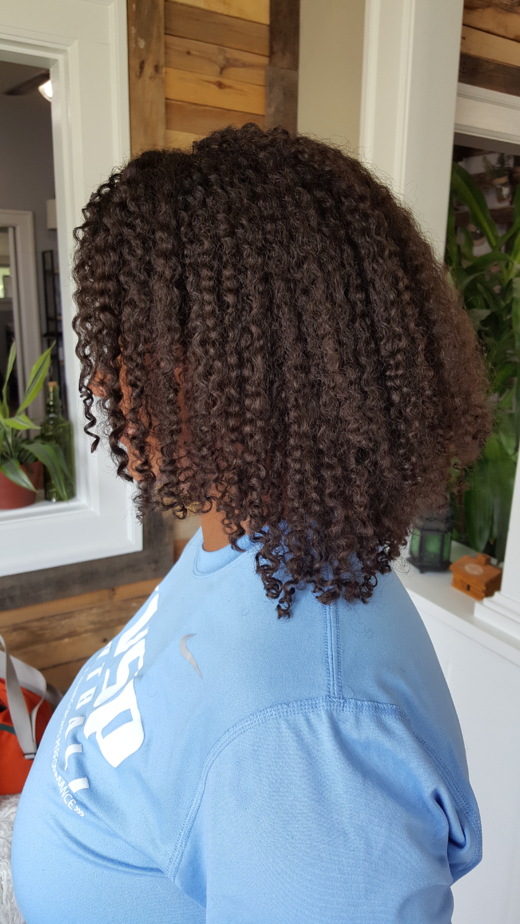 A certified stylist is here
6120 North College Avenue
Indianapolis, IN 46220
Mane Addiction Salon
Indianapolis, IN
More information coming soon! In the meantime, contact the salon with your questions and/or take a look at their website.
---
Our Certifications
---
Devacurl Services
DevaCut
This revolutionary cutting technique was designed for all natural textures, from wavy to super curly. Hair is sculpted curl-by-curl, while dry, in its natural state. This service includes a transformation service.
Pintura Highlighting
This award-winning technique was designed to add gorgeous, light-reflecting highlights to all natural textures. Pintura Highlighting offers the perfect harmony and balance to waves and curls giving brilliance and dimension to beautifully compliment your DevaCut.
DevaCurl Transformation
From wavy to super curly, the beauty of this service is the customized design for every client. This luxurious process begins with a healthy botanical cleanse and condition, followed by a styling and coaching session for at-home curl care.
Super Curly DevaCut
This customized cutting technique springs from the DevaCurl foundational principles catering to highly textured, super curly clients. Hair is sculpted curl-by-curl, in its natural state, according to curl pattern, desired style, personality and lifestyle. This service includes a super curly transformation.
Super Curly No-Poo Transformation
Customized for super curly textures, this luxurious service begins with a healthy botanical cleanse and condition for ultra moisture, followed by a styling and coaching session for at-home curl care.
---
Stylists at this salon
Laquita Burnett
Deva Certified Stylist
DevaCut
Pintura Highlighting
DevaCurl Transformation
Super Curly No-Poo Transformation
Super Curly DevaCut
Learn more
---
Reviews
Perfection!!!
Service Received:
DevaCurl Transformation, DevaCut
I took my 8 yr old daughter for a haircut and she couldn't have done a more perfect job with her hair. My daughter has kinky coily hair and the haircut was more than perfect for her hair type. I will not let anyone else cut my baby's hair but her.
DevaCurl Perfectionist
Service Received:
DevaCurl Transformation, DevaCut
Price:
$51-$75
LaQuita is definitely a DevaCurl Perfectionist. She is the hair stylist that I have been looking for all my life. She knows her stuff and I just Love , Love , Love my DevaCurl Transformation!!!
Loved it!
Service Received:
DevaCut
I came in feeling pretty nervous, it's always hard to trust someone when it comes to my curly hair, but I had nothing to worry about! Laquita was super nice and attentive. Every time I look at my hair I love it more and more! She gave me exactly what I wanted! I am so glad I trusted her with my hair!
Love!
Service Received:
DevaCut
First DevaCut after growing out a pixie for close to 3 years! LaQuita asked questions and listened and gave me exactly what o wanted!! Loooooove it!
Life Changing!!
Service Received:
DevaCurl Transformation, DevaCut
Price:
$76-$125
Laquita is absolutely amazing! She is extremely knowledgable about Deva Curl and helps educate you on how to achieve perfect curls at home. I have been to other Deva Curly stylists and she is by far the best! The way she styled my hair is the best it has ever looked. I would highly recommend her to anyone with wavy or curly hair!
YAS CURLS, YAS GIRL
Service Received:
DevaCurl Transformation, Pintura Highlighting, DevaCut
I am loving my DevaCut and pintura highlights. I have never seen my curls so defined and voluminous, and I'm obsessed with the dimension the subtle color the highlights added. Thank you, Laquita!
Best haircut ever!
Service Received:
DevaCurl Transformation
Laquita was able to bring my curls back to life! She has been the only person ever to be able to cut my super curly hair. Highly recommend her!
Awesome stylist!
Service Received:
DevaCurl Transformation
LaQuita was amazing! She made me feel way better about my hair and gave me tips throughout the entire process. She's very skilled and knows what she's talking about!
Laquita saved me!
Service Received:
DevaCurl Transformation
Laquita is amazing! She was very patient with my daughter and showed me the right way to do her hair!!! She is very knowledgeable Can't wait to go back!!
Great cut and lots of hair advice
Service Received:
DevaCurl Transformation, DevaCut
LaQuita gave me a great cut that has my hair looking better than it has in years. She also taught me a lot about how to best manage my wavy locks. I'm kind of a low maintenance person and had a lot to learn, but I feel like I have a good path to follow to get rid of frizz and buildup and other problems I was having.
My curls actually look like curls again!
Service Received:
DevaCurl Transformation, DevaCut
Had my first DevaCut today by LaQuita and I love it! I walked in with super frizzy hair and walked out looking completely different. LaQuita was patient and listened to me. While she was washing and conditioning she took the time to ensure that I understood everything she was telling me so that I can do it myself at home. I will definitely be back!
Great cut
Service Received:
DevaCut
First time getting a devacut and was not disappointed. Laquita was friendly and did a great job with my hair.
I have CURLS!
Service Received:
DevaCurl Transformation, DevaCut
Price:
$76-$125
Laquita is phenomenal. I have been trying to manage my curls for years on and off, and it's always ended in disappointment. Laquita takes her time to get to know you and your hair and then transforms it based on the goals you have for your hair. In addition to a total curl transformation (it's truly a transformation, by the way) she educates you on the products that would be best for your hair and walks you through how to use them. I walked in with a dry, limp, frizzy mess and walked out with a head of beautiful defined curls. I won't be trusting anyone else with my hair for a long time. THANK YOU!!
Left Feeling Education and Feeling Beautiful!
Service Received:
DevaCurl Transformation, DevaCut
LaQuita was amazing! She is the first person to fully educate me on my hair and products I should use. She explains everything she is doing, why she is doing it and the postive effects it will have on your hair. She is very welcoming, kind, and does not disappoint! Worth the hour+ drive!
New woman
Service Received:
DevaCurl Transformation, DevaCut
This was the first time I went to someone who actually educated me on how to wash, dry, style and manage my hair. I'm 24 and a mom of two so I was in desperate need of some TLC; she took about 10-12 in it my hair and I trusted her 100%. It was a little more pricier than I wanted it to be but it's also the first time that I've ever went to someone that actually specialized in curls. So it was worth it.
Walked out feeling brand new
Service Received:
Super Curly DevaCut, Super Curly No-Poo Transformation
Price:
$76-$125
LaQuita is amazing. As soon as you walk into the salon she makes you feel at ease and as if your hair is in good hands. The whole experience was amazing and she walked me through everything she was doing. My hair has never felt or looked like this before. She was worth the 1.5 hour drive!
LaQuita is fun & educational
Service Received:
DevaCurl Transformation, DevaCut
Price:
$76-$125
My appointment with LaQuita was fun and educational! My curly hair lays better and is more defined than it has ever been.
Best experience EVER
Service Received:
Pintura Highlighting, DevaCut
LaQuita is awesome!!! I haven't had my hair done professionally in years because of fear of getting my hair ruined again. I have been following LaQuita on instagram for a few months and felt like I could trust her with my hair. I immediately knew it was the right choice because it was the first time someone sat down, listened, explained everything and answered all my questions. She started out giving me a devacut and then got started with some pintura highlights. She did an amazing job and I definitely will be going back despite the 2 hour drive! ❤️🙂 Thank you LaQuita!
experience
Service Received:
Super Curly DevaCut, DevaCurl Transformation
Price:
$76-$125
Very understanding towards her clients needs and makes them feel at ease, explains the steps to every process she is doing when styling and cutting my hair and explained how to properly care for it after the cut and walked me through how to dry and style my hair with desired results, made sure no pieces of damaged were left and throughly cleansed my hair which felt amazzzinnnnggggg left with bouncy healthy curls
OMG!!!!! I'm in love!!!!!!
Service Received:
DevaCurl Transformation, DevaCut
LAQUITA IS THE BEST HAIRSTYLIST IVE EVER BEEN TO! She made me feel happy, welcome, and beautiful! She wanted to make sure I was happy with my hair, not just get me in, get my money, and get me out. She took her time, listened to me, and made me feel so special. I will never go to another stylist. She is so easy to book with, so easy to contact, and so just absolutely amazing. Her consultations are so great and she takes the time you pay for to take care of you.
Left the chair feeling like a new woman
Service Received:
Heaven In Hair Divine Deep Condition, Bounce Back Treatment, DevaCut
First time here and I absolutely love this salon!! My stylist was professional yet friendly and made me feel completely comfortable. My hair was damaged from heat and I didn't know what to do with it. LaQuita not only brought my hair back to life, she also gave me tips on how to keep my hair healthy when doing it myself. SHES THE BOMB!!!!!! When I walked out the door, there wasn't a soul who could tell me I wasn't beautiful. I will MOST DEFINITELY be back in her chair!!! Thank you again Laquita and Mane Addiction Salon!!
Good Experience
Service Received:
DevaCurl Transformation, DevaCut
Laquita was very knowledgeable and took her time to explain how to use the products. My curls were transformed!
The Curl Goddess
Service Received:
DevaCurl Transformation, Pintura Highlighting, DevaCut
Price:
$126-$175
LaQuita got the nickname of "The curl Goddess" by my cousin, because she makes my hair look and feel healthy upon leaving her chair. She takes her time and TEACHES you how to mange your curls. It's hard to find someone that has patience to teach you about your curls and the products. I'm so glad I took the risk (I don't let just anyone touch my hair, let alone work on my curls!) to let Laquita work her curl goddess magic in my curly hair! Thank you for being so awesome!!
Life!
Service Received:
Heaven In Hair Divine Deep Condition, DevaCurl Transformation, DevaCut
After living in Indy for 5 years, I always made the drive to my home town to get my hair done. Being very cautious about who I let work on my hair because let's face it, we've all had those experiences where you never want to sit in another chair and let a stranger whip you up. After seeing an ad about Deva Curl, I had to know more! Did lots and lots of research and finally came across LaQuita! My hair has never been more healthy & my curls never more alive! She was very patient, answered all my questions, & walked me through every step of the 'Deva Curl Transformation'. Transformation is an understatement! I am absolutely more in love with my hair than I've ever been! If you're looking, stop here! She won't leave you disappointed (;
In Love with my DevaCut
Service Received:
DevaCurl Transformation, DevaCut
LaQuita was very kind from the time I walked in the door and all the way until the end of my appointment. She was really sweet. I was really nervous when I sat down in her chair. This was my first DevaCut experience & she quickly put my mind as ease. She's very knowledgeable. I showed her a pic of how I wanted the shape of my hair & with her expertise she came up with a shape that I absolutely LOVE! I will definitely be back in her chair. Thanks again LaQuita!! I really appreciate what you did for my hair.
Best stylist in the Midwest!
Service Received:
Pintura Highlighting
Laquita is the most amazing curly hair stylist I have ever met! I was really nervous and excited to color my hair for the first time but after talking to Laquita during the consultation all my fears went away! She did an amazing job with the Pintura Highlights with zero damage to my curls (they were defined and hydrated for days). I would definitely recommend her to anyone with curly hair.
5 star stylist
Laquita is amazing! I've been to her a few times and she never disappoints! I've personally got color each time I've went to her and she's now the only person I trust. The color looks great with my curly hair and straightened. The blend is always how I envisioned! Highly recommended
Came in with dead hair and left with soft bouncy curls/waves
Service Received:
DevaCut
I had been holding on to my hair length for a long time (more than a year with no haircut) and I had bleached hair. I decided it was time to give my hair some TLC darken it and work on getting my curls back. Laquita absolutely delivered what I wanted. Long layers and face framing pieces. My hair is looking more and more healthy each and every day. I will definitely be going back to her.
Best Cut Ever!
Service Received:
Super Curly DevaCut, DevaCurl Transformation
I've had so many bad experiences with stylist cutting my curls too short or uneven. Laquita gave me a beautiful shape and my curls are so hydrated! Book with her you will not be disappointed. She listens well and knows her stuff! I love that she did a thorough consultation not many stylists do that because she wanted to get to know me, my routine, and what I struggle with. She's full of great energy Gave lots of information and I can't wait to see her again!
LOVE my new DevaCut & Transformation
Service Received:
DevaCut
To say that I LOVE ❤️ my DevaCut would be an understatement...Thank You LaQuita Burnett for exceeding my expectations & calming my nerves. I will definitely be back in your chair! 😘
First Deva cut and Pintura highlights
Quita did an amazing job on my deva cut and pintura highlights! She took her time to learn about how I style my curls and gave advice on what I should do to keep my curls popping! Her personality made the experience fun!
Devacut and Devacurl Transformation
My curls never looked so juicy and hydrated! LaQuita did an awesome job on my hair. I was very happy with the entire experience as this was my first cut and styling on my curly hair by a professional. She gave me a lot of useful information about the devacurl products and how to use them as well tips for my hair. She took the time to understand what I wanted and didn't cut too much hair off which I appreciated as I'm trying to grow my hair out. I would definitely recommend LaQuita!
LaQuita is the BEST with every hair texture I've seen her work with! Especially mine! Wouldn't want anyone else blessing this mess 😘
I've had so many compliments and so many referrals to LaQuita! Most of the time now, people that have already heard of her automatically ask "Did you go see that Devacurl lady!?" Of course you know we are all talking about you Quita!! Thank you! Love the transformations you've done for me and the other ladies patiently waiting that I've stuck around to see the results!!!
Excellent Stylist
She's is an excellent stylist, keeps up on latest hair trends. Offers excellent advice on how to care for you hair between visits to her salon. Uses excellent products design to give your hair tha little extra boost that it might. And if you having problems with your she gives very good advice on how to help correct the problem. I am always very pleased with my hair after she does it.
Awesome
I've been going to Laquita for over 7 years now and she has helped me keep my curls healthy while teaching me along the way on things to do to keep it up at home! She's super knowledgeable on her craft and takes it all very serious! I haven't let anyone else touch my hair because I only trust her! She recommended devacurl products to me quite some time ago and I absolutely love them! Highly recommended stylist !
Transformation SUCCESS
Laquita did an AWESOME job. I had a cut from her 2 months prior and said I'd be back to get a color. My hair is/was jet black. She recommended blond and my mom thought copper would be best ...Laquita did BOTH! It came about fabulously! The two colors helped to lighten my facial features and complemented my skin tone! I've NEVER had color, let alone color on my long natural hair. I would highly recommend her services and if your brave, just let her do her thang! I've already recommended 3 people, including my mom...who LOVES her cut and wash and go style! She's worth EVERY penny!
Deva curl and my stylist are awesome
LaQuita is awesome! I have had to return to natural hair styles. Chemicals were weighing heavily on my hair. They left my hair dry, limp, and without luster. LaQuita returned the life to my hair. She introduced me to deva curl. The deva curl product line, along with LaQuita's extensive hair care knowledge has made me very happy with my natural hair.
Haircut & Color
It's a real pleasure to have Laquita as my hairstylist. I come in with a vision of what haircut/style I want and Laquita delivers 100%! She has great passion and dedication for hairstyling.
Amazing!
She's amazing! Very friendly & helpful! Highly recommended!!!
Healthy hair
Laquita is one of the best and she's one of the only ones I trust on my hair. She's very educated in her field and knows all about natural hair. She efficient, very sweet and personable and will have you in and out of her salon! Book her and you won't regret it!
Came with beautiful hair, left with Mullet
First time client after following Laquitta for over a year on Instagram. Booked a Devacurl Cut to even out some long layers and specified I wanted to keep my length. I was given a mullet instead--total opposite of my vision. I'm really bummed out about my experience. My mullet has really messed with my self confidence! Initially the cute was $65 and I was charged a $15 consultation fee (I guess it costs $15 to be a new client and also to listen to her talk.) And a $45 transformation fee ( I guess it costs more since she totally transformed me from a normal gal, to a gal with a curly mullet). $125 later--a terrible hair cut, lower self esteem, feeling of betrayal. Looks like I'll spend the rest of this year growing it out. Thanks L!
Life changing
LaQuita is so great! She went above and beyond for me she didn't like how my curls air dryed so she redone it until it was perfect! I'm honestly in shock with my curls I haven't seen my natural hair this pretty in forever!
Devacurl Cut & Devacurl Transformation
LaQuita is phenomenal. She educated me on my natural hair, the Devacurl products, & the do's & don'ts of taking care of natural hair. Explained each process thoroughly. Asked me important questions on the step by step process of what I do for my hair care regimen.. She was able to assess my hair quickly & told me exactly what was going on with it. I left the salon educated and my Devacurl Cut was fantastic feeling soft and more healthier. I will be returning to LaQuita, she is now my Devacurl Stylist.
Fantastic
Laquita did a fabulous job with my hair. I had never added this drastic amount of color to it, but I trusted her and it turned out awesome. I also got the Devacut and usually I hate to get my hair cut because of the loss of length but there was none!! She really knows her stuff!
Awesome!
LaQuita is awesome! She takes the time to explain what she is doing and how to use Devacurl products at home the right way. My curls always look fabulous!
Devacut, Deva Transformation Love!
I'm so happy I booked my appointment with LaQuita! She did a fantastic job on my devacut and transformation. I've been using Deva Curl products for a long time and wasn't seeing much change in my hair on my own aside from more shine and less frizz but I was still having a lot of different curl textures. After seeing my before & after photos I didn't realize how much I needed this devacut! I felt so glam leaving the salon!
Pintura Highlights and Deva Cut
I decided to go natural over 20 years ago, before it became popular. I've always loved my curls so I stopped relaxing it and used heat and flat irons whenever I wanted to go straight. Unfortunately, I could never trust anyone with my hair due to a couple of bad experiences so I did my own trims and kept the same look for over two decades. A friend with natural hair texted me one day to tell me about LaQuita and how talented she was. She had similar experiences to me so I trusted her and booked my first appointment. From the moment I met her I knew I could trust her. It took me about two months to make such a drastic change but she was patient with me. My most recent appointment I decided to go full blonde with pintura highlights and a deva cut to get a rounder shape. I finally had the hair I always wanted and never thought I could have. Over the past two weeks I have received so many compliments on my hair. I've even had stranger walk up to me just to say they love my hair! If you have gone natural and never trusted anyone before, please go see LaQuita. I promise you will not be disappointed!
The Absolute Best!
If you have curls, you should be going to LaQuita. In my almost 30 years I have never had a great experience at the salon. I had what I like to call "haircut phobia" and would go up to a year without a cut. And then I met LaQuita and she gave my the absolute best haircut I've ever had. When I left the salon I felt like a new women! My curls are so beautiful and defined. She is also very personable and friendly. I felt very comfortable there and that is a big deal for me. I can't wait to go back! Thank you again, LaQuita!
Total satisfaction!
After exploring my options with so many stylist throughout the years my journey has ended right here, Laquita was very informative about her products and took full control of my hair as needed. I never knew my hair had the ability to look so wavy and luxuriant. My hair insecurities is out the door finally and, I will always feel at home when I'm in her chair. Thanks a million Laquita!
Deva curl transformation
I love my curly hair, but I love it more after using these products. Laquita is knowledgeable and is so professional! No more freezy, dry, or crunchy curls! I'm excited to love my curls even more!!!
Great cut, great advice
Laquita listened to my hair concerns then transformed my frizzy, misshapen cut - you know that one for straight haired beauties that makes you look like a mushroom - and turned it into one I love with soft bouncy curls.
Life changing
Meeting with Laquita was the best thing I've ever done for my hair! Not only did she give me a cut that works for me but she taught me how to use my DevaCurl products properly and walked me through a wash and style routine that I can do on my own. I can't recommend this experience enough for other curly girls! She's 2 hours away from where I live but it's worth the drive every 3-4 months to keep up with it!
Hair never looked better, buh bye frizz!
Discovering Deva Curl and LaQuita has been a complete change in my troubled hair history. It was so different to be in the care of a professional who knew how to make my hair look healthy and happy. Now, any day can be a great hair day! Thanks LaQuita!
Moisturized Hair for Days!
I have been going to Ms. Laquita for years and she has always kept my hair healthy! I tried the Melt in to Moisture and Deep Sea Repair treatment and my hair has NEVER felt that moisturized in my LIFE, I have 4c hair and it was unbelievable how long it stayed moisturized, a week later, and it still feels great! Highly recommend Laquita and the melt into moisture and deep sea repair masks!!
Great Hair Cut - Great teacher!
Laquita is great! Not only did she give me an awesome haircut, she really helped me learn how to use the DevaCurl products. She is the reason I use the DevaCurl Shampoo!
DevaCut and NoPoo Transformation
LaQuita is amazing! I thoroughly enjoyed my entire experience with her. I went in for a Devacut and she was careful to figure out exactly what I wanted and get a feel for my hair texture. She also talked me through the process so that I understood the products that she was using and could style myself at home. She was warm, personable, and very relatable and easy to chat with. I love my new haircut. It is exactly what I wanted a gave my curls a fresh new look. I cannot wait to return for pintura highlights!! I referred a friend as soon as I got to my car!
Deva Curl Deep Condition and Transformation
Laquita did an amazing job! My curls feel completely rejuvenated and have their bounce back!! She walked me through step by step so I can keep my curls healthy and hydrated. Every question I had referring to the maintaining of my hair, she had great advice. Laquita is not only professional but creates a great aura at her booth!
Fantastic experience
LaQuita took plenty of time to find out what I wanted and to coach me on how to get it! I've never seen my wavy hair look so curly-curly and I'm inspired to try her techniques out at home. I also appreciated that she didn't push products but had what I needed when I requested to purchase.
This girl knows her stuff!
LaQuita did a phenomenal job with my deva cut! I was completely comfortable with her as soon as I walked in the door. She talked me through what she was going to do with total confidence and professionalism. She makes you feel very welcome and at home in the chair. I walked away so happy with my hair! This girl knows her stuff! I modeled for the deva Academy in NYC and she follows their methods TO A T! She doesn't take shortcuts or do her own spin on things. Very professional. Very welcoming. Very knowledgeable about the products. She knows the benefits of each one and how to pair them together. I felt that my last stylist tried to sell the new, "better", more expensive products to me for commission or even competition points. I felt that she sincerely studied my hair and listened to my needs to recommend the best products for me. She even taught me how to style my stupid baby hairs! This girl is a keeper!!!
Devacurl Transformation
After my cut and DevaCurl transformation with LaQuita, my curls have never looked so good! My normally frizzy curls became smooth and defined after this service. LaQuita told me all the tips and tricks for replicating the process at home. I am so happy to embrace my natural hair!
Devacut
I typically dread getting a haircut, but LaQuita did a phenomenal job. She understood all of the frustrations I was having with my curly hair, and gave me the perfect cut! Also I really enjoyed my visit, she's awesome. Definitely recommend, and I'll be sticking with her for sure.
So feeling myself
I went in one way and came out feeling like a brand new person. LaQuita turned my dry, brittle, and split curls into a lovely, yet edgy healthy, perfect style. I consider it a blessing to have been in her chair!
Deva Curl Beginner
La quita is very knowledgeable about her craft . She recommended Deva Curl products to me and told Me what would be great for my hair and what was wrong with my hair I highly recommend La quita
Loving my hydrated curls
My hair needed a conditioner that full of hydration and moisture. I was elated by how my curls looked more defined and moisturized. Thanks, Laquita for the Devacurl service ❣
Devacurl Transformation and Devacut
I love my transformation! My hair came back to life! Day 2 and it still looks great without having to add product.
Devacurl makes your curls pop!
LaQuita recommend Devacurl for my dry and frizzy natural curls. It gave me the moisture I need and made my curls pop! I highly suggest you try this product if you struggle with the same issues not matter what curl texture you have. LaQuita is very informed on which product is best for you.
Devacurl Transformation
I love the way it made my hair look and feel! I am purchasing my own today no more ugly curls lol
Consult and Devacurl product purchase
LaQuita is very knowledgable when it comes to products and hair. She recommended Devacurl to me because I will be transitioning to natural very soon. The products are great and I love the way my hair looks when I do a wet and wavy look even though my hair is relaxed right now. I appreciate all of LaQuita's help with my decision and I will be using more Devacurl products once I transition to natural hair.
SHOW MORE REVIEWS
---
---