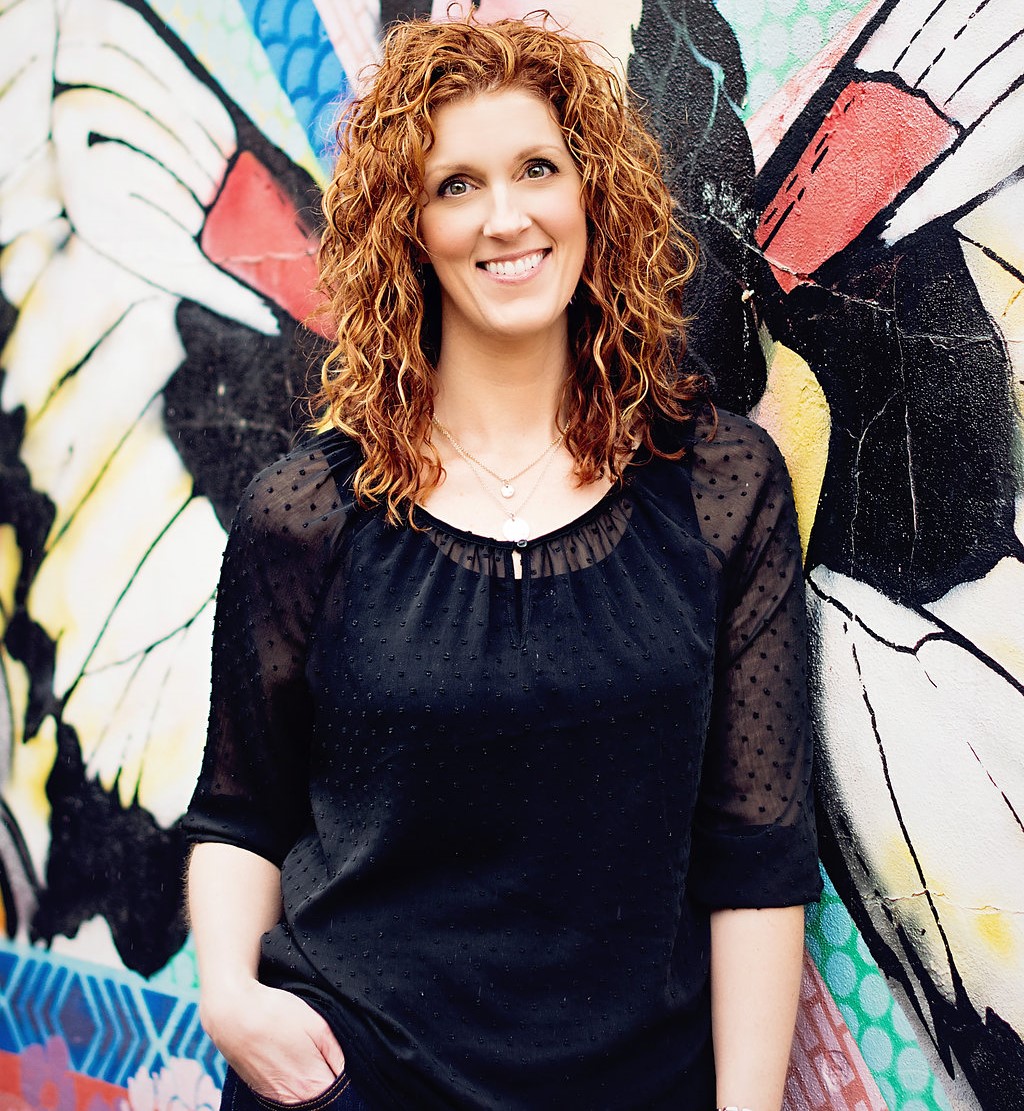 1197 W Main St Suite 13
Boise, ID 83702
I am the survivor of many at home perms and bathroom haircuts (thanks, Mom). But now...I LOVE MY CURLS! Don't get me wrong I still have ''those'' days, but they are few and far between now that I have embraced my natural hair. Texture is a constant learning curve and I look forward to helping you have happy hair days by sharing tips and tricks. Between my 10+ years experience as a hairstylist and my 30+ years (ahem) with my own naturally curly hair, I've seen, heard and tried a lot. I have completed the DevaCurl Advanced Stylist training in Los Angeles in August of 2014. It was an intense training for haircuts, creative Pintura coloring techniques and styling tips to help achieve beautiful healthy hair. Additionally, in July of 2015, I had the pleasure of job shadowing a DevaCurl national educator in Salt Lake City. I look forward to continuing my salon education, including learning with you! Follow my Facebook page at Calling All Curls Idaho and enjoy my pics, try out some of my hair cocktails, ask questions and let's talk hair!
---
Our Certifications
---
Devacurl Services
DevaCut
This revolutionary cutting technique was designed for all natural textures, from wavy to super curly. Hair is sculpted curl-by-curl, while dry, in its natural state. This service includes a transformation service.
Pintura Highlighting
This award-winning technique was designed to add gorgeous, light-reflecting highlights to all natural textures. Pintura Highlighting offers the perfect harmony and balance to waves and curls giving brilliance and dimension to beautifully compliment your DevaCut.
DevaCurl Transformation
From wavy to super curly, the beauty of this service is the customized design for every client. This luxurious process begins with a healthy botanical cleanse and condition, followed by a styling and coaching session for at-home curl care.
---
Stylists at this salon
Jenifer Jaquith Canning
Deva Advanced Stylist
DevaCut
Pintura Highlighting
DevaCurl Transformation
Learn more
---
Reviews
Made a teenage girl feel beautiful!
Jen is amazing. She taught my 16yr old daughter how to embrace & love her curls. With Jen's guidance & DevaCurl products, my teen finally loves standing out because of her beautiful curls! Jen is an angel with such a gift!!! Thanks Jen!
Now I love my hair.
Service Received:
DevaCut
Price:
$51-$75
I've been seeing Jenifer for over a year and due to her cut and wisdom I now have healthy curls and love them more each time. I'm wanting to go silver and I know she can guide me.
Wonderful!
After years of struggling with curly blonde hair and waiting months for a Curly hair specialist to have room, Jennifer finally came to the rescue. It has been a few years and she is still my go to gal. Now that I am in college I still go to Jennifer when I am home because I trust her and she is willing to figure out the best plan for my schedule. She is a rockstar that helped me love my curls!
annoyed...she isn't taking anymore clients but she is still getting new reviews.
isn't taking any new clients. I asked her for the first time 2 years ago..back when there was only 2 deva stylist around and she said she was not taking any new clients and she so is still saying the same thing. always refers to deva curl site which now has a lot more stylists but most of them don't even have reviews. we all like to go to places that have good reviews. it would have been nice for her te recommend someone else that she has heard are also good.
Seriously THE BEST
Having moved to Boise from CA two years ago, I was terrified trying a new stylist. Jenifer quickly calmed my fears and thankfully introduced me to Devacurl products. She is hands down the best stylist/colorist I have ever had. I love every cut, I'm never going anywhere else. On top of being an incredible stylist, she is an incredible person, kind, funny and so very caring. You'll love sitting in her chair. Stop reading and go make an appointment with Jenifer now!
With a snip here, and a little color there, Jenifer changed the way I view and approach my curly hair for life.
Before coming to her salon, I hadn't had a haircut in over a year! My curls were sad, scraggly and frizzy. I had always been terrified to commit to "the chop," but knowing the reputation of Jenifer's talent with curls, I felt confident in her abilities and comfortable in her salon char. My first time seeing Jenifer is when I said goodbye to 6+ inches of curls! She then introduced me to the DevaCurl line of products and it has changed my life forever. She is an incredibly talented stylist, as well as an wonderful, kind, and enjoyable person. Going to her salon is the highlight of my week, every time.
Fantastic! Awesome!
I have to say Jenifer is the best Deva Curl trained stylist I have ever had. I have gone to other Deva Curl stylists when I lived in different states and they were all good, but Jenifer is awesome! On my first visit and every visit since, she has made sure we discuss what our plan is for the day (in my case cut, color or both) and if there are any changes we need to make from the previous visit such as a color change. She is super friendly and on my first visit she made me feel comfortable and talking to her was so easy I felt like I had known her forever. She is also great at recommending products or product combinations that have made my hair look great. She posts great tips on her Facebook page too! I would highly recommend Jenifer to for any of your hair style, cut and color needs for your curly hair! She is the only one I trust with my curls! She is awesome, you won't regret it!!
The Best
Jen is the only one I trust with my curls, she is the best! Plus she is just a wonderful person, I always leave feeling happier and brighter and curlier than when I arrived.
A True Professional!
I found Jen through your web site 3 years ago. After struggling years with other products, stylists, and major hair disasters, Jen was my hairs' savior! She truly looks at your hair, your lifestyle and listens to your needs then comes up with a great solution that can solve your problems. I call her my hair therapist. I live in Idaho, Florida and North Carolina part time- my hair goes from crazy humid, scorching sun and ocean, to dessert dry conditions. Jen knows her stuff and has helped me to understand what Deva Curl products to use no matter where I am. I just love this Idaho gal!!!
Grateful!
I moved from SF to Boise nearly 2 years ago and I am so grateful to have found Jen! Jen is amazing, truly GETS curly hair, and excels at helping her clients understand their own hair type and what styles, colors, techniques and products will give the best results. I am one of those "what do YOU think we should do with my hair?" types, and she never fails to guide me by asking questions to get at what I really want. I have never left her chair as anything less than a 100% satisfied customer.
Game Changing...A Life with Curls
If you were lucky enough to be born naturally curly, connecting with Jennifer can change everything for you (if you've ever felt at odds with your hair). As a child I knew how fortunate I was but could never get a handle on my fro. Entering adulthood with so many tools and choices for manipulating curls was even more confusing. I'd have to say the hardest part of "having the hair" was meeting the countless stylists who would dismiss my tresses as "the same as any other hair." (Instant disqualifier and end of yet another salon relationship!) I'd have to say I blew through at least two dozen stylists who maintained curls were the (gasp!) same as everyone else's cuts. Out of fatigue and years of disappointment I finally researched curl- specific stylists in the Idaho area and linked up with Jennifer a decade ago. I still hear the angels sing when we see each other. Jennifer has led me through many beautiful cuts and has helped me to explore a myriad of products to optimize my curls. So much so that my career has moved me around the states but that hasn't stopped me from flying across the country to make sure I can see her. Worth every cent! I highly recommend that you find a way to let Jennifer help you embrace and LOVE your gift of curls.
Jen is amazing!
I fought my curls all my life but not since I found Jen! She assesses my curl pattern and overall condition at every appointment. She taught me to condition it to get rid of frizz and clip it so I won't be flat on top. I've got a cut that's so easy to manage and I love it! If you have natural curl you've got to see Jen!
A tried and true curly girl
I found Jen listed on a curly girl website when I was relocating to Boise. On my first appointment, she took the time to assess my color and curl pattern, making the necessary recommendations on how to embrace my curls and make them better than they've ever been. Jen takes the utmost in care with her clients to ensure satisfaction from start to finish. She educates her "curly girls" on best practices for best results. She's my first and only stylist since moving here, and am so honored to have her fingers in my curls!
Made my curls come alive!!!
When I first met Jen my hair was in sad shape; over processed, dry, and limp. First, Jen resuscitated it, but it took time to bring it back to life. Now my hair is silky, curly, shiny and vibrant. Everywhere I go, I receive compliments about my curls and hair color (I am rockin a beautiful natural gray). Jen is great at assisting me to know how to use the Deva Curl products and tirelessly retrains me how to use the clips to create volume. I would highly recommend Jen to help you love your curls. :)
I've been to both Devachan Salons in NYC and Jen is just as good, if not....
Is it weird to say that I feel like Jen is part of my family? If you're a curly girl, and you've spent a lifetime trying to get a good cut or to find a stylist who understands your curls, you understand it's not weird at all. You keep her close and invite her to Thanksgiving, to Christmas, your birthday, and if you're as quirky as your curls you might invite her on your anniversary dinner date. All joking aside, Jen is smart, intuitive, and an artist. I get comments everyday on my curls, and after I say thank you I always say, "My stylist brings out their best." She's really good at what she does, but I also must say I never feel rushed. The time she allows for each appointment is very generous with plenty of time to discuss my hair "vision." I can't say enough about Jen.
Best curly girl stylist!
I have been bringing my semi tight ringlets to Jenifer for about 5 years now. She takes her time, doesn't over cut (you know what that means) and also is a great colorist. She helped me go back to my natural gray and I wear it curly and get so many complements. Can't say enough about her!
Scored!
I moved to Idaho from MN. I had a "curly" stylist in MN who I hated to leave. My goal was to find a stylist in ID who understood curly hair. Let's just say I scored! Jenifer does a great job with my challenging head of curls. Always satisfied with my cut! And, she's fun to be around!
Multitudes of superlatives
Excellent, awesome, wonderful, magnificent, unparalleled. I can use all of the superlatives to describe my unequalled stylist. Jen is a supreme goddess of the curly hair. Seriously. Her cuts follow the curly girl method and she uses all the right products to tame the beast atop my head. She puts up with a lot of whining from me and has never slapped me once. (She does pull my hair occasionally though...) I would not hesitate to recommend her to all my curly friends out there in Idahoistan. You will not be disappointed. She rocks!
Has naturally curly hair and wears it curly
I have naturally curly hair that I wear curly, and that is really important to me to find in a stylist as well. Jennifer understands curls, trains specifically for curly hair, and is always sharing what she has learned in terms of hair care tips and styles. Jen has always taken the time to understand what I want in a cut or color, as well as my lifestyle (I'm very low maintenance, and am not about to spend much time on hair every morning) and will give honest feedback on how she thinks my hair will look with different cuts, and if that would fit with my daily hair routine. The only reason I hesitate to recommend her is because I don't want it to be even harder to get an appointment with her! She is fantastic, and I don't want anyone else to touch my hair!
Didn't think this was possible
My sister in Seattle told me about DevaCurl and I was surprised to see that Boise had a stylist, Jen. I was impressed at my first visit about a year ago. This gal is amazing. She is the first hair designer in 50+ years that knew how to give my totally fried and badly damaged hair new life. I knew I had semi curly hair but had been killing it for years. Jen gave me hope, educated me, showed me the how to, the great DevaCurl products and coached me into trying a new style. I LOVE IT! Didn't think it was possible. The woman is a miracle worker!! Jen, you Rock!
Best Hair Stylist for Curly Hair Girls!!!
Jennifer is an amazing hair stylist if you have natural curly hair! I have had so many compliments on my hair now, and I tell them it's all thanks to Jennifer and the Deva Curl products!! I have been telling all my friends with curly hair they need to go see Jennifer! I can honestly say I love my curly hair now! Thank you Jennifer!
Curlmazing
Jenifer knows what she is doing. She listens well so she understands your curl needs. I always leave with the cut I want. I love that! Jenifer will help you understand your curls, help you learn to use products, and teach you how to style your hair. She is freaking fabulous.
Knowledgable and helpful
Jen knows her stuff and isn't afraid to offer sincere advice about color and styles! I appreciate the honesty and love love love my cut and color!!
Stylist extraordinaire!
Jen Canning will transform your neglected hair into brilliant beautiful curls! Your satisfaction is her utmost goal
Wonderful stylist for curly haired gals!
I started going to Jennifer Canning earlier this year, and my curly hair has never looked so good! She understands curls and is willing to listen to your wants and needs and experiment to give you the haircut you want.
Best for Curls in Boise
Highly recommend Jennifer Canning at Tonic, she knows curls and gives great tips!!
So thankful!
I recently moved to Boise, and I was terrified to leave my old stylist and try to find a new one! Jenifer is nothing short of amazing. She took the time to consult with me before my first cut and provided great feedback. Her cut and coloring skills are incredible and I could not be happier with the outcome! I am a lifelong curly-girl who is picky about my cuts and color - if you go to Jenifer you will not be disappointed!
Amazing
If you have curls and you need to see Jennifer. She is amazing. If you love your curls she will make you love them more if you hate your curls she will make you love them. My curls have never looked so good. Thanks Jennifer
SHOW MORE REVIEWS
---