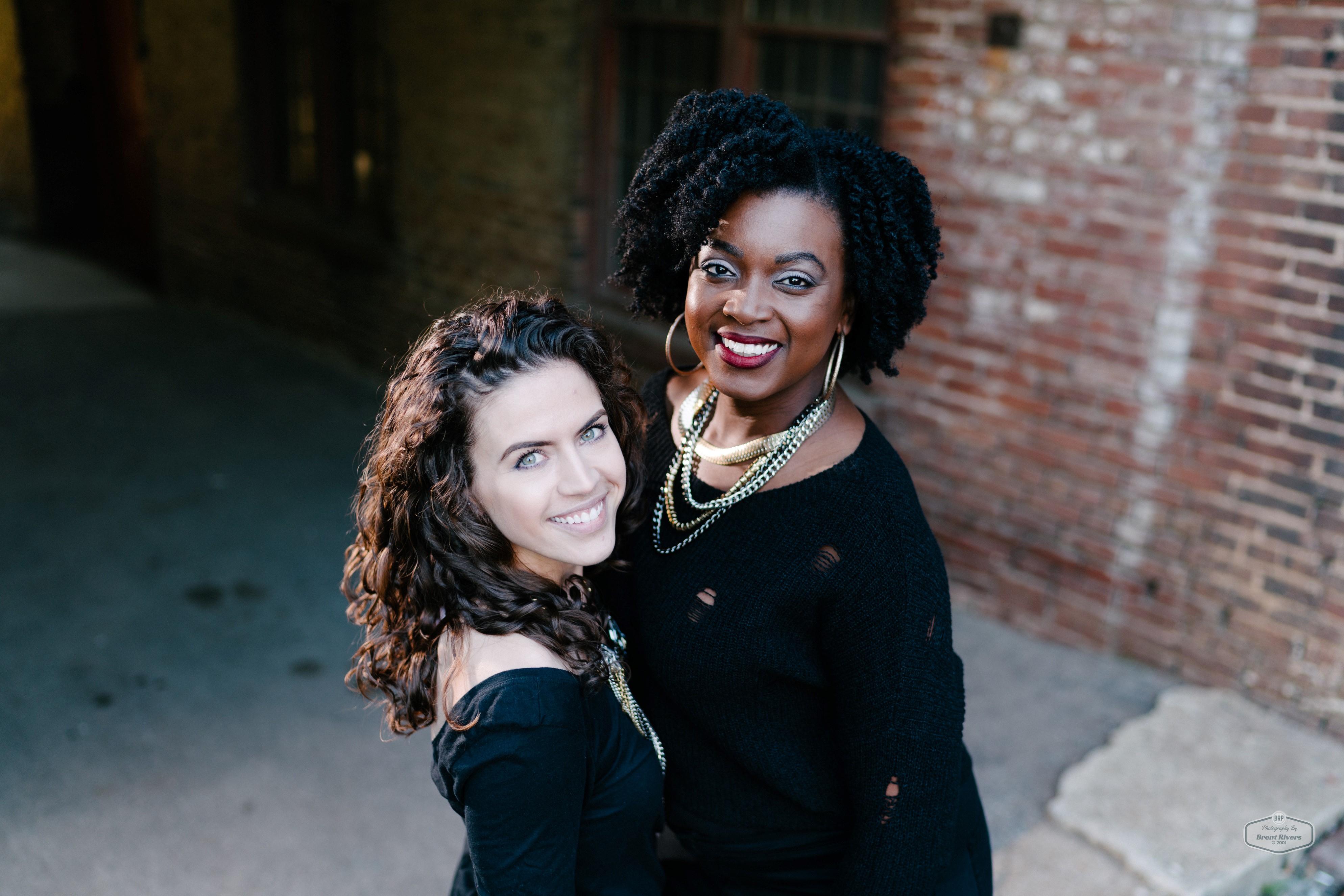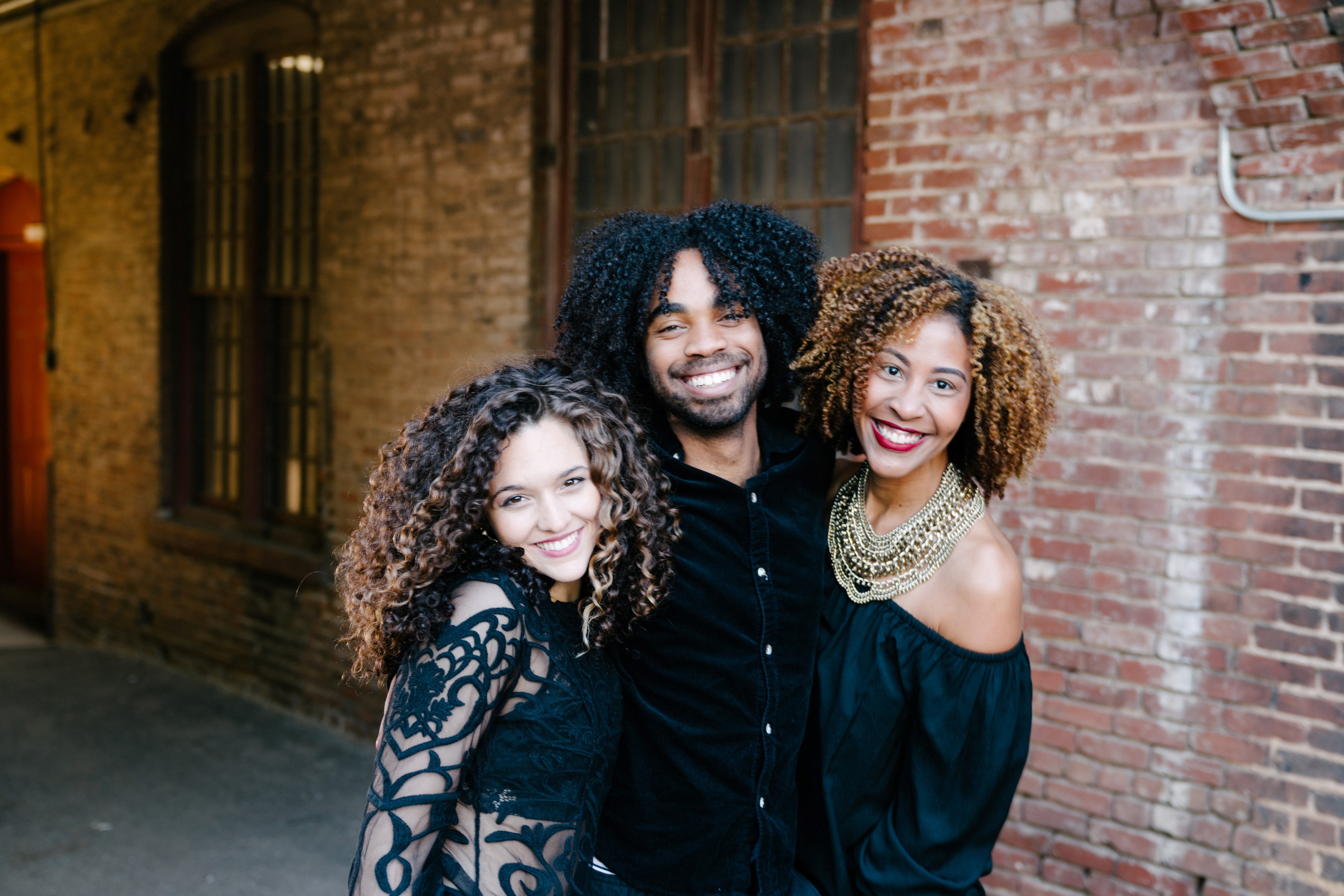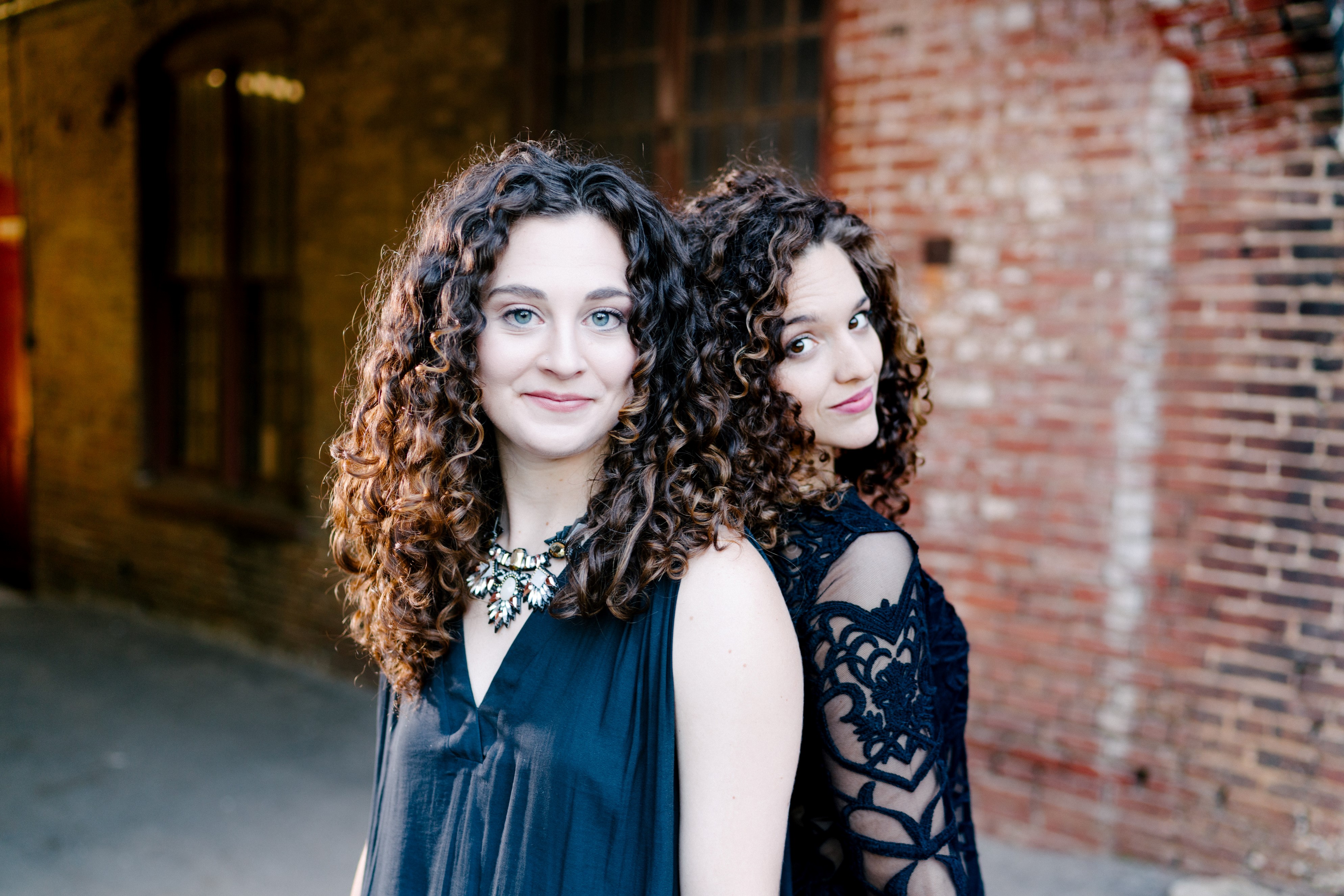 A certified stylist is here
1339 Marietta Blvd NW
Atlanta, GA 30318

(404) 352-CURL
Our stylists have gone above and beyond training in the art of cutting curly hair. Some of our praises Include: Deva Inspired Stylist certification from THE Curly Girl herself, Lorraine Massey Anderson, SC 2009; Training at the prestigious Devachan Academy in NYC Advance Inspired Curl Class 2010, 2012; Curly Hair Artistry Certification in Natural and Caucasian Hair 2013, 2014; Master Educator for Curly Hair Artistry 2013, 2014 Our goal is to help you love and care for your curls.
---
Our Certifications
---
Devacurl Services
DevaCut
This revolutionary cutting technique was designed for all natural textures, from wavy to super curly. Hair is sculpted curl-by-curl, while dry, in its natural state. This service includes a transformation service.
Pintura Highlighting
This award-winning technique was designed to add gorgeous, light-reflecting highlights to all natural textures. Pintura Highlighting offers the perfect harmony and balance to waves and curls giving brilliance and dimension to beautifully compliment your DevaCut.
DevaCurl Transformation
From wavy to super curly, the beauty of this service is the customized design for every client. This luxurious process begins with a healthy botanical cleanse and condition, followed by a styling and coaching session for at-home curl care.
---
---
Reviews
Learn to love AnD care for your curls!
Service Received:
DevaCurl Transformation
Robin and her whole staff are amazing. She took her time to go over every product I was using and helped me to tweak everything to suit my hair. She also helped shave down my products to just a few essentials. They took so much time with me my first day to teach me every step they were doing so I could repeat at home. I left with the most amazing curls I've ever had. I suggest anyone who's nervous about their first Deva cut to go see Robin and let her walk you through. I will never go anywhere else.
Learn to LOVE Your Curls!!
Service Received:
DevaCurl Transformation, DevaCut
Price:
$126-$175
Curly girls, look no further! We are SO LUCKY to have Robin and her team right here in ATL. I've been a client for 6 years and after giving me the foundation cut I needed, Robin has coached me how to care for and thereby absolutely love my curly hair. I used feel I was a victim of my hair; I would pray and hope that it would cooperate. Some days, it would. Most days, it would not. But with the skills I've learned from Robin and her team, I style my hair with confidence and every day is a good hair day. Seriously, people ask me all the time how I get my curls to look so good. I retired my heat-styling tools years ago! You can too!
Stop searching for a salon!!! I found the BEST one in Georgia!!!
Service Received:
DevaCurl Transformation
I have been on my curl journey for a year and a half now and I have been searching for a salon that understands my curls. This salon is top notch! Friendly staff and knowledgeable stylists! I had the pleasure of meeting Robin who sat with me and discussed my hair even before she sat me in the shampoo bowl. She not only explained to me HOW to care for my hair she SHOWED me how. She also understood my journey as she herself is a curly girl! Definitely worth the drive to Atlanta!!! I'll never go anywhere else!
Southern Curl All The Way
Service Received:
Super Curly DevaCut, DevaCut
Price:
$126-$175
My husband and I travel to the salon every three to four months for our trims/cuts (we live in a another state). He has lovely type 2-3 curls, and I'm a 4a-c. Both Robin and Beth work on our hair. We couldn't ask for a better experience or more comfortable environment. Everyone we've encountered there has been so nice and affirming, and the services are top notch. Beth tames my coils and gives me a perfect trim (and great suggestions) every visit. And, Robin is just superb and patient with my husband. They can do it all! I have been natural for just about four years. For the first two, I visited several salons in Atlanta. Some provided decent services, but I just didn't always experience a good, caring vibe. We've found our home at Southern Curl. If I could give more than 5 stars, I would -- they live for curls!
Friendly and knowledgeable salon
I thought that this salon did a fantastic job of cutting my curls. The owner cut my hair and did an amazing job and impressed me with her knowledge. I definitely will be back!
Your Curls Will Literally Thank You
Beth was amazing. She took the time to talk about my hair journey, what I wanted, and even created a folder for me to take home full of instructions and tips. I got to lay back and relax as my hair was washed, conditioned, and finger-combed. Literally, I was laying down. These women know their craft. Can't wait to have my hair done again before my 2018 wedding! My curls are hydrated, revitalized, and preofessionally coiled. :)
Best cut of my life
Saw Patience today for the first time. I'd been wanting to go to Southern Curl for nearly a year but like kept happening. Well, it was worth the wait. When I came home my husband was in awe. And I told him it was the haircut I'd been waiting my whole life for. Truly how I'd always wanted my hair to look. Thank you to the whole Southern Curl team, who were so welcoming, and especially to Patience. She was amazing, listened to all my hair trauma, and I can't imagine having anyone else cut my hair now.
Best first Deva Cut experience!!! (Robin is fantastic)
Put simply, Robin is the best. Three days ago, I had my first appointment at Southern Curl for my first Deva Cut/first real haircut I've had period with the exception of some slight side bangs and long layers I had cut about 6 years ago on pressed hair. I was a little nervous at first, because even though I'd been looking at articles and videos on Deva Cuts several months in advance as well as reviews and pictures of clients' haircuts done at Southern Curl, I wasn't sure if I was making the right decision by going to get a Deva Cut. From the beginning, Robin was very clear about what she intended to do with my hair and how she planned to go about doing it before even took the scissors out. I came in not having a definite picture in mind of how I wanted my hair to look, and she took everything I told her that I did, didn't want, wanted to get rid of and gave me exactly what I didn't even fully realize I both needed and wanted. I told her that I didn't want to chop all my damage off and how short I was willing to go, and she listened. No combs or brushes were involved in the cut, and there was no raking either during the cutting process. So by the time I was sitting in the washroom (best washroom I've been in, by the way), my nervousness and doubts had practically melted away. Robin did a fantastic job of assessing my hair, its current state and how to give it what it needed. She helped debunk/teach me things about my hair that had never even occurred to me or I simply had yet to figure out on my own. It was a very enlightening experience, and I'm so glad to say that three days later, I still have tons of definition (almost as much as I did when I left the salon), movement, and best of all, HARDLY ANY FRIZZ!!!! That's a pretty big feat, considering the fact that I was outside for a bit the other day right after it had rained. Typically, with Alabama humidity, especially after it's rained, if I don't cover my hair well it'll turn into fluff when not straightened even after a few minutes outside. But not this time! I don't remember ever having this little frizz. Even better than that, I'm so much happier with my hair than I was before I walked into the salon. I've been transitioning from over 6 years of heat damage for the past two months. And although I had cut off a decent amount of damage before my appointment, I wasn't seeing the kind of progress I had expected. It was driving me nuts. I didn't have the guts to have Robin cut all my damage off, but what was cut off infused so much more life into my hair. I still have damage, but what remains is nothing compared to the nearly straight, stringy ends that looked hideous in comparison to the rest of my hair that's mainly a mixture of probably 3c/4a curls. I never even knew my hair had the potential to have this much curl definition. And yet it does! I'm still in awe and amazement. It was more than worth the 3 hr/40 minute drive it took to get there. If you're contemplating scheduling an appointment with Robin or anyone at Southern Curl, do it. You'll gain hair knowledge, tons of definition :), and a newfound appreciation for your hair. I know I have. I'm so excited to wash my hair again once this wash and go gets old enough and use all the new techniques I've learned. Thank you so, so much Robin! You've changed my relationship with my hair for the better, and I'm excited for my next appointment. :)
great place!
I recently saw Patience while she was in curl training. She has been a stylist for years but decided to pursue her passion for curly hair. WoW! I would love to know what the hiring process is like at Southern Curl but I can only guess they specifically look for stylists who are great listeners, want to get to know your goals and taste, teachable, highly skilled, eager, visionary, repair artists, sculptors, and I'm pretty sure at some point in the interview the stylist has to leap to their feet and say "if I don't get to work with curls every day I will die inside. " Of course, I can't be sure, I don't know what they're hiring process is and I have never been in there interviews but I can tell you all those things are true about their stylists. Patience was great. She was thoughtful during the consultation, she asked for clarification when needed, told me what she was going to do and then executed with precision. I have complicated, loose curls. I was already an experienced curly-girl but left with a more complete understanding of products for my hair. You will love your hair experience.
The Absolute best!
We have been all over the country. We have tried every stylist who promised they knew how to do curly hair. We have been told it needs to be straightened before cut. We have been told about anti-frizz products, we've even been told that our beautiful curls need to be chemically straightened. For Years we knew better but couldn't find a stylist who valued our curls as much as we do. THIS IS THE PLACE! We saw Robin first when my daughter was a model for her for a hair show in NH. We were so fortunate to jave her knowledge and skill all over my daughter's curls. She is EXCELLENT! We had an instant connection with her so when we moved to Atlanta we immediatly tracked her down. She is worth it! We went back recently and after her cut, my daughter said "Every single one of my curls was thought about! Every one had a purpose and a place!" She saw Janore while she was in training and Robin was there guiding her every step and mosly giving her confidence to do what she already knew was right. Janore is great! We went back with another teen daughter and saw Janore alone. She was fantastic and my daughter was completely spoiled! To say "every single curl was thought about" is not even enough, my daughter felt valued and gorgeous! You can be confident you will leave the salon with a complete understanding of your curls and a plan to execute YOUR curl goals. The stylists at Southern Curl are curly hair experts of every texture! Our family of 6 runs the entire spectrum of curls and texture. You will love your experience there.
So Happy I Could Die
I am a natural girl with Type 4 hair and it's really hard to find salons that can correctly deal with kinky textures. I had heard great reviews about the salon and decided to give it a shot. The salon is very cozy and the staff is a group of diverse and beautiful women with lovely personalities. I booked my appointment with Beth and she was AMAZING. My appointment was very informative and relaxing. Yes, the prices are a bit high but it is well worth the money. Beth explained every step of the cut and styling process as she styled my hair. And the end result was fabulous. I def recommend to all my kinky hair texture girls! And thank you again to the Southern Curl team.
Grateful to have found this salon
I came in Wednesday for an appointment with Beth. I was hesitant because I have worked so hard to grow my hair and I wash afraid I would come out with a pixi cut. But I am so happy that all of the reviews were true, and that this salon really wants to make the customer happy. They teach you step by step, and answer any questions you may have. Before I even went back to the wash bowl I could see the new shape Beth had created for me and was so happy. After I got from under the dryer I was scared because my hair was so shrunken, but the second Beth fluffed my hair and applied some oil to break the crunch I was in love ❤️ thank you again so much Beth! HIGHLY RECOMMEND THIS SALON
The staff is sweet and amazing!!
Beth is amazing her attention to details are uncanny! The young lady who washed my was so super sweet. I love the chairs and how you can lay down to get your hair washed omg!!
Amazing Experience!!!
Where do I start..... If I could give this salon and Robin 10 stars I would!!! I am beyond happy with my deva cut!!! I have been very hesitant to let just anyone cut my hair but I finally gave in. When I walked in I was greeted by the young lady in the front who was so sweet and professional. I waited for Robin and when she came over and spoke to me about what products I use, what concerns I have and I showed her what I was looking for. I was very nervous but she made me feel at ease. I decided to go for a big big big chop. Im so happy I did. Robin walked me through the entire process. She handed me a mirror while she was washing my hair so I could see what she was doing and guiding me on how to do it myself. She explained each product to me which I really appreciated. She took her time with me and I never felt rushed. She made me feel welcomed which to me plays a huge part when making a decision on my hair. She's very knowledgeable when it comes to products and what your hair needs. I am beyond happy and I'm glad I chose Robin. This will be my only to go place for my curly needs.
Amazingly educational!
Robin was amazing. Her salon was so relaxing and beautiful. She didn't just do my hair and send me on my way like most stylist do. She educated me on the products I used and why I shouldn't be using them. She gave me a script so that I can acheive the same moisturized curls at home that she achieved in the salon. She also didn't just do whatever she wanted but she made sure I was comfortable first. She was so honest and she wasnt just trying to get my money but she was honest about what she believed was best for my Hair. Her customer service was phenomenal. I've never met a stylist who cared about the health of my curls as she did. No one else will be touching these curls !!!
Robin was my last hope to save my curls and career
Before this review, I have to explain the three reasons I chose Southern Curl to begin with. First off, as I have been going natural I've always experienced issues with holding moisture. I very quickly became a product junkie through a lot of trial and error. I cannot braid or flat twist (my hands are cursed) so even the basic styles were always difficult for me to achieve my desired look. 2\. For the past 6 months I've been experiencing serious allergies. Although I had been using organic/natural brand products (Jane Carter, Curls, Kinky Curly, Shea Moisture, etc.), my health was beginning to take serious affect. After researching that these products contained things that caused me to become dizzy, swelling in my throat, teary eyes, or sneeze non-stop, I needed to find something that wasn't harmful for my health. 3\. For me finding a curl expert was not just something that was going to a simple hair style for my own confidence. This was a huge factor in my career. As a working actor who has gone back to natural since January 2013, it has definitely been a difficult journey. Since I couldn't afford to the big chop without completely changing the brand I had to adjust to productions requirements. From September through November I had gotten my hair silk pressed. Not giving my hair a break caused heat damage even after a lot of heat protectant. I did a lot of research before coming to this salon, and saw Robin was one of the top curl experts in the world. I flew from Florida to Atlanta just to get my hair done because Robin was my last hope to saving my career after all the heat damage and allergies. On the business side of things, this was a much more affordable option considering I would have to redo my entire brand: i.e. headshots ($700 photos), uploading to various casting websites ($50), travel/rental car to photographer ($300), makeup artist fee ($250), meals ($40), etc. So yes, cheaper to just keep my look rather than change it. I sent Robin a LONG email explain in detail my hair journey as well as the products that may or may not have caused some reactions. When I arrived I was welcomed by the receptionist with beautiful natural hair and I knew I was in the right place. Robin was extremely understanding, patient, and heard me out as I explained why this service was very important to me. She was listened to all my concerns, and advised on the next steps we would take to achieved my desire look without harming my health or career. I absolutely loved that she was diligent, careful, and most importantly taught me what to do as well as what to avoid. I also learned that I prescribed myself wrong, thinking I was high porosity since my hair was always dry. However she corrected me stating I was medium to low porosity with high density and 3c hair. I trusted Robin to help with cutting the right amount of damaged ends off so I looked enough like an audition I did the week prior as well as my headshot I took 1 year prior. She shaped my hair beautifully and healthy. I like that she cut enough without it looking extremely short as well, and THAT IS A TALENT! Robin was everything I could've asked for and more. I am so grateful that she gave me the time I needed without feeling rushed, which made the flight worth it. I am definitely feeling more confident with my career at the start of this year, and I have Robin and her team to thank for that. I will continue to fly just for her to see where this curly journey takes us. For that I couldn't be more grateful and blessed!
Beware!!!!!!!!
Beware! Robin does not alway follow the Curly Girl Method or use the Deva products even though she advertises as a Devacut salon. Very disappointing experience. Extremely over priced. After meeting others here in Atlanta, I only wish I met them before going to see Robin. She is not who she claims to be. Find a true Devacut stylist. Robin is not that person.
Excellent first visit!!
I've fallen in love with my curls finally and it's all thanks to Robin S. at Southern Curl! My visit was truly a great experience, where Robin and I could talk about my hair troubles, what results I wished to get, how to properly care for my hair and the products that would work best for my curls. Superb service! Robin you're truly one of a kind and I want to thank you for transforming my lifeless curls to now being lush, healthy and so defined. I love love love my curls!!!! Southern curl is my go-to salon for my curls now. Also a thank you to Beth, who was very sweet and gave us a tour of the salon. Thank you ladies!!
Hooray for Team Robin!
I big chopped in March after 18 months of transitioning, and realized pretty quickly that I didn't have a clue how to take care of my hair. I've spent the last several months watching You Tube videos (some with extremely questionable advice) and purchasing everyone's "Holy Grail" products. Finally, I reached the point where I realized that if I was going to give natural hair a real shot, I needed a professional cut and someone who could help me understand my hair. After a search on the Devacurl and Naturally Curly websites, I zeroed in on Southern Curl in Atlanta. So, I got in my car last week and made the 2.5 hour drive (I live in Alabama) on faith. Going to Southern Curl is the smartest hair decision I've made in a long, long time. My appointment was with Robin. From the moment I was greeted with the personal welcome sign at the door (nice touch), I felt my curls and coils had found their home. The salon was spacious and relaxing, and Robin greeted me with genuine warmth. She asked questions about my routine (and helped me understand what I was doing wrong), and then patiently counseled me on the best technique to both moisturize and bring my curls out of hiding with staying power. She then gave me a nice trim, a wonderful wash/condition/style/tutorial, and after 30 or so minutes under the dryer, I was done. Bouncing, beautiful coily curls that I never knew I had!!! Robin was the best and so affirming! Four days later, as I write this review, my curls are still hanging in there. Cannot wait until my next visit (mid-winter). If your curly/coily/kinky hair is in need of personal attention, or just a terrific cut, you need to check out Southern Curl. An added bonus for me is that Southern Curl will donate your "product junkie" stash to the women's shelter. I cant think of a more deserving place for the dozens of products that didn't work for me (but may work for someone else) to go. For reference, my hair is just a smidge longer than TWA length, I have the full range of 4-type curl/coil and kink, and my strands are fairly coarse with low to normal porosity.
Happy curls
I was excited to find this new salon in Atlanta. Before my haircut with Robin, I had never gone to a studio or stylist specializing in curly hair. I have had curly hair all my life but I had been getting frustrated and felt like I was in a rut with my style and frustration with products that were expensive and didn't seem to work for my hair. First of all, the salon is beautiful and restful! I immediately felt welcomed and comfortable when I arrived. Robin is a gem and immediately made me feel at ease. Her own adorable curly locks and warm nature and personality made me feel like she had great style and would take good care of me. She really spent time getting to know me and my curl routine before even touching my hair. As soon as she got started, I knew she was experienced and confident. I was able to RELAX and enjoy my cut for once. Robin was so knowledgeable on curly hair cut, styling, care and products. I was so surprised at how much she taught me in 2 hours as I have had curly hair my whole life...I thought I knew what I was doing ;) It was so nice to have a curly hair specialist style and cut my hair! This was the first time I have ever felt special and beautiful at my hair appt for having curly hair rather than feeling like a burden to the stylist who usually didn't know what to do with my curls and straightened it at the end of the appt or sent me home with wet or frizzy curls for lack of experience. I felt beautiful when I left with my perfectly primped curls. Also the salon focus on educating the client made me feel confident that I could recreate the look at home! I can't wait for my next appointment with Robin! I've been enjoying doing my hair each day since my cut with the new Products she suggested and personalized care tips she hand wrote out for me! We are so lucky to have Robin and her beautiful studio in atlanta! Can't wait for my next visit!! Hannah
Amazing!!!
Robin is a genius!!! She knows all about curly hair and I knew nothing when I first went in. I have straightened my hair for years and years making my hair dry, brittle, and extremely damaged. A few months ago I made the decision to not straighten my hair anymore. Although this was a great decision for my hair's benefit, I struggled with how to style it because it was SO frizzy and damaged. I went online to find a salon that specializes in curly hair in order to help me out and Robin was a dream come true. My hair has never looked better!! I highly recommend Southern Curl for all your curly hair needs. I receive compliments on my hair every day, and it is the best feeling ever. It is all thanks to Robin!!
Robin is Amazing!
I had my 3rd appointment with Robin yesterday and each visit is wonderful! Robin always makes me feel so welcome and at home. When I started going to her in January, I was ready to chop off my hair. Not only did she cut my hair but showed me how to care for my hair. The 2nd visit, she cut some of the length off and it felt so much better. She is always willing to review anything regarding hair with me and answer all questions. My visit yesterday was in her new salon, and it is beautiful! She gave my hair more depth and volume and also showed me a new combination of products. I love that she is always educating her clients with new information. You can't love your hair until you know how to care for your hair. I am looking forward to my next appointment! I love Robin and her team! I am learning to #rockmyblessing!
Life Changing Experience
Robin is absolutely fabulous!!! I have had curly hair my whole life and have never known how to manage my curls so I have always abused them by using a flat iron. I cannot believe how she brought them out, I had no idea they could look so amazing. I've been missing out! She also educated me on how to care for my hair so I can continue to achieve the look I want. Thanks to Robin I am ready to #rockmyblessing
Robin is an Angel sent from Heaven
Robin Sjoblom is the Greatest!!!! I have been dealing with a back injury for the past 5 years and as such I could not take very good care of my hair. I recently have found out that I have curly hair, not wavy/curly like I thought. So because of the lack of care for my hair I got a good sized knot in it. And where I live I did have any Deva Stylists in my area so I went online to find one. When I went in for my appointment, Robin was very warm and friendly and inviting towards myself and my husband. She and another stylist, Jasmine worked on the knot and managed to get rid of it and I ended up with a very cute shorter curly hair style!! She also took her time explaining to me what products she was using on me and also told me what products would be the best for my hair. She is very patient and knowledgable and she took her time to fill out a "curly hair prescription" for me and went through it in detail. I felt totally at ease with her and she was very helpful to me a newbie with cleansing and styling my curly hair. She is definitely going to be my hair stylist from now on. I am looking forward to my next appointment with her!!
Beth Rocks!
Yesterday, I went to Beth at Southern Curl for the first time, but it won't be the last! I was very apprehensive getting another Deva Cut, (I had a very underwhelming experience at a DIFFERENT salon), but Beth put me at ease immediately. Not only did she listen to all my hair issues, but she addressed all of them throughout the cutting/styling process. Beth and team were so helpful ​in educating me on what products to use and how to use them. I left with instructions provided by them, products that I chose to buy, (they were not pushy at all), and confidence in my curls for the first time! Not only will I return to see Beth for my Deva Cuts in the future, I will also be recommending her to all my curlfriends!
Amazing!
I recently visited Robin for a foundation cut and the experience was amazing! I felt welcome from the moment I walked in and learned so much throughout my appointment. I'm still fairly new to the natural hair life and really appreciated all the knowledge Robin shared with me about curly hair, the way it grows, the products I should be using, and how to maintain it. She took the time to go through my products and tell me what I should and shouldn't be using and why and showed me how to correctly cleanse and condition. Robin is an expert at curly hair and an AMAZING teacher! I will definitely be returning, it was worth the drive.
Curls for days
I had an appointment with Robin for a foundation cut. I am extremely happy with my cut. I am more amazed with the way my curls look with the cut. She took her time to educate me fully on which products to not use and to use. She demonstrated how to style my hair so my curls would form and stay. I think I finally have found the curly salon for me. I will definitely be back.
Epic transformation
I have gone to Beth twice so far, the first time I went to her for the Bootcamp Curl Coach service which was such an amazing transformative experience. Before seeing Beth I had always received wet hair cuts and because I have different curl patterns and textures in my hair when I tried to style my own hair it never looked quite right. Just yesterday I went in for a repeat curl cut and Beth worked her magic on my dry curls and I was in and out of her chair in no time looking and feeling so much better! Southern Curl is doing such amazing work helping people embrace their curls! Thank you!
Robin is the Curly Wisperer
I've been going to Robin for about 3 years now and driving from Tennesee for half that time because she is the only curly expert that can make my thinning, 3 different textured graying hair look great. Plus she is incredibly patient with me and my need to thoroughly discuss it's challanges. She just takes it in stride and comes up with solutions consistently. She cuts my picky teenage son's hair too. (He is now a devotee)
Confident curls!!!!
I have to start by saying, that never in the 28 years of my naturally curly life. Have I ever been so confident in my curls. Beth did an amazing job and took her time to make sure I completely understood how to do my own hair in the future. Her knowledge and love for curls pushed me even more in love with the cut she gave me! I hope to always get my hair done by Beth, and will be back to Southern Curl in the future. It took me a few months to get the courage to do it, and it was 100% worth it. Thank you ladies for loving curls.
Amazing! Totally worth the drive.
Amazing!! I drove from Alabama so I was so hoping it would be worth the four hour drive. And of course Robin and Beth her assistant didn't disappoint. Robin was very sweet went over all my products she informed me on what was good and not so good for my hair. Then she started my cut as I was in the mirror I could see the beautiful shape. Off to the shampoo bowl and then she explained all the products as she applied and what the do. Then off to the cool Devacut dryer a few finishing touches with a diffuser and I was done. My hair was hydrated and had a beautiful shape. Totally worth the drive I can't for my next cut.
Beth Rocks!
All I can say is WOW! What an amazing experience...in my 62 years of living with curly hair, I have never had such a wonderful experience with such a knowledgable stylist! NEVER! Beth and I chatted the day before my appointment and she asked that I send her some pics. During the appointment, Beth was thorough, explaining everything that she was doing - not just explaining the steps - she also explained the purpose and why it was right for curly hair. Simply amazing! She explained which product she was going to use on my hair and why and better still...I left with a full written plan! I was completely at ease and never worried about the final results. Southern Curls and Beth - I have found my new home! You'll never get rid of me!
Robin is Awesome
Robin is the bees knees!!!! She's very knowledgeable about curly hair. She took her time with my hair. She showed me how to apply the correct products for my hair and my hair is absolutely fabulous! I will continue to drive 2 hours to see her because there aren't any stylist (artist) in my area that I trust to play with my hair.
Robin is a Curl Guru
Robin is the most knowledgeable stylist I have ever dealt with when it comes to curly hair. This was the best salon experience I have ever had! She was patient and very gentle with my hair. She took time to explain every single product she was using on my natural hair. She also had me bring the products I was currently using on my hair and explained to me in detail which products I should and should not be using. She listened to my concerns about my current hair and gave me a curly prescription to follow in order to reach my hair goals until my next salon visit. I would highly recommend you go see her if you are serious about your curl game. She is nothing but the truth and she gave my curls life!!! I am looking forward to my next appointment.
Great experience! Transformed hair!
I had been fighting my fine, wavy, dried out hair for years until I found Robin and Beth at Southern Curl! Robin gave me the a great curly hair cut that is flattering and not poofy at the sides. My natural wave pattern is enhanced and I am frizz free! Both Robin and Beth gave excellent instruction and information teaching me how to style how to style and educating me on the importance of moisturizing my hair. Most importantly they have been available to answer my follow up questions to help me recreate that salon look at home. Not only are they expert curl specialist in the salon, they stay with their clients through the learning curve of home styling. Excellent customer service!
Fall in love with YOUR curls again, I dare you!
Ever since I straightened my naturally curly hair a couple of times too close together, I had heat damage (strands that would no longer curl). I had been wanting to try the "Deva Cut." I found Robin after searching on the web for a Deva Inspired Stylist in the Atlanta metro area. After reading and watching countless reviews for more than a year, I decided to finally see for myself what all the hype was about. I was excited but a little nervous as well. I felt so much better after talking to Beth when I made my appointment (she answered all of my questions & even sent me a follow-up email with helpful info so I'd be better prepared for my appointment). I made the drive to the salon (36 miles away), and I'm so glad I did. I was warmly greeted by another stylist who gave me a short questionnaire to fill out and offered me something to drink. After anxiously arriving there 30 minutes early, I had plenty enough time to sit and relax. Promptly at my appointment time, Robin came over to me with a great big friendly smile, introduced herself and took me to her station. She gave me a consultation (listened to every word of my concerns and likes/dislikes about my curls and viewed all the hair inspiration pics I brought with me). Then she went through my entire head curl by curl and "showed" me her plan for how to achieve my hair goals and made sure I was comfortable and in agreement with it BEFORE she actually started to work her cutting magic. There was a long mirror in front of me so I was able to see everything she was doing to my hair. From her playing around with my curls, I could already tell I was going to love the final results. When she was only about 1/4 into the cut, I could tell a big difference. Robin gave me exactly what I had requested and beyond . . . an adorable new shape without losing any length. Once she finished cutting, it was on to the wash bowl where she again explained everything she was doing (all the products & the technique she uses) step-by- step. She used Deva products on my hair. Having read mixed reviews about other people's styling results after using them, I wasn't sure if I'd like them or not, but they all felt and smelled wonderful. Robin sat me under the hooded dryer (she used the cone-shaped DevaCurl hood set-up) and asked if I'd like a snack and/or something to drink. With the full service (cut, wash and style), my curls are "popping!" My hair is much more manageable. After the second and third day, my curls are still very manageable and look great! I've had the "Robin experience" twice now. And, after the first time, I walked out of the salon saying that was my best ever salon experience! The second time (5 months later), I went back to Robin for a repeat curl visit and ended up telling her that she was a magician/stylist. My hair was getting so plain and boring, and the front and sides had grown out so long that I looked like a floppy-eared cocker spaniel. It seemed like in only 5 minutes after she started, what she had done already was not only a repeat cut but a total transformation. I couldn't believe my eyes! Needless to say, Robin has consistently exceeded my expectations, and I thank the heavens above for her. She's truly passionate about curly hair (of all textures/genetic backgrounds) and helping her clients achieve THEIR goals. With her patience, knowledge, talent and professionalism, she lives up to the hype. If you want your curls to be healthy and want to truly fall in love with them again, go see Robin! In my opinion, it is well worth the time and money.
Great experience!
Robin is a great stylist. She starts with a conversation about your hair goals and what you want then she gives you suggestions. I love that we collaborated together and I never felt forced or overwhelmed. She did everything I asked and then some. I love my foundation cut and I look forward to seeing my hair flourish! I am grateful for Robin and I love my hair!
Such a gift to have someone with so much passion and talent as well as super fun!
I have been driving for three years at least two hours to see Robin! And more than likely will be driving from Little Rock Arkansas to see Robin! I can't live without her haircut! I've tried and I've regretted it every single time! Worth the time in the money for the quality and expertise!
Robin is Everything!!!
When I tell you that No one else can touch my curls..... I mean no one! Robin is an expert in everything curls. I just had my hair colored and styled today using No poo, One Conditioner and Supercream and I am in love. Robing new these products would be perfect for my hair because they're lightweight and smell great. Robin has been my go to curly stylist for over a year and will continue to be. She's everything when it comes to taming these curls.
Robin is AMAZING
Robin has been my stylist for five years, and I could never see anyone else. She knows exactly what to do with my hair ; and I trust her implicitly with both cut and color. Robin is great at teaching you what products and techniques to use. Also--and this is no small matter--she is very fun to work with. No snobbery or judgment from her--just a great haircut and great advice. I cannot recommend Robin enough!
Robin is Heaven Sent
Robin Sjoblom is the Best!! I live in Columbus, GA and there are no Deva Inspired Stylists in the area. The closest Deva Inspired salon is in Atlanta and Robin Sjoblom is definitely the one to see. She showed me how to properly apply the products and told me which products would be best for my hair. I have officially found my stylist for all of my curly girl needs. What I love most about my experience is she treated me as if she has known me for a long time. I felt at ease and not worried about how my hair is going to turn out.
SHOW MORE REVIEWS
---
---