Aztig Urban Salon
Weston, FL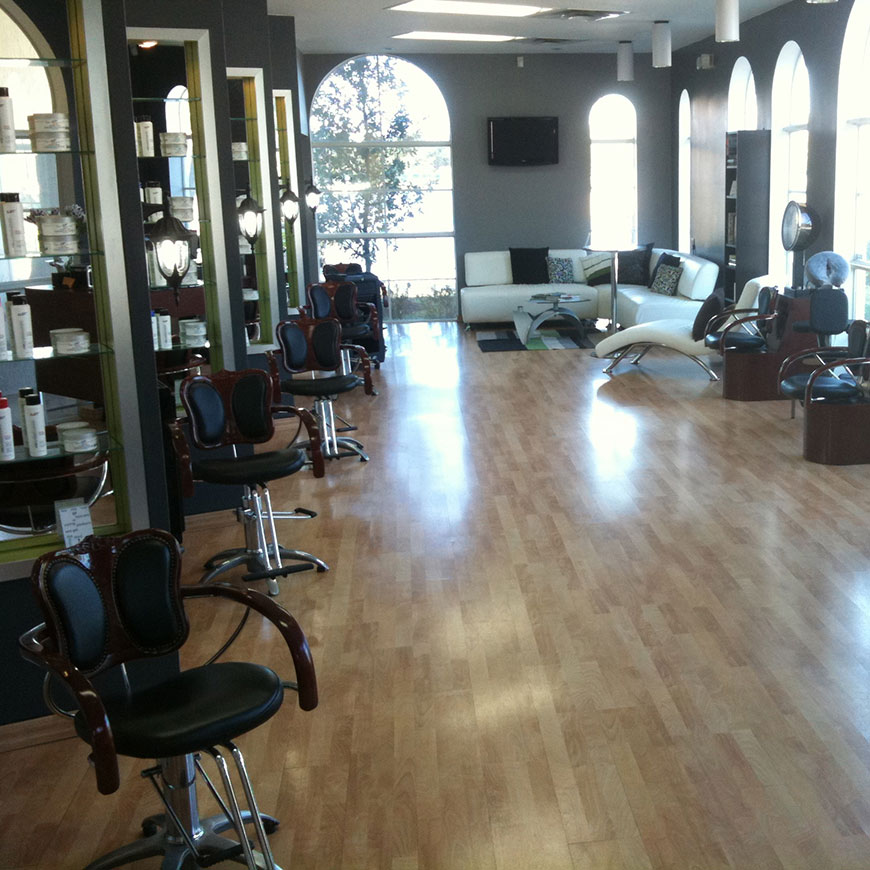 1641 Bonaventure Boulevard
Weston, FL 33326
Aztig Urban Salon
Weston, FL
We've created a new concept in hair salons. Whether you're a blushing bride or a budding professionals, a high-speed student or stay-at-home mom, once you walk through our doors and are warmly greeted by our reception staff, you'll never want to leave.
---
Our Certifications
---
Devacurl Services
DevaCut
This revolutionary cutting technique was designed for all natural textures, from wavy to super curly. Hair is sculpted curl-by-curl, while dry, in its natural state. This service includes a transformation service.
Pintura Highlighting
This award-winning technique was designed to add gorgeous, light-reflecting highlights to all natural textures. Pintura Highlighting offers the perfect harmony and balance to waves and curls giving brilliance and dimension to beautifully compliment your DevaCut.
DevaCurl Transformation
From wavy to super curly, the beauty of this service is the customized design for every client. This luxurious process begins with a healthy botanical cleanse and condition, followed by a styling and coaching session for at-home curl care.
---
---
Reviews
Over Priced
Service Received:
DevaCut
Price:
$76-$125
Hector was amazing with my daughter but the price was ridiculous paying $88.00 for a four year old. The lady who washed her was so rough didn't know how to rake the hair.
Below average
Found this place after doing a google search. Stylist Hector was more than 20 minutes lates. Never apologized and seemed to be bothered by the apt. Hair washing girl was rude too. Tried to wash someone else's hair before me even though I had been waiting. Her stylist friend signaled to her to take his customer first. Never going back. Not worth the stress and the $88 haircut.
I FOUND SHIELA!!
I was devastated to learn that Shiela left Aztig. She did a deva cut on my son in the past and I became hooked on using the products on his hair. He refuses to have anyone else cut his hair. I did some online research and discovered she relocated to another salon. Anyone looking to book with Shiela can call her at 954-866-5838.
Great experience
I scheduled an appointment with Hector to get a Deva cut for the very first time and had a great experience. The atmosphere was warm and friendly, Hector was equally friendly. He did an amazing job with transforming my heat damaged ends back to my beautiful voluminous curls. I would definitely come back to Hector again loved the experience.
Sheila is amazing.
I recently met Sheila. I was impressed from the start. She clearly knows how to cut curly hair and she has an interest in always learning new techniques . . . and she is a teacher as well. I loved my hair cut. I'd give her a 5 star but she has left Aztig and I don't know where she went. I had searched her out as a Deva Curl Stylist and I was new so I guess she could not take my contact information with her as she departed Aztig.
Sheila Gomez
I have been Sheila's customer for a year now. I am always happy to see her because she was the first hair stylist that listened and strives to give her client what they want and sometimes don't know how to express. I arrived to my appointment today a little suspicious since I didnt receive my confirmation reminder message prior to my appointment. Very unhappy to hear Sheila has gone and moved to another state . The salon hostess offered me another stylist without apologizing for the inconvenience and the lack of notice. I will truly miss Sheila! On the hunt for a new stylist! Beware of the lack of transparency at Aztig.
Love!!
After doing my research, I am so happy I went to Aztig! From the moment I walked in everyone was so welcoming! My hair was dehydrated, it looked awful. I was so embarrassed to let my hair out. Hector told me not to worrry and insured me I was in good hands! This was my first time doing the DevaCut so I was a little nervous. I was blown away! Hector took his time with each curl. He explained to me how to do my hair, how to keep it from frizzing up, he did an amazing job! I'm definitely coming back to him! It was worth the 45 minute drive, the salon, Hector, and everyone will not disappoint you!
Never going anywhere else
This is my first deva cut experience ever and I absolutely loved it. Sheila is great. Very sweet and wanted to know about my hair and routine. I ended up chopping about 8+ inches off and she did such a great job. In the end, I had to go back to get the back done a little shorter. She and I were both conservative on the initial cut. But she fit me in and was super sweet about it. Loving my DevaCut!
WONDERFUL EXPERIENCE!
The front desk was very helpful. The cut came out amazing! Exactly what I wanted! The hair washing process was a breeze. I honestly couldn't of dreamed of anything better.
AMAZING
I am writing this after trying out a different Deva Cut stylist at a salon closer to my house. Words can't express my regret enough!!! I will be driving the extra miles just to go back to Sheila ASAP! I had the most amazing experience at Aztig Urban Salon. Sheila spent so much time with me, explained everything about the Deva cut and the products, really tailored the haircut to the way my curls curl! It was truly one of the best haircuts I've ever had, no matter what I did to my hair it looked fantastic. It was wonderful, I HIGHLY recommend this salon and Sheila.
SHOW MORE REVIEWS
---