Lara Slater Salon
Scottsdale, AZ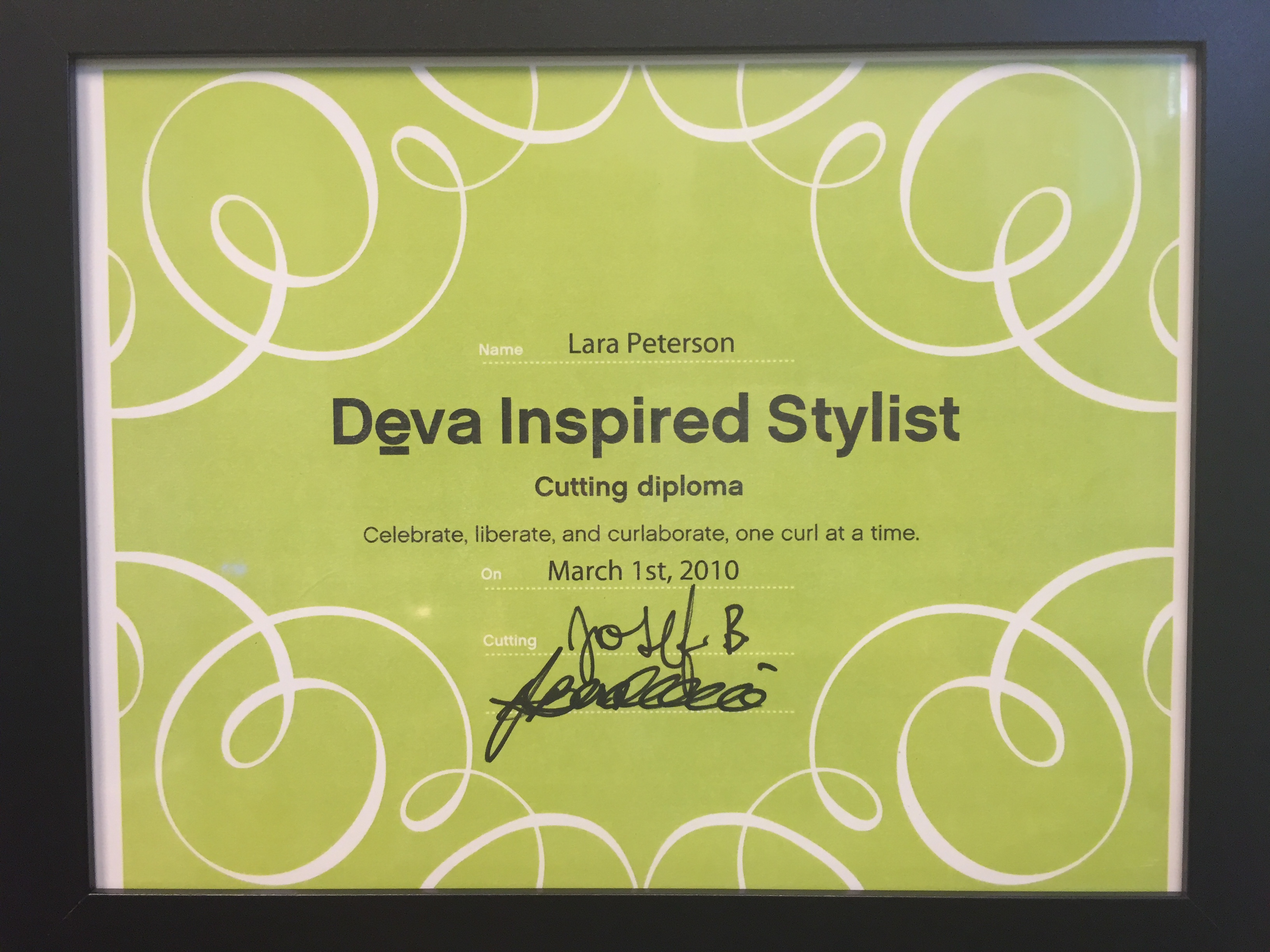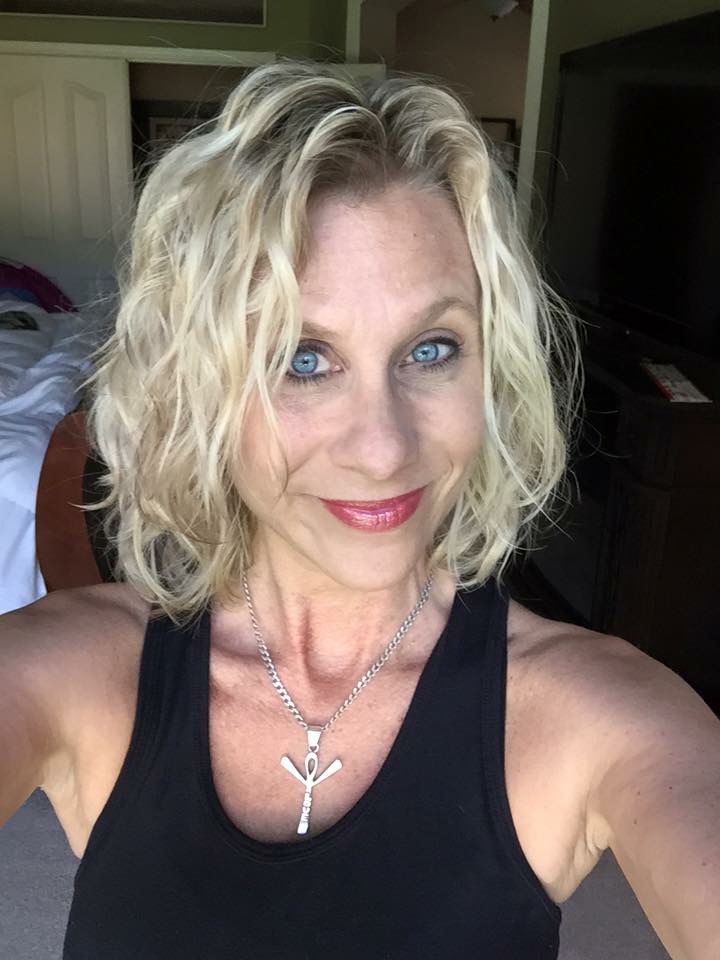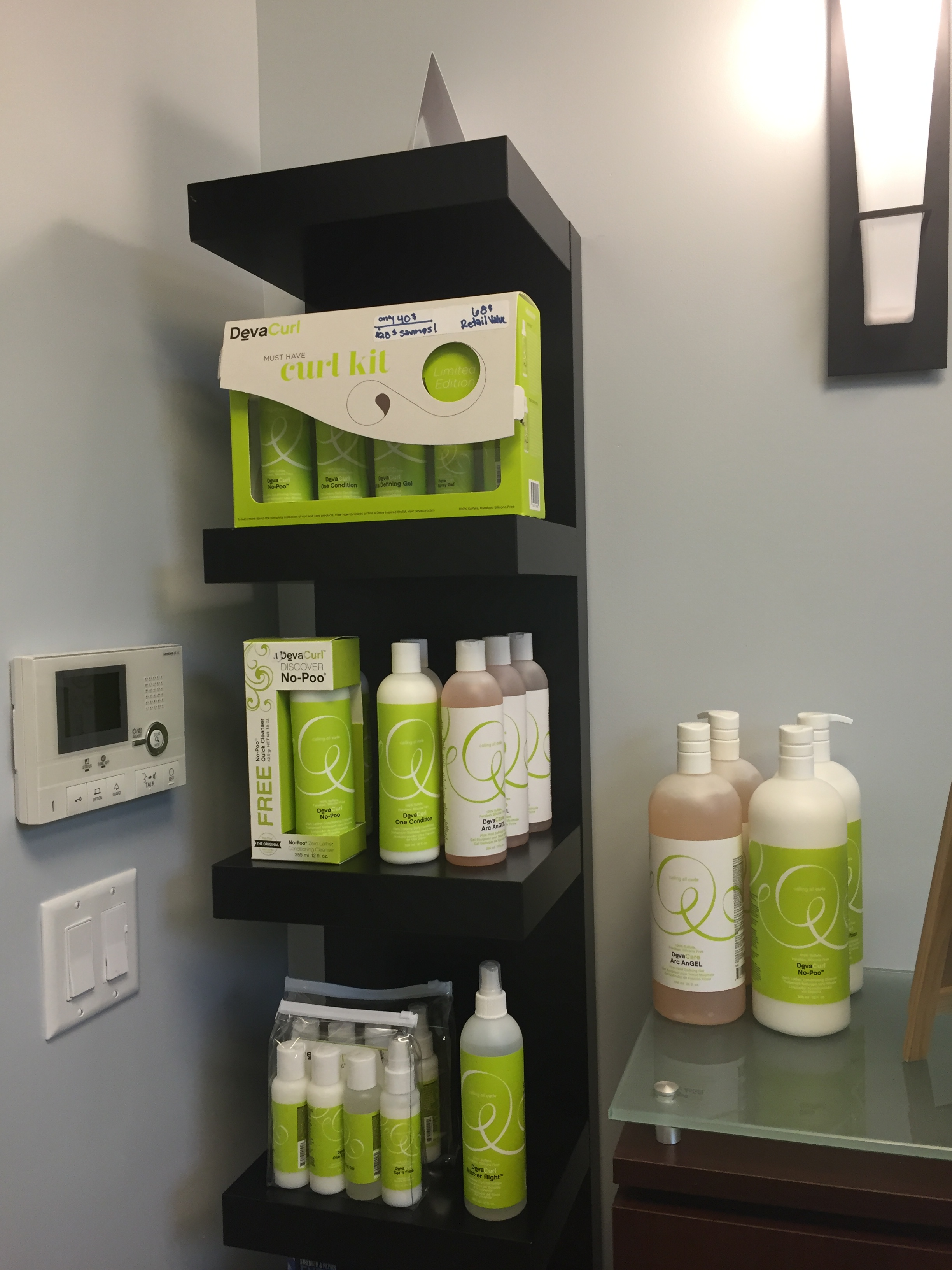 7704 e. Doubletree Ranch Road, #406 (inside My Salon Suite)
Scottsdale, AZ 85258
Lara Slater Salon
Scottsdale, AZ
Unlock your true curl potential with Lara Slater at Lara Slater Salons. A Level 1 certified Deva stylist since 2010, Lara is also an educator for Deva Curl. What sets Lara Slater apart from the rest is getting a completely customized Deva Curl Cut, Style, and color. We truly listen to the client and customize each style according to lifestyle, wants, curl and in house expertise. Not only will you leave with high end amazing curls, you will also leave with the right education and know how to easily achieve the exact same results at home on your own. For all ages, curl types, genders, and textures. A high end relaxing hair salon for all.
---
Our Certifications
---
Devacurl Services
DevaCut
This revolutionary cutting technique was designed for all natural textures, from wavy to super curly. Hair is sculpted curl-by-curl, while dry, in its natural state. This service includes a transformation service.
DevaCurl Transformation
From wavy to super curly, the beauty of this service is the customized design for every client. This luxurious process begins with a healthy botanical cleanse and condition, followed by a styling and coaching session for at-home curl care.
---
---
Reviews
BEYOND being WOW!!!
Service Received:
DevaCurl Transformation, DevaCut
This is the MOST fabulous my hair has ever looked & I am a week away from 62! I FaceTimed my BFF from the salon & her mouth was agape & speechless, told me I looked 20 yrs younger & looked like a celebrity! Lars is amazing & a sweetheart, she explains everything & writes it ALL down, yes you get crib notes.
4th time Deva Cut!
Service Received:
DevaCut
I was very hesitant due to my last 3 cuts but I really liked the layers I saw on a fellow curly that Lara did. Finally I thought, someone who isn't afraid to put layers! I absolutely loved the cut and Lara's personality!! She is very knowledgeable and didn't make me feel ignorant on what I already knew about the Curly Girl method or make me feel less than because my products weren't "salon" brand. She also didn't pressure me into buying Deva brand. I'll definitely be a repeat customer L
Curls expert! Mommy and daughter
Service Received:
DevaCut
Lara is so sweet and understanding and she REALLY knows her stuff when it comes to curls and Devacurl! She gave me a great Deva cut and I was so impressed with her knowledge and ability to handle all curl types. I brought my 4 year old daughter for her first Deva Cut short after. It was amazing, she could not stop talking about it and how great and springy her curls looked. She's really great with kids - it's difficult to find a curly stylish who is sweet with children or who will even cut kids. I'm so glad I found Lara. I will continue to get my regular curly trims there for myself and my daughter. I plan to return very soon for some highlights! She is trustworthy, friendly, professional, and awesome at her craft. Strongly recommend. Thanks, Lara! :)
1st Deva Cut
Service Received:
DevaCut
Price:
$76-$125
Lara is great! She is patient and listens. Very informative and walks you through every step of the deva cut. I was dreading having to lose a lot of my length and thought I would regret it. I absolutely love my cut. It looks soo much better and healthier. I learned a lot about taking care of my hair with or without deva products.
First Time Deva Cut!
Seeing Lara and having her give me my first Devacut was the best decision I've made this year (no exaggeration). She was extremely personable and inviting, the studio she works out of it super cute and Lara's skills are impeccable! She described everything she was doing with each step, and why. She recommended certain products that would work best with my curls, as well as styling techniques (which is a huge help for a new curly girl). So happy to have done my research and made the appointment with Lara, can't wait to see her again!
Loving my waves and curl!
For those with curly or wavy hair who have struggled with a stylist understanding how to cut your hair, Lara is the best. So thankful to have found her! My hair is SWavy and I can style it so many ways with this great cut. She also is very helpful to train you on the best Devacurl products for your hair.
A curly head needs a stylist that understands curly hair, Lara does!! Love my curly locks and look! She also gave me valuable tips and how to use my DevaCurl products the correct way. I've not been maximizing mine.
A curly head needs a stylist that understands curly hair, Lara does!! Love my curly locks and look! She also gave me valuable tips and how to use my DevaCurl products the correct way. I've not been maximizing mine.
Amazing
This chica knows her stuff. If my curls could talk, they'd be giggling while wearing a bikini.... HAPPY CURLS!!!! Thank you so much mamacita for your artistry!!!! I'll see you again in 6 months!!
Amazing Stylist
Lara is awesome! I was late to my appointment due to unforseen circumstances and she was so nice and understanding about it, she didn't rush through the appointment at all! She understood exactly what I wanted (didn't even have to show her pictures) and I'm absolutely in love with my cut! I have been using Devacurl products for a few years now, and I read the book, but Lara still taught me great styling tips that I had no idea about. And they were easy to duplicate at home. Such a great experience, will definitely be back!
Amazing !!!!!
Best hair cut and best service. Lara was very educated and very knowledable in Deva Curl along with how to cut curly hair. I loved my devacurl transformation and the tips and tricks she gave me to style my hair. Can't wait to go back!
Love my new DevaCurl hair!
I was due for a haircut and decided to try a DevaCurl cut to give shape to my newly revitalized curls thanks to DevaCurl products. Normally, I only see a stylist who was referred to me, but thanks to the great reviews on Lara, I had to give her a try. She is everything they shared and more! Lara is an experienced professional and listens to her clients. She provided guidance on how to care for my hair with the products and have great results. She also has a fun personality and is sweet as can be! When she finished with the cut and style, I couldn't believe it was my hair! Love Lara and love my hair! I'm looking forward to my next visit!
She's amazing!
I haven't got my hair cut in about 3 years, because most stylists don't know how to correctly handle curly hair.. With that being said I didn't trust anybody with my hair until Lara. She is amazing! I went all the way to Scottsdale to see her & was so nervous, but she did an amazing job with my hair! My Devacut is beautiful & she taught me a lot on how to cleanse, condition, & style my curls. Mycurls are more defined & bouncy. My hair isn't flat on top anymore. My hair is even now, but still sooo long. She is the only person who will be touching my hair from now on. I absolutely love her!
The BEST
I have been doing the Deva system for many years and Lara is the 3rd Deva stylist I've been to. She is hands down the best. I still learn new things when I go in!! I'm so glad a friend referred me!! Her cuts and color are excellent and well priced. Thank you Lara!!
Fabulous!!
Went to Lara Slater salon today and my hair has never looked so good. Lara listened to me explain my lifestyle and how I want my hair to look. She gave great advice, and took her time explaining how to use the different products as she used them. The only sad part of this is I'm on vacation and don't leave near here to see her again. I highly recommend anyone who wants a true curly transformation to see Lara.
So wonderful!
I loved my appointment with Lara! She is a breath of fresh hair and knows exactly what your curls need to look their best. I feel so prepared to take of my curls now. :)
Wonderful - She listens
I had the same stylist for 15 years - stayed with him even when I moved across the country. I got in a pinch, needed a haircut, wanted to start getting my hair curly/dry cut and tried a new to me guy (on this website with mixed reviews) and was devastated (1 month before my wedding!). I bounced around to a few other deva curl recommendations on this site before finding Laura. She listened to my entire hair history and concerns with new to me stylists and gave me the best deva curly cut and experience I could have hoped for. I will definite return and definitely recommend laura
Compliments on my curls
I'm so glad to have found Lara! She is truly an expert at cutting, styling & coloring curly hair! Her prices are reasonable and she's very accommodating to the best of her ability. I have been wearing my hair curly for several years now, so I am very knowledgeable with Devacurl products, but if you need to know what works best with your curls, Lara is the expert. I have also noticed that not all salons can color my hair without leaving it looking dry for weeks, now when I have my highlights done my hair looks amazing. I will continue to go to Lara!
The full treatment!!
I'm at a loss for words. I'm 35 years old and this is hands down the best salon experience I've ever had. Lara's knowledge is extensive in pinpointing hair type, curl type, and curl care routine. I'm visiting from WI and it looks like my stylist is now in Scottsdale.
Great curly experience
Lara was amazing. She did such a beautiful curly cut on my out of control curls. And she tamed them they way I like. She made them look naturally beautiful versus product plastered to my head. Loved it! My curls are sweet and soft and not crunchy and clumped together. She made me love my curls today!!!
Amazing - talented
Lara is an awesome curly hair stylist. In addition she is a very talented hair dresser with a fun personality. I wanted to go from dark hair to gray with the dreaded line. She was able to get rid of my dark hair a weave in a transition between my roots and the rest of my hair without hair damage. Truly amazing!
Curly is back
This was my first appointment with Lara and I will be back. I love my curls now but hated them before I met Lara. She taught me how to embrace the demon curls with the cut and after care. I would recommend her to anyone that has the curly hair that I do or to anyone who needs a great stylist
Got my curls back!
I am beyond happy with my curly cut by Lara! She was able to accommodate me on a days notice because I was in town for only the weekend and hadn't planned on getting a cut, but decided to on a whim. (I reeeeally needed one!) she took her time, and thouroughly explained each step in the process. She answered all the questions I had about my hair and also showed me how to properly use every devacurl product I had been using at home to style my curls. My hair went from looking like a triangular pack of dry noodles to springy/bouncy and curly with just the cut! AMAZING! Then once she added the styling product it got even better. She was also very welcoming and easy to talk to which is always a plus. Nothing about the appointment felt stiff or awkward. I haven't loved a hair cut this much ever! I'm excited to continue on my healthy curl journey because of my experience at her salon and will definitley be making the 6 hour drive to get a cut with her again!
Love my new hair!
My first visit will result in many, many more! The color is just perfect, and I absolutely love my new curls. I was so excited for my first Deva cut, and was just as excited to leave and show off what Lara created. Lara was so patient in explaining the products and how to style my new look, and with answering all of my questions. I really just can't believe the difference!
Fantastic!
Just had my first deva cut with Lara. She is terrific and not to mention extremely nice. I've been to the curly hair competitor as well as stylists who claim they know curly hair and really don't. I will definitely be back to continue with the deva cut. Lara is very knowledgable and makes sure you understand how to use the products for maximum benefit. She also did my color and that was awesome as well. She spends time with you, doesn't rush, and isn't pushy on trying to sell you product. So glad I made the switch!
Great cut
Finally a perfect curly hair cut! Thanks Lara! Hoping my frizz head days are over.
Strangers stop me - love my curl!
Just had my second haircut with Lara. Until 6 months ago I spent my adult life fighting the "curl". Decided to go with Mother Nature and read up on curly girl hair. This led me to Devacurl and then to Lara. I now have good hair days. Lara is knowledgeable and pleasant. She also gave me a wonderful tip. I thought I was developing male pattern balding; she explained what my problem really was about and gave me instructions on how to deal with it. It works.
Great results from Lara
I have curly/wavy hair and have had many bad haircuts and some good ones but no one who completely got understood curly hair and had the products to make it come out great every time. I spend less time on my hair than ever with great results. Lara knows her craft and is so informative. I'm really liking the DevaCurl products, too. Lara's a win, win, win!
Deva cut
I love my hair, I have so much more volume now! Lara is amazing super kind and sweet person. Thank you so much!!
Fantastic!
I have been to other Deva stylists and always liked the results, but Lara is something special. She gave me a great cut and showed me a new way to pin it that maximized the volume and curl. Plus, she is incredibly nice. I cannot recommend her highly enough!
Amazing!!!!
I have naturally curly hair and have never found someone to help me to wear it curly. I went to see Lara and she was a pro. I wanted to wear my hair curly and straight. She gave me such a beautiful cut. I am getting lots of compliments on my hair which I haven't for a long time. She spent so much time teaching me how to work with my hair and she literally cut small pieces at a time to get it right. I am so grateful to have found her. Besides being very good at her craft she is a great woman and a pleasure to spend time with which is a bonus. I will be coming back to her. It has been a long time since I could say that. I would also highly recommend her.
It takes a curl artist!
Lara has an eye for curls! I have been to other Deva Curl stylists, and I would always go home and do some more shaping with my scissors. Which is fine. But I no longer do that with Lara. Plus (bonus) she is a stand up comic. Time with her is a hoot. I love being a curly girl, and Lara makes it effortless and fun. I feel so lucky I found her!
Great advice and a lot of fun!
Lara was great! Explained everything to me in a way I could understand, and gave me great tips on styling that I hadn't heard of. She sells the devacurl products cheaper than amazon, I bought everything we used. Lots of fun, ask to see her mullet book!
Life-Changing, Not Even Exaggerating
I have wavy, rather unspectacular hair that I don't think to categorize as "curly." As such, I've never had a curly cut before. I stuck with long layers for years!! A few months ago, my hair had been severely damaged by bleaching/coloring and I had to crop it to my shoulders. From a bad experience in middle school, I knew the wrong cut would give me pyramid hair. Super unflattering. I NEEDED an expert!! After some online research, I found the DevaCurl salon finder. Honestly, it was the prior reviews Lara had that pushed me to see her. Throughout the process of cutting and styling my hair, Lara explained every step in great detail. She covered what products would help keep my curls hydrated and hold their spring! Her dedication to learning about all hair types makes her a master of the craft. Plus, she is incredibly personable and fun to talk to. It has been hard to replicate her salon style (no surprise), but I'm learning. My hair has never been healthier and I am truly satisfied and happy that I saw Lara!
I couldn't be happier!
I've had a couple different Deva stylists cut my hair, and Lara has been the best. I don't think you'll find anyone more skilled to cut your hair, or more knowledgeable about curly hair and Deva products. And she is so generous in sharing what she knows and working with you to make your hair look its best.
IN LOVE WITH MY HAIR!!!! <3
I have to admit I was excited yet so nervous to allow Lara to cut my hair because I've been deceived so many times by so many people who claim they know how to work on curly hair and actually don't. However, knowing that she has been a long term DevaCurl stylist, something in my gut told me to trust her and I'm so happy that I did! I have 3c THICK curly hair, I'm half white/black, and got the DevaCut (layers while still maintaining length). I absolutely LOVE my hair now, it has so much volume, all my split ends are gone, and I can do so many cut styles with it now! It's going to grow out so amazing! She also educates you on how to take care of your curls if you already don't know how and explains every little thing she does to your hair as well as what she puts in it! I recommend Lara's service to anyone with ANY kind of curly hair! Take it from someone who's been lied to, too many times lol! Lara is amazing! P.S if you haven't found a great cleanser or shampoo for you hair yet, you should totally give the DevaCurl No Poo a try! I have really bad dandruff and my hair HATES any kind of shampoo even if its all natural.. But my hair/scalp loves this stuff!
Lovely Experience
Lara was an absolute pleasure. My wavy hair looks and feels great -thanks to a cut, color and styling.
Amazing!
I'm so glad I took a chance and tried Lara! Her Deva cut is, by far, the best cut and style I have had in a long time. She was a pleasure to talk to and her styling tips helped tremendously in my daily routine. Thank you Lara!
Went from boring to styling
Lara revamped my whole look! She made my boring curly and wavy hair hip and modern and best part is she showed me how to style and maintain it easily! love my new look!
Celebrity hair
I never thought my hair could be this amazing. Having curly hair my whole life made me feel like it was something to just be dealt with. After going to Lara and being taught and shown how to take care of my curly hair I know feel like I have celebrity hair every day!
Fabulous!! A+
I've struggled over the years with bad cuts, colors, and my curls always seem to be too big and frizzy or flat and damaged. I heard about Lara from a friend who came into work one morning with curls I didn't even know she had. I was able to get an appointment fast! She listened to my past hair problems and taught me how a curly girl cut is different from just a regular cut. My grey used to get missed in places or fade easy with other stylists. After Lara started doing it I get stopped and told how amazing my color and my curls are all the time! She gave me so much knowledge while showing me the deva curl steps. I love my hair now!!!
Cut, color and curls!!!
Amazing!!! First time trying the whole deva curl process and I am in love win my cut, color and curls! I didn't know what I was missing.
SHOW MORE REVIEWS
---