The Curl Ambassadors
Toronto, ON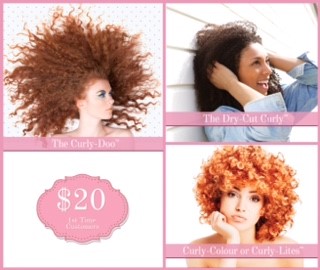 159 Harbord Street
Toronto, ON M5S 1H1
The Curl Ambassadors
Toronto, ON
More information coming soon! In the meantime, contact the salon with your questions and/or take a look at their website.
---
Our Certifications
---
Devacurl Services
DevaCut
This revolutionary cutting technique was designed for all natural textures, from wavy to super curly. Hair is sculpted curl-by-curl, while dry, in its natural state. This service includes a transformation service.
Pintura Highlighting
This award-winning technique was designed to add gorgeous, light-reflecting highlights to all natural textures. Pintura Highlighting offers the perfect harmony and balance to waves and curls giving brilliance and dimension to beautifully compliment your DevaCut.
DevaCurl Transformation
From wavy to super curly, the beauty of this service is the customized design for every client. This luxurious process begins with a healthy botanical cleanse and condition, followed by a styling and coaching session for at-home curl care.
---
---
Reviews
Awesome cut and salon
Service Received:
Pintura Highlighting, DevaCut
Price:
$76-$125
I had a lovely experience here with Betty. The salon is nice and the stylists are very friendly. My hair turned out nice and bouncy.
Great cut and style
I liked it here too. It isn't my regular salon as i was visiting but I got a very nicely shaped cut and the stylist got my curls to pop during the styling process.
So fun
As if, this salon is so fun! I love the energy here and the girls are great. Ive gotten cuts from several of them and honestly all of them were great.
Unsatisfied with services provided
i felt that the stylist did not explain all of the steps of styling and did not seem well versed in her capabilities. Once I voiced my concerns and unhappy results one of the owners was very abrupt and rude. I would never recommend this salon and never go back.
SHOW MORE REVIEWS
---