Stacy Mahle's Family Hair Care
Strattanville, PA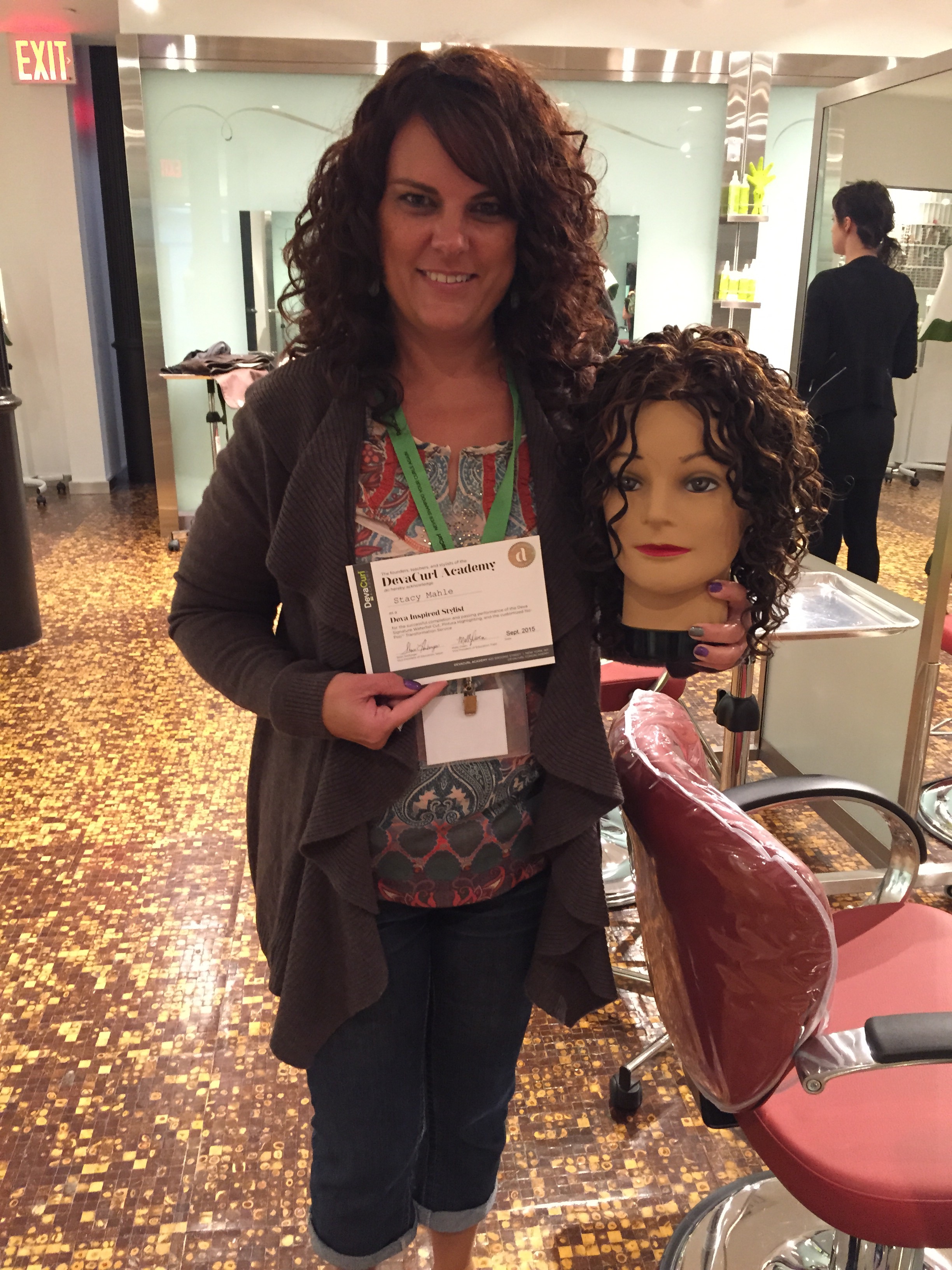 A certified stylist is here
2407 Waterson Road
Strattanville, PA 16258
A certified stylist is here
Stacy Mahle's Family Hair Care
Strattanville, PA
I love teaching curl girls how to embrace and LOVE their curls!
---
Our Certifications
---
Devacurl Services
DevaCut
This revolutionary cutting technique was designed for all natural textures, from wavy to super curly. Hair is sculpted curl-by-curl, while dry, in its natural state. This service includes a transformation service.
Pintura Highlighting
This award-winning technique was designed to add gorgeous, light-reflecting highlights to all natural textures. Pintura Highlighting offers the perfect harmony and balance to waves and curls giving brilliance and dimension to beautifully compliment your DevaCut.
DevaCurl Transformation
From wavy to super curly, the beauty of this service is the customized design for every client. This luxurious process begins with a healthy botanical cleanse and condition, followed by a styling and coaching session for at-home curl care.
---
---
Reviews
Amazing!
Service Received:
DevaCut
I have never liked my curls. For years, I would use a flat iron and essentially ruined my curls. No matter what I did, there were no curls. I first went to Stacy in February 2017 for a regular cut. She explained the Deva products and how to use them. After using the products for a few days, I was in love! My curls looked great! I have had three Deva cuts so far and now I LOVE my curls!! Stacy is amazing every time I call or text with questions or curl emergencies. I used to visit the salon every 6-8 weeks, but now 2-3 times per years is all I need. I cannot remember my hair ever being this long or looking this great! I'm a Deva girl for life!!
Wonderful experience!
Stacy really knows what she's doing. I walked into her salon with a head full of dry, lifeless hair, and she was able to transform it into happy, bouncy curls! She is extremely knowledgeable, and takes pride in her work. Stacy taught me how to take care of my curls, and I can't say enough good things about her. I highly recommend her, and I will definitely be returning. Thank you, Stacy!
Wonderful
From the time I walked in to the time I left. I was her one and only priority ! Stacy explain everything to me. The why, when and how. So worth it. Stacy you are a master! Love my curls. Thank you!
Very educated and knowledgeable
Stacey was on time!! She was very prompt with my appointment. She was able to teach me about the Deva Cut, cut my hair, wash and condition,then style in under 2 hours!! I will definitely get my hair cut again!
Fabulous!!!
Stacy has a passion for this kind of cut and does a fabulous job! My hair has looked pretty good for 3 months! The curls are just now starting to relax so I'm going back to her in January. : )
SHOW MORE REVIEWS
---
---