StyleWise Hair Studio
Draper, UT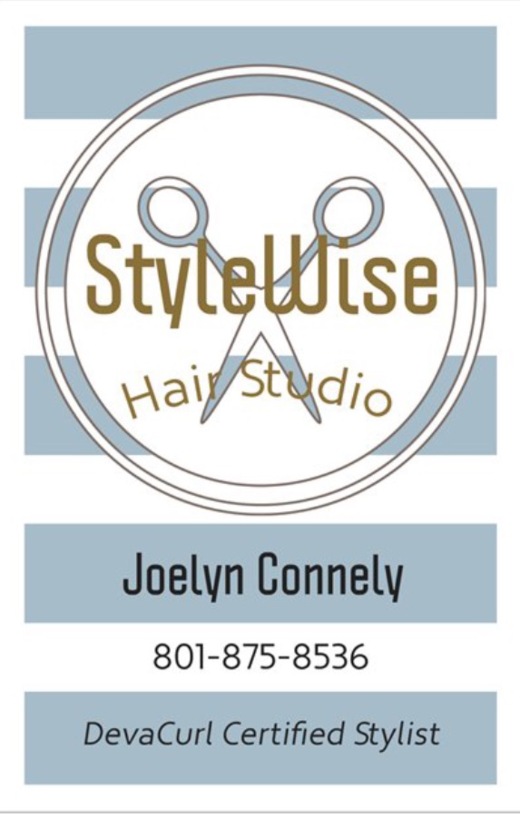 12200 South 268 East
Draper, UT Draper
StyleWise Hair Studio
Draper, UT
StyleWise Hair Studio takes pride in the overall excellence of hair. It starts with keeping the integrity of the hair in healthy condition. This results in a fabulous style just for you! Whether your hair is fine, medium or course/ curly or wavy, Joelyn will customize your cut and routine. Popular color and highlighting options are also available.
---
Our Certifications
---
Devacurl Services
DevaCut
This revolutionary cutting technique was designed for all natural textures, from wavy to super curly. Hair is sculpted curl-by-curl, while dry, in its natural state. This service includes a transformation service.
DevaCurl Transformation
From wavy to super curly, the beauty of this service is the customized design for every client. This luxurious process begins with a healthy botanical cleanse and condition, followed by a styling and coaching session for at-home curl care.
---
---
Reviews
Not a real Deva cut
I have had deva cuts before and this is not a real deva cut. She cuts dry and uses deva curl products, but didn't use the techniques I've been taught (noodling, clips at the roots, scrunching in gel, etc.) and I left with barely half-dry hair that turned into a total fluffy mess as it dried. She also tried to tell me not to use the products that I already know work well for me (specifically the light defining gel that I was taught was the foundation of the deva curl method, and which I've been using successfully for months). This would be fine if the actual haircut was good, but it wasn't. I explained exactly where I wanted my hair to hit on my body (no ambiguous number of inches description or anything), and she didn't account for the curls springing up and it turned out at least two inches shorter than I wanted. Even worse, the layers and shaping aren't right at all and I've got triangle head like I always get when I go to a $15 place that knows nothing about curls. Maybe I just did a poor job explaining about the layers, but the shaping from my last (good) haircut was still there and I thought it would be enough to ask for the shaping I already had, just a bit shorter. I'm very disappointed as the price was definitely reasonable compared to other places in the area, but I guess that's for a reason.
Not a Deva cut
I had Joelyn cut my hair twice. Each time it was clearly not a Deva cut. She told me several times that she likes to do things differently than Deva. She pulled my hair straight before cutting it. Both times I left a frizzy mess - with hair she decided to blow dry since they don't have a chair to sit under to dry hair. I gave her a second chance because she is much more reasonably priced, but I guess paying more is worth it... bummer.
Best haircut/style ever
Joelyn is amazing! I'm so glad I found her through the devacurl website. My hair has never looked so good, as it does with the deva cut. Someone's review said she doesn't do that deva cut, but she absolutely does. I've seen/read up on it a lot, and she's spot on. Plus, my favorite thing is that Joelyn taught me which products to use and how to use them (and doesn't try to upsale... I only use exactly what I need). When I leave the salon, my hair looks good curly! No straightening, like so many salons. Love everything about my hair and Joelyn! :)
Love my curls
I had no idea I had the potential for so much curl. My hair was heavy and dull before I tried the Deva cut. I am amazed how Joelyn gave so much life to my hair. I love it! Highly recommend Joelyn. She's great!
Highly Recommend
Happy Face Customer Service, Quality, Wait Time, Environment Joelyn got me in on short notice, moved things around to accommodate my tight schedule. I love the cut and the color, she helped me find a new product, and you get coffee while you wait, can't beat that! Great experience!
Love the color
Joelyn got me in on short notice, moved things around to accommodate my tight schedule. I love how my hair is laying and love love the color. She helped me find a new product, and you get coffee while your color processes, can't beat that!
Wavy hair rejuvenated
I went for a Deva Cut thinking it would change my curl. I found out that a curl pattern can't be changed just helped. With the build up buster treatment and education on products, my wavy hair has sprung into life. I'm so happy that my waves are more uniform now and the straight heavy pieces have been rejuvenated. Thank you Joelyn. I'll never straighten my hair again and the frizz is under control
Love DevaCurl
I love everything about DevaCurl! The Devacut from Joelyn and the products she recommended. It has dramatically changed the curl in my hair. I'm hooked for life!
Dating
Joelynn took the time to listen and evaluate my hair needs. I am very happy with my Deva cut. I will be coming back.
Healthy hair
I love that Joelyn truly cares about keeping hair healthy. My hair was previously overprocessed. Joelyn uses permanent color on my roots and only touches up rest when needed with Demi color. She also manages to keep my length while giving my curls great shape. Joelyn is awesome!
Happy Hair
I love the way my hair lays and grows out with Joelyn's Deva cut! I'm so happy with my hair!
No longer afraid to have my hair cut
I have always wanted my curls shaped into a style but just didn't dare. I've always had the same shoulder length hair with a few layers. Joelyn listened to my needs and gave me the perfect style. I will no longer be afraid to get my hair cut more than twice a year.
Not a Deva cut...
Joelyn was very nice, I just felt like I didn't really receive a Deva haircut. I have had them many, many times in the past and people would trim my hair more like a bush, keeping each curl family together. At stylewise, this was not the case - my curly hair was cut no differently than if I had straight hair. She pulled it straight and cut. I left with it a very frizzy mess :( I would love to go back as Joelyn's prices are the most reasonable in the valley, but she doesn't actually do a Deva cut so I will not be going back.
Worth the drive
I travel over 20 miles to see Joelyn. She listens to my needs and takes her time to get it right. I love wearing my hair curly because of her.
THANK YOU JOELYN
after trying everything and everyone I found Joelyn! Thank you I LOVE MY HAIR AGAIN!!
AMAZING!!
Amazing transformation! Best hair cut and color I have ever had with the best products!
Love my new style
I love the way my hair has been shaped. I never knew it could actually have a style without straightening. I'm so glad I found Joelyn and Devacurl
No no no
Don't go here for a Deva cut! She doesn't do it right. I had Deva cuts before and went to this place 2 years ago and my hair has not recovered yet. Total also destruction. I didn't write a review before when she chopped my hair because I wanted to give it time to grow and maybe wait for a miracle but it didn't happened. Two years later and I still cannot wear my curls! This is not to be mean and nothing personal. This is a message for curly haired girls that love their curls and want to get the right hair cut. Don't go here for that reason. She may be good at regular cuts and color but not a Deva expert.
SHOW MORE REVIEWS
---