Nikki Dearman
Fort Worth, TX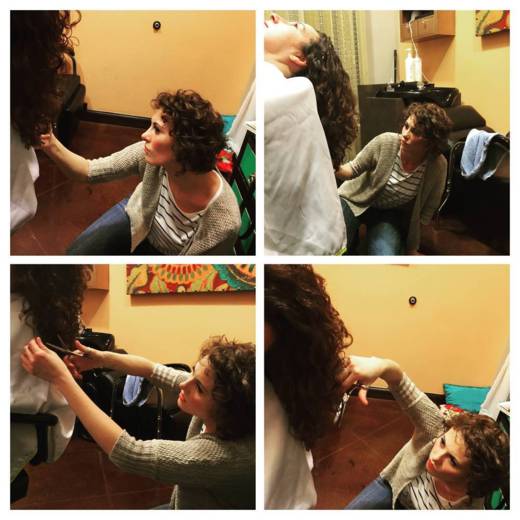 9336 Team Ranch Road Suite #105
Fort Worth, TX 76126
Nikki Dearman
Fort Worth, TX
Nikki Dearman-Lambert | Salons of Volterra at Montserrat In her years as a professional stylist, Nikki has been pursued through the Fort Worth area by her fiercely loyal curly-haired following. Having curly hair herself, she understands the lifetime of frustration and challenges that comes with trying to tame or style those curly locks. If you also have curly hair, you have also probably had your share of bad haircuts from stylists who didn't understand the unique challenges of making curls look gorgeous. Those frustrations are what led Nikki to take her passion to the next level by becoming a Deva inspired Advanced Stylist, through multiple and ever-evolving Deva classes. She understands that cutting straight hair is easy, but styling curly locks takes special skills. The Deva Cutting technique is Devachan's revolutionary method of cutting curly hair. I would love to explain how it is done. Call me today!
---
Our Certifications
---
Devacurl Services
DevaCut
This revolutionary cutting technique was designed for all natural textures, from wavy to super curly. Hair is sculpted curl-by-curl, while dry, in its natural state. This service includes a transformation service.
Pintura Highlighting
This award-winning technique was designed to add gorgeous, light-reflecting highlights to all natural textures. Pintura Highlighting offers the perfect harmony and balance to waves and curls giving brilliance and dimension to beautifully compliment your DevaCut.
DevaCurl Transformation
From wavy to super curly, the beauty of this service is the customized design for every client. This luxurious process begins with a healthy botanical cleanse and condition, followed by a styling and coaching session for at-home curl care.
---
---
Reviews
Cut was ok but styling was awful
Service Received:
DevaCut
This was my first time getting a devacut and I was super excited. I just started my curly girl journey about two months ago and desperately needed a cut. I booked this appointment based on the reviews I found here and I never write reviews of my own, but felt I should to help the next newbie out. I came in with fine hair mid way down my back and styled with super cream only (I wasn't sure how she wanted it). My hair is not super curly but lately I have been getting some pretty ringlets to come out. She was very nice about everything, but I wish she would have asked more questions about my hair in particular. I have never met a hairdresser that understood it and she was no exception. She told me that I was using too much product and to stay away from creams. I have been experimenting and have found no real difference with crams/gels In terms of volume. She then started cutting before I was really ready and I didn't really feel like I had told her everything I wanted. Right away my curls started spring up so I was excited! Then she styled it. Oh my goodness. She only put the anti frizz foam in it and no gel. Had she asked I would have told her I definitely need something with a hard hold for my curls to last, but I thought she knew what she was doing. She then put me under a hooded dryer on high heat. After that I got back in front of the mirror and my hair was almost all straight. I was so disappointed. She then tried to bring curl back, I guess, by spraying let if free and hairspray on it while srunching it under high heat again. It came out slightly wavy with no ringlets. It fell more as the day went and ended up limp and stringy. I will say that after I styled it myself if looked much better, but I still would have like even more layers, which we could have talked about if my curls had shown up there. I couldn't believe I payed so much to leave with stringy hair. I don't know if she really understands the uniqueness of some people's curls and just treats everyone the same, or if this was some weird fluke. Anyway her style definitely didn't work for my hair. It was way too much to pay (I never get expensive haircuts) and I won't do it again.
Love my curls again!
Service Received:
DevaCurl Transformation
I had been researching techniques and products to use on my hair for FOREVER! But realized I mostly needed a cut. After seeing nikki I fell in love with my curls all over again! She really has magic hands!
Happy Curl!
Service Received:
DevaCurl Transformation
Price:
$175+
I left Nikki's chair smiling because my hair looked and felt great! I was very pleased with the results and the information she gives!
Nikki knows curly hair! Such an artist!
Service Received:
DevaCut
I have always been very picky about who cuts my curly hair, and in fact, I usually chicken out and cancel my appointment leaving me trying to manage my very unflattering curls. I have researched the Deva Curl technique and stylists for some time and came across Nikki. Curly hair is this girls canvas and she is extraordinary at making curls "work". I had no idea my curly hair could look as good as it does now! She truly transformed my curly curls! She also talked me through how to use the products, which I was not using correctly...makes a huge difference! Not only is she great at what she does, she is super sweet! Recommend her highly!!
Wonderful overall experience
Service Received:
DevaCut
Today was my first dry cut with someone who was trained to cut curly hair. I have not gotten a hair cut for over a year (due to fear), but I couldn't help but schedule an appointment after seeing so many good reviews. Nikki was so sweet and helpful and answered all of my questions I had. I left with my hair looking VERY healthy and full, and I will definitely be coming back :) she gave me tips and tricks and was so easy to talk to. Highly recommend
Very patient with my 10 year old daughter!
Service Received:
DevaCut
Nikki was awesome! She knows curly hair - worth every penny! Now there is no more fighting when it's time to do her hair. 😍
Curly Queen!
Service Received:
DevaCut
This was my first devacut experience and I was definitely nervous/hesitant going in, but I honestly can not rave enough about this experience! Nikki was welcoming, understanding, and boosted my curls and curly confidence! I get so many compliments on my curls and cut and have a few curly friends who started going to her as well. Great experience, will for sure go back!
Best Haircut of My Life!
Service Received:
DevaCut
I have been cutting my own hair for years due to many bad experiences at numerous salon, but as of recent I have been dreaming of a shorter more manageable cut. I knew my own hair cutting skills were not up to par to do the big chop, but luckily for me I found Nikki! My ideal cut was a wash and go style that was professional (but fun) since I am working mom with a one year old. Nikki really took time to listen to what I wanted, which I really appreciate. I showed her a few pictures of what I was thinking, but also told her to use her judgement and creativity. Thanks to Nikki I got the best haircut I have ever had! I really can just wash my hair, use a few products, and by the time I get to work my hair looks great! Nikki also has a wonderful spirit about her which makes the time pass quickly. She is full of great advice for noodle heads and will help find your long lost curls! I have already recommended her to numerous coworkers and friends and will continue to do so.
New women
Service Received:
DevaCut
I got a devacut from Nikki and when I say it looks amazing it truly does! Not only is she amazing at cutting curly hair she is also really sweet!!
Great!!!!
Service Received:
DevaCut
she transformed my waves and curls! I started out with pretty flat waves with a few curls, but I had really dead stringy ends. I went in a little skeptical and scared I was going to lose my length. But she reassured me that I wouldn't lose as much as I thought I needed to. She gave me beautiful layers and kept most of my length and it completely revamped my hair to voluminous curls and waves!! 100% reccomend
HALLELUJAH!
Service Received:
DevaCut
Nikki is like a curl WIZARD! She took one look at my hair and knew exactly what to do. My hair cut is amazing, but what sets Nikki apart is her commitment to curl education. I left my appointment feeling empowered to style and care for my own hair like I never have before.
Awesome Haircut
Service Received:
DevaCurl Transformation
Literally the best haircut I have ever gotten in my life!! My waves looked like beautiful curls in the end!!
If I had one word -Humble!
Service Received:
DevaCut
Price:
$76-$125
Ok guys. I've embraced my curls for the better part of ten years and I thought I could teach people something, and come to find out, maybe I could. I read all the reviews and thought "this many people could not be wrong" so I gave Nikki a try after all the years of haircuts that ended up styled straight even if i told them I wear it curly. Nikki is nothing short of a humble genius. She tells me she "did not do anything special" but man did she work miracles. I came in knowing my hair had potential and that it may take time to find. I had no idea the transformation that would take place in one single appointment. She revived my curls and gave me my confidence back. She even teared up at my reaction. She truly loves what she does and has a passion to help girls embrace their curls.
Thank you Nikki!
Service Received:
DevaCut
Nikki brought my hair to its fullest curl potential. She was upfront and honest with me about my goals and the steps I needed to take to get there. I won't go to anybody else but her now. She's awesome!
Nikki is a curly hair magician :)
Service Received:
DevaCut
Price:
$76-$125
Nikki has been cutting my hair for one year, & I'm so glad I found her! She really knows what she's doing. After each appointment, I leave with my curls feeling light, refreshed, & bouncy. She does a great job of visualizing which curls need to be cut, balancing the weight of my hair, layering as needed, & overall making my hair happy. In addition to all that, she's a kind & genuine person. She's really interested in getting to know her clients & having great conversations, while remaining focused & efficient throughout the appointment.
Amazingly talented, professional and patient
Service Received:
DevaCut
I started seeing Nikki about 3 months ago and she had been a God send! She is so knowledgeable about curly hair. She not only did an amazing job but also taught me how to care for my curls on a daily basis. My hair has never looked better. I have so far sent 2 other curly headed friends to her and they love her just as much as I do. Customer for life!
Best of the Best
Service Received:
DevaCurl Transformation, Pintura Highlighting, DevaCut
Nikki taught me how to properly care for my "wavy" hair, which actually turned out to be curly! I'm so proud I can actually wear my hair naturally because I know how to care for it. Nikki is truly gifted and super sweet.
Wish I would have found her years ago!!
Service Received:
DevaCut
Nikki has been a life saver for me! After jumping around to so many different stylists over the years, I finally found her about 2 years ago. She always gives me perfect color and cut. I have extremely thick, coarse hair so it's not easy for her ;) I had no idea that I even had "curly" hair and just always considered my hair frizzy. She doesn't just give you the cut and style then send you on her way, but she has taught me how to properly care for and style my own hair. She has been wonderful, and I can't recommend her enough!
Exceeded my expectations!
Service Received:
Pintura Highlighting, DevaCut
Nikki talked to me before to know exactly what I wanted and she also gave me her advice. Once everything was agreed upon she proceeded to work on my hair. I had a Deva cut and color done. Both were done throughly and I loved the way it came out. She also taught me some thing on styling. I will deff be going back to Nikki.
Amazing!!!!
Service Received:
DevaCut
Nikki did an amazing job and can't wait to see her again!!
I did not ask for a BOB!
Service Received:
DevaCut
Price:
$126-$175
I asked Nikki for lots of top layers and bangs and showed her different photos of the cut as well. She explained that she'd have to take some bulk from the bottom in order to bring my layers up. My hair was conditioned and styled with gel and I was sat under a hot air dryer. Because of all the gel I wasn't able to see until the next day when my curls loosened that my hair had been cut into a swing bob. I never asked for a bob! I also asked for bangs and didn't get any. The worst thing was that I came in with medium length layers and was able to pull my hair up in a ponytail when I came in. But the back of my hair was cut off into ugly choppy stacked layers, it's going to take me months if not a year to grow it back. The back is only about 6 inches long and the sides of my hair are long and barely layered. Nikki immediately provided me with a refund. But she didn't apologize that she ruined my hair which was very unprofessional of her. I will not go back to her and I don't know if I'll ever try a so called "Deva Cut" again. I am left yet again with an unwanted short hair cut that I didn't even ask for. I traveled almost an hour to this salon and paid $150 for the services. To say that I'm disappointed is an understatement.
I WISH I WOULD HAVE DONE THIS SOONER
Service Received:
DevaCut
I have been cutting my own hair for the last 10 years after bad experiences with stylists in high school. I told Nikki the style I wanted and she totally pulled it off. I've been told that curly hair can't have layers and that it's just better to let the hair break off naturally. Nikki gave me the wild and few haircut that I've been dying to have.
She knows her stuff!!!
Service Received:
DevaCut
Price:
$76-$125
I am about to make my third appointment with Nikki. I am in my 40's with thin curly hair and I leave every time feeling like I have thick healthy curls. She performs magic! Although it is more than a 2 hour drive for me each way, I will never go to anyone else again! Don't even hesitate to book with her - she really is the best hair artist I have ever met.
Deserves 20 stars!!!!!
Service Received:
Pintura Highlighting, DevaCut
Price:
$175+
I moved from Phoenix nearly 8 months ago, and NO ONE was worthy of touching the birds nest I thought was hair!!! Then I found Nikki! Thanks to Nikki, and after 40 agonizing years of dealing with my "mixed-chic's" hair, I have finally seen the light! Nikki unlocked the potential of my hair in ONE appointment! Her approach is gentle, informative, enlightening, and then BAM!!! No other words but MAGIC! I hate long reviews. But, if you have curly hair AND are tired of it never doing what you want, reading countless reviews of products that never work, your cabinet is overflowing with jars of leave-in conditioners, creams, hot oils, sprays and spritzers, half full shampoo and conditioner bottles...STOP THE MADNESS AND GO SEE NIKKI NOW! You won't regret it!! I hate to admitit, but I actually gave her a hug after she was done! Thanks Nikki!!
Completely Revived my Curls!
Service Received:
DevaCut
I came to Nikki desperate for any insight into why my hair no longer curled. I had done considerable heat damage to my hair over the years, but wanted to go back to my natural curl. Nikki gave me more layers and completely revived my curls. It's going to be a process growing my hair out and repairing all of the damage, but Nikki gave me some curls to work with in the mean time. My hair feels so much better! It's already been about 8 weeks and I'm currently scheduling my next appointment with her. She's amazing! If you have curly hair and want to keep it natural, you should not be going anywhere else!
Deva cut / style / education
Nikki is amazing! Beyond the cut and style, the amount of information I learned was amazing. Will be coming back for sure!
Absolutely in Love
Nikki was amazing! She was knowledgeable and helped me understand how to apply product better. I left feeling more confident and loving my curly hair more than ever! I was brought to tears (in my car haha) over how great the transformation was! Will definitely be going back and sending any curlies I know!
Excellent Cut and Education but a bit pricey!
This was my first curly hair cut and first time using devacurl products. I loved my cut! She took some time teaching me how to use the products and get my hair looking more curly. It's just a bit out of my price range to go more frequently.
What an Experience!
This was my first time getting my hair cut by someone who deals with curly hair and I am glad to say that I had an amazing experience. Nikki was very knowledgeable and kind. She takes care of you and your curls. I feel like a new person with my new hair cut. It was just an amazing experience. Would highly recommend getting your hair cut by her, she is great.
Amazing Experience!!!
I took my 12 year old daughter to Nikki today. We have been embracing the curl for about a year now and a started the DevaCurl products about 4 months ago. The next step was a Deva Cut. Can I just say wow!!! Nikki is so knowledgeable and actually got my preteen daughter (who is not at all enthusiastic about any kind of styling) excited about her hair!!! My daughter's hair looks amazing, her curls are gorgeous, and best of all, it's so easy for her to style!!! For anyone who wants to embrace your curl, I recommend Nikki 100%.
Above & Beyond!
This was my first time going to Nikki, as well as my first "curly" cut and style, and I wasn't disappointed. Nikki really listened as I explained my hair history, and what I was looking for. She also answered all my questions throughout the session, offering helpful styling suggestions. I appreciated her professionalism and her passion for curl care. I feel very encouraged in my "curl journey," and I am thrilled with my haircut.
Amazing curl specialist
I was in need of a hair cut from heat damage. Nikki was amazing!! Gave me an amazing style and cut curl by curl. I'm Dominican and I have very tight curls I have 3c and 4a type curls. I know that with these curls pattern it's hard to find someone that can handle them. Nikki understood my curls and gave me advice. I've been to many stylist that want to straighten you hair to give you a cut which having curls we all know we need curl by curl cut. She worked her magic on mine. Thank you so much I recommended anyone that needs a curl specialist to please go see Nikki. Can't wait to go back again. Thank you
Love my cut!
I have seen Nikki 3 times now. She does an awesome job each time I see her. She is very passionate about curly hair! She knows what she is doing and always offers recommendations for helping me learn how to work with my hair! It is not your ordinary hair cut. It is a Deva Cut. When you go in, the experience will be different than any you have had before. I hope you enjoy going in for your Deva Cut with Nikki.
Truly Amazing!!!!!
Words cannot express how thankful I am to have found Nikki. Since moving to FW from NYC, I have had the most difficult time finding a stylist who understood the nature of curls. I tried various other salons that boasted their stylists were "curl specialists" and always wound up extremely disappointed. It had been a number of years since I had gotten a haircut due to a slew of bad experiences, and I was very reluctant to try yet another stylist who claimed to be a curl expert. After reading hundreds of reviews, I felt compelled to give Nikki a try. It was the best decision I have ever made! As soon as I sat down in her chair, I did not need to articulate what I wanted- she immediately knew just what was needed. Nikki is a true artist- she sculpts each curl, letting its personality shine. As I watched her, I felt as though I was witnessing a bonsai tree being pruned- she was that precise and deliberate in her cuts. Her technique brought my curls back to life. Nikki also provided me tips that I have found to be invaluable and effective when styling my hair. Thanks to Nikki, I know how to properly care for my curls. I have never loved or appreciated my curls as much as I do now. I will never go to another stylist- she is fabulous!!!!!
Love my cut!
I've been seeing Nikki for 2 years and I'm always ecstatic about my cut after leaving the Salon. Just a side note I drive 5 hours to the Fort Worth area bc I refuse to let anyone else cut my hair in my area. Not to mention I have had a deva cut elsewhere and even at that the hairdressers skill did not measure up to Nikki's skills. I went for a bob with bangs today and Nikki did not disappoint! I loved my cut and could not be happier. She always is very informative about the devacurl products and the best way to use them. I highly suggest seeing Nikki for a DevaCut, you won't be disappointed!!!
Love my cut!
I've been seeing Nikki for 2 years now and I'm always ecstatic about my cut after leaving the salon! Just to mention I drive 5 hours to the Fort Worth area bc I refuse to let anyone in my area cut my hair. After having f T had a Deva Cut elsewhere w a different hairdresser her skill did not measure up to Nikki's! Nikki is super friendly and very informative about the Deva curl products and the best way to use them. She always asks what I'm looking to get from my cut and always exceeds my expectations! I went with a layered bob today with bangs and loved the results! I highly recommend anyone looking for a great curly cut to see Nikki, you won't be disappointed!
Another GREAT Devacurl Cut/Style from Nikki!
After years of struggling with my curls, (or struggling to straighten them) I am over the moon about the cut and style I get from Nikki! My first cut from her was on my birthday nearly 2 years ago --- best gift to myself ever. She is not only extremely talented, but is an expert on the technique and the products. I have recommended her to several of my friends --- and will continue to recommend her to all of my curly girls!!
Horrible cut
I went to Nikki based on these reviews. 1. She had nothing but criticism about the person that cut my hair the last time. In that person's defense it had been 8 months since I'd had a haircut so the shape that I had was gone. 2. I paid extra for how to use the products and really walked away not knowing more than i did when i entered. 3. I paid $150 for a cut and style that took 3 hours. Is shorter than i asked for. And isn't even. There are tips and uneven cuts all over my head. I asked that she cut off about 3 inches in the back to even it up because it dipped down in the middle. She took off about 6 inches in length. That's going to take a year to grow back. It's not laying right on the right and i told her that before I left. Her only response was we can take it up more. I didn't want shorter so I said no. I thought the whole point of this cut was to be able to see how much exactly you're taking off because it's dry. I shouldn't be double in length of from what i said. My other reason for this cut was so I didn't wind up in tears later like I typically do when I go to a salon that doesn't know what they're doing. Well, tears came anyway. It's to short and not at all what i asked for. When I said something about it she told me that the photo I presented her was photoshopped. I got that photo directly off of this site from another client. She also went on to tell me that it was not a Vidal Sassoon Precision cut it was a Deva cut. When you spend $150 on a cut, it should be what you wanted. To add insult to injury she wanted to charge me $170 because she said my hair had issues. My hair is health, non colored, curly hair. My only issue with it needed to have layers be reshaped and have the dead ends cut off. That is not what I got. I won't be back, and I will probable not try a deva cut again.
Hair Artist!!
I started my curly hair journey 1 yr ago. I didn't really know how to properly care for my curls and wanted to learn as much as possible and revive my curls. My journey started with a deva cut from another salon. Let's just say it was a rough start as that cut set me way back. Was not a good experience. Months later after growing out a bad cut I was ready to try again. I found Nikki and after reading all her amazing reviews I took a chance and so glad I did. She is a true curly hair genius. She literally transformed my curls. Extremely knowledgeable and truely gifted at what she does. She also gave me amazing highlights and my curls have never looked this good, so bouncy and healthy. I will never go anywhere else!! Thank you Nikki!!
Deva Cut
Nikki was amazing! My curls feel alive and free! Love the way she treated me and understood what I wanted from the moment I walked in!
Great job! Just what I needed!
I wasn't exactly sure what my hair needed, I just knew I needed some help and Nikki made some great suggestions. My hair feels healthy and happy now, I'm so excited! I found her through this site and knew that 40+ raving reviews weren't wrong, so I drove nearly an hour to have her cut my hair. Definitely wasn't disappointed! :)
Great haircut!
I am always terrified of getting my hair cut. It had been over a year, so it was time. Nikki was great! I left smiling, with a great cut! She was very positive, knew exactly what she was doing, and was all about curl love! I officially found my stylist!
Best hair cut ever
Nikki gave me a hair cut in June, I totally loved it! It was the first time ever I was happy after getting a hair cut. She cut it short but my curls came back to live!! For my next Devacut I went to another place because it was closer and cheaper, What did I do?? My hair looks totally different, in a bad way... Now I'm waiting for my hair to grow so Nikki can fix it. I'm not going to lie, it is expensive but at least you will be happy with the results :D
Passionate, practical and creative
Today was my first visit with Nikki...she assessed, patiently spent time learning what my challenges have been and what I wanted and then cut and taught me some new tricks along the way on how to bring out the best in my curls. I left with a bounce in my step (partly to get to feel my curls bouncing :) ) because for the first time in a very long time I finally got the cut, style and time and attention that us curly girls crave...thank you Nikki for just being you!
Amazing! Highly recommend
Nikki did an incredible job with my difficult hair! First haircut in 28 years that I've ever loved without a doubt! She is full of knowledge and more than willing to share. For the first time in my life I will be able to recreate what she did in the salon! She has incredible skill with curly hair. Also, very much enjoyed her personality and the conversation. All in all 10 out 10 experience and I recommend her highly to all curly girls! I will be returning from now on!
This was my make it or break it!
I always avoid getting haircuts because I had bad experiences so I just would get trimmes; I never knew how to style my hair either. So I put a leap of faith and schedule with Nikki and it was the BEST DECISION EVER!!! she helped me comfort me that so taught me how to treat and style my hair. I left the salon leaving SUPER EXCITED with hope.. I never had a hair stylist had I would recommend or would go back to, not anymore I finally found my hair stylist and recommended everyone go to Nikki.
Was an awesome experience!
I had my first curly appointment today. I learned so much from Nikki. She did an awesome job on my hair and helped me to learn more about how to treat my curls. She is very passionate about curly hair. I have been doing so many things wrong, so glad I will be able to correct that and celebrate my curls!!! Thank you Nikki!
She is a great person totally recomend her
She is great a really nice person. Positive vibes every time you talk to her when i started transitioning she was de firts person to cut my hair. i love the way she cuts my hair. She always explains every detail about every product she uses on my hair or if i have a cuestion about a product she always gives me a great answer i totally recomend her
Life changing!
Nikki was amazing! I had no idea how much potential my hair had until Nikki worked her magic! For my first ever Deva Cut, it was an incredible experience! Definitely will be going back!
Embracing curls
We got a deva curl cut and consult from Nikki, she wanted my daughter to embrace her curls. The right cut and treatment gave life to her curls!! We are so pleased we found her!
Every Curly Girl's Dream Stylist
This was my first curly cut and I was NERVOUS. I have never, not once, had a good hair cut experience in all my years of trying to force my hair to be straight. After seeing Deva Curl on FB and doing some research, I decided to give curly a chance. And now, thanks to Nikki I'm fully embracing my curls! Not only was Nikki the most knowledgeable stylist I've ever met, she was the most kind as well. Which makes her truly special. She listened to everything I said, answered my thousands of questions and completely transformed my hair. I have never in my 31 years walked out of a salon feeling as good as I did after my appointment with Nikki. She is truly one of a kind. Thank you, Nikki!
Awesome Results!!
My teenage daughter found Nikki online and insisted that we give her a try. I am so glad that we did! My daughter's hair is very fine and has a very kinky and often frizzy curl. Nikki really understood my daughters hair type and did an amazing job! She did a Deva cut, style and some subtle Pentura highlights. We are very pleased and would highly recommend using Nikki!!
Gave me fresh look during difficult hair loss period
I discovered the DevaCurl way about a yr ago and my hair came to life with the new cut! But in Jan and Feb I experienced substantial hair loss due to thyroid medication. My beautiful curls became very patchy and stringy. My regular DevaCurl specialist was out for weeks due to illness, so i was beside myself. Then I found Nikki and she saved the day with a fresh new cut that compensated for the hair loss! Thank you so much Nikki! You are definitely worth the drive from Dallas to Ft Worth!!
Happy happy joy joy
I just found Nikki recently and I can't believe what I've been missing! In my 52 years no one has ever taught me so much about my own hair and how to get gorgeous curls. I always thought I had wavy/curly-ish hair that frizzed. Now that Nikki worked hair magic, told exactly which products were best for my hair type, and taught me how to use the Deva curl products properly, I have beautiful defined curls that last! I even wake up in morning without my usual bird's nest! I can just freshen up my curls a little and go! I just can't believe it! If you are tired of stylists who say they know how to cut and style curly hair when they really don't, make an appointment with Nikki. I'm telling you she will change your life!
Look no further!
Look no further! Your curls will be well taken care of with Nikki. She is Deva Certified and amazing at what she does. I'm sure most of us have our horror stories when it comes to finding someone to style our hair…being new to the area I had put off getting a haircut as long as possible. In a matter of just a few minutes I knew I had found my new stylist in Nikki. She instinctually knows what to do, is fun to talk to and the end result is an awesome haircut. She really listens to what you want and obviously loves what she does. Book an appointment…you won't be disappointed!
Curl Stylist of the Gods
Omg, where do I begin?! I am and have always been a curly headed gurl, and rarely, if ever, let stylists touch my hair as I'm always afraid of having my hair butchered. But I felt I needed something new to my hair, so I reached out to Nikki. First off, she's very quick at responding. I sent her a few pics of my hair currently and sent a few that i was inspired by. I also explained that i wanted a full highlighting and she recommended some options. Meeting her cemented my love and appreciation of her. She is hilarious and so cool and chill! It was like getting your hair done by your best friend! She made sure that i was always aware of what she was doing, educating me on the products she was using, and brought my curls back to LIFE! If you're debating, I along with others say DON'T! she's gained a lifelong curl patron! Thanks Nikki!!
Queen of curls
Nikki truly has a gift for cutting curly hair. I went from flat to fab!! My hair just sat on my head like a mop. I told Nikki that I wanted volume and she gave me the devacurl cut and added so much volume to my hair. I felt like a tv celebrity when she was done. I highly recommend Nikki to anyone looking for a life changing experience. It really has changed the way I feel about my hair. I love it!!! Thanks Nikki <3
Curliest my hair has ever been!
This is by far the best hair cut I have ever had! My hair always looked kinda frizzy with a very uneven curl pattern. It is so bouncy and curly I love it!
Fantastic
She was very friendly and knowledgable. She transformed my lifeless curls into bouncy ringlets. Definitely the best haircut experience I've had in years!
Hair Magic!
Nikki really does work curl magic! Visited her for the first time today, and am so happy I found her on this website! I have had a Ouidad haircut before and liked it, but this Devacut was LOVE. Nikki does a wonderful job and takes her time to work your hair to curl perfection. Definitely give her a try.
Nikki revived my curls
My curls were frizzy and lifeless. Whenever I wore my hair down it would look like a Christmas Tree (which I hated) so I constantly wore my hair up. Nikki is GREAT! She not only gave life back into my curls, but I can now wear it down and without frizz! She educated me on proper care and styling techniques for my curls that have made me love wearing my hair down again. HIGHLY RECOMMEND!!!
Awesome results!!!
I needed volume on my curls, they were really flat, I found Nikki on this website. I made an appointment had a consultation with her, I showed her a picture of how I wanted my hair. She did her thing, she gave me great results. I knew my curls had the potential and she made it happen. She really knows how to manage curly hair, I love my Deva cut, she did an amazing job!!!!!
Best hair days EVER!
Moved to Fort Worth and spent almost a year afraid to get my hair cut. Found Nikki just a week before family pictures. Hair = amazing! I thought my girl back in Phoenix was good, Nikki was blow my socks off good. Worth every penny! I don't know how many years it has been since I could just wear my hair down and it look great. I'm 37 and the high school girl at a drive through the other day poked her head out to tell me how much she liked my hair. What?!?! So many compliments. Book your appointment now.
Best Deva Cut I have had!!!
I have had lots of haircuts and have had 4 other Deva stylists cut my hair and Nikki is by far the best curly Deva Cut stylists I have been to. She knows what she is doing. Go see her and she will change your life!!!!!
Absolute Master of Her Craft!
Nikki is an absolute professional who has mastered her craft! She is truly passionate about the proper care and styling of curly hair and she makes you feel proud of your hair. She is a true artist and I only wish I'd met her years ago.
Lots of hair = tamed
* Got a 15 min consultation; Nikki explained cost and long term goals, and pricing for maintenance * She wasted no time, cheerful, and I loved the results. I got the Deva curl cut; I can already see how things will be easier in my morning hair routine. * Grateful to find her!
Best experience with a stylist EVER!!
Throughout my 45 years I have been to many salons and have experienced many good/bad stylist. Nobody has come close to making me feel confident and informed like Nicki Dearman-Lambert. She truly knows her stuff and has a very fun, unique way of sharing that knowledge with her clients. To watch her work is to see her passion and I will be a customer for life!
Fantastic!!
Nikki gave me the best haircut of my life. I've gone to her 3 times and it always looks great. Before I got my deva cut , I had frizzy, unmanageable waves with lots of dead ends. My hair is healthier than ever and I am much more confident in my appearance.
Fantastic!
I decided to find someone who really understands my curly hair and knows how to cut it so it doesn't look like a pom pom ball. I stumbled across the Devacurl site and found Nikki. Not only have I found someone who cuts my hair so it looks great that day and the next day and the next day...no shock period of three to four days, but Nikki takes the time to explain what she is doing and then teaches you how to do it. She is patient and sweet and encouraging! Finding someone who can deal with my hair and teach me how to deal with it on a daily basis has been like getting a super great Christmas present! I appreciate Nikki's enthusiasm and professionalism, but I really appreciate how she has made me love my hair!
Amazing cut and color! Transformed both my hair and my teenage daughter's hair! We get compliments wherever we go!
Absolutely amazing cut and color! Works miracles on hair!
The best cut I've ever had!
I have been to multiple curly hair specialists in the area (including other Deva Curl stylists) and Nikki is the only one I have wanted to go back to. This is the first time I have had multiple visits with a stylist since high school (when I straightened my hair and didn't know any better!). I have frequently had stylists who end up cutting my hair too short even though I want to keep it long. Nikki knows exactly how to get my curls beautiful, healthy and bouncy while keeping the overall length! I now refuse to get my hair cut by anyone else.
Life transformation!
My hair looks awesome now! Nikki did an amazing job! My hair looked frizzy and drab before, but now it looks better than it ever has before! It looks like someone fixed it for hours with the perfect curling iron. I can't believe these are my natural curls!
The best!
Nikki is the best hairdresser I have ever been to! She knows curly hair and has a way of making the perfect suggestions. She is friendly, thoughtful, and a real professional. She wants her clients to go home and be able to get the same results styling their hair as when she styles it. You will not regret giving her a try and you will never want to go elsewhere!
Changed my outlook
I had truly given up on my hair and my curls. I felt awful even if I looked great everywhere else. I told Nikki what my issues were and what I wanted my hair to do, if possible. I gave her complete reign over my hair. I was not dissapointed. She kept a lot of length, which I was willing to sacrifice for my curls to come back, and I look great. I feel awesome and my hair is now awesome. She is very much worth every penny I spent. She even recut my hair after styling it in order to complete my look. She's awesome and isn't just going to cut your hair, she will listen to you and make what you want happen. Loving my low maintenance tangle free hair!
AMAZING!
I had given up on getting professional haircuts after my first two experiences until a friend came to work raving about Nikki. I took a chance and so glad I did. I'm African-American and was a little scared and skeptical but she is absolutely amazing. Very knowledgeable about curls of all kinds. She taught me how to style, develop a daily routine, and overall just love and appreciate my curls. I even took my sister in for a cut. This is where we'll be going from now on!
Nikki the Curl Wizard!
Nikki did a miracle on my hair. I had no idea I could get curls like the ones I have now(wish I could upload a pic!) My hair was so dull, dried and just...blahhh! But now it's so bouncy, and it looks and feels healthy! I'm so happy I came across Nikki, she is the best stylist I've come across!
Best Cut Ever!!!
I have never had so much fun at a hair appointment in my life! Nikki is so friendly and welcoming
She knows what to do with curly hair!
This was my first time going to Nikki and I was looking for a curly stylist close to where I live and she was the first one that popped up! She knew exactly what my hair needed and was super helpful in educating me on what I can do to get the best curls for my hair! So sweet and easy to talk to! When she was done I was amazed at what my curls could look like! And it's so doable for everyday wear! Loved every minute of the appointment and I will definitely be coming back!
Excellent curly girl stylist
Nikki is an awesome stylist. After 3 visits, I am always pleased with my cut and color. She is delightful to talk with also! Nikki gives you great tips and explains how to style and care for your hair. I highly recommend Nikki to curly girls.
The best cut I've ever had!!
I had my first appointment with Nikki and I instantly was impressed! All of the tips and advice she has really comes in handy! If you have any questions she will answer them exquisitely! She gave me some insight on what products I should use and a step by step of how to wash, style, and ultimately live with curly hair. She made my hair look new, gorgeous, and even better, healthy. She specializes in curly hair and with having curly hair herself, she understands the struggle we have. She changed my hair for the better and I will definitely go back.
Best Hair Cut EVER!
I've been using diva curl products and stylist for a few years now and love it! While on a recent trip to visit my mom in Texas she decided to treat me to a long overdue hair cut. I looked up Nikki and decided to give her a try. She fit me into her schedule the very next day and I'm so glad she did! This is by far the best "diva" cut I have ever had!! This girl knows her curls!!! And for the added bonus, she has the best personality and spirit of anyone I have met of recent! She took her time and made sure my hair was perfect before leaving. I would fly back to Texas for all of my future haircuts to be with Nikki if I could afford it.... she is truly the greatest!!
Amazing stylist, amazing outcome!!
Being a curly haired girl I had had my run ins with bad haircuts thru out the years, however, I had eventually found a stylist that did a 'decent' job in my area. It wasn't until I found out about the devacurl world thru social media that I knew I had to have a devacut and I knew I had to find a stylist near me. I made a trip of it and drove 6 hours from the Texas panhandle to Fort Worth for my appt. I had an awesome time with Nikki, and now that I have experienced a devacut there is no other way I will have my hair cut now! She was amazing and was very knowledgeable and super sweet and easy going. She asked me a series of questions to try and get to know me, which in turn helped her give me a cut which fit my lifestyle and bring out my personality thru my hair! She walked me thru washing my hair, what products to use, and how to style it. I never thought all these little tips she gave would make such a difference but the end results was that I was blown away by my haircut and my curls! My hair looked like it had never had before, just beautiful. She gave my hair such life, and it gave me so much confidence. I had grown to like my hair over the years, but now I am in love!! I have received so many compliments on my hair now. Thanks devacurl and Nikki for yalls dedication to us curly haired women.. I highly recommend their products and the devacut! Make an appt to see Nikki asap, you won't me disappointed. I'll definitely be seeing her again soon!!
Delightful
In the past, I have had bad experiences with stylists cutting my hair. I would leave the salon with my hair looking "jacked." So because of those bad experiences, I had gone a few years without getting my hair cut. I would try to go through my hair and trim it on my own. Well, I had gotten to the point where I needed a real cut. My hair had no shape. I started searching on the Deva Curl website and came across Nikki's name. The description on her profile is what prompted me to email her. In the email, I asked her if she had experience in working with ethnic hair. She immediately wrote me back and told me to call her so that I could ask her all the questions I wanted. To my surprise, Nikki was a delight to talk to. First, I told her that I was African American and that my hair texture consisted of very tight curls. I then provided her with a history of my hair, the current state that it was in, and what I wanted to gain out of a hair appointment. Nikki actually listened and asked follow up questions about my hair. She suggested that I send her pictures of my hair in its current state and to send her pictures of what I eventually wanted the result of my hair to look like. To me, this was important because it let me know that she wanted to understand my hair so that she would know the proper plan of attack…lol. After talking to Nikki, I felt at ease about going to her to get my hair cut. I forgot to mention that I am from out of town, so I was actually traveling 2 ½ hours to get my hair cut. On the day of the appointment, Nikki gave me a cheery welcome. She looked at my hair, explained what she was going to do, and went to work on it. She wasn't shy about working on my hair at all. She went through my hair cutting it with ease and control. In the end, I was very happy with my hair cut because it finally had a shape. I plan on returning to Nikki for my next trim. She's easy to talk to and has a fun personality!
Excellent Curly Girl Specialist!
Finding Nikki has changed my hair FOR THE BETTER! She has taken the time and courses to achieve academic milestones for those with curly hair. I found her last year and haven't gone to anyone since. Check her out, you won't regret it! I love my curly hair now that I know how to manage it, thanks to her explanations and cutting/styling techniques!
Awesome Experience!
This was my first time at Nikki's salon, and my next appointment is already scheduled. I've never been able to do this because I've never found a stylist that I would go back to for even a trim!! Nikki is extremely knowledgable about curly hair. She showed me exactly what she would recommend cutting off and explained why. She also explained the styling process with me so that I could duplicate the style with the products she used if I chose to. Nikki is very passionate about her profession and it shows. There's no doubt in my mind Nikki can cut any texture of hair!! I love my hair!! Thank you Nikki!!
Charasmatic, knowledgable, loves what she does
I've been to Nikki twice now for a deva cut and she has been great. Not only does she excel in cutting/styling curly hair, she has a lot of knowledge and eager to share it in a way anyone would be able to understand. You can tell that she really knows and enjoys what she does and loves to share with all her clients. If you have curly hair that you're not satisfied with, please seek her out. You won't be sorry!
SHOW MORE REVIEWS
---