Devachan Salon - Broome St
New York, NY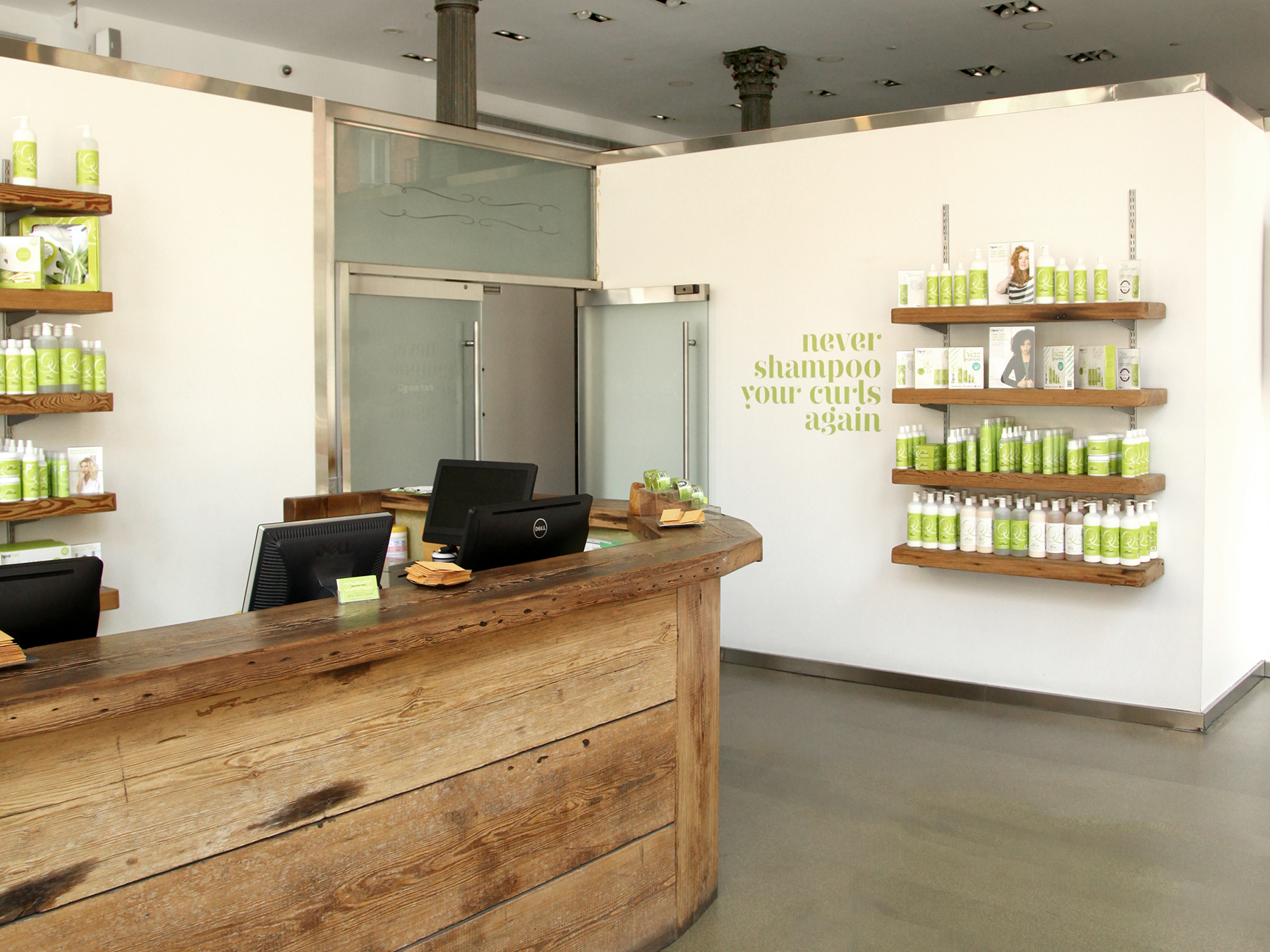 A certified stylist is here
425 Broome St
New York, NY 10013
Devachan Salon - Broome St
New York, NY
One of the things we love most about curly hair is that no two curls are alike. We opened Devachan Salon to celebrate your unique curls in a lively, supportive environment that's always buzzing with curly conversation. Our salons are a place for you to hang out, chat, have fun and feel great about your hair. Come in, have a seat and tell us everything.
---
Our Certifications
---
Devacurl Services
DevaCut
This revolutionary cutting technique was designed for all natural textures, from wavy to super curly. Hair is sculpted curl-by-curl, while dry, in its natural state. This service includes a transformation service.
Pintura Highlighting
This award-winning technique was designed to add gorgeous, light-reflecting highlights to all natural textures. Pintura Highlighting offers the perfect harmony and balance to waves and curls giving brilliance and dimension to beautifully compliment your DevaCut.
DevaCurl Transformation
From wavy to super curly, the beauty of this service is the customized design for every client. This luxurious process begins with a healthy botanical cleanse and condition, followed by a styling and coaching session for at-home curl care.
Super Curly DevaCut
This customized cutting technique springs from the DevaCurl foundational principles catering to highly textured, super curly clients. Hair is sculpted curl-by-curl, in its natural state, according to curl pattern, desired style, personality and lifestyle. This service includes a super curly transformation.
Super Curly No-Poo Transformation
Customized for super curly textures, this luxurious service begins with a healthy botanical cleanse and condition for ultra moisture, followed by a styling and coaching session for at-home curl care.
---
Stylists at this salon
Deanna Brown
Deva Certified Stylist
Be the first to review this stylist.
DevaCut
Pintura Highlighting
DevaCurl Transformation
Learn more
Candace Witherspoon
Deva Certified Stylist
DevaCut
Pintura Highlighting
DevaCurl Transformation
Super Curly DevaCut
Super Curly No-Poo Transformation
Learn more
---
Reviews
First Time Experience! October 2018
Service Received:
DevaCurl Transformation
Price:
$50
Made an appointment for the first time, and I must say that I was excited and yet nervous! I am very selective as to who touches my long curly hair. I knew that my hair needed some real TLC because my hair was dry and frizzy from using regular shampoos, conditioners, gel, and hairspray! My visit was great! The atmosphere felt good. Lynette explained every step of what she was doing and what product was being used, and the purpose of it. Overall I loved the outcome of my hair and plan to go back! Thank you. I bought the products she used on my hair; a bit pricey though. Wish I could keep my hair the way she did it that day. Lol
Dominque is BEST!!!
Service Received:
DevaCut
Price:
$76-$125
Hands down Dominique is the BEST! I've gotten deva hair cuts in the past but nothing compared to my experience this last time. I felt so welcomed from the min I walked in. Dominique took his time to listen to my wants and fears (we all know it hard to let go) but I trusted && he delivered! My hair is BOMB & I LOVE IT!
Dissatisfied & Disappointed
Service Received:
DevaCut
I went there 9/2/2018 and I was super excited this was part of my daughter 21st Birthday gift. I wanted her to have a great experience and it was nothing but a disappointment. The stylist did not even talk to her didn't even try to make conversation to make sure she liked what she was getting and to top it off our original price was not honored they charged $50.00 on top of the orginal price. Never again will we go here overpriced and did not deliver what we expected from this salon. To think I flew from Miami to have this experience what a waste of time.
Disappointing
Service Received:
DevaCut
The stylist was very nice, my cut however was not. The layers are drastically different in length and don't blend well and although the bottom portion of my hair can be put into a ponytail none of my hair on the top even reaches. I came here years ago and was also dissatisfied, I walked away with a decent cut but poor styling. This time I walked away with a poor cut and poor styling because they don't seem to use enough product. It was clear when my hair was already frizzing while sitting under the dryer. I don't mind paying for a great haircut but to be left with hair I have to restyle on the first day and a cut that has to grow out to do anything with is extremely disappointing. I also have to say, you would think that the people at the front desk could be more pleasant considering location and cost.
Stylist AMAZING front desk TERRIBLE
Service Received:
DevaCut
I recently went in for a curly cut with Danielle. From start to finish she was so incredible , this is someone who truly cares about her craft and her clients experience. As I was leaving however I was extremely put off by the front desk woman checking me out, she didn't ask or comment on the service or asked how I like it instead she went immediately on to tell me 20% of the service tip is xx and would you like to leave 20% and would you like to leave anything for the person who washed your hair ? Like one yes I fully intend on tipping for the service but secondly just the way she approached me I was not inclined to leave more in case the tip was shared . I then went to inquire about smaller product sizes as I wanted to test some out to others, she told me she didn't have any small sizes. So I looked behind the counter and pointed to the travel size product at which point she says well I don't know if that's what you used , go ask. I mean this woman was rude! She then went on to berate a more junior younger looking front desk girl right in front of me. I was so turned off, I would seriously reconsider coming back to this location. Hopefully Danielle works at other locations because she was seriously a rockstar!
Disappointed
I have been to Devachan Salon before and was very pleased with the haircut i received. The lady who cut my hair spent a long time checking my curls and seeing how they fall before cutting my hair. Unfortunately this last appointment did not go so well. The stylist and hair cutter spent over an hour trying to style my hair, they did not put in enough product and did not account for the humidity outside. 5 minutes after I left my hair completely frizzed and I had to restyle my hair myself. On top of that I am pretty disappointed with the cut. He "framed" my face which is how people who cut straight hair have cut my hair before. The hair around my face is now so short it frizzes and blocks my face. I was more than happy to pay the high price they charge because my last experience was so great but I'm not sure I would want to get my hair cut there again. On another note they also messed up my appointment and had to reschedule me. I was so excited about this haircut and now I wish I hadn't let them touch it. I spent about $300 for a haircut that I very much regret.
Unbelievable hair transformation
This is the best hair experience I have ever had. My hair has years of heat damage, and was a complete frizzy, unmanageable mess. My stylist, Rick, is a serious miracle worker! He asked questions about my current hair routine and kept it as real as it gets with me about how I was contributing to my hair damage. He really cared about what I wanted, but told me exactly what I needed to do to better the condition of my hair. He gave me an amazing haircut and sent me off with Tara for the next part of my transformation. She explained everything she was doing, told me which products she was using, and guided me through my very own hair routine. When it was all done, I could not believe how my hair looked. It was ABSOLUTELY AMAZING! I had no idea that the Deva hair transformation would be so spectacular. I can't believe they got my hair to actually curl! They are my very own, personal, power hair team and I will only have my hair done at a Devachan Salon, with them, from now on!
Best ever
I got a haircut from Rick several days ago. I've been to him 3 times. I can't always tell how it will look because what I do to myself is different than a professional like Rick. As soon as I got home I was beyond thrilled and after washing it i was still beyond thrilled. It's actually what I've always wanted my hair to look like, what he did to it, and was actually told on at least one occasion that it was not possible. The man is a magician.
Great Overall Experience
Rick was amazing and fixed my hair! He provided great advice on how to take care of my hair and even how to color my hair. In addition, he understood what I wanted from my cut. The staff was friendly and helpful and even though I live in LA, I will come back again to get my hair cut with Rick!
Nick is great!!
This was my first time getting a deva cut or going to a devachan salon and I was so excited and nervous. Nick made me feel so comfortable. He started off with asking me about my curls, what I wanted and then proceeded to talk me through the entire process. I will definitely be returning and going back to Nick. Highly recommend!
Fantastic!
I'm not one to leave reviews, but this scenario warrants one. I have been to Devachan a handful of times, but don't come too often. Today I walked in without an appointment, in a total craze, because I recently had a treatment done elsewhere and noticed my hair was falling out. Deanna was busy but took the time to bring me to the back and look through all my hair to check what was going on. She didn't rush, but went through all the thickness of my hair to inspect for any damage. She was knowledgeable and gave me great insight into what was going on. I then had her do a wash for me in which she was super gentle knowing how concerned I was about having any more hair fall out. She gave me great tips on how to keep it healthy, kept the conversation going to keep my mind off it, and did an excellent job on my hair! I will definitely be coming back to her for my next cut. "Not all heroes wear capes". Deanna was my hero today!
Deanna was GREAT!
I finally had the opportunity to check on the Devachan Salon and it was a great experience. Deanna was my hairstylist and she was very knowledgeable and gave me great tips on helping me define my curls! I will be back!
Expert cut
Had my first ever Devacut with Dennielle while on holiday in NYC. It was wonderful to be in a salon full of people with curly hair! Dennielle worked quickly and efficiently and gave me exactly the cut I wanted - she turned my frizzy, inconsistent mess into balanced, shiny and even waves. Dennielle also showed me how simple styling can be - no double co-wash followed by leave in, curl enhancer, gel, etc, etc. Just no-poo and conditioner, followed by Devacurl Ultra gel. Needless to say, I highly recommend Dennielle!
Deanna is AMAZING
I was having trouble finding the right product and styling properly. Everywhere else I went, they would give me tips for OTHER types of hair. Deanna took the time to give me a full blown lesson (offered to record it too) and it came out exactly the way I've always wanted it! She made sure I knew how to do it, and gave me tips for what to do throughout the week. I will definitely be going back!
Dominque was freaking awesome. He is filled with so much great positive vibes. He chopped my hair which looks marvelous. Gave me great tips. He made me feel so comfortable even though i walked in looking a hot mess. i am so happy to say i found my true hair stylist.
It was amazing. The only mishap was when they were washing my hair. They had a student doing it which was not cool because I didn't pay student price.
A Must Do Experience!
I saw Taylor at the SoHo salon. The staff was helpful and friendly. The consultation was informative in terms of talking about the best cut for your hair type and your hair goals. I wanted health and length, so Taylor didn't take too much off but gave some much-needed shape. The best part of the procedure is getting a walk-through of the best routine for YOUR HAIR. It is totally customized to your lifestyle, goals, and hair needs. I definitely learned a lot about caring for my curls in my current transition process. I loved the experience and definitely, recommend Taylor as a stylist. She is incredibly knowledgeable and super sweet! :)
Absolutely Amazing
I saw Sophie, she was absolutely amazing, I enjoyed every second I was there I walked in with damadge and left with new amazing curls.
Best haircut experience
I had a great experience at the Devachan salon. I was so excited to get my hair cut with Jess and it was everything I hoped for. I love the shape she gave my curls and she was so nice and helpful. The stylist who did my hair was Peabo !!! He is the absolute best I'm so happy he was my stylist and not anyone else. He was super helpful and I have really tangly hair and he did a great job detangling it. Overall my hair came out fabulous thanks to Peabo. He was also super nice to my mom and cousin and they ended up styling their hair with him as well. My hair was on fleek, cause who did it ?? Peabo did it ! Jess and Peabo were the best :)
The cut of my hair
It's about to be a month since I got my hair cut and I'm soo not happy with the cut Judy was my stylish and this was my second time going now my hair cut is all over like the back of my hair is sooooo uneven it's even noticeable the back when my hair lays on my neck is very short it almost look like she cut the back short and noticed it was too short and try to hide it with front pieces it's been hard to style my hair and my hair was very long I just wanted to get rid of straight pieces and volume and now I feel like a poodle I can't wait till my hair grows out and go back to my first stylish mind you it was a birthday gift from my husband that why Judy was chosen but Jessica was the first to cut my hair will be going back to her she listen to what I wanted Judy was like very impatient
Fun Experience!
As soon I walked in I was greeted immediately and felt welcomed. I came in not exactly knowing what I wanted, but my stylist, Brian, really helped me figure out what I wanted & helped me enjoy the whole experience. Everyone there is so nice and the vibes made me feel comfortable. Would definitely come again!
Not only terrible hair cut... bad customer service
Below is an email I wrote to devachan over 4 weeks ago... I have not received any reply to my original email or the follow up email I sent, so I've decided to share about my experience here. Hello, I'm writing to share feedback about my haircut with Judy at Devacurl Soho. It is literally the worst hair cut I have ever received in my life, and I have been forced to wear my hair in a pony tail for the past month. I thought it would grow out slightly or I'd learn how to do it better, but it is absolutely hopeless. I can't wear it curly -- it is far too short in parts and then longer and scraggly in the back. I started to blow it out tonight, but it looks even worse. It's horrible, choppy, uneven and highlights exactly what I told Jody I am self-conscious of -- very thin hair. I can't tell you how many times I've been close to tears because of this awful haircut. I asked for a cut at my shoulders but not too choppy because my hair is so thin -- and this is what I got. I've never written an email like this before, but wanted you to hear from me directly. I'm so disappointed. I love the DevaCurl products, had a good haircut at the UWS location this summer, but am BEYOND disappointed with this experience with Judy.
Service Sucks!
I have been a long time Deva customer and swear by my colorist Vida and stylist (then Melissa and now Naveda)... they are THE only reason I still come here because the salon's vibe and service is NOTHING compared to what it used to be under the old management. One expects a certain level of service at this price point. The old Devachan management delivered but this current manageny gets a big F!!! The older staff would ALWAYS greet you with a smile and a welcoming attitude; you were always guaranteed a filled glass of whatever you wanted (water or tea) without having to prompt anyone, oh and the guaranteed scalp massage made you feel better about paying the high fees (for those of us who splurge). Now, you're lucky if the staff make eye contact; some seem annoyed or interrupted when you ask a question and others just simply indifferent. These premium prices come with a level of service that MUST be matched. Hopeful management reads these and makes the necessary changes before I, like many before me, are forced to get our services elsewhere, where our hard earned dollars are appreciated.
Overpriced, gone downhill
Such a shame. I've bee going to this salon for many years, and the amazing Lorraine Massey used to give me such a brilliant cut. I work hard and it's not cheap, but Lorraine is a lovely curl. She followed each curl to its natural conclusion. However, recent experience not great. Staff distracted, a little arrogant and my friend who tells it like it is summed up my new, and expensive cut as me looking like: "an inverted pyramid"! brutal, but true. My hair is long at the top, and really short at the bottom. However Ed, as always did a great job o colour. What a shame this salon has become a victim of its own success
Color
I went to the salon on January 12 to cut and color my hair. My stylist Nevila was amazing. After she cuts my hair, she calls over the colorist Ed. As soon as he approached me he looked annoyed. He didn't introduce himself & went off to say that he only had 30 minutes to do anything to my hair. Then he said what I wanted wasn't going to work. I'd only come back to cut my hair not color it if the colorist are as rude as him.
Perfect cut
When I came in for my second Devacut earlier this month I had been transiting from a Keratin treatment for 18 months. My ends were clearly sparse because of the chemical, but I was wary of cutting my hair too short. Mia made it work! She cut off a lot of my damaged hair while not making my hair look too short and giving me a great shape! The woman that washed my hair was also excellent! The wash and go lasted for 5 days just as they said it would and probably could've lasted for longer.
best thing i did to my hair
i was so exited to go and it was worth all the money
Dominique is great!
Dominique gave me my first Deva cut in years and the compliments keep coming. He turned my unruly blunt cut into a cut that frames my face perfectly and has so much character. He is fast but that's because he's great! I'll definitely rebook with Dominique.
Have you heard of fat shaming? Well come to Devachan to get curl shamed!
I have been on my curl journey now since March, therefore like many curl newbies I had lots of damage and a long way to go. I've been in to Devachan three times. Unfortunately it's hard to find great curly hair salones. Also, DevaCurl products are amazing and I am sure that Devachan has great passionate stylist I'm still hoping I will find them. I went in for a DevaCut because my hair was a mess. However I will start with the stylist in the chair nearby who would not stop staring at my hair! In total disgust. Secondly, my stylist Dominique did seem to know what he was doing, however I just felt so uncomfortable. DevaCurl stylist act as if they have never seen damaged hair, and make you feel disgusted about your hair. He explained to me that my heat damage was causing my hair to break. He ended up cutting a lot of which is good because I needed, however offered no styling tips. Didn't make me feel like there was a lot of hope, even though my curls have flourished more and more each day. He also seemed to not care less about my curls or suggest anything to me. Sometimes stylist need to have enthusiasm, and also offer advice. You're the expert, so I expect that would get some kind of advice. However, I would like to thank Tico! For helping me and giving me a good pep talk on why cutting my hair was the best thing I could do.
Very disappointed
Don't go to Dominique for a haircut! He gave me a haircut and it's all uneven! I didn't even ask for layers, I noticed he did it when I got home! How is he working here. I'm so disappointed! No wonder his Instagram has none of his updated work. He seemed like he was in a rush while he was giving me a haircut. His advice for my hair journey was so blahh. He sounded like he didn't even want to answer the questions. Very disappointed with my first devacurl haircut.
Great experience
So I'm writing this like 3 months after my cut but better late than ever. I was so afraid of the whole experience mainly because I'd never let anyone who isn't Dominican cut my hair. I know that sounds pretty ignant but it really was important for me to have someone who understood my hair and the cultural associations with Dominican hair. Anyhow deva chan was totally accommodating and Melanie was super sensitive to my apprehensiveness and hooked me up with a great sensible cut. She not only cut it well but also gave me styling tips and made the whole experience pretty awesome. Thanks Melanie and thanks DevaChan!
Ecstatically Amazing Experience
Took my GURLS to get their back to school BIG DevaCut for their first time and their excitement was so contagious I was as excited as they were. Their appointments was with Jessica and she was AMAZING, she educated them and made them feel like a rock star. Definitely recommend this place for any one looking to embrace their natural mane beauty. She showed us how to take care of our curls the good ole fashion ways, no need for fancy tools just HYDRATION and conditioning with of course the Deva products.
AMZING.
I went on the 7th at 4 p.m, Jessica was and is an angel! She knew what to do & she compromised with what I wanted. The woman that washed my hair did an amazing job. At the end, I was so so so happy with my cut. My hair looked brand new while I had 3rd day curls. The only thing that I didn't like was that the woman that washed my ahrindidnt tell me the products that she used on me.
Fantastic experience and a new chapter of hair
I went to Taylor on 3/17 and was absolutely treated professionally and with the utmost kindness and respect. She is extremely knowledgeable and did an awesome job transforming my curls into a hair do I can manage and do on my own. I receive compliments daily on my hair. It is now August, my hair has still maintained it's awesome shape and grown out beautifully. The products are also fantastic and speak for themselves. My hair is completely transformed.
Have Never Looked Worse
I have been to Devachan two times before and had been looking to this haircut for weeks. I booked my appointment with Gin. I told her I did not like many layers but she insisted that was what I "had to do..." She cut my layers so much that my shortest layer is above my ears for my below shoulder-length hair. I have truly never looked worse. When I told her I was concerned about how short the layers were, she simply said "well I told you you have to make the layers short," and then proceeded to take an "after" picture of me to post on instagram. I am extremely upset by this haircut and cannot even put it back because the layers are so short. I have never looked uglier.
Scissor happy- Epic Fail
I got my haircur with Jessica. I informed her my goal was to just get a trim and maintain my shape (from a previous devacur) . I also said I aim to grow my hair longer. She seemed to completely ignore what I say, changing my hair shape completely and got too scissor happy. Now I'm back to square one. My shape is also like an awkward triangle now. I went from hair below my boobs to barely under my ears. Waste of time. Not getting a devacut again.
Amazing
The best thing I have done for my hair in awhile. I had my appointment with Domonique, who was extremely friendly and professional. I came for a cut due to major heat damage and dryness and I left the salon feeling like a new person. Can't wait for my next cut.
Bad cut and even worse color!
I got a cut and color last weekend. After spending $300 my cut has no shape, my hair roots are way darker than the rest of my hair, and my hair is super frizzy after my colorist left me under the dryer forever. After my hair was done I asked my stylist "does this look like two different colors?" And when I went to pay the front desk asked me if I was there to check out - probably because my hair looked so bad he thought I must be coming in not leaving.
Very Honest Review on Experience
I'm mainly writing this review to give a huge thanks to Melanie! My hair was very choppy and uneven before getting it cut and shaped by her. I showed Melanie a couple of reference photos just to give her an idea of how I wanted my hair shaped (of course I did not expect it to look exactly alike) but to my surprise... she managed to get my cut looking the way I wanted. Her technique of cutting the hair and triple checking to make sure it is even in length made me feel less nervous for the end result. I'm sooo happy with my hair (and I never ever write reviews so I can assure you.. I mean it!). My hair looks super healthy and I've been getting compliments left and right. She was also very sweet and easy going and mentioned having 15 years of experience! *** ONLY DOWNSIDE (depending on your styling preference of course) is the amount of product they apply to hair. I like volume and my hair doesn't really like having a ton of product weighing it down so if you'd like, I suggest letting either your stylist or their assistant (when washing + styling) know how much product you prefer.
Not happy a happy client.
I went to Devachan Salon -Broom St for a second cut. I was not pleased. I was not told that the stylist that would be cutting my hair was a student. I was very unhappy with my hair cut. Now i have to wait for my hair to grow back. The Stylist was well informed but the cut was not what I expected for the price.
Rick: A True Pro and a Master of Curls
I've been seeing Rick at Devachan Broome for what must be fifteen years now and there is no one else I would trust with my hair. So few Caucasian men in New York wear their naturally hair curly...perhaps out of fear or out of bad past 'fro experiences. Rick knows his way around a scissors like no one's business and creates a great look every single time...carrying out my haircut visions no matter how impossible I think they might be to achieve. Not a day goes by that I don't get a compliment on my haircut. He takes his work incredibly seriously and yet also has a wonderful sense of humor. As a result, my haircut appointments always fly by, and thanks to Rick, I leave with no fly-aways! :)
Best thing I've done for my curls
I'm in love with my curls, I wish I recorded all the process. Once I got there the service was great and welcoming. I learned a lot on how to take care of my hair and about the products. Gin knew exactly what to do with my hair, she was very friendly and nice, was always having a conversation with me. I learned a lot even about their hair products and honestly if it's not DevaCurl products is garbage trust me
Great service, minor mishap
It was my first haircut in NYC, I was nervous about it but my hair was super dry and my last haircut was 5 months ago, so I really needed it. Jessica F. did an amazing job reviving my curls, she explained how to use the products in order to keep my hair hydrated, she was great and super patient. The only thing that I have to complain about is that someone took my raincoat from the rack in the downstairs lounge (it was one of those 24hrs rainy days). Jessica and other girl (guess she's the manager) were really embarrassed about it, they gave me some free product, told me they were going to check the security video to try to figure out who took it and get back to me. Its been almost two weeks and I haven't heard back from the salon. It is really a shame that their costumers do this kind of things, it gives the salon a bad reputation and it's making me second guess if I want to go back. Oh, if you are the girl who took it and you are reading this, just remember that karma is a b...
My hair has never looked better
First, the salon is beautiful. They have great customer service from the moment you walk in the door. I got my hair cut with Jessica. Follow her in insta @fitzed_devacurl. She was a blessing. I learned SO much about my hair, and how to treat it while styling. I've never had such a great haircut, and NEVER have a walked out of a salon with my natural hair feeling more confident. I was super skeptical before coming here, and I heard mixed things. I'll never get my hair cut anywhere else, and I can't recommend Jessica more highly. She completely transformed my hair. I've been following the regimen she recommended, and my hair has been getting curlier and curlier every week. I've been to a lot of hair salons and I always seem to get an uneven haircut, except when I came here. They just understand curls. My hair is not super coiled, I have a few ringlets here and there, but I'd describe my hair as wavy. For those worried that this isn't for your hair type, as a wavy-haired girl I can say that this is def the place for me!
the best salon for curly hair
About 5 years ago, i FINALLY! accepted my wild curly hair and it was the best thing i've done. Aside from it being an upscale salon with great amenities and a nice space, the hair cuts i have been getting (which has been at least 10 by now) have been pretty amazing. Julie has been cutting my hair since the beginning and she really is a master with those scissors. I have had a great cut every time. Larry is a great colorist. He knows sometimes better than me what i want, which i appreciate because i end up looking fabulous everytime. Prices aren't cheap which is probably why i dont get my hair cut as often as id like but its well worth the money. Strongly recommend these two to anyone with any hair texture and curl type.
Best curly hair salon anywhere
Larry is not only a great colorist but a great friend now as well. Rick cuts my hair to perfection and I love their products. Yay Devachan !
Not what I expected
I expected the stylist to cut each curl individually as I've seen in all of the videos. Instead, she combed out my curls and cut layers using the same tequinique as all salons; the only difference is that she cut my hair dry vs wet. I had thought curls shouldn't be combed out? The result... I look like I have an uneven/bad haircut because my curls shrink to different lengths. The only reason I'm giving 1 star is that the stylist was very professional and invited me back for the following week. She also followed up on phone and text.
best hair cut I ever had!
I heard about this salon and was visiting new york and had to go! The cut and advice I received from my stylist Danielle was amazing. I have never had such a great haircut and was never felt so relaxed getting my hair done. We need this salon in London but guess for now need to be going to NY to get my hair done!
Knowlegdable staff
My curl specialist was Julie. She transformed my hair and taught me about how to care for it. She was most definitely a skilled artist when handling my curls. Thank you!
Haircut+wash+blowdry
The junior stylist knew a lot about hair and the products and informed me well on how to take care of my hair she also washed and styled my hair beautifully but I noticed that after I went home I still had A LOT OF MY SPLIT ENDS left. We specifically spoke that I wanted all my split ends cut so I can start off fresh, its been a month and I already desperately need a haircut
Great beauty experience!
From my entrance, I was treated in a professional and friendly manner. The salon has a very clean and pleasant atmosphere. My stylist was Latoya. She was great. She explained every process to me, the products that were used and how to apply them. The shampoo chairs are the best on the planet!
transformed
Beautiful, high class, fun, friendly, intelligent and the best customer service ever. my stylist, Jessica not only transformed my hair, but she educated me on what i was doing wrong and what i needed to do to maintain healthy beautiful hair. She patiently listened to all of my concerns and answered all my questions. i entered the salon with my hair looking like dried out shapeless steel wool (no offense if you like that look) and left with soft, shiny, well defined curls. And, yes, the cut is awesome. Was it worth it? ABSOLUTELY! I will not waste another penny buying, trying, or mixing up another concoction. i have finally found what i have been searching for.
Learned how to care for my hair
I wish I'd learned all the tricks of the trade when I was growing up—it would have saved me many years of awkward hair days. The stylists at Devachan introduced me to No-Poo and the most essential tip: stay away from towel-drying! Use an old t-shirt or kitchen towel. It saved my life. Or at least my hair. Best hair advice ever.
An oasis in the city
I go into this salon stressed and come out feeling completely relaxed. It really is an oasis in the city.
SHOW MORE REVIEWS
---
---