Devachan Salon - 79th St.
New York, NY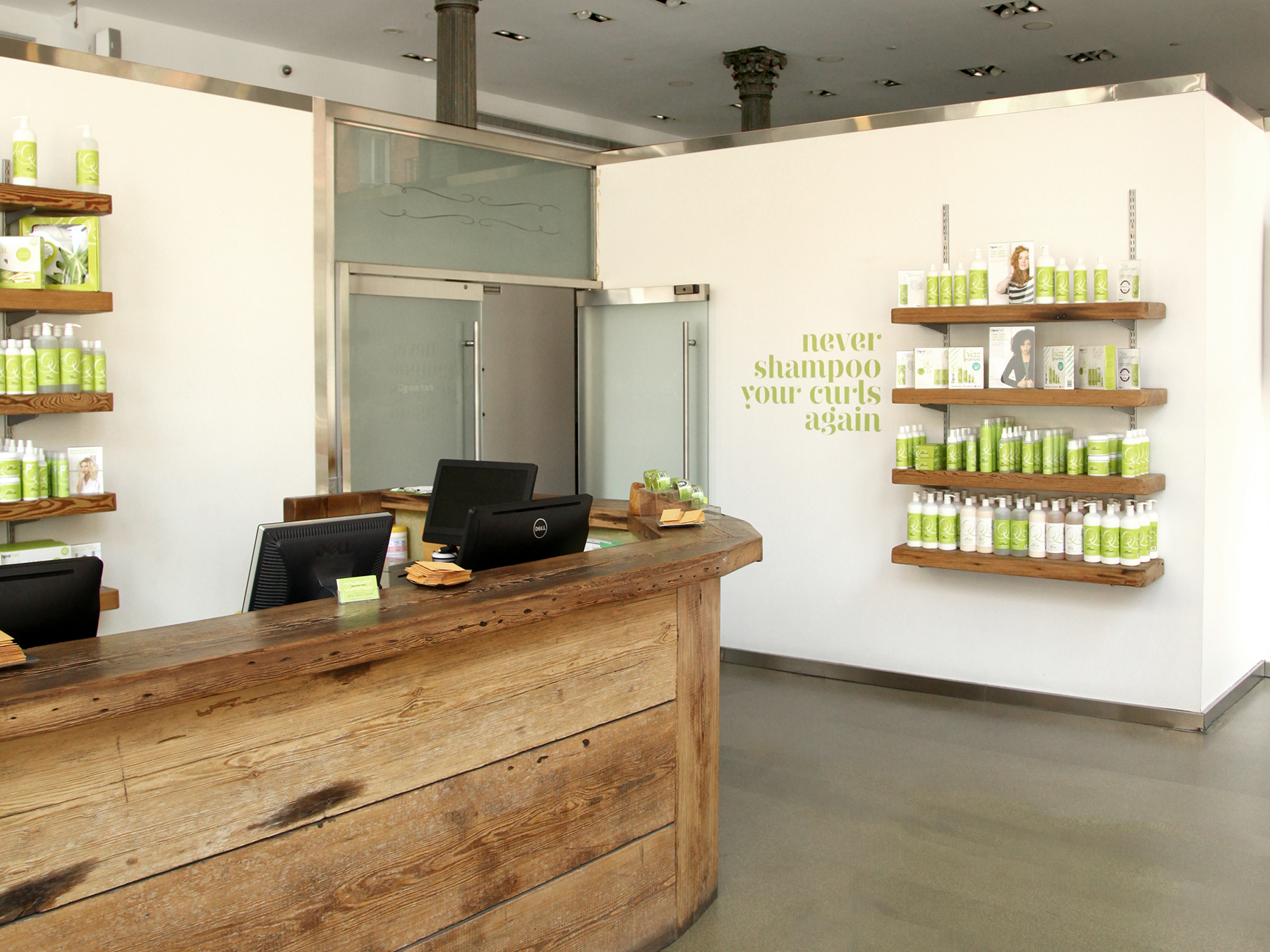 220 West 79th Street
New York, NY 10024
Devachan Salon - 79th St.
New York, NY
One of the things we love most about curly hair is that no two curls are alike. We opened Devachan Salon to celebrate your unique curls in a lively, supportive environment that's always buzzing with curly conversation. Our salons are a place for you to hang out, chat, have fun and feel great about your hair. Come in, have a seat and tell us everything.
---
Devacurl Services
---
---
Reviews
Very satisfied- would definitely go back
Service Received:
DevaCut
Price:
$126-$175
Had my first DEVACUT experience at the 79th Street salon in NY. At first I was reluctant to keep the appointment due to some negative reviews on line. Well, I was pleasantly surprised. I had my cut/ consultation and education with Taylor and was very satisfied. She listened to my wants and made recommendations for my new curly look. She was pleasant and knowledgeable and gave me the aftercare instructions . I also like the fact that she is a curly headed girl herself so SHE UNDERSTANDS.I also wanted to get Pintura and was assigned to Nicole. She analyzed the condition of my hair and did not recommend highlighting at this time. That made me trust her because she could have easily given in and started the painting session. Instead, she colored my roots and cleansed my scalp with such a fantastic hair massage. I think I fell asleep during this procedure. I left the salon with a head full of bouncy shiny curls. This goes to show that not all reviews are accurate. Each person's experience is different and our expectations are based in part on our perceptions which are not always realistic. Thumbs up to these two stylists /colorist Deva artists.
You saved my hair
Service Received:
DevaCut
Price:
$126-$175
I had colored my hair last year and my hair was just badly damaged that the curls were partially there. After my first Devacut, it seems my hair has resurrected! I get compliments on how great and healthy my hair looks! no more frizz or hay hair! My hair has never been healthier. I have to go for another "trim". Although it came out to a little on the expensive side, it was well worth it. Heck, we can spend money on so much junk, then why not on our curls!!!
very sad
I had my first haircut at the salon on 79th street. I brought in two photos of my own hair, taken 3 years ago. I showed the stylist the photos, told him that I don't like my hair hanging in my face and thought he understood. He was a lovely man but the haircut was the worst I've ever gotten. It's a total frizz bomb. I bought the products they suggested, used them the way they advised and man, this morning when I did my hair it was terrible, and unevenly cut on one side. Why bother asking the client how they feel about their hair or what they want? Very disappointing. Sadder still is that my husband gave me a $300 gift card for the salon...and I have $90 left on it that I won't be spending. What a shame. My advice is to make sure you have your stylists complete attention and that you really discuss your wants and needs.
Better than expected
Robert was my stylist and Elise did the pintura. Both did an excellent job along with the man who washed my hair and explained the processes he was doing with each product. All gave me personal attention and detail about the process. It was pricey and worth it for a cut I can wear curly or blow dry. All of the products worked well with my super curly hair which is what they call it. I'll be going back every 6-8 months as needed. My curls never looked healthier.
first time disappoinment
The cut was fine, but the stylist - Tatyana - seemed uninterested in what she was doing, didn't ask me many questions about what I wanted, and didn't ask me about my typical hair routine. She left me under the dryer for what seemed like forever with the heat on SUPER high - it felt like my ears were going to burn off! I've never had anyone treat my curls like that. I have very thick and curly but fine hair and she managed to have me leaving the salon with my hair almost straight. When I styled it on my own, the cut was nice enough, but I wouldn't pay for it again
First Timer
I was skeptical because I have been to a couple of " natural curl salons"before and I was not pleased. But I was pleasantly surprised. Helix was my stylist and Portia washed and conditioned my hair. Both were very pleasant and knowledgeable about natural curly hair plus I am a black woman and they both understood my curl pattern. I believe the products and the technique they use for washing and styling curly is the key. My curls were so well defined and hydrated. But on the other side it is a bit pricy 155.00 plus it is in best taste to tip the stylists as well. So I would definitely but probably on a quarterly * every 3 to 4 months* basis rather than on a weekly basis.
not their signature cur, is mgmt paying attention?
I went for years to the now closed locationI noho. So the last two times I've gone to the Soho store, two different stylist, both were just so so. It's a cut I would have expected at the Vidal Sassoon everybody gets the same cut and you got straight hair salon. They're normal curl by curl cut into it and shape it technique was totally missing. I was cutting 2 feet off my hair the first time, so it was going to be a big deal, but there was no appreciation of that or check-ins or anything. It grew out horribly. I try it again thinking maybe it was just that stylist but the same thing happened again. Is management not paying any attention to these negative reviews? Clearly they need to go back to the drawing board and retrain people in their technique. I guess it's back to quidad
Love DevaChan, not so fond of this stylist
For well over a decade, I had seen Susan at the Broome St. location but she's no longer working as a stylist so I thought I'd try my luck at this location, which is much closer to my apartment. I had Judy, while the cut is... fine?... for $150 I would expect her to actually shape it after it dried. I had a fair amount cut off, and she pretty much just combed it out (thereby frizzing it) and cut it like a straight cut before the wash, rather than cutting individually into the curls like I'm used to, but no big, I knew it might be easier to style after it had been washed and dried -- except after it dried she just declared it done. And let me add, she didn't even offer me a mirror to see the back of the cut. I will NOT be using her again, and I'm 50/50 on whether it's even worth returning to this location at all instead of making the longer trek down to Broome Street, where they know how to take care of a customer.
Marvelous Mia
Mia is terrific. She listens & my curls are happy. Find her on IG @Mia_Devacurl & see for yourself.
After 15 years at Deva....I'm done
I have been going to Deva for 15 years. It had changed my life! I had one amazing stylist for 11 years who recently left to open her own salon too far away for me to follow her. In my attempt to find someone just as good (or atleast close) i have now been to 3 deva stylists and i've been disappointed each time. Everyone at 79th street seems miserable, bored or annoyed. My most recent (and last sylist) acted like I'd never been to Deva and continued to condescendingly tell me that we needed to cut my hair short (it's taken me 10 years to get the lenght i want!) in order to fix the shape. I told her that that was not what i wanted. we talked some more. She proceeded to CHOP my hair and tell me that "girls cry in her chair all the time" but she knows she's not doing anything wrong and she doesn't think it needs to be so dramatic! What??!!! I had a great run with Deva. I'll even still use their products. But i'm literally cutting my losses now. I'm angry and sad about it but the shift in the culture there and the customer service is just awful.
Less traffic, but bad service
I've been to this location twice. The first time I went in it was the end of the day on a Fri and seems like folks were tired and a bit moody. They finished my hair in about 20-30 min which is the fastest cut/wash I've ever had. And my hair was still half wet when I walked out...the second time I came was in the middle of the day on a weekday and folks were in better spirits but still wasnt too pleased...Broome street has the best service by far.
My pinture highlights
I went to the upper west side location on friday december 29th. It was my birthday and i wanted for the first time in my life to do highlights. I love my natural color, i am a brunette. I specified i wanted highlights on my curls only. So basically at the ends. And my roots should not be touched. When i left the salon, i couldn't really see the result as hair has so much products in it so hair always looks weird. But i saw i was more... blond... After my 1st wash at home i am now horrified. I am blondish, more like yellowish. My stylist Eladia was dealing with 3 people at the same time and left the product too long on my left side so i am veeeeery blond on my left side and blondish on the right. And also it goes up to my roots!!! And only on one side!! I can't stop crying. I look so horrible. I love my hair but i just want to shave it all. I am a brunette and only wanted a « vacation style » highlights on my curls. I look like i went to a cheap salon. Also i was told price would be $165 and i was asked $230!!! No explanation given. Eladia disappeared again. I am a nice person and she didn't talk to me the whole time. Was too busy working on 3 heads at the same time. I demand Devachan to do something. If you have no time for all clients well don't book that many!!!
My Excellent Cut - March 2017
I had an excellent cut with Lydia in March, and I sincerely hope she is available to cut it again soon.
Heat damage??
I had Beatrice and when I first got there she felt my hair and said oh it doesn't feel too bad(which I thought was rude because I am not transition or anything my hair is pretty healthy) I ignored it and just kept going with the appointment she washed my hair and put a deep conditioning treatment which was fine. When she started to style my hair I noticed she wasn't scrunching the left side and it was really bugging me but I didn't say anything. I told myself she knows what she's doing she got this. Then she sticks me in a hot dryer when she takes me out I look in the mirror and half of my hair is beautiful but the other half is flat and wavy. It looked as if I didn't have a curl pattern. I mentioned it to her and she told me that's from the heat it's heat damage. Now I only wear my hair curly I deep condition I sleep in a satin bonnet/scarf with a satin pillow case. I follow all of the curly hair rules for her to try to tell me I have heat damage is insane. She shoved heavy products on my hair stuck it in the dryer and said they didn't curl because I have heat damage?? I took a picture of my hair when I do it and when she did it and she really manipulated my curls to the point that they did not look like mine at all. I was so disappointed with how my hair turned out. The receptionist tried to tell me my hair looks good but I saw it and it did not not even at all. I put my hair in a ponytail when I left. I didn't say anything to my stylist because I didn't want to be mean but I will never be going to a devachan salon again or using their products. My hair wasn't nice and definitely was weighed down by products. On a positive note the chairs are really comfortable and she also offered me something to drink several times that was nice.
I look like a poodle now :(
I have pretty wavy-curly hair and I really needed a haircut. I walked in and the only person they had ready charged $175 but I decided it was worth it. The person told me I should get layers, and I trusted him, but with the new curl definition they gave me, it looks awful!! I wish they had washed my hair first to get my curls to their full potential before cutting it!! Before they were sad and droopy, and the cut looked good on those, but now that my hair is a lot fuller and nicer, it looks so bad!! I'm giving it 2 stars because my curls look great-- just not the length.
Better off doing it myself
Don't get me started
Horrible Cut
I am writing this review 4 months late because I was so angry and annoyed at my latest horrible haircut! I was so excited to get my shaped refreshed when I arrived for my appointment. The stylist asked what I was looking for and I showed him a picture of long curly layers. I told him my curls were long and droopy and I needed it cleaned, BUT TO KEEP MY LENGTH! He proceeded to chop of a lot of hair, esp the ends..which upset me because I have color. So why get scissor happy?! He cut so much hair off that my final shape made me look like Tina Turner!! I had a mullet with a few long strands in the back which he mad a negative comment about! I was so annoyed because he seemed super cocky when in reality his work sucks! I gave Deva 2 stars because I love their colorists and the customer service.
Waste of Money
I got my Deva Cut here. First, she was running late. Second, I had very long and healthy hair so I just wanted to add layers and bangs. She cut my hair to above my shoulders after mentioning many times I wanted to keep my length. Third, the styling job was horrible. My hair had no volume and looked dry and matted. The next day my hair looked like I had locs. Will never go back to this location!
Terrible Stylist Service!
It was my first time at a Deva Salon. Perhaps my expectations were too high, but considering the price, it should have been top notch. Of course it WAS NOT!! My stylist was Nicolle. The first thing I asked her was if I should have a hair cut. She told me that she is only a color stylist and that I needed to book a consultation with someone who cuts hair... Well it did not make sense for her to do my hair in the 1st place since I was no where near getting a color treatment. I did not enjoy the service AT ALL. The only nice person in that Salon is Jennifer at the reception desk- that's the only reason I bothered to give this one star. Bottom line- the stylist should be more informative to the client because we pay big bucks for this....
I didn't know my hair looked like this!
Lydia gave me an expert cut and literally transformed what I thought was just big, frizzy hair with a bit of a wave into adorable loose curls that I've literally never had before in my life. I did not know my hair could look like this.
It's not for every type of hair
I walked in to devachan salon at 8:45 my appointment was at 9 am with a lady named litia who came to me at 9:05 she wasn't able to get my hair curly plus she ened my session at 9:45 my hair was hard in the inside and straight on the outside also puff main while I walked in with my hair curly.she knew she couldn't curl my hair and that I was unhappy and they still charged me $50 I had to go somewhere else and get my hair done ... wouldn't be returning back to devachan.
Not worth the money
Maybe I wasn't clear enough but my the woman who cut my hair did not seem to understand what I was looking for in the style of my curls. They provided me with helpful hints in dealing with my hair and I never felt pressured to buy the products they suggested. However, my regular stylist at a different salon who is not trained in the deva method gives me a better cut at half the price. I wont be returning.
Best decision
I was skeptical of spending this amount of money and having someone new work on my hair but it is the best decision I have made for my hair. The salon is beautiful and the stylists all have beautiful hair, even the receptionist! It was a very relaxing and educational experience. I look forward to going back regularly. It is definitely worth every penny. Before I went I had been going natural without heat for a year and I should have gone sooner. I was very disillusioned with the no heat process as my hair was dry and frizzy but after the cut and the lesson on how to style I feel more confident and have never loved my hair more!
Bad
Before I made my appointment, I asked the receptionist if the DevaCurl method worked for my hair type. She reassured me that it did. I have natural hair, a lot of it. The strands are fine, and the curl pattern is tight and irregular. Surprise! It didn't work and there wasn't enough time for the appointment. My stylist started to rush through the finger-combing when she realized how much hair I have, and I left with my hair still wet. During the cut and wash, I expressed my concerns multiple times and was told it would be fine. When my hair finally dried later that day, it was more or less a giant knot. I had to get it cut and detangled at a different salon later that week and was out another $200. The worst part is when I called to discuss a refund, the manager blew me off, stopped responding to voicemails or taking my calls. Boo, hiss! If you're black, go to a salon that actually knows our hair type.
Fresh Look
Had my first curly cut at this salon and loved the outcome. Julie cut my 3c/4a natural locks into a beautiful scarlette cut (meaning longer on the crown and shorter, but not shaved, on the sides and in the back). I've received compliments on the cut almost every week since I got it. Julie was personable and explained to me how to take care of my locks to keep them hydrated. I felt pampered and educated during my salon visit. Looking forward to going back for a trim very soon. Great experience!
Helix is amazing!!
I've never had my natural curls look so good!! Helix (stylist) listened to what I wanted, explained to me what I needed to change w/my hair routine and taught me how to style it. PLUS - I got the best hair wash/conditioning ever!! If you have out of control curls go see Helix. I traveled all the way from MA and it was well worth the travel, time & money. Great experience.
Best hair cut and color--ever
Jackie perfectly styled my thining hair and somehow transferred my poorly expressed hope for a hair style into reality. Larry, as always, is a perfect colorist--and creating natural red hair is no easy feat.
SHOW MORE REVIEWS
---