Bliss Styling Suite
Rolla, MO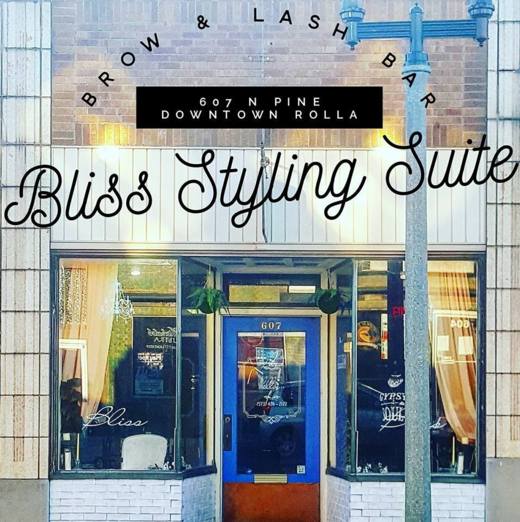 607 N. Pine St
Rolla, MO 65401
Bliss Styling Suite
Rolla, MO
Elizabeth White- Licensed Cosmetologist, Licensed Nurse, Licensed Permanent Makeup Artist offers lash extensions, microblade brows, hair artistry, devacurl services and more! Education is KEY at Bliss! easy online booking from our Facebook Page- [www.facebook.com/blissstylingsuite](http://www.facebook.com/blissstylingsuite).
---
Our Certifications
---
Devacurl Services
DevaCurl Transformation
From wavy to super curly, the beauty of this service is the customized design for every client. This luxurious process begins with a healthy botanical cleanse and condition, followed by a styling and coaching session for at-home curl care.
---
---
Reviews
Horrible Experience - Watch your Wallet!
Service Received:
DevaCut
Price:
$50
I made three appointments with Elizabeth. One for me and one for each of my daughters. My oldest daughter has pretty straight hair. The other one and I both have curls. My oldest daughter went to the salon first. I had scheduled a shampoo, cut and style. Daughter came home with a complete hack job. The stylist did not shampoo or style her hair at all. My daughter asked her for 2" off and clean up the layers. I couldn't believe the horrible cut. There were pieces on the top that were only cut 3" long. She had gorgeous hair below her shoulders until this stylist was done. Now it looks like a layered mullet. Needless to say, I ended up cleaning up the cut the best I could and styling it at home. I immediately called and messaged the stylist to tell her that I was unhappy with her work and to cancel my other two appointments. She had my credit card number and charged me $28 for cancelling the two other appointments despite the cancellation being because of her horrible job. I asked her a couple times why she did not shampoo and style her hair. I never got an answer. She did 1/3 of the job I was paying her for and then did that portion badly. I can honestly say this is the worst experience I've ever had at a salon. Be very careful as she will not book appointments unless you give her your credit card number. You are forced to pay her for her terrible services. Buyer beware...
---