Curly Girls Studio
Thornhill, ON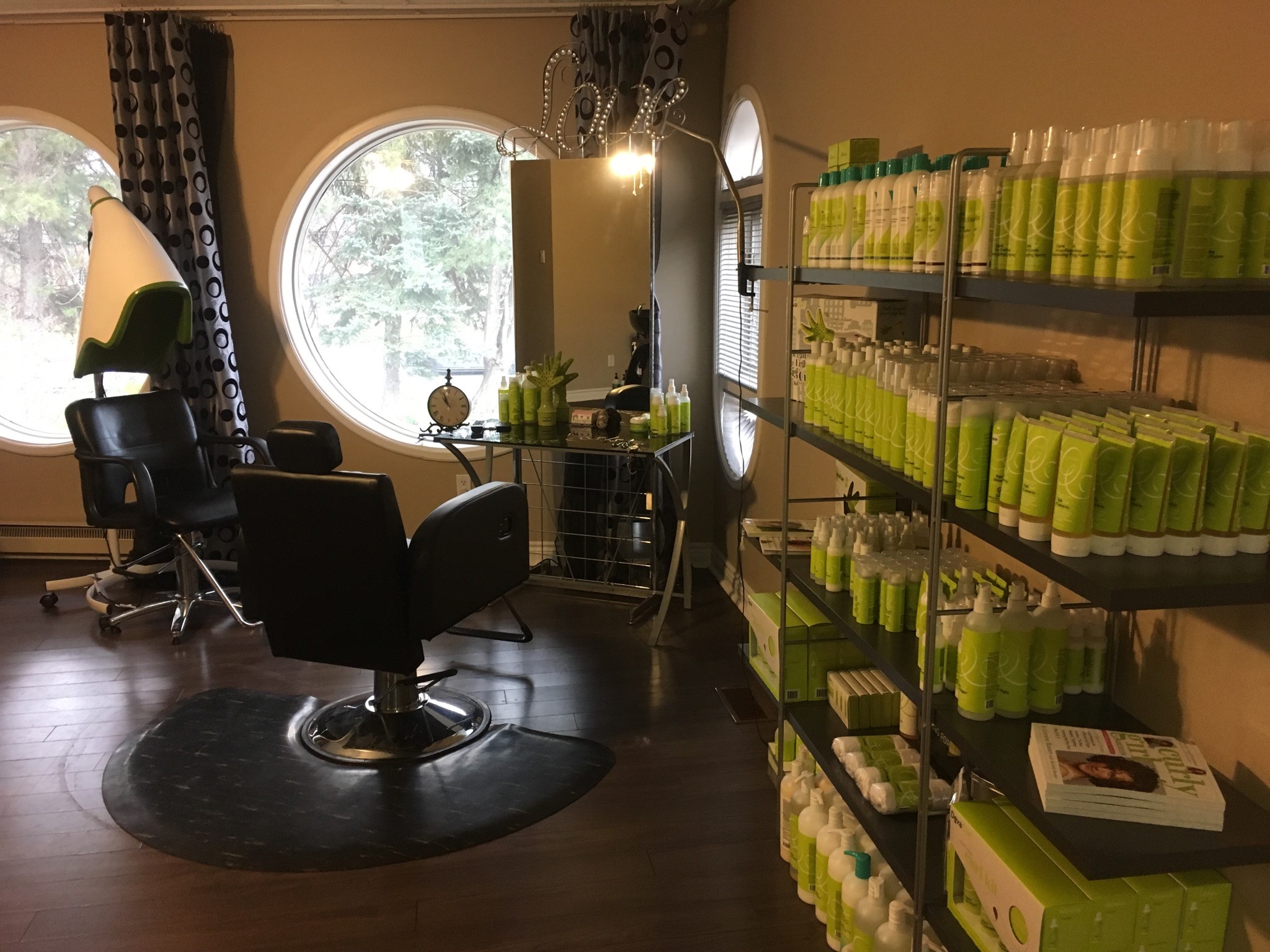 330 Steeles Ave East
Thornhill, ON L3T 1A8
Curly Girls Studio
Thornhill, ON
All appointments are booked through [416-402-9302](tel:416-402-9302) Located in the heart of Thornhill, the goal is to bring out the best in your curls while offering a relaxing environment to learn how to care for your curls so you'll have that just-out-of-the-salon look every day. Adina has over thirteen years' experience in the hair industry and was trained in New York City at Devachan by Lorraine Massey. There she learned the art of dry cutting techniques and Pintura. She honed her skills through working at salons that specialize in curly hair and decided to branch out on her own in 2013. Voted Best Curls For Girls Thornhill Post 2013 and 2014 Voted Top 10 Curly Hair Salons Blog T.O. 2014 The majority of curly girls who walk through the door of the studio are in ''hair despair''. Whether the damage be from iron abuse, bad cuts, over processing, excessive curl dehydration, or any combination of these issues, Adina wants to help you get your hair to its best state! ''I will be truthful and honest with realistic goals and expectations based on the current state of your hair. It may not happen over night, but I will be there for you every step of the way.''
---
Our Certifications
---
Devacurl Services
DevaCut
This revolutionary cutting technique was designed for all natural textures, from wavy to super curly. Hair is sculpted curl-by-curl, while dry, in its natural state. This service includes a transformation service.
Pintura Highlighting
This award-winning technique was designed to add gorgeous, light-reflecting highlights to all natural textures. Pintura Highlighting offers the perfect harmony and balance to waves and curls giving brilliance and dimension to beautifully compliment your DevaCut.
DevaCurl Transformation
From wavy to super curly, the beauty of this service is the customized design for every client. This luxurious process begins with a healthy botanical cleanse and condition, followed by a styling and coaching session for at-home curl care.
Super Curly DevaCut
This customized cutting technique springs from the DevaCurl foundational principles catering to highly textured, super curly clients. Hair is sculpted curl-by-curl, in its natural state, according to curl pattern, desired style, personality and lifestyle. This service includes a super curly transformation.
Super Curly No-Poo Transformation
Customized for super curly textures, this luxurious service begins with a healthy botanical cleanse and condition for ultra moisture, followed by a styling and coaching session for at-home curl care.
---
Stylists at this salon
Adina Sherman
Deva Advanced Stylist
DevaCut
Pintura Highlighting
DevaCurl Transformation
Super Curly No-Poo Transformation
Super Curly DevaCut
Learn more
---
Reviews
Good in her craft
Service Received:
Pintura Highlighting, DevaCut
Price:
$175+
Adina obviously has put her heart and soul into her business and into her salon. The salon is very open and welcoming and nicely decorated. My only beef with my service was that she bounded between me and two other clients and seemed rushed... but 4 stars for a perfect cut and amazing styling.
Quality and Perfection
Adina has been my curly hairstylist for over 3 years now! I trust her completely with my hair, as she listens to what I want with my cut and colour and does just that. She is unique amongst other curly stylists that I have been to in that she understands curly hair 100%, and after a cut there is never a drastic change in length, but rather a subtle, clean cut. Adina is also willing to try different colours as I like to change my hair colour. She uses wonderful organic products that with this colour change does not ruin my hair! If you are looking for a confident, friendly, knowledgable curly stylist you will not be disappointed with Adina!
Hair transformation!
Service Received:
Super Curly DevaCut, Super Curly No-Poo Transformation
I went to see Adina a few weeks ago for a cut, colour and style and I couldn't be happier. I had a great consultation that helped me select the right cut for my face shape and expert advice in choosing my colour. Thank you, Adina.
First time with Adina
First time with Adina, I had an amazing experience! She takes time to ensures you are well taken care of, listening to all your needs and explaining every step of the process. I will definitely be going back to her! If you want to take good care of your curls, I definitely recommend her!
Great cut and styling
Service Received:
DevaCut
Price:
$126-$175
I used to tell salons to not even bother styling my hair after cutting it, as it always came out puffy and frizzy. Adina actually knows how to style curly hair and has been kind and patient showing me tips on how to improve the volume of my hair with clips and how to moisturize the dry spots in my hair. Thanks Adina!
By far the best curly hair stylists I've worked with
Service Received:
DevaCut
This is my second time getting a devacut from Adina. She's not only knowledgeable (will impart great curly hair wisdom throughout the process) but also empowers her clients by giving them options during the process so that they are in control of the session and leave the studio satisfied with their cut. I am so glad to have had the help of Adina with growing out my hair, and teaching me the importance of detangling my hair and providing me with personalized recommendation for hair products. If you also have mixed type 3 hair and are looking for a quality devacut experience (or any other curly hair service) look no further. Absolutely worth it.
Awesome cut and advice
Service Received:
DevaCut
I first came to Adina after a string of bad haircuts. With the incredible talent and helpful advice, I've finally got the right bounce back in my curl! She is well worth the drive from Out of town
She knows what she's talking about!
Service Received:
DevaCut
I'm mixed and have 3B with colour treated hair. Adina showed me so much about my hair and helped me become a lot more knowledgeable about what will help my hair become healthier and grow longer. She's a definite must visit in your journey to healthy curls!
Amazing cut with beautiful curuls
Service Received:
DevaCut
Price:
$76-$125
Adina helped save my curls and has provided very helpful tips to make my curls shine and bounce. I started going to Curly Girls after years of terrible cuts and awful advice ruined my hair. Adina listens to me and my hair concerns. She is well-worth the trip from out of town.
Lovely experience, awful cut
Service Received:
DevaCut
Price:
$126-$175
She is a lovely person and is excellent at styling hair, but I paid $160 for a cut that is uneven and honestly doesn't look that different from if I had cut it myself. She is a great person and offered to have me come back in for a free touch up in a week, but I honestly can't afford to have my hair any shorter than it already is. I look like a grandma. If you're going here make sure you have lots of length for her to play with.
This girl has curl!!
Service Received:
DevaCurl Transformation
Adina Sherman at Curly Girl Sakon in Thornhill showed this girl her curl!!! Adina gave me the curly girl tutorial and with the help of LowPoo Shampoo and DeLight Conditioner the moisture returned to my hair and gave me pretty beach waves. All my friends ask me how I got this curl! Adina is so helpful too, troubleshooting my "bad hair days" and always willing to return my texts for advice on my hair ...Thanks Adina for everything!
Adina changed my life
Service Received:
Bounce Back Treatment, DevaCut
Price:
$76-$125
Adine was recommended to me by a friend who knew that I was searching for a permanent change even if it was a little outside of Barrie. Adina taught me that my natural texture is beautiful and showed me how to care for it. She taught me about the curly girl method and let me read Lorraine Massey's book on curly hair. She gave me a sheet containing the products we used and how to use it at home. After a year and a half my hair is now beautiful and healthy and best of all... it is all natural. Thank you Adina for helping me see that I do not have to fry my hair straight or blond to feel beautiful! I am not a sheep and I will no longer do what is supposedly beautiful. I even stopped getting lash extensions and removed the false nails. I have chosen a more natural lifestyle. All new me!
Amazing Start to Reviving My Natural Curls
Service Received:
DevaCut
Highly recommended! Adina and Yvonna were an absolute pleasure. They were completely professional, knowledgeable and sweet. I have finally committed going natural curly, so I opted for the Cut and Tutorial service. I have very thick and long hair, and it was just refreshing to have someone so patient with treating and styling my hair. Adina honestly looks out for your best interests, she didn't push to cut a lot of the hair off (since I said I really would like to keep as much length as possible), and she didn't push me to buy a bunch of products. The Deva Cut is something I wish I started doing years ago, instead of the standard wet and straight across trim. Overall I left very happy, and it's been 2 days since the cut and style, and my hair is still looking great!
Ambiance is important
I enjoy going to Adina's place in part because I love her salon! It is in her home which I didn't think I would like Some home salons are just scuzzy... but her salon is very professional and comfortable! I was surprised. Aside from that, Adina got far more curl from my hair than anyone else had. She knoss all kinds of tricks and tips to get your hair at its best. Adina embraces her own natural curls and helps others discover just what their hair can do. I would place her in Barrie, the curly stylist here isn't very good but aside from that, I am pleased.
Excellent Deva Cut and Treatment
I had my first Deva cut and treatment with Adina at Curly Girls Studio yesterday and I have to say I have fallen in love with my curls again. I dyed my hair last year and it has become dry and brittle due to a lack of a proper hair care routine. Not only did Adina revive my curls, she also educated me throughout the entire appointment regarding my hair and what I should be doing to bring it back to life. She also sent me a follow up email with the products she used, so now I know exactly what I need to purchase going forward. After the appointment my curls were moisturized and bouncy. I will be following her tips every day, and I can't wait to see how my hair improves over time.
Great introduction to curl care & maintenance
Adina, the woman behind Curly Girls Studio, is great. I especially recommend her if you are new to the world of curl care and maintenance. She has an expansive knowledge of products and techniques and will spend as much time with you as necessary to answer all of your questions. She even has a book about curls that she will give you to read while you're in the chair! Her studio is extremely spacious and you will feel very at home. I received an excellent cut and style from Adina and, more important, walked away with a few tips and techniques I had no prior knowledge of before. What is also impressive about Adina is that she answered any questions I sent her via email afterwards- she understands that the world of curl care can be confusing/overwhelming/frustrating for some of us. She is very kind and patient and I felt very comfortable contacting her after my appointment to ask a couple of follow-up questions about my hair. It's great to have a curly hair studio north of Toronto, as most of them are downtown and can be difficult to access. This is also proves convenient when you want to purchase specialty curl care products and don't want to go all the way downtown for them or order online.
Great cut and colour
Adina has been taking care of my curls for some time now and I couldn't be happier! Not only does my hair look and feel healthier, but I am able to manage and style my curls on my own now thanks to her advice, product recommendations and coaching sessions. The colour service I receive is great also. Very gentle products yet still covers my grey; also fades out so gradually that I am not left with horrible looking growth in between colouring sessions. I. Couldn't be more pleased!
Friendly and Knowledgeable
I found Adina on your website and I'm glad I did! I've struggled for years with my 12 year old's kinky curly hair. I've used every oil, conditioner, moisturizer imagineable, and watched countless videos trying to find some method of bringing the curls and moisture back to my daughter's hair! Adina has been great with my daughter, very patient in her explanations and so willing to help! I know it will be a bit of a process but finally my daughter is beginning to accept her hair and love her curls!
Great cut but worse colour of my life
Adina gave me some great advice and got my curls to pop.. the only problem was the terrible highlights I ended up with! She took two tries to get it right but I still ended up with light roots and dark patches. I am not sure how it all went so wrong.. 2 stars for the cut but I really can't score more than that based on the colouring job.
Saved my hair!!
I came to Adina with a mess of nappy curly hair, that hadn't been combed or cut in months if not close to a year. She saved my hair! She remoisturized, and conditioned my curls, and gave them their life back. I cannot say enough how nice it is to have an expert working on your curls!
My curls!!
I found Adina on naturallycurly.. and I am glad I did! She brought life back to my curls! Her salon is super cute and professional. I love that she teaches us everything she knows and gives a great lesson specific for your hair type.
THANK you Adina!
I have been seeing Adina for over a year now, and I wish I had found her sooner. She is incredibly talented with curly cuts, and she she teaches me something new about caring for my curls every time I see her!
Great hair for the first time
Like many other curly girls, I grew up struggling to manage my hair. I started going to Adina about a year ago and I am so, so grateful that I found her! Not only does she pamper my curls every time I visit, but she has taught me how to properly care for my hair on a daily basis, using Deva instruction and her own advice. My hair care routine and confidence have really improved thanks to my "curly coach!"
My one and only
I have been going to Adina's studio for many years. I've lived abroad for a majority of that time and everytime I visited Toronto, she was the first stop. Adina is very professional and really takes the time to understand your unique curly situation. She is the only one I trust with my curly hair.
Adina is a miracle stylist!
Adina is my miracle stylist! I found her on your website and couldn't be happier with her work. My hair is type 3b and for the past 5 years I was straightening it with keratin treatments. After deciding to embrace my curls I found it inconsistent and difficult to repair the damage done by the flat iron. Adina fixed that! After the first session my hair has regained a softness and curl like never before. She is awesome at following up- she sent an email the same evening to ask how my curls held up in the humidity. She is very professional and really cares about her clients. Wish I found her years ago!
Fell in love with my curls
I can't say enough about Adina, my experience at the studio has always been great. Adina is very professional and is great at walking me through hair care tips. She always goes the extra mile and pampers me . I recently got a hair cut with some pintura highlights and I'm loving it. I wish I found her sooner.
SHOW MORE REVIEWS
---